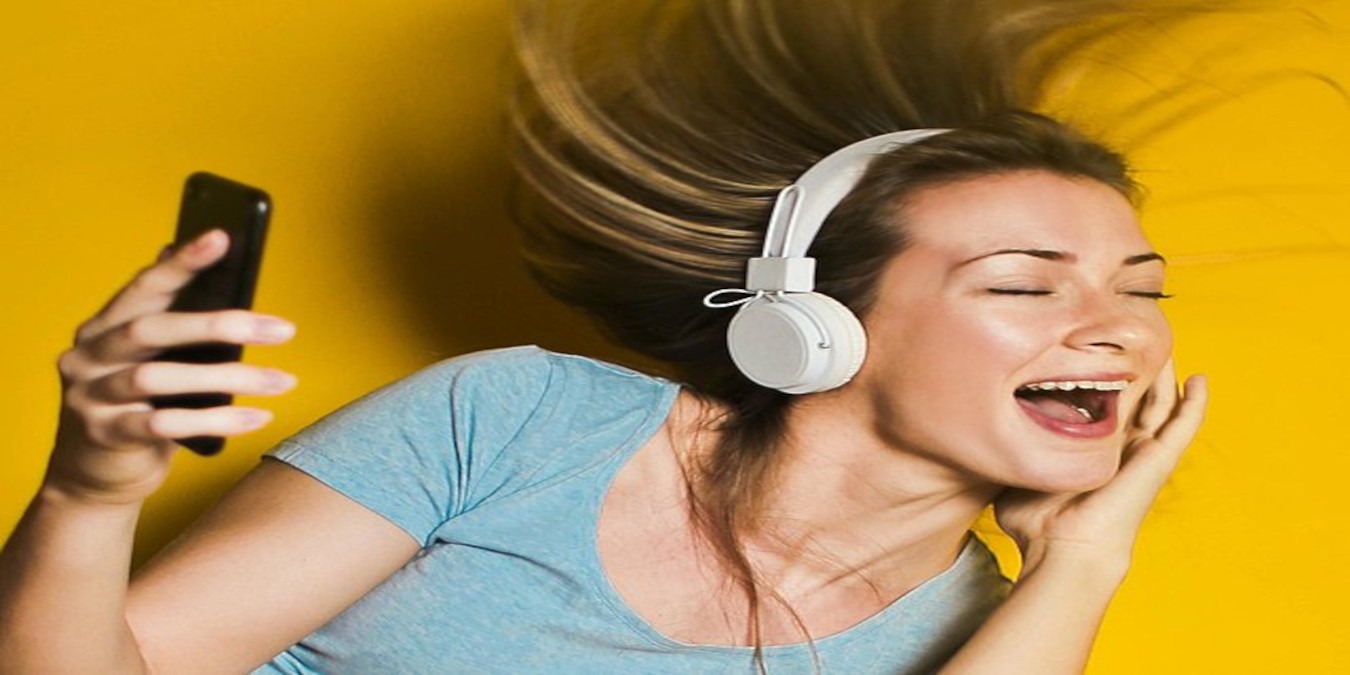 As of April 2021, there were over 2,000,000 podcasts out there, and that number is just continuing to grow. To listen to these, you need to find a podcast app. Some are free to use, but others will cost you a fee. When it comes down to it, you can access many podcasts without spending a dime. Here are the best podcast apps to get started with today.
Make sure to check out some of the best new podcasts of 2021 when you navigate through these podcast apps.
1. Google Podcasts
Google Podcasts is the first podcast app that I tried, and it's my favorite. Because I was already familiar with the company and already had other Google products on my phone, it was easy to try this one out.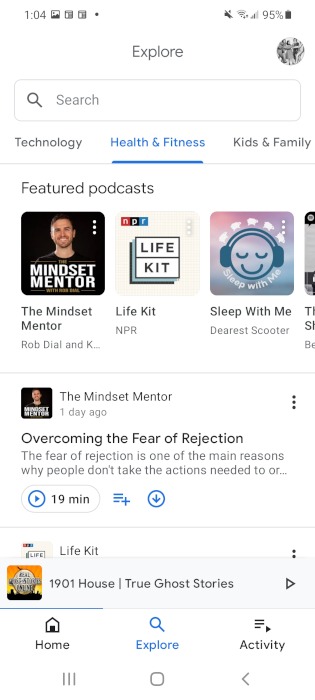 From the homepage to the search functions, it's a delight to use, and you'll discover the trending and most popular podcasts in each genre on the homepage. The design makes it easy to find a new show to listen to. One of the best features is that even if a show you are looking for isn't on Google Podcasts, you can still add it by putting in its RSS feed, making this a great frontend for your podcasting needs.
If you know you're going to be offline, you can download shows to listen to later. You can even trim out some of the silence to get back to the action quicker and add a sleep timer if you're listening before bed. The Activities tab is also super helpful for figuring out where you left off. You can add different episodes into a queue to make things super easy.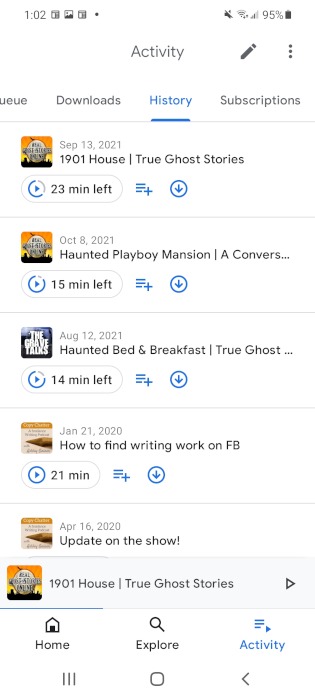 2. Spotify
Spotify is another big name in the podcast app game, and for good reason. Even though it started off as a music listening program, it has evolved to take on the increase in podcast demand, taking on a whole lot of exclusive shows. You can sign up for free or sign in through Google or Facebook to make things easy to set up.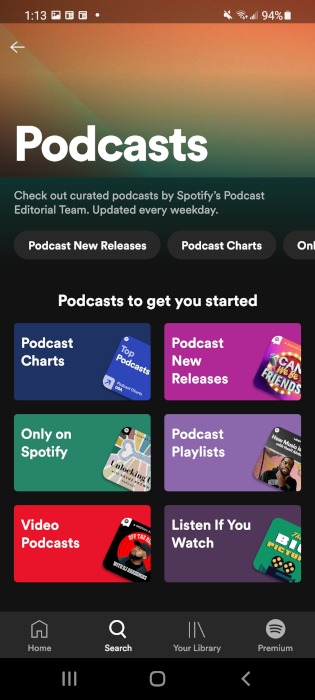 When you go into their podcast section, they offer a variety of playlists that feature new releases and Spotify-specific content. It will also show you the trending episodes and different categories that you can choose from to listen to.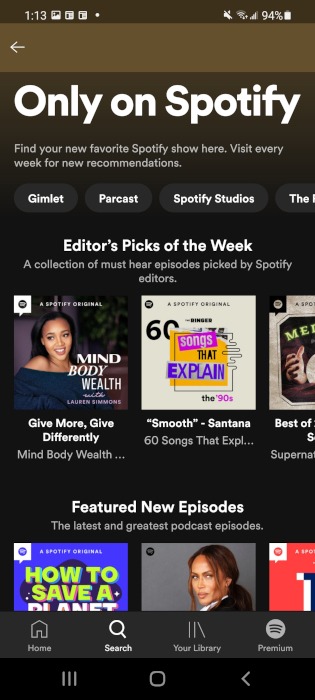 The problems with the free version of Spotify are that you can't download episodes to listen to offline and that there are ads unless you pay $10 a month for a premium account. Like Google Podcasts, you can make your own lists and set a sleep timer so you don't miss much of your show if you fall asleep while listening before bed.
3. Stitcher
SiriusXM bought the podcast platform Stitcher in the latter half of 2020 from E.W. Scripps. While the app itself is free, there are ads that you need to listen through to get to your content. Another thing about Stitcher is that while they do have some exclusive content that is free, some of their exclusive shows are only included in a premium subscription for $5 per month. The iOS version is the superior one, so if you are able to get that, it will work more smoothly.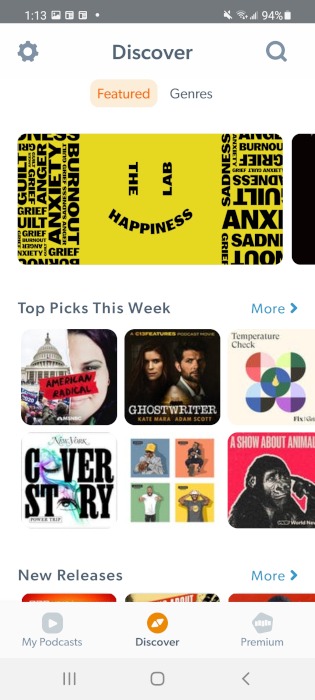 That said, this is another solid choice when it comes to listening to podcasts. The layout is one of the most polished. It is one of the most straightforward too, making it easy to use. Their homepage also shows you various genres to choose your next show. If you're interested in some unique original content, such as Literally! with Rob Lowe, Marvels, Science Rules! with Bill Nye, and LeVar Burton Reads, this is a great one to check out.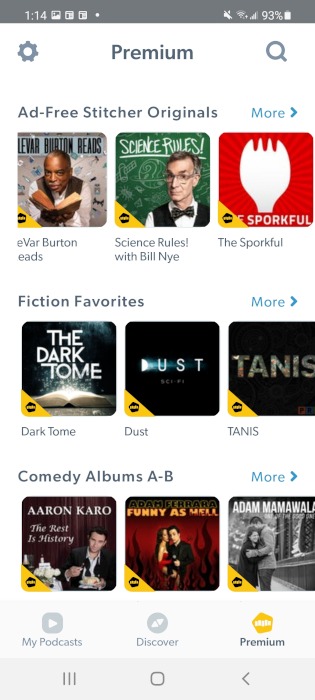 There do seem to be some issues with the Android version, such as it not working well with your phone and unexpectedly stalling while listening. Before the update in March of 2021, there were less issues. Hopefully, they will work out these bugs soon.
4. Pocket Casts
While Pocket Casts used to be a paid app, all of that changed in 2019 when it shifted to completely free for mobile users. This move did not take away any of the functionality of the app. If you want to play it through your PC, you do have to pay, but there really isn't a reason that you can't just play it through your mobile device.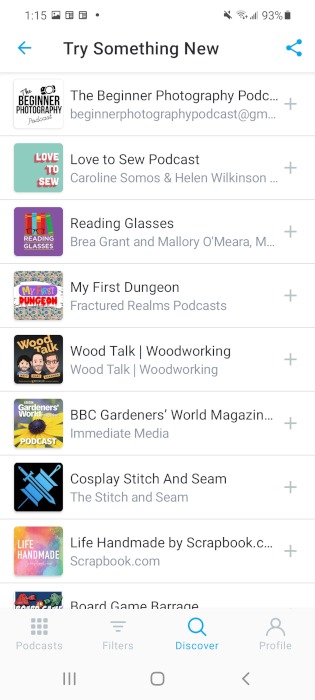 There are some cool options with this one, such as cross-platform and cross-device syncing. It will also give you suggestions based on either the categories you enjoy or your listening habits. You can even set it up to auto-download episodes or do cleanup. It makes things easy by letting you customize your controls, so you can have everything you need at your fingertips.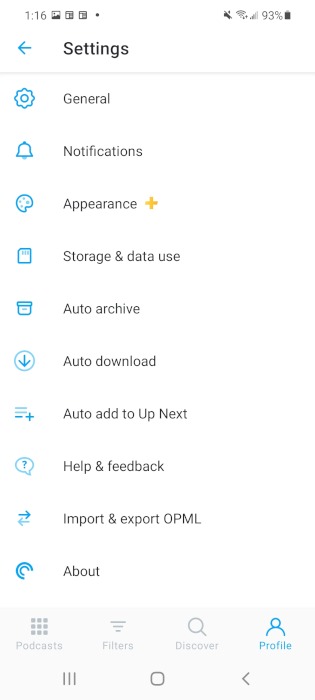 Once you decide on a podcast app, there are many choices out there for podcast shows. Check out our articles on paranormal podcasts, fiction podcasts, Christmas podcasts, comic book podcasts, and writer podcasts.