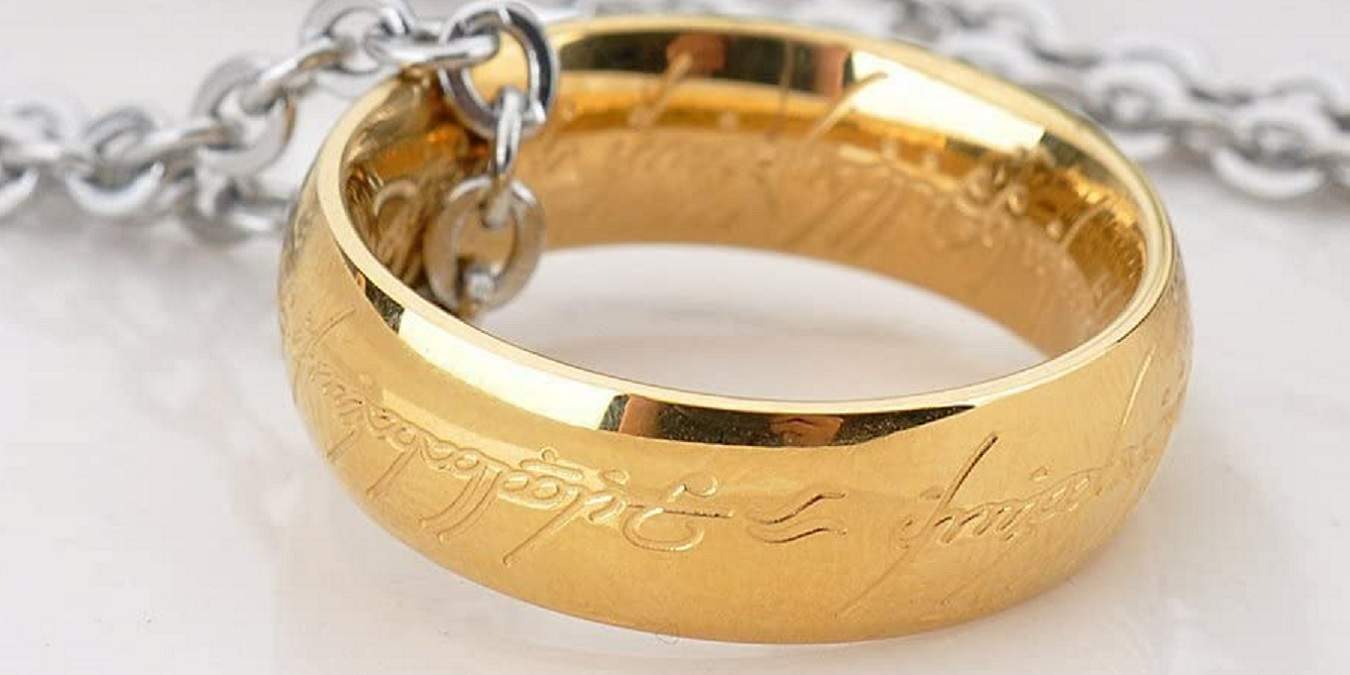 While watching the director's cuts of the Lord of the Rings trilogy is already enough of a treat for most fans, some of the best gifts go way beyond the books and movies. And as we psyche ourselves up for the return of Lord of the Rings to our screens through the Amazon series, it's a great time to reminisce about the movies that helped make Tolkien's books the global phenomenon they are today.
While you're here, check out everything we know so far about Amazon's upcoming Lord of the Ring series.
Choose the Best Lord of the Rings Gifts
While this list is far from the only gifts for Lord of the Rings fans, it's a great start. If you're dealing with a major fan, you might want to pay them a visit to make sure they don't already have an item you're thinking about. To really surprise them, you might want to opt for more custom or unique items. Or, just show them this list and see what makes them perch on the edge of their seat, grab your phone, and say "my precious."
1. Lord of the Rings Whiskey Glass Set
Not every LOTR-related gift has to scream 'I'm a Ringnut!' to the whole world. Sometimes, people appreciate the gifts that quietly nod to their great passion as they imbibe in another passion (assuming that other passion is whiskey!).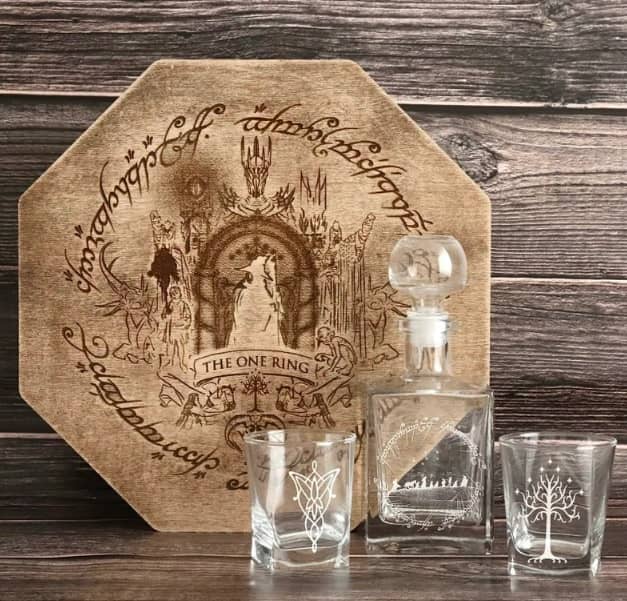 Yes, on Etsy you can buy a beautifully laser-engraved whisky glass or set. There are six different glasses available with various LOTR symbols and moments, such as Gandalf fighting and the Leaves of Lórien. The decanter features the fellowship. You can purchase anything from a single glass to the entire set with six glasses, the decanter, and the gorgeous wooden storage box.
2. Fellowship Candles
Candles may usually be a fairly generic gift, but not when you have three of them designed to evoke some of the most iconic settings in Middle-Earth! The three soy wax candles are themed after Rohan, Rivendell and Isengard. The Rivendell one smells like 'Valley Flora and the Rushing Bruinen River', the Rohan one is 'Chamomile, Thyme and the Grasslands of the Mark,' and the Isengard one is 'Ancient Magics and the Forests of Fangorn.'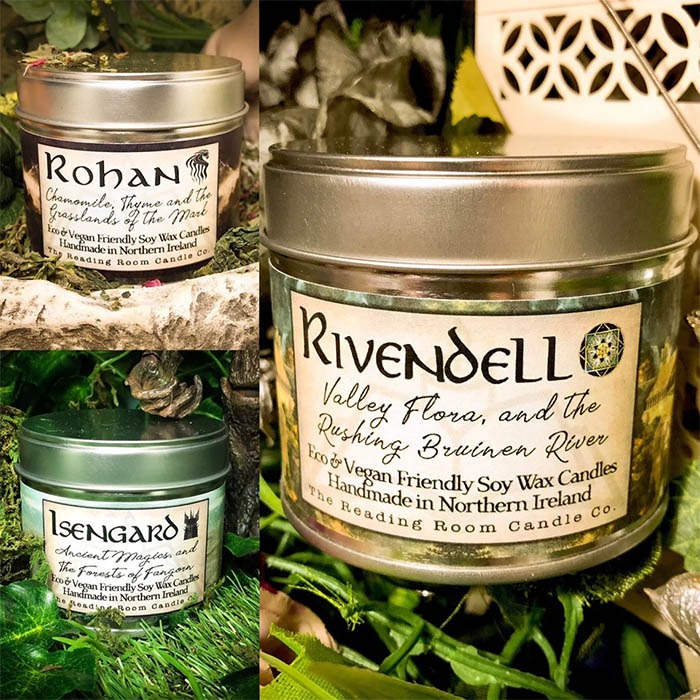 We're just grateful the Isengard one doesn't smell like burning trees and rotting Uruk flesh!
The label designs, fonts and icons on these candles really make them pop.
3. Lord of the Rings Battle of Middle Earth Chess Set
Sit down with your fellow Lord of the Rings fans with a chess set worthy of Mordor. These intricate pieces transport you from a basic chess match to a battle between good and evil in Middle-Earth.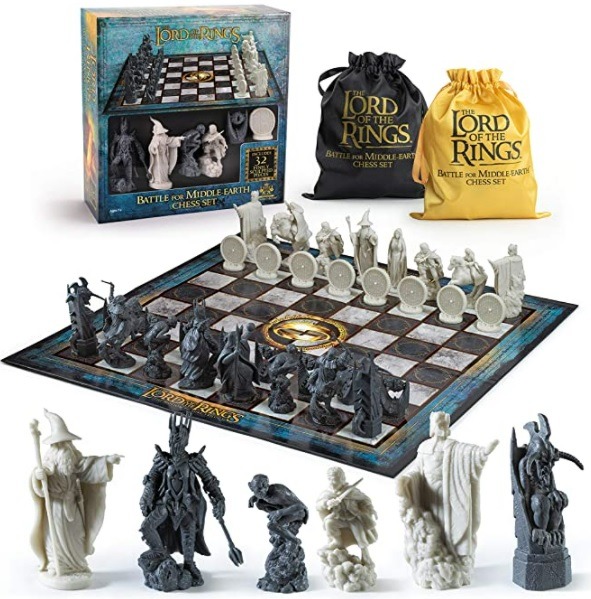 Command your forces alongside instantly recognizable characters – Gandalf the Grey, Frodo, Gollum, Galadriel, Saruman, the Nazgûl, Aragorn, and Lord Sauron. You could even use the pieces as miniatures in tabletop RPGs.
4. "I Love You Like a Hobbit Loves Second Breakfast" Mug
Who doesn't want to have the time and metabolism to eat like a hobbit? Get a reminder to make sure you eat your second breakfast with this cute Lord of the Rings coffee mug. It's simple, but many of the best gifts are.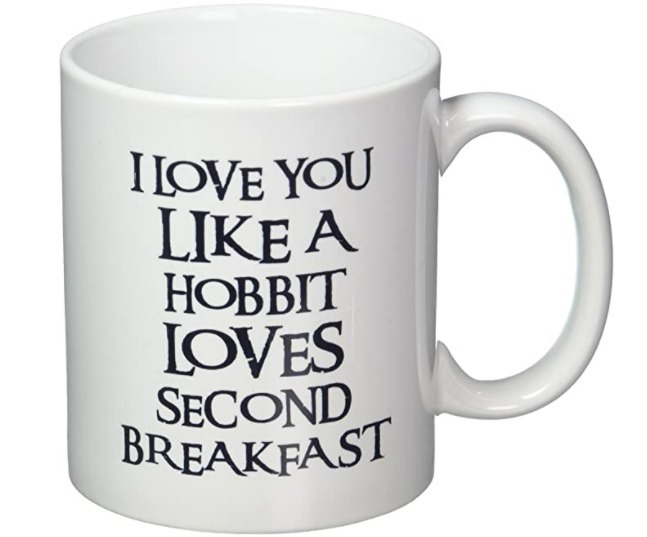 Naturally, coffee mugs make great gifts for Lord of the Rings fans. So if your friend or relative already has this particular mug, consider this Lord of the Rings: The Fellowship of the Ring inspired mug that only reveals a scene from the film when hot liquid is added or the slightly more elegant silhouette mug showing the travelers on their journey. Of course, since morning coffee is a must-have, gift a "My Precious" mug. Or opt for something entirely different with this wooden Prancing Pony beer mug.
5. The Lord of the Rings Monopoly
A great gift for Lord of the Rings and Monopoly fans is definitely this Amazon exclusive The Lord of the Rings Monopoly. Your usual tokens are replaced with Frodo, Sam, Merry, Pippin, Gandalf, Aragorn, Boromir, Gimli, or Legolas.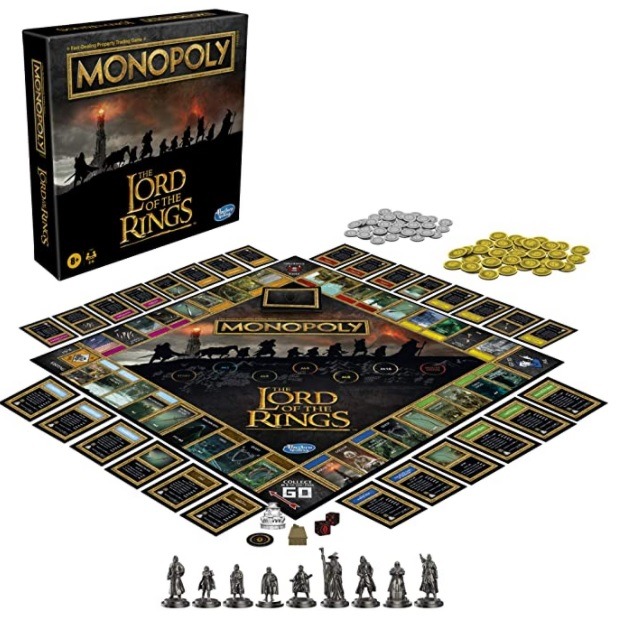 It's your job to protect Middle Earth from Mordor's armies. Make your way around the board as you try to gain control of the Ring and gather special powers. Just remember, dangers are around every corner. Think of this as the much more epic version of the Monopoly you know and love.
6. Gollum Plush
It's so creepy, it's actually kind of cute. What's a more precious gift than a Gollum plush? As part of The Noble Collection, it's a high quality stuffed version of the poor, obsessed hobbit you couldn't help but feel sorry for. Measuring in at around eight inches, it's perfect to add to any Lord of the Rings collection without taking up too much space.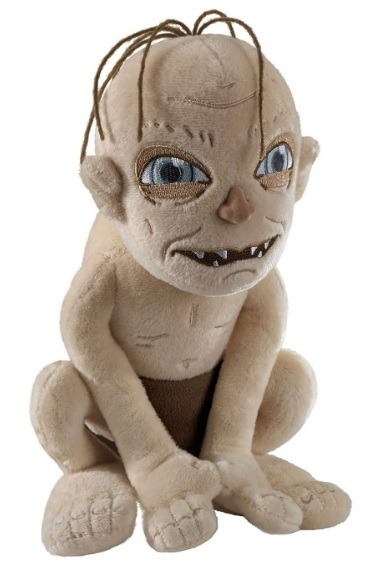 For younger fans, they might just want to snuggle up with their precious each night before going to bed. Sure, it's not the usual teddy bear, but why cuddle a teddy bear when you can have a ferocious Gollum instead?
7. Arwen Evenstar Pendant
As one of the most beautiful pieces of jewelry in the series, Arwen's Evenstar pendant makes one of the best Lord of the Rings gifts for any fan. You can get it in two versions – sterling silver and silver plated. Obviously, the sterling silver costs more, but is noticeably shinier and will likely last much longer.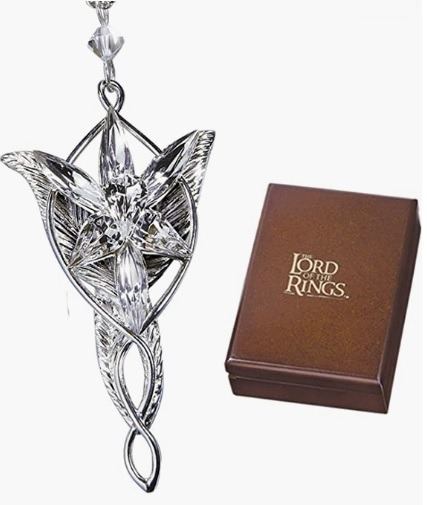 No matter which one you choose to gift, the fan will be absolutely blown away but the pendant's beauty. It's a licensed replica and looks amazingly real. For anyone who was a fan of the elves, it's the perfect gift.
8. Personalized Bookmark Set
It's always hard to beat a personalized gift. This Lord of the Rings Personalized Bookmark set can easily be a one of a kind gift by customizing the tassel color and adding your own text to the front or back. But, you don't have to add any text. Each bookmark includes a laser engraved quote along with a symbol from the series.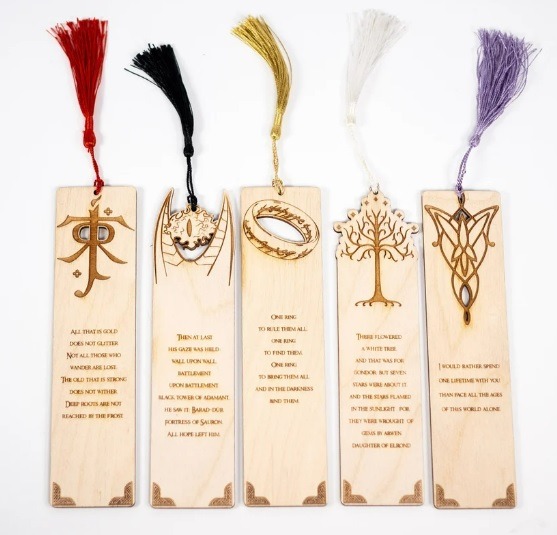 Choose between the Evenstar, the One Ring, the White Tree of Gondor, the Eye of Sauron, or the Tolkien Monogram. You can buy just one or all five in a set at a discounted price. The bookmarks are made of 1/8 inch birchwood. Don't be surprised if you want to buy one for yourself.
9 The Lord of the Rings: Journeys in Middle Earth
Gather your own fellowship in the cooperative The Lord of the Rings Journeys in Middle Earth strategy game. Every time you play, it's a different experience. Play as different pivotal figures from the books. It's designed mainly for ages 14 and up and anywhere from 1 to 5 players. So, this is also a great game for solo adventures or groups. The board is created as you play using a tile system. And, if the main adventures aren't enough, try your luck with side-quests as well.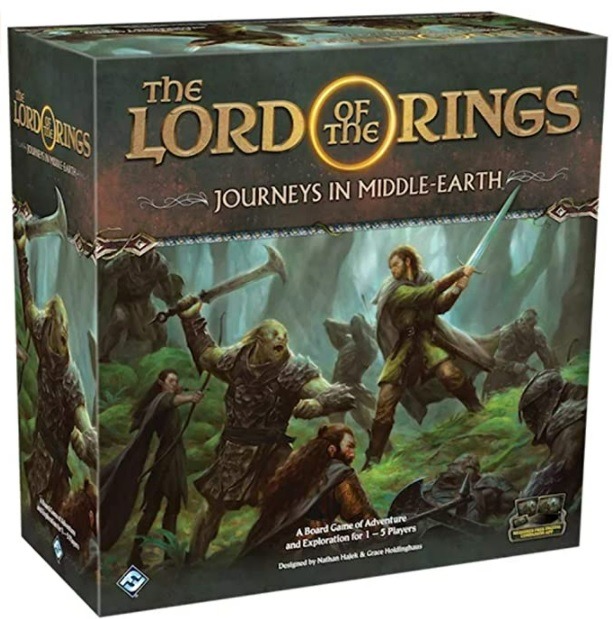 If you're looking for something a little lighter, especially for younger fans, try Lord of the Rings Card Game: Battle for Middle Earth. It's easier to learn and made for ages 8+.
10. The Ring
Obviously, the best gifts for Lord of the Rings fans is the One Ring itself. Help them feel the power of the Ring with either a 6 mm or 8 mm tungsten carbide version of the Ring. Lettering is easy to read inside and outside the band. It's one of the more durable versions, holding up to daily wear.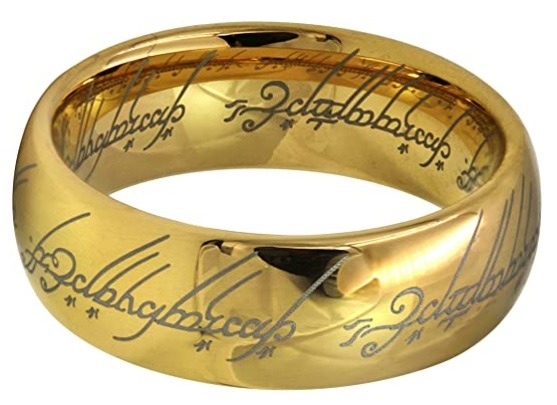 If a gold version isn't right for you, you can also get a five-pack made of stainless steel in gold, silver, black, green, and blue. Or, if you prefer a necklace version like Frodo wore, this LUREME gold-plated stainless steel necklace is ideal.
11. Sooharic Lord of the Rings Music Box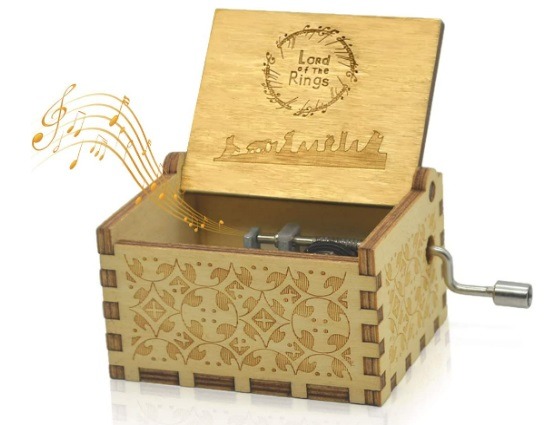 This engraved wooden music box plays the Fellowship theme. Its tiny size makes it a cute knick-knack for Lord of the Rings fans. Plus, it's fully mechanical, so no need for batteries. This unique gift is the perfect option for the fan who already seems to have it all. Another option is this vintage music box made of maple, walnut, and rosewood.
12. Potatoes Tee
Samwise couldn't be more right about the many ways to cook potatoes. It really is an incredibly versatile food that I personally couldn't imagine living without. This Potatoes Tee makes one of the best Lord of the Rings gifts for Samwise fans. In what was a darker scene in the story, Gollum and Samwise fighting about what to eat added some much needed levity.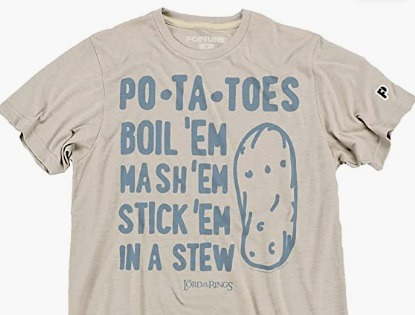 What's great about this small business on Amazon is you can also choose between six other great Lord of the Rings tees on the same product listing. So, buy a variety of tees for all your LOTR fans in one place.
13. Funko POP! Frodo
Every Lord of the Rings collection needs at least one Funko POP! figure. So, why not go with the one hobbit who bore the weight of the ring's power – Frodo. Sure, he would've never made it without the Fellowship, but he rose to the challenge nonetheless. If you want to make it an even better gift, give the fan both Frodo and Samwise.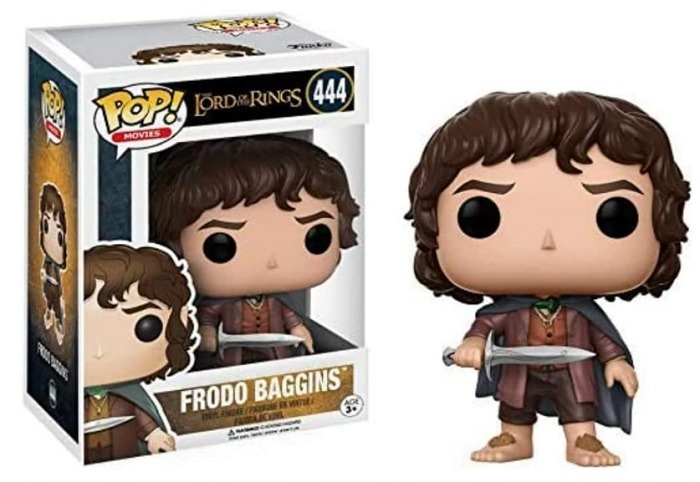 If they already have those two or if they're more a fan of the elves or dwarves, they might prefer another iconic duo from LOTR. No fan would ever turn down a POP! Gimli or Legolas.
If you're excited about Amazon's new Lord of the Rings series, check out these other highly anticipated shows for 2022. If you're looking to save money on gifts, start with these price comparison websites.