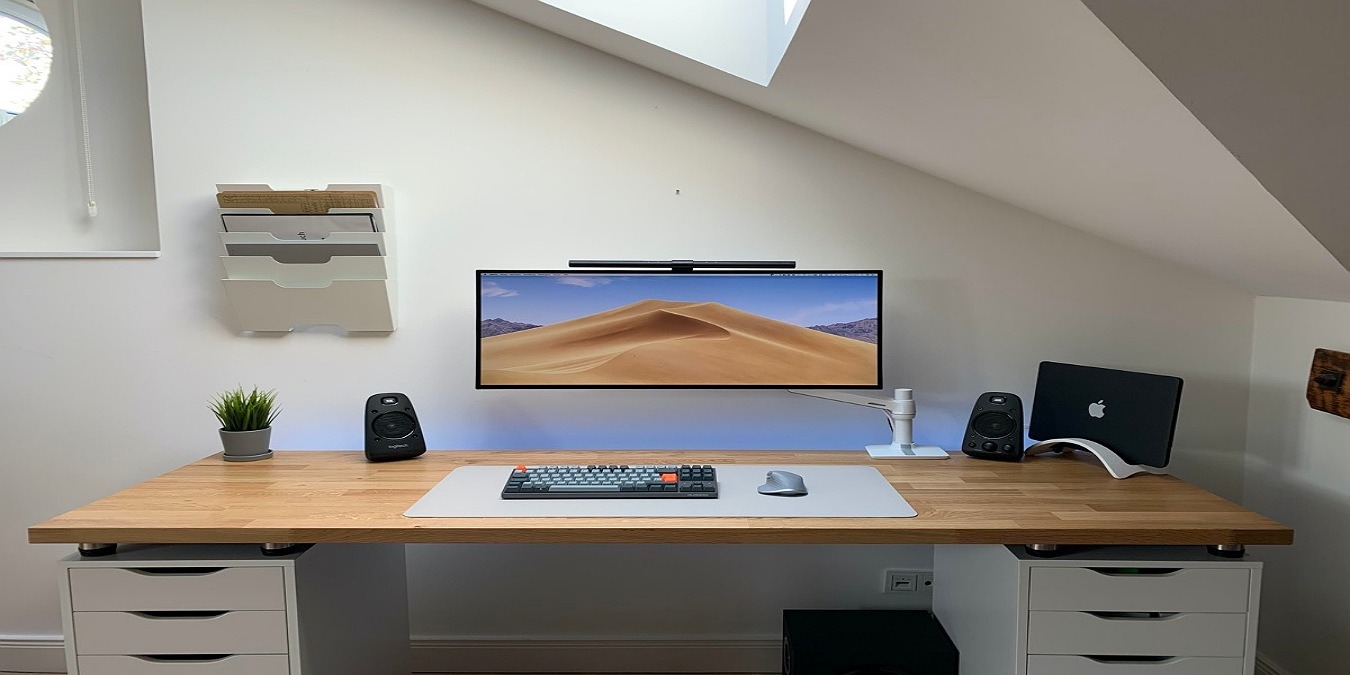 Gaming setups have gone from a simple desk, monitor and console to a full-blown lightshow. It's become a trend to post your gaming setup post on social media and many setups that have been shared are actually quite impressive. As you scroll through these extravagant setups, you'll quickly notice the many IKEA gaming desks included in most of these builds. Whether you want to show of or truly need a great desk, you'll need check out some of the best IKEA gaming desks that you can order right now!
Don't forget about the chairs! A great gaming desk cannot be complete without a great gaming chair to go with it. If chairs aren't your style then these cool gaming beanbags are an excellent alternative.
1. MICKE
Price: $100 – $110
Available colors: Black-brown, white, white/anthracite, anthracite/red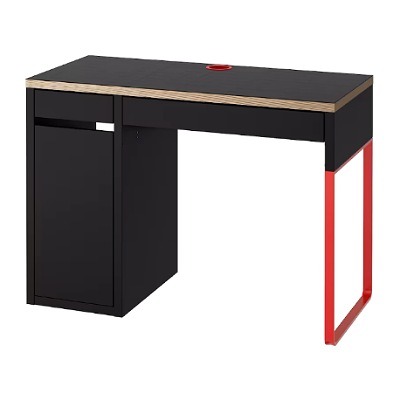 Simplicity and affordability is what makes this MICKE desk a great option for those on a budget. This is one of the least expensive and best-selling IKEA gaming desks. It comes with two small drawers and a large drawer with adjustable shelves. You can combine this model with other desks and drawers of the MICKE series. The back panel is open to allow air ventilation to your gaming PC or console. And, to properly hide and arrange your cables.
2. MALVAKT/NARSPEL
Price: $160
Available colors: Black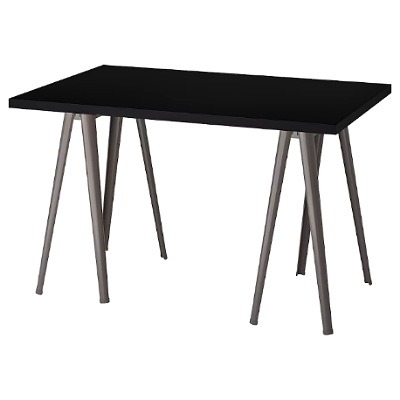 There's no need to worry about stability with MALVAKT/NARSPEL's sturdy, eight leg support for its tabletop. The tabletop itself is strong, lightweight, and made from recycled materials. However, this desk does not come with any drawers or any sort of storage. It is designed for you to mix and match with different types of tabletops and legs for a combination that best suits your needs.
3. MALVAKT/ALEX
Price: $175 – $200
Available colors: Black/white, black/black-brown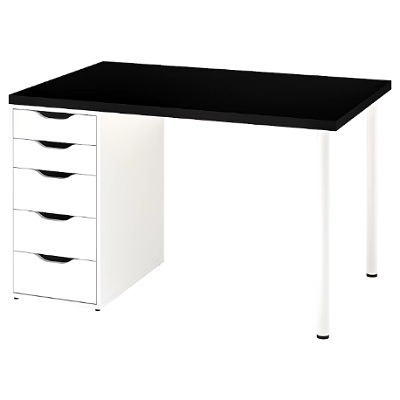 Anyone looking for a simple desk with plenty of storage will enjoy the MALVAKT/ALEX. It comes with a cabinet unit of five drawers of different sizes for plenty of space to store games, controllers, accessories, etc. Unlike the previously mentioned MICKE, it does not have an open back panel. But, this makes it a good desk for the middle of a room, instead of in the corner or against a wall, because of the finished back panel.
4. LAGKAPTEN/ALEX
Price: $250 – $290
Available colors: White, dark gray/white, black-brown/white, black-brown, dark gray/black-brown, gray/turquoise, black-brown/gray-turquoise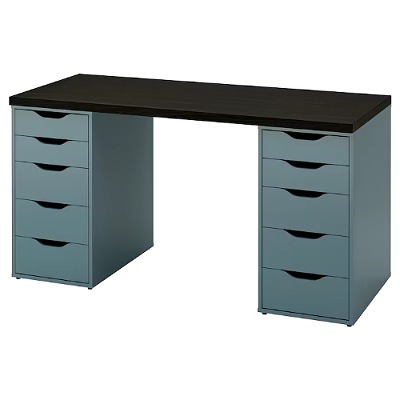 If the MALVAKT/ALEX doesn't have enough drawer storage for you then the LAGKAPTEN/ALEX surely will. This LAGKAPTEN model desk has a cabinet unit attached on both sides of desk. Just like the MALVAKT model, each cabinet unit has five drawers of various sizes. The LAGKAPTEN takes up more floor space than the MALVAKT in exchange for the extra storage that it offers.
5. UTESPELARE
Price: $230
Available colors: Black, light gray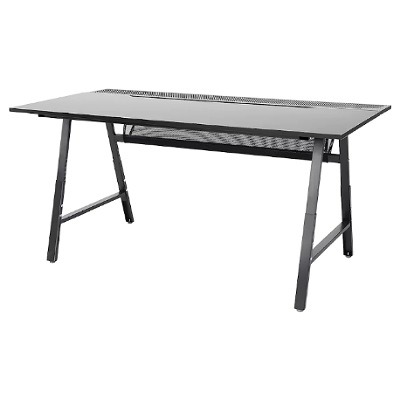 The adjustable UTESPELARE gaming desk is perfect for gamers that need to adjust the height of their desk as often as they need. There are six different heights between 27″ to 30″ that you can adjust the legs to. A sturdy metal mesh at the back of the desk allows fresh air to cool down your gaming PC or console. It also features a net underneath the tabletop helps to manage all of your cables and maintain a neat appearance.
6. FREDDE
Price: $280 – $300
Available colors: Black, white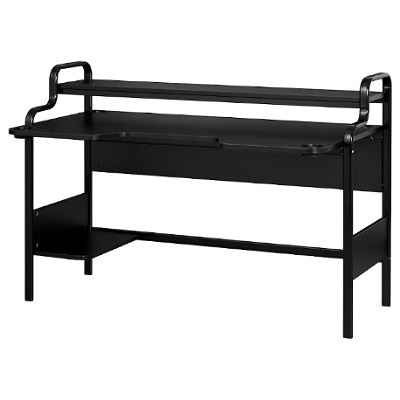 Serious gamers in need for the best gaming desk that IKEA has to offer will love the FREDDE series. These workstations provide a very comfortable arrangement due to the contoured tabletop. The design gives full support to your wrists and forearms while sitting close to desk. There is enough room on the tabletop to place a 32″ television or two monitors.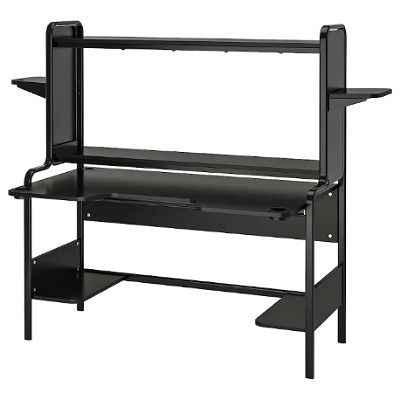 The $300 model FREDDE desk comes with a few additional features such as high side panels. These help to block out light and other distracting glares from your monitor. On the side of both panels are small shelves that are ideal for speakers. You can store items such as collectibles, games, books on the top shelf. However, this top shelf will need to be removed if you intend to use a 32″ monitor with this model.
Complete your gaming setup with these fantastic PC headsets with crisp, immersive audio.
Image credits: IKEA