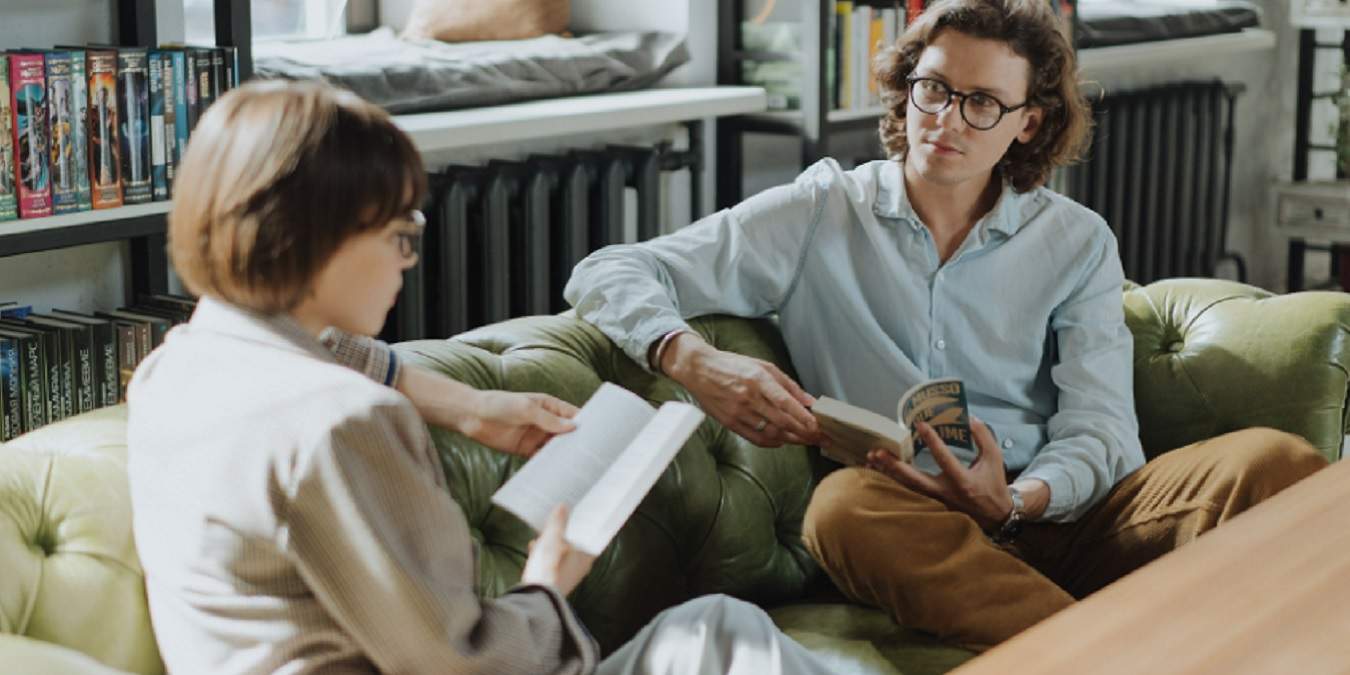 Curling up with a great book on a rainy day is a dream come true for many. But what happens when you're finished reading? Do you just keep all your excitement and theories to yourself, or do you want to talk about that insane plot twist, frustrating heroine, or the way the author brings scenes to vibrant life. You need a book club, but you don't have to leave home to join one. Instead, try out these online book clubs for both discussion and a way to meet fellow bibliophiles.
Prefer to listen to others talking about books instead? Then check out these story and fiction podcasts.
Oprah's Book Club
As one of the most well-known book clubs in the world, Oprah's Book Club has to be on this list. It originally began in 1996, took a brief hiatus at the end of 2010 and relaunched in June 2012. Each month, Oprah chooses a new book for readers to enjoy and discuss. The titles vary greatly, from bestsellers to highly obscure titles that often end up becoming bestsellers as a result.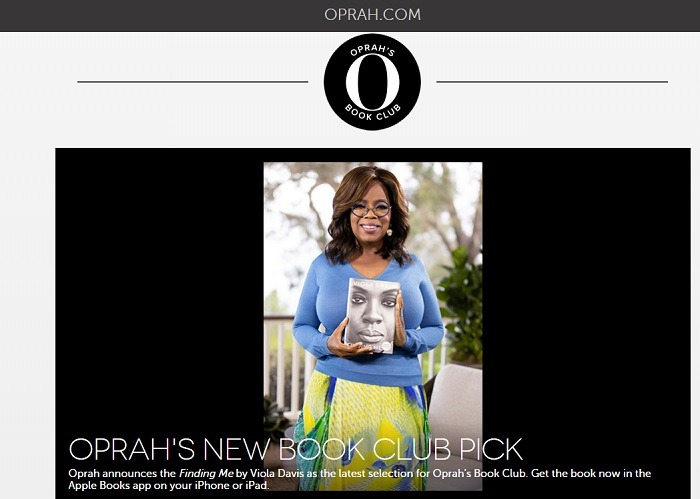 Memoirs and controversial topics, such as a racism, are common. At the time of writing, the group is reading Finding Me by Viola Davis. When you're finished, join the discussion on Instagram, Facebook, and Goodreads. You can also catch interviews with authors along with the books themselves on Oprah's Book Club airing exclusively on Apple TV+.
r/BookClub
It shouldn't be a surprise that Reddit has one of the best online book clubs. With 136,000 members, you'll always have plenty of book lovers to discuss the monthly books with. Unlike most book clubs, r/BookClub lets you read and talk about multiple books every month, so you can easily pick one or more. This is something that sets the club apart.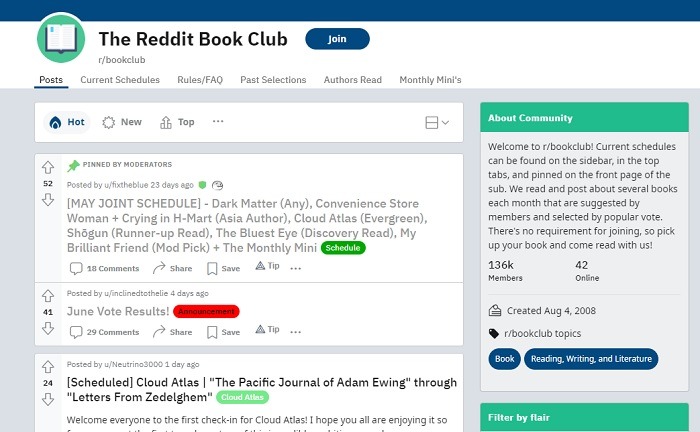 Users submit possible book titles each month and then everyone votes on which books will ultimately make the list for the following month. For May, there are six titles and a mini, which is a short story. There's always a variety of genres, from fantasy to non-fiction and biographies to sci-fi.
If you prefer to stick to a specific genre, check out different genre subreddits to see if they host their own book clubs. For instance, r/Fantasy has Book Club Hub featuring a new title each month. The current details are also in the sticky post at the top.
The Girlfriend Book Club
Love sitting down with your girl friends, drinking coffee, and discussing books and your latest relationship drama? Then, join The Girlfriend Book Club, a Facebook group launched by AARP's The Girlfriend to bring people together virtually to discuss books and have a great time. Despite the name, anyone is welcome to join as long as they abide by the rules to be courteous to others. Simple, really.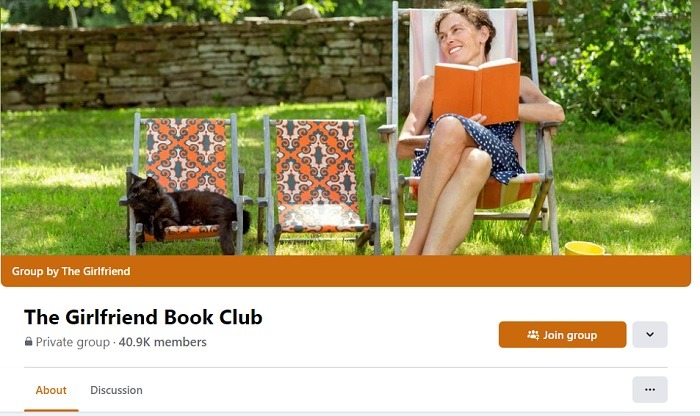 This group has over 40,000 members. Each month, the group votes on a new title. While you can discuss books throughout the month, there's a live discussion too, often with the author included, on the third Tuesday at 7:30 PM EST. As you might imagine, most titles are by female authors. It's also worth checking out the group for the free book giveaways each month.
BookClub
BookClub isn't just one book club. It's an entire social platform designed for readers. There's a wide variety of book clubs for varying interests, such as 18th-century masterpieces, Black Like We Never Left, and Effective Leadership. The first group you're presented with is Belletrist (a premium club), which is hosted by Emma Roberts and Karah Preiss. The duo picks a new book monthly and even creates a discussion video.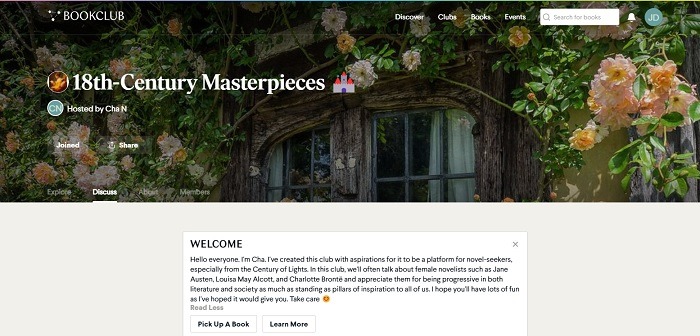 Many book clubs here are free to join or you can start your own. You can create custom reading lists, participate in discussions, and even join in on virtual discussions with the authors. For $9/month, you get access to every book club, exclusive interviews with authors, and add in your own comments and questions during virtual discussions. There's a six-month free trial, so you have plenty of time to see if premium is right for you.
Goodreads Groups
Goodreads is already a well-known platform for keeping track of what you've read, sharing lists with others, and discovering great new books. However, the platform also hosts numerous groups, many of them different types of book clubs. For instance, the Goodreads Choice Awards Book Club focuses on reading winners of the Goodreads Choice Award. They also feature nominees, series, and bestsellers.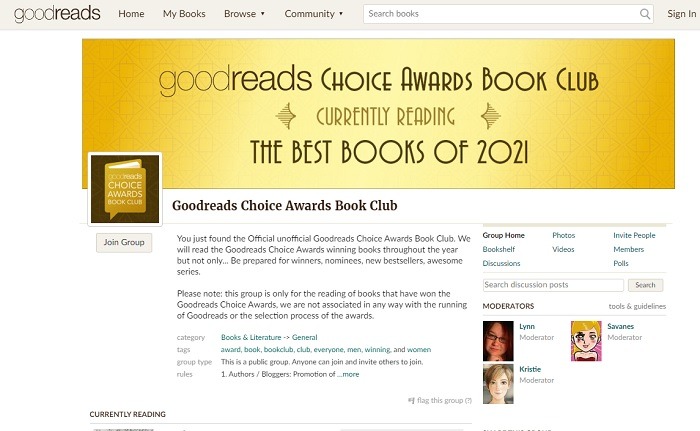 The best way to find book clubs is to browse the Groups section. You can also search Groups for specific genres or types of book clubs. For young and teen readers, there's an Addicted to YA group. Or, if you're a history buff, check The History Book Club.
Online Book Club
If you love forum discussions, join your fellow bibliophiles on Online Book Club. The Book of the Month forum gives each book its own separate thread for readers to gather and talk. You'll find a large variety of books currently being discussed at any given time. For instance, December 2021's book Vagabond by Mary A.J. was still being discussed in early May 2022. So feel free to join in even if you're a month or two behind.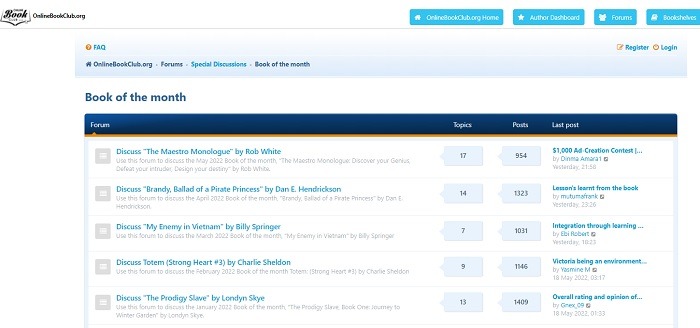 Don't like the book of the month? No problem. Discuss your favorite book or series at any time in the Reviews and Discussions about Specific Books and Series section. This section is broken down into different genres. Dive into a current discussion or post a review about a book you've recently read.
r/Books
While the r/BookClub subreddit is just about a set of monthly books, r/Books gives you both a monthly book and the option to discuss any book you want. With over 20 million members, you'll find some of the most active book discussions on Reddit right here. Check out the monthly book club selection which is pinned to the top, or scroll through to discuss what others are currently reading or have already read.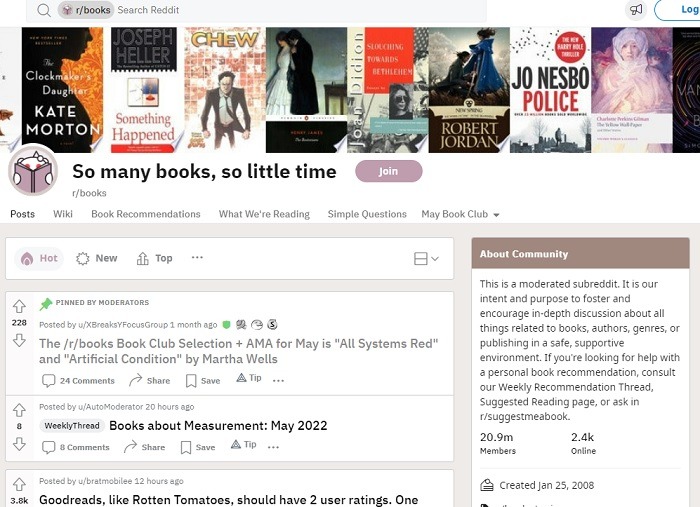 It's a great place to uncover hidden gems, talk about things related to reading (such as trying to read with ADHD) or just participate in a monthly book club.
Want to participate in book clubs, but hate paying full price for the books? Check out the best places to buy used books to help save money. Or, see if you can get the e-book for free. Or, if you'd rather focus on illustrated books, check out where to read comics online.
Image credit: cottonbro via Pexels