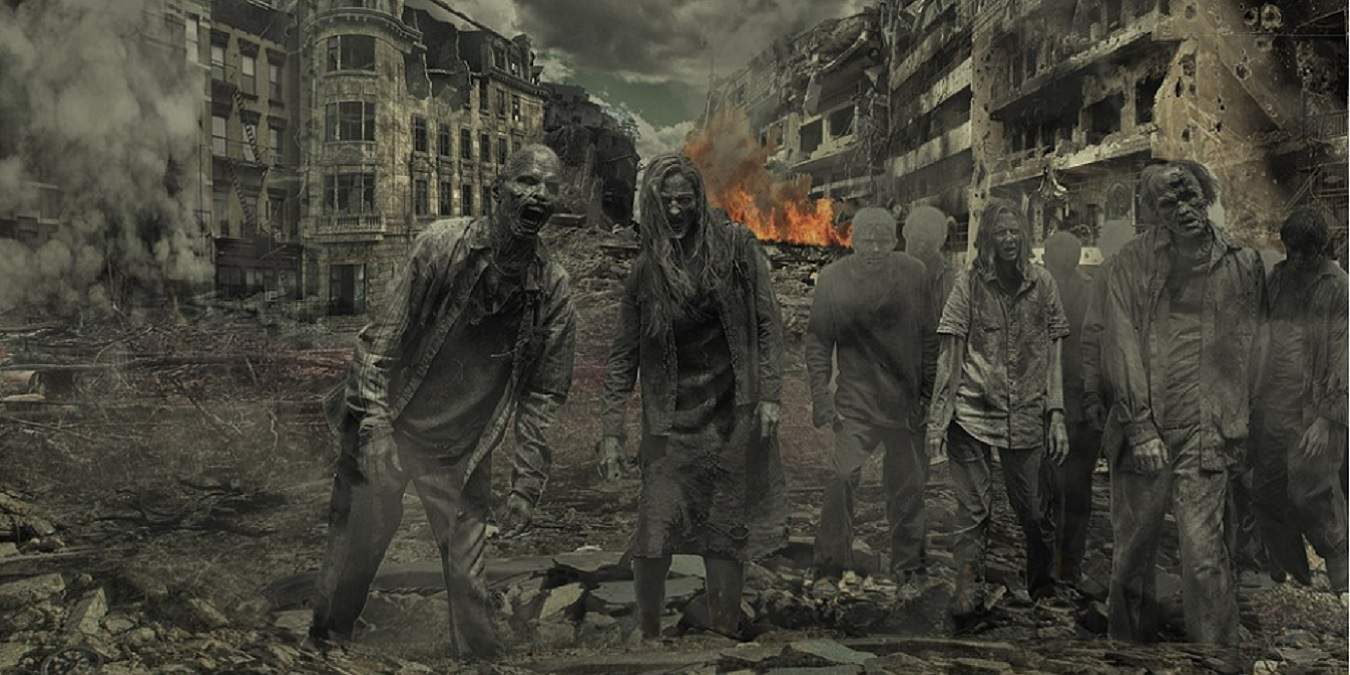 Big-budget horror movies might be memorable, but they'll never quite beat the campiness of cheesy horror movies. The 70s and 80s were the golden age of cheesy horror with movies that were sometimes so bad and unbelievable, they were good. Many of these horror movies have their own cult following of dedicated fans. You don't have to wait for Halloween or pay for expensive streaming services to watch them, though. Just check out these great sites.
Want to thank your best friend for binge watching hundreds of horror flicks with you? All you need is a great gift. Try one of these horror-themed gifts for something you know they'll love.
1. Tubi TV
Tubi TV has become a go-to free streaming site for a wide range of movies and shows, but the site really excels when it comes to horror movies. While they have more serious fare, they have some of the best cheesy horror movies around. If you don't mind some ad breaks, you can check out classics like Zombie Strippers, Elvira: Mistress of the Dark, The Return of the Living Dead, and Child's Play 2.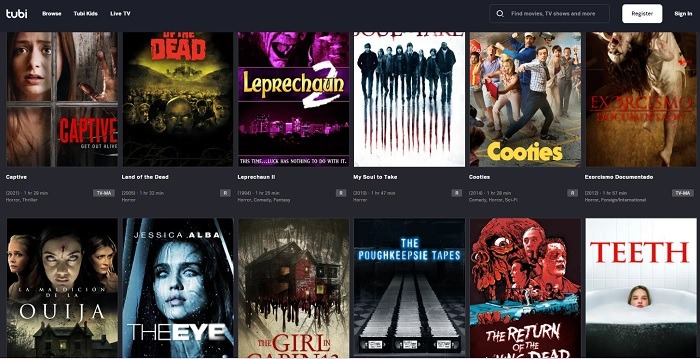 Dive into Tubi's horror catalog and you'll have plenty go keep you cringing and laughing for weeks. The site's even developing their own originals, which is sure to include a little cheesiness. During October, the site hosts Terror on Tubi.
2. Crackle
Crackle works much like Tubi TV and also has a large horror selection. Of course, you'll find quite a few selections that are so terrible you can't help but laugh out loud at the absurdity. While it'd be nice to be able to better filter the horror genre, it's easy enough to just scroll through and find something fun to watch. At the time of writing, you can find great cheesy horror like Lavalantua, Piranhaconda, Creature from the Haunted Sea, and Attack of the Crab Monsters.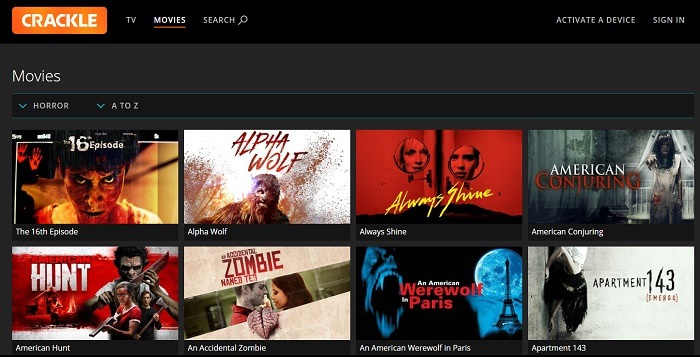 Everything's free on Crackle and they even have an originals section. Just remember, the site is ad-supported.
3. Freevee
Freevee, which was originally IMDbTV, is Amazon's free ad-supported streaming service. While you can watch it via an app on most devices, you'll have to stream it through Amazon, completely free with no Prime subscription necessary, on computers. Surprisingly, the platform has a growing selection of horror, including cheesy horror movies.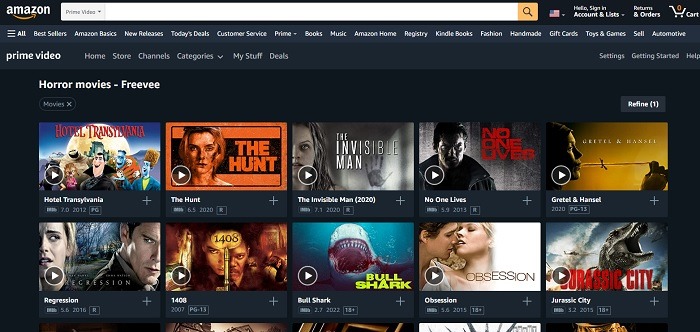 Need a good laugh? Check out Saturday the 14th. There's also the fun shopping mall horror flick Chopping Mall.
4. Popcornflix
Grab some popcorn, sit back, and enjoy as much cheesy horror as you want on Popcornflix. While the free ad-supported site has numerous movies in all genres, including some older blockbusters, their horror selection is rather impressive. Just don't say you weren't warned about how horribly good some of movies are, such as Strippers vs. Werewolves and Sharktopus vs. Whalewolf. You might also never see carousels the same way again after watching Caroushell.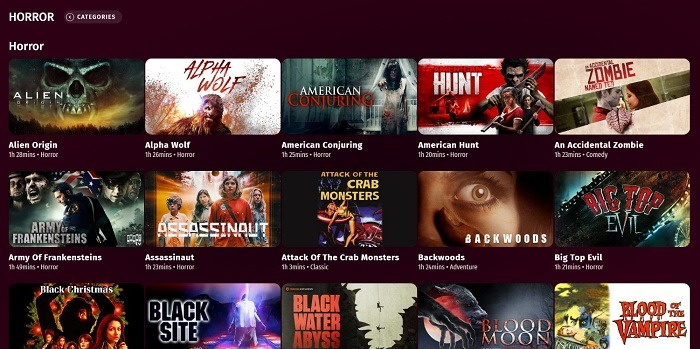 If you get bored of the horror flicks, check out the random theme collections, such as the recent Rage in the Cage collection of Nicholas Cage movies.
5. CONtv
CONtv, formerly known as Viewster, has become one of the best streaming platforms for comic con and comic content. However, it also has a growing selection of horror, sci-fi, and action movies, which fit the site's theme fairly well. Unlike the other sites on this list so far, not everything is free to watch. There's a small selection of free ad-supported content, but it's $8/month, $20/3 months, or $70/year. Each plan comes with a free month trial.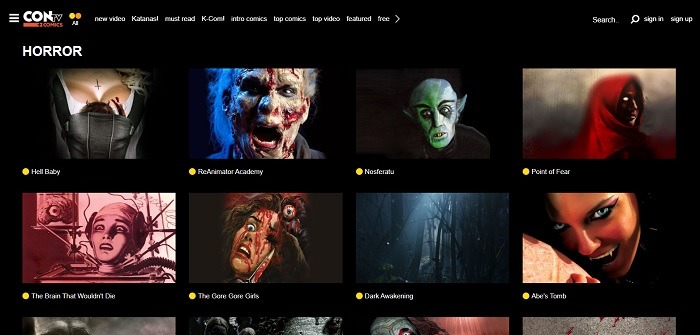 There's cheesy horror on both the free and premium plans. For instance, check out Night of the Living Dead and Pop Punk Zombies for free. Or, watch Bigfoot vs. the Illuminati and Under ConTROLL in the premium version.
6. YouTube
Finding cheesy horror movies on YouTube might lead to you to some questionable sources, but there's an entire section of YouTube that has legal free movies to watch. Of course, you can also buy/rent movies through YouTube. You can easily search for any movie you want, but if you want the legal versions only, look for the green "Free with Ads" or "Buy or Rent" under the result. You can also jump straight to YouTube's movie selection here.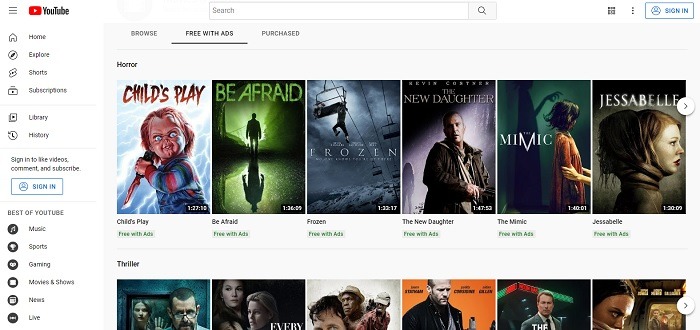 You'll have to scroll a little to find the horror movies, but it's well worth it. They've got a decent selection, including Child's Play, Trucks, and Dinoshark. All free content is ad-supported. Premium content costs vary based on the title.
7. Hulu
Hulu is the only premium-only subscription site on this list, but it's well worth including due to the low cost of just $6.99/month for the limited ads plan or $12.99/month for ad-free. Or, bundle with Disney+ and ESPN+ for $13.99/month with ad-supported Hulu. Surprisingly, Hulu has a vast horror catalog, including some cheesy goodness, such as The Gillymuck and Willy's Wonderland.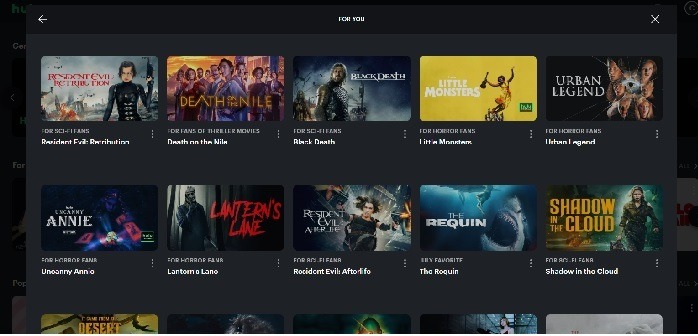 What makes Hulu even better is the cheesy original horror movies, such as Pooka Lives! and Little Monsters.
Love everything horror and not just cheesy flicks? Then check out the best folk horror movies and best J-horror and K-horror movies. Or, if you're a NOW TV subscriber, check out their horror offerings.
Image credit: Ahmadreza89 via Pixabay
Subscribe to our newsletter!
Get the best of WebGeekStuff delivered right to your inbox!