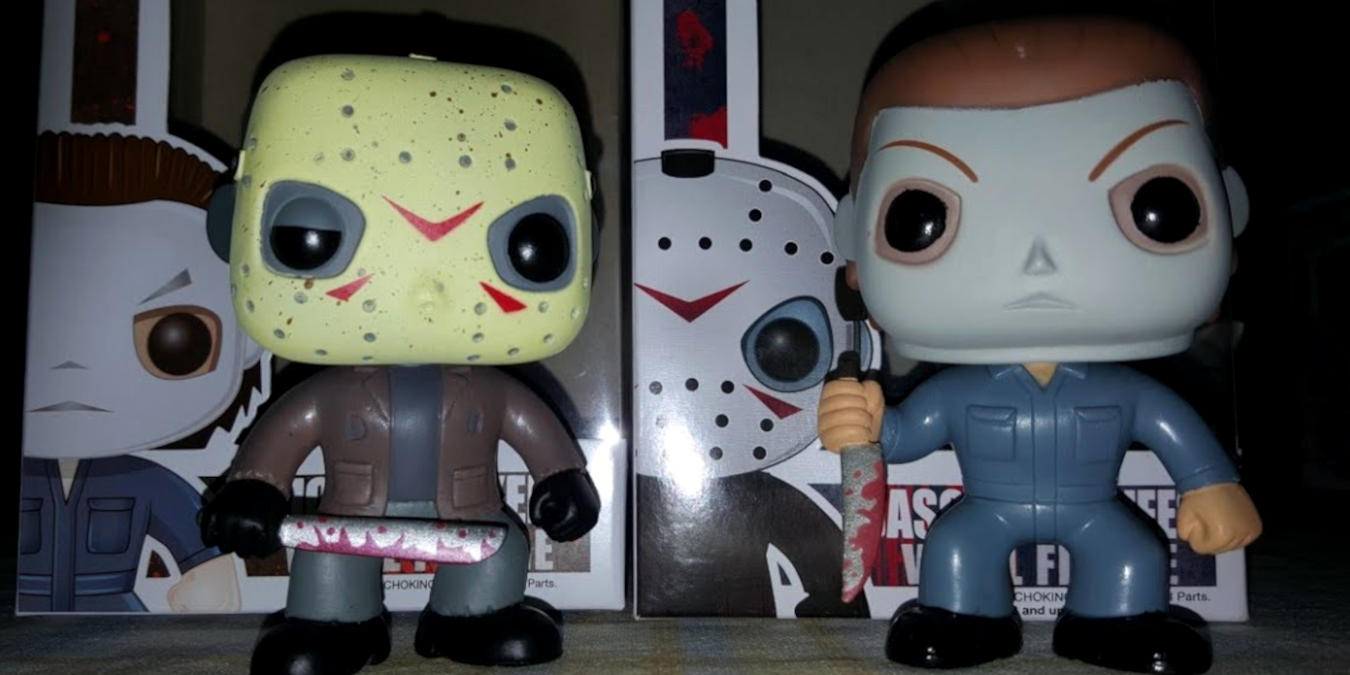 Horror is one of the great movie genres. From explicit gore and unbearable torture to supernatural entities and psychological scares, it has a little bit of something for everyone – well, at least everyone with a slightly twisted mind.

If you know anyone with such a depraved mind – or if that person happens to be you – and you're looking to buy some horror merchandise for that person, we have the solution.

There are tonnes of great horror products out there – and we're going to run you through the best ones to buy as gifts for avid fans of the genre, from the obvious to the quirky and obscure!

If you're a horror fan, why not take a look at our article about the best horror movies on Netflix or read our review of horror movie Karen?
1. Michael Myers' Mask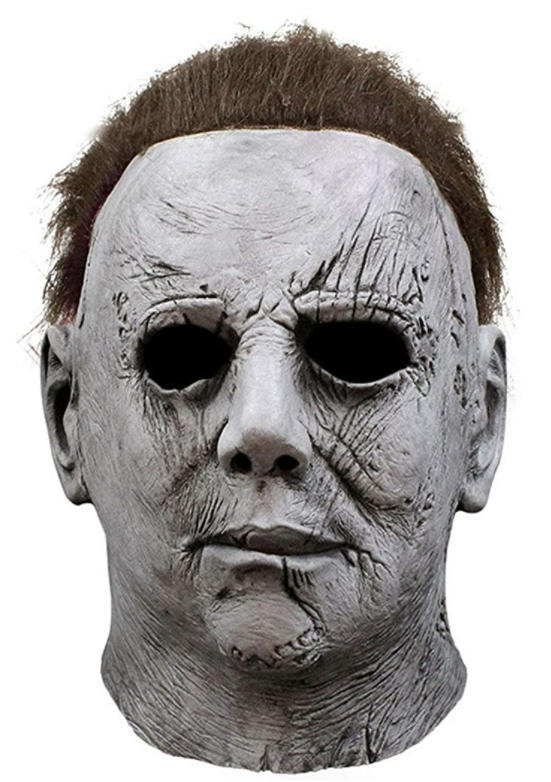 Halloween is one of the most iconic horror movie franchises of all-time and its antagonist – the knife-wielding and nigh-unstoppable Michael Myers – is up there with the most iconic villains in the genre. Which self-respecting horror fan wouldn't want to don Michael's mask and scare the bejesus out of their pals?!
2. Jason Voorhees' Mask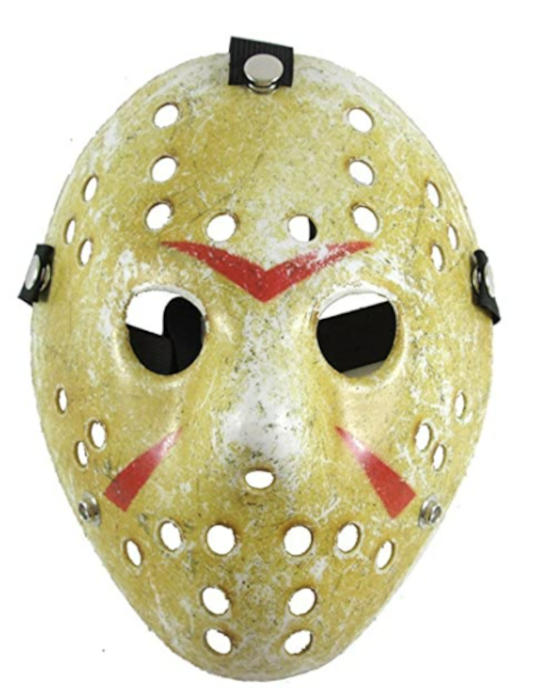 Without doubt, the next-most iconic mask in horror movies is that belonging to Friday the 13th's Jason Voorhees. Jason's instantly-recognizable scuffed hockey mask is enough to send chills down the spines of anyone bearing witness to it – and your horror-loving friends would love causing that kind of fear by putting it on!
3. The Nightmare On Elm Street Collection
A Nightmare on Elm Street is one of the most original and terrifying horror franchises, period. Every movie in the franchise has its merits – from the legitimate brilliance of the first two movies, to the self-aware Dream Warriors, and even the frankly silly Freddy vs Jason.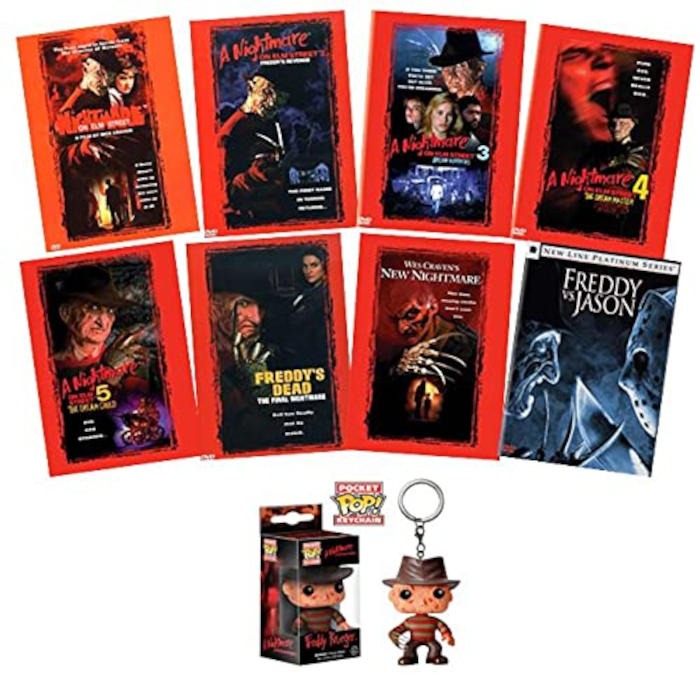 This collection ensures that can happen with one simple transaction. Moreover, this one comes with a very cool Freddy Krueger POP! keychain, making it even more of an essential purchase. 1, 2, Freddy's coming for you...
4. Psycho Shower Curtain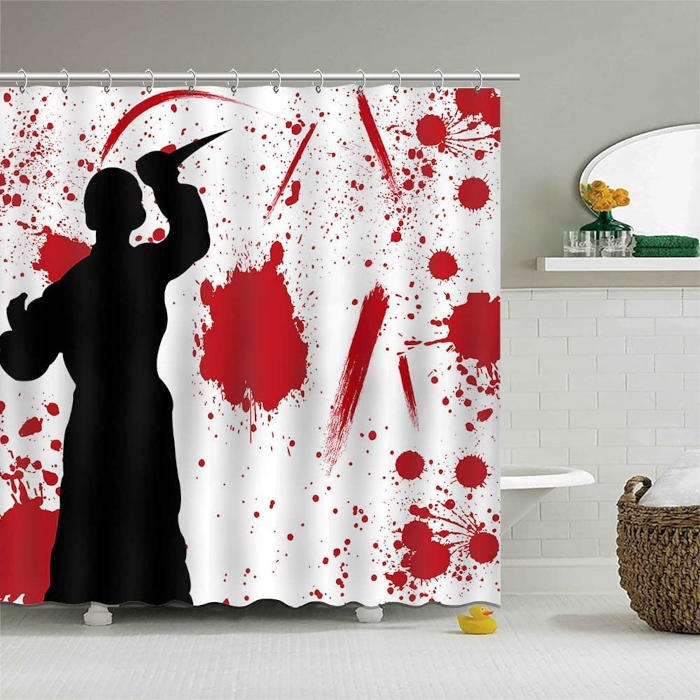 Anyone who ever watched Alfred Hitchcock's classic horror-thriller Psycho will know it made showers a creepy place to be. Why wouldn't ever horror fan want t imbue their shower with a little bit of trauma? This very cool Psycho-themed shower curtain will do the job!
5. Top 100 Horror Movies Scratch off Poster
This is such a cool concept! A poster for horror movie fans with the 100 greatest horror movies on it (supposedly, at least – but you can debate that subject to your heart's content).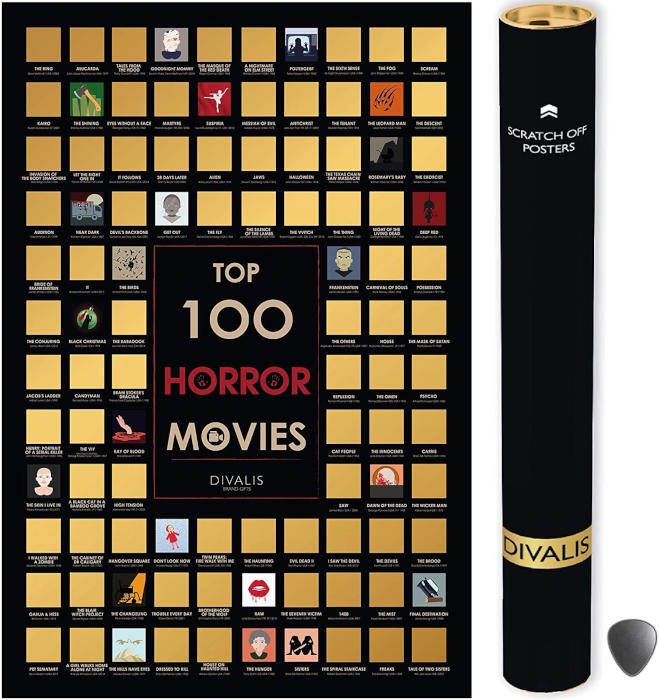 Just scratch off the squares of the movies you've seen until they're all scratched off, revealing 100 beautiful illustrations! It comes complete with a scratcher, as well as a very nice gift package – so you don't need to purchase one separately.
6. Horror Movie Watching Blanket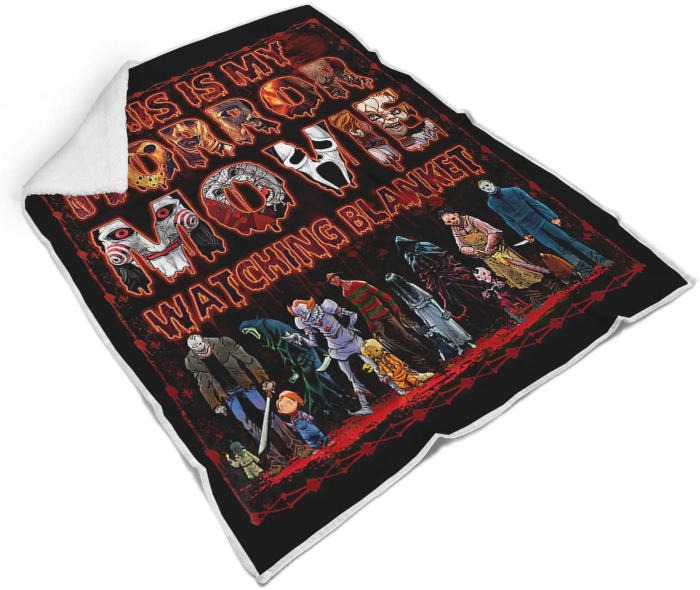 It's nice to have something to cover your face with during a good horror – and what better way for horror fans to do that than this fantastic blanket? Featuring characters including Jason Voorhees, Chucky, Pennywise, Freddy Krueger, Leatherface and Michael Myers – and emblazoned with the words "this is my horror movie watching blanket" – it's absolutely perfect!
7. Freddy Krueger Glove Chopsticks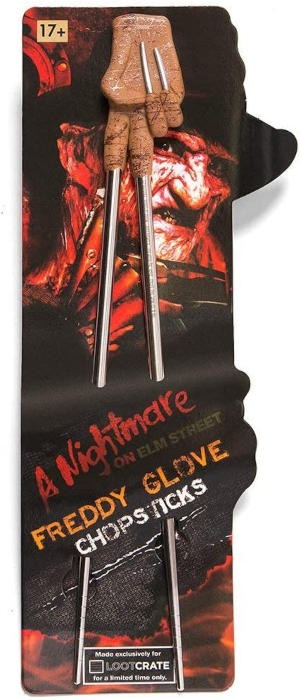 There's only one thing better for horror fans than sitting down to watch a horror movie – and that's sitting down to watch a horror movie with some delicious food. If Chinese food is your bag, there's no better way to eat it than with these quirky Freddy Krueger glove chopsticks. How fun are they?!
8. Horror Canvas Wall Art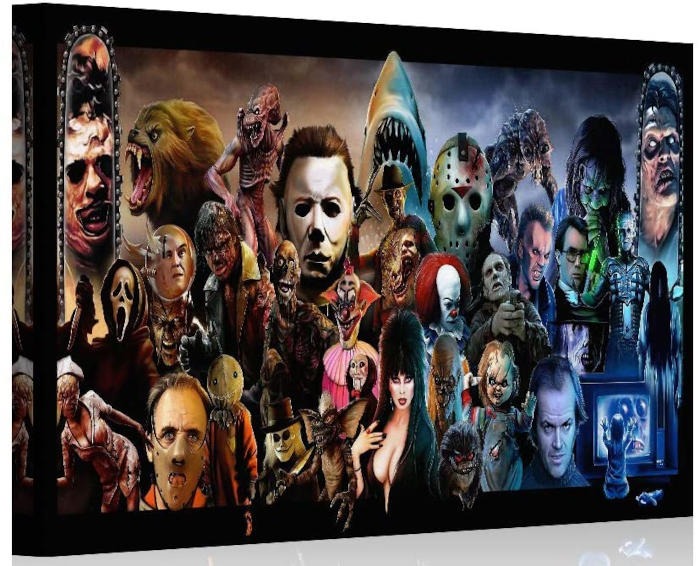 Every horror movie fan should want their house decorated with horror-themed items – and this canvas wall art fits the bill perfectly. Featuring the likes of Hannibal Lecter, Jack Torrance, Ghostface, Billy the Puppet, Pumpkinhead and the Creeper, it's a wonderfully horrific collage of horror movie icons. Just imagine how good that would look on a horror fan's wall!
9. Monsters in the Movies Book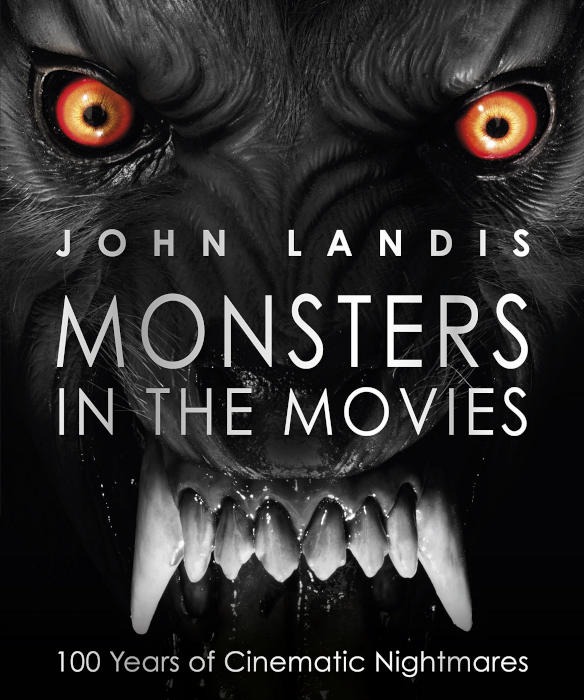 There are countless great books available about horror movies, but we'd only consider a few of them to be essential. John Landis' Monsters in the Movies: 100 Years of Cinematic Nightmares is one such book. Written by Landis himself – the man behind 1981's An American Werewolf in London and 1983's Thriller video – it features loads of illustrations and anecdotes about the greatest movie monsters.
10. The Book Of Horror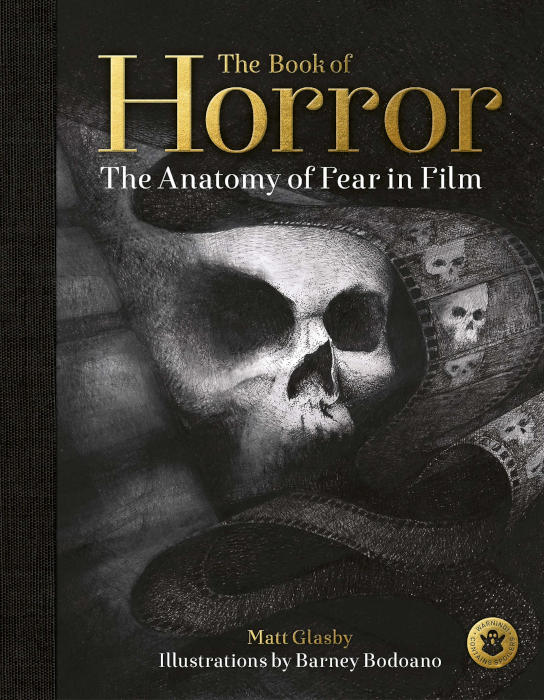 Another brilliant and essential book for all horror fans is Matt Glasby's The Book of Horror: The Anatomy of Fear in Film. Featuring some wonderful illustrations by Barney Bodoano, the book takes an in-depth look at some of the scariest movies ever made and examines exactly what makes them so frightening. This really is a great read – and one that will keep you up at night for all the right reasons.
11. Horror Funko POP! Bundle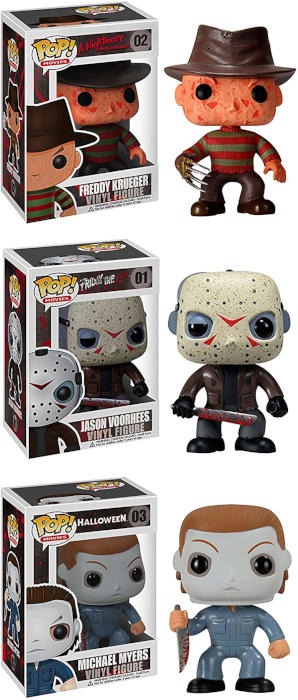 Funko POP! figures are the must-have items in geek culture these days – and there are loads of great horror characters in the collection. Three of the most iconic examples are, of course, Freddy Krueger, Jason Voorhees and Michael Myers. With this bundle, you can buy all three of them in one fell swoop!
12. Horror "Friends" T-Shirt
Classic sitcom Friends isn't exactly the kind of thing horror fans would typically enjoy, but the version of the show emblazoned across this T-shirt might just tickle their fancy.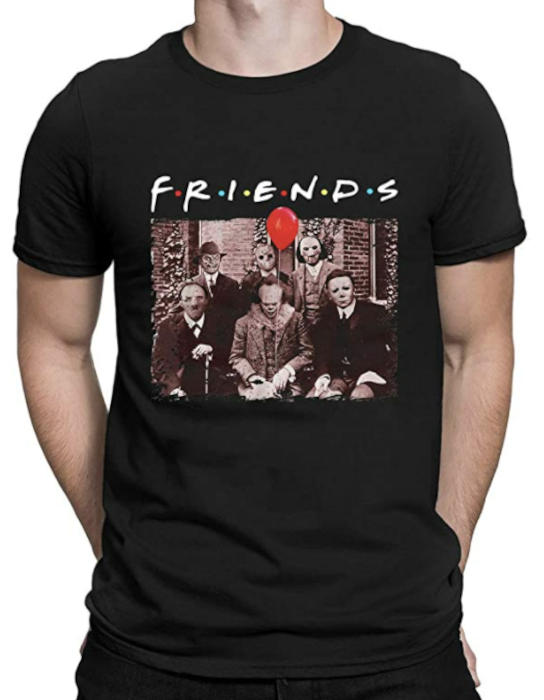 In place of Ross, Rachel, Chandler, Monica, Joey and Phoebe we have Freddy Krueger, Jason Voorhees, Billy the Puppet, Hannibal Lecter, Pennywise and Michael Myers – just the kind of friends a horror enthusiast would love to have for dinner.
13. Horror Movie Trivial Pursuit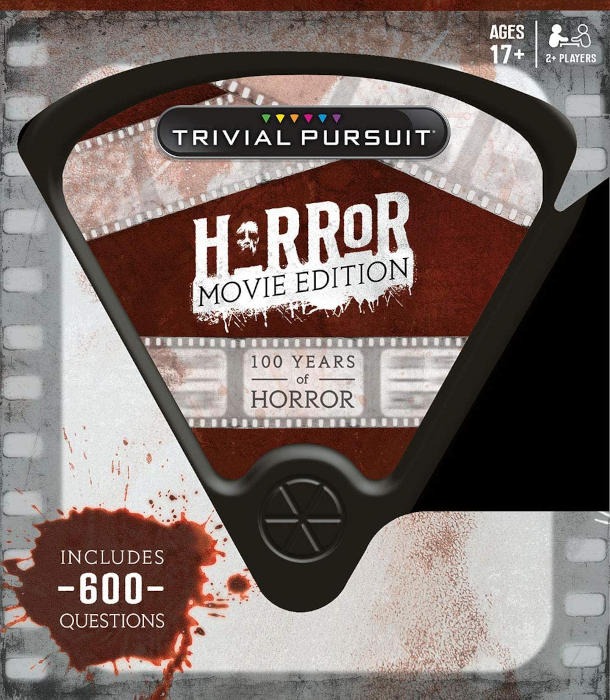 Surely, a real horror fan would thrive answering quiz questions about their favourite movie genre – and that's why this horror movie edition of the classic board game Trivial Pursuit is perfect for them. With 600 questions included, there might even be some that even the most keen horror geek would struggle to answer! Are you up to the challenge?
14. Horror Poster Bundle
This amazing horror poster set contains 12 posters, featuring some truly classic imagery from movies like The Shining, It, A Nightmare on Elm Street and The Exorcist. The posters are all 8.5″ x 11″ and they'd look great on the walls of any horror fan's home. Moreover, this set comes with a bonus horror bookmark. What more could you want in a quirky little gift set?
15. Horror Face Masks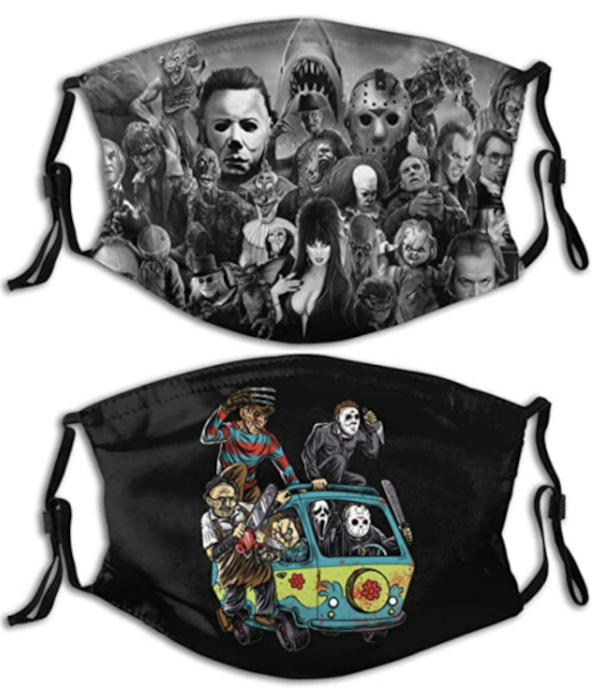 Horror movie villains like Michael Myers, Jason Voorhees and Ghostface may notoriously wear masks, but we're currently living in a time where a very different kind of mask comes in handy.
These horror face masks are perfect for showing everyone you're a fan of the genre while protecting yourself and others from a certain nasty virus that we're tired of even calling by its name. They're ultra-breathable, dust proof, and feature the likes of Freddy Krueger, Jack Torrance, Leatherface and Chucky.
If you're looking for more nerdy gifts, why not check out our list of the best gifts to buy for geeks?