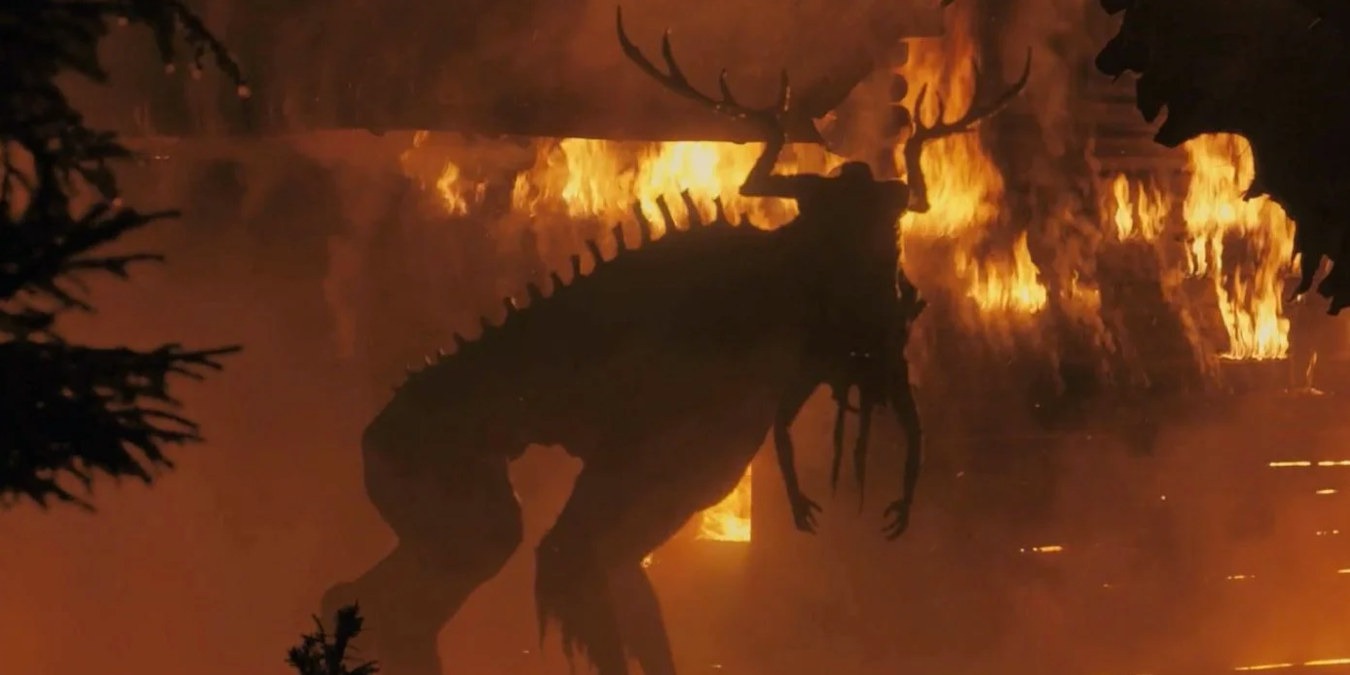 Folk horror is a subgenre that uses elements of folklore to invoke fear in its audience. Movies of this type are usually set in a rural location with themes of isolation, the power of nature, the darkness of rural landscapes, the arcane beliefs of rural folks and, more often than not, the clash between pagan beliefs and religion.
Cinema has provided us with some truly brilliant (and terrifying!) examples of folk horror over the years. In this piece, we'll be taking you through the very best ones and showing you to where you can watch them all online.
If you're a horror fan, while you're here, you should take a look at our list ranking every single one of the Texas Chainsaw Massacre movies.
6. The Ritual (2017)
Watch on: Not available to stream.
The Ritual is a British movie directed by David Bruckner. With Rafe Spall in the lead role, it follows a group of four friends who embark on a hiking trip along the Kungsleden in northern Sweden in memory of their deceased friend Rob. While there, they encounter a menacing creature that picks them off one by one.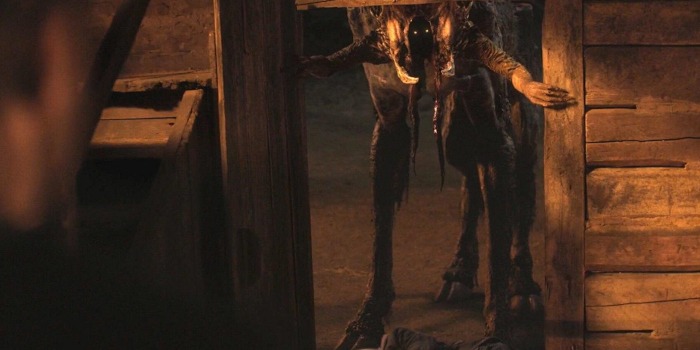 The scenic yet massively eerie setting really makes this movie, as do the dedicated performances of its small cast. There's a very prevalent sense of dread from the offset, as the friends figure out what's stalking them – and the reveal doesn't disappoint. The Jötunn (pictured above) is an ancient god-like entity and an offspring of Loki, and one of the best designed monsters in recent movie history.
It's not online, but keep an eye out for it appearing.
5. Lamb (2021)
Watch on: Amazon Prime (rental/purchase)
Directed by Valdimar Jóhannsson, Lamb is an international co-production between Iceland, Sweden and Poland starring Noomi Rapace. It's about a childless couple – María and Ingvar – who discover a mysterious part-human-part-sheep baby on their Icelandic farm. The unexpected turn of events initially provides them with a lot of joy, but it ultimately ends up destroying them.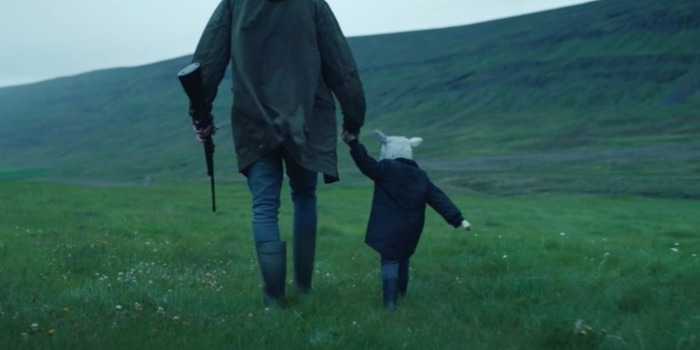 This is an incredibly odd movie that's both dark and extremely imaginative. The fact that the frankly ridiculous concept is treated with real seriousness and straight faces makes it very unsettling. It's a compelling movie that benefits greatly from its cloudy pastoral setting, which helps to set an ominous tone from the moment the movie begins.
4. Midsommar (2019)
Watch on: Netflix | Amazon Prime (rental/purchase) | Hulu | YouTube (rental/purchase)
Directed by Ari Aster, Midsommar stars Florence Pugh and Jack Reynor as a dysfunctional couple who venture to Sweden with a group of friends for a midsummer festival. However, while there, they find themselves in the clutches of a nefarious Scandinavian pagan cult.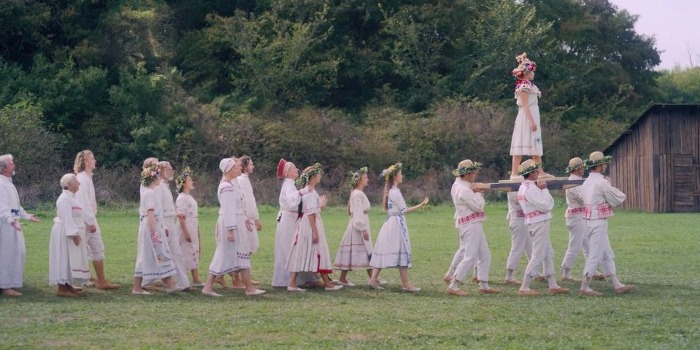 One of the most unsettling movies you're ever likely to watch, Midsommar is a brilliant work of horror – but what else do you expect from the same director who brought you Hereditary? It's a visual treat with lots of vibrant colors and beautiful scenery – and Florence Pugh is genuinely magnificent in it. It's essentially a breakup movie with a somewhat perverted twist – and doesn't that sound like a lot of fun?
3. Witchfinder General (1968)
Watch on: Amazon Prime (rental/purchase) | YouTube (free)
Witchfinder General – also known as The Conqueror Worm in the United States – is a historical horror directed by Michael Reeves and starring the great Vincent Price. Based on Ronald Bassett's 1966 novel Witchfinder General, it's a heavily-fictionalized account of the real-life murderous witch-hunting exploits of Matthew Hopkins, played by Price.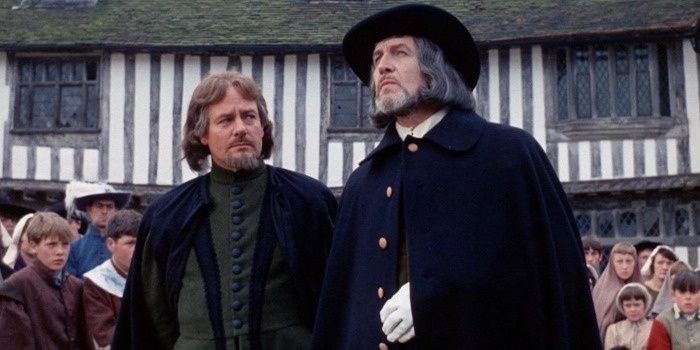 A true classic, this is an utterly sadistic, yet genuinely compelling movie that remains frightening to this day. The English countryside setting serves as a pure and peaceful juxtaposing backdrop against the depravity of the movie's characters. Bookended by a woman's screams at both the beginning and climax, it's teeming with great performances – and Price's is particularly intense.
2. The Witch (2015)
Watch on: Netflix | Amazon Prime (rental/purchase) | Hulu | YouTube (rental/purchase)
The Witch is a supernatural period movie directed by Robert Eggers in his feature directorial debut. It stars Anya Taylor-Joy (in her first movie role) and follows a Puritan family in the 1630s, as they encounter powerful forces of evil in the woods beyond their New England farm.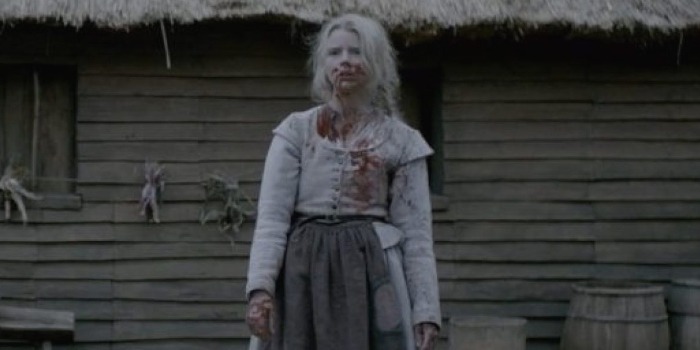 A compelling visual experience, The Witch is an incredibly thought-provoking movie. The ensemble cast give it their all, resulting in a plethora of intense performances that make this movie an absolute treat for horror fans. It doesn't rely on cheap tricks and works under the assumption that what you don't see is scarier than what you do. You'll be gripped all the way until the superbly satisfying finale.
1. The Wicker Man (1973)
Watch on: Amazon Prime (rental/purchase) | YouTube (rental/purchase)
Inspired by David Pinner's 1967 novel Ritual, The Wicker Man is a British folk horror and a masterpiece of the genre. Directed by Robin Hardy, it stars Edward Woodward as Police Sergeant Neil Howie, who visits the isolated island of Summerisle in search of a missing girl. As a devout Christian, Howie is disgusted to find the island's inhabitants have abandoned Christianity and instead practice a form of Celtic paganism – which ultimately leads to horror.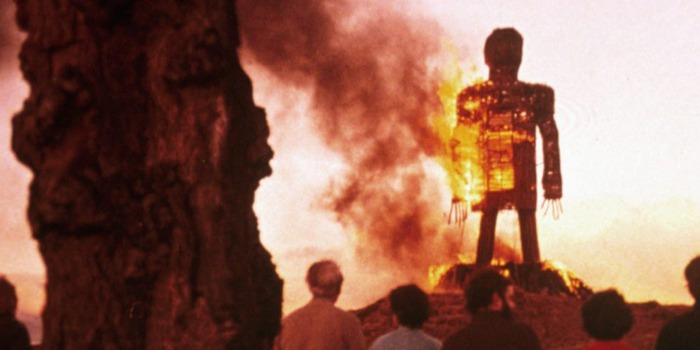 This macabre movie is undoubtedly the finest folk horror ever made. It's genuinely frightening and chilling, beautifully directed and performed, and aesthetically gorgeous. Woodward said it was one of his favorite movies and that Howie was the best part he ever played – and that says everything you need to know. However, avoid the 2006 remake and 2011's "spiritual sequel" The Wicker Tree – they're both absolute garbage.
Honorable Mentions
Children of the Corn (1984): YouTube (rental/purchase)
Pumpkinhead (1988): Amazon Prime (rental/purchase)
The Blair Witch Project (1999): YouTube (rental/purchase)
Wake Wood (2009): Amazon Prime (free with ads/rental/purchase)
Now that you're done here, continue reading up on your horror titles with our list of the best werewolf movies.