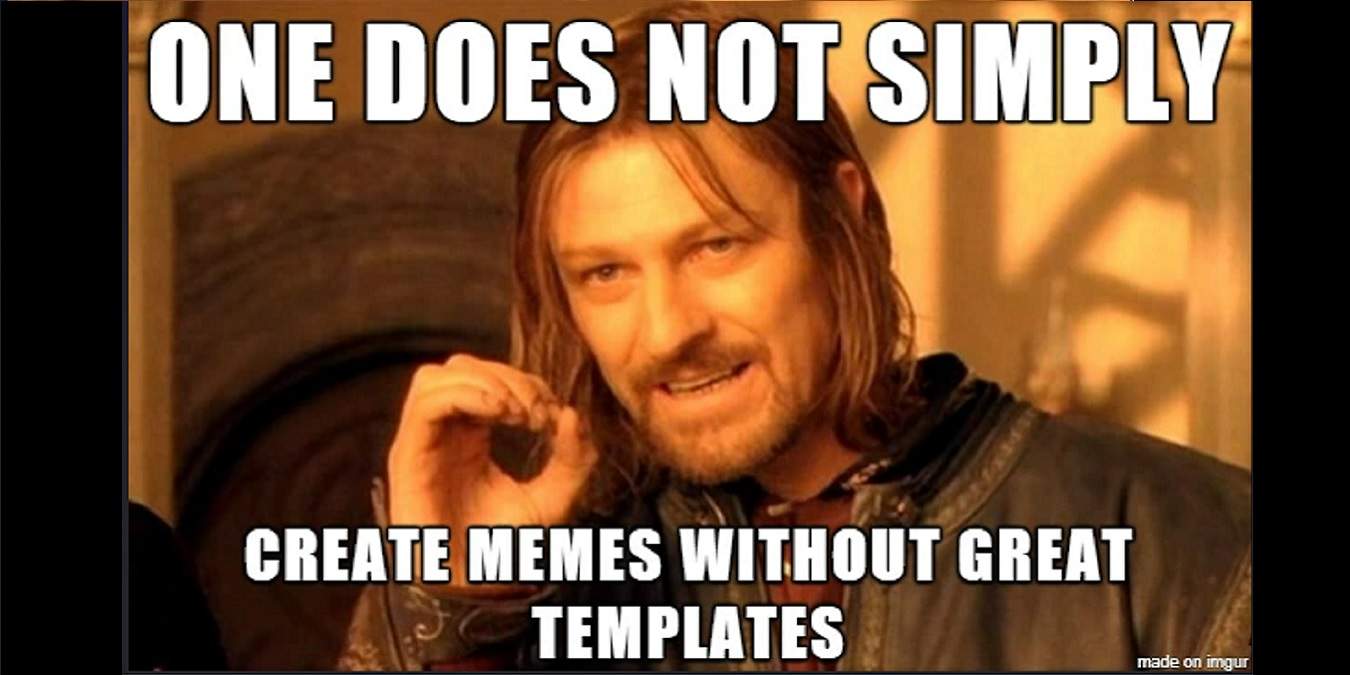 Have a great idea for a meme or want to put your own spin on a current one? All you have to do is create your own meme online and share it with the world. You don't need to download or pay for any special tools. Just use an online meme generator to customize templates or start with your own image.
While there are numerous meme creation tools available, I personally prefer using IMGFlip and Imgur. For this tutorial, we'll take you through using IMGFlip due to the vast number of image and GIF templates available.
While you're here, find some great meme inspiration with these incredibly weird subreddits.
Choose Your Template or Image
On IMGFlip, you can create memes, GIFs, charts, and demotivational posters (which also make great memes). Obviously, since you want to know how to create your own meme online, select "Make a meme" from the Create drop-down box at the top of the page.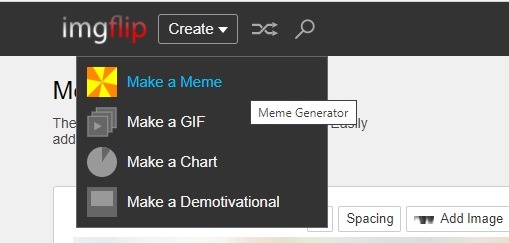 You then have the option to use your own image or an existing meme template. Let's start with using a template first.
While a template appears by default, you can search for templates by name using the "Search all memes" search box or select "View All Meme Templates" by clicking the search box.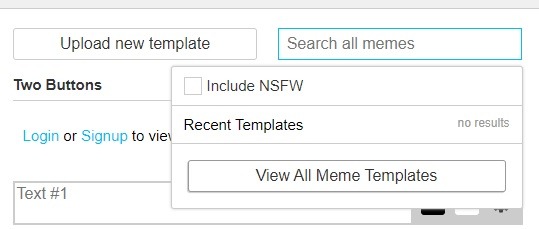 All templates start you with the image or GIF itself. You're then able to add your own text to make the meme your own. Simply scroll through the pages of options or use the search box above the templates to narrow the results. Switch between image and GIF results using the appropriate tabs above the templates.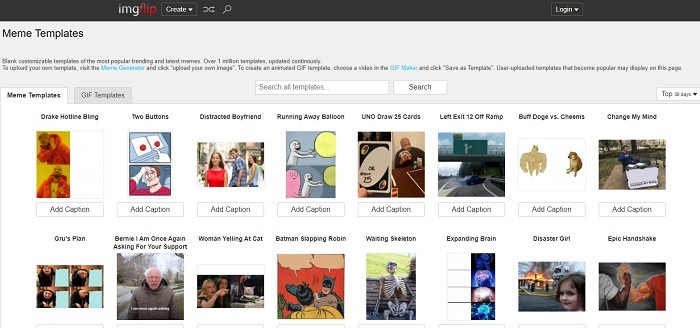 Click "Add Caption" on any template to go back to the meme editor to customize the text. If you click the meme image itself, you'll see a list of popular memes using that template.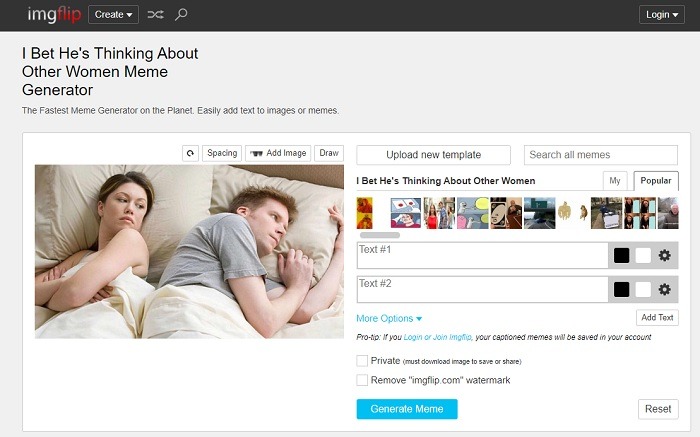 Use the text boxes to add your own text. Select the gear icon to customize the text font, size, and more.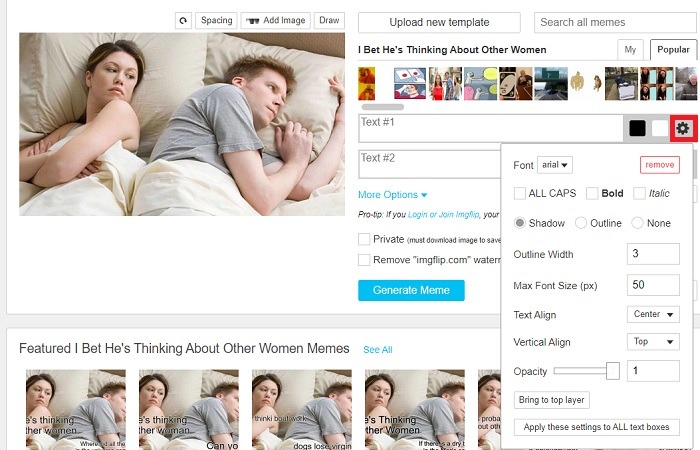 If you want to add more text than what's in the original template style, click the "Add text" button below the last available text box. Drag and drop the box when it appears to place it where you want on the meme.
You can also click any text box on your meme to move or resize it. Hover over the meme image to show available elements to move.

You'll get a variety of share options when you click the blue "Generate Meme" button.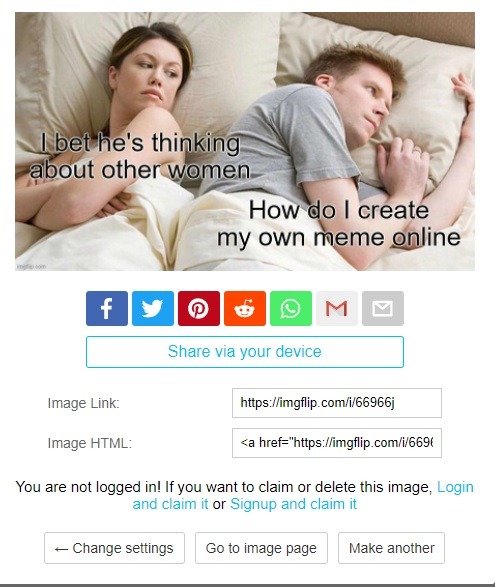 If you want to save the meme to your account and claim it, you'll need to create a free account. While premium accounts are available for $3.49/month, this just removes ads from the site and takes away the watermark (not really an issue). Free and premium accounts get the same amount of templates.
Once you're done, you'll notice the one major downside to IMGFlip. Unless you have a premium account, the meme will have a watermark on it when you share it. However, it's incredibly tiny and most people shouldn't even notice it.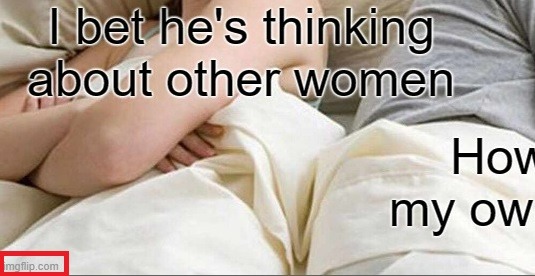 If the watermark really bothers you, either sign up for a premium account or:
Screenshot the meme generator page and use an image editor (on your device) to save the screenshot and meme.
Right-click the image on the meme generator page (before pressing Generate Meme) and choose "Save image as" to save it locally to your device.
Using Your Own Image
Prefer to create your own meme online without templates? Who knows, you could just create the next viral sensation. IMGFlip works great for using your own images.
Click the "Upload new template" button to upload your own image either from your device or from a URL.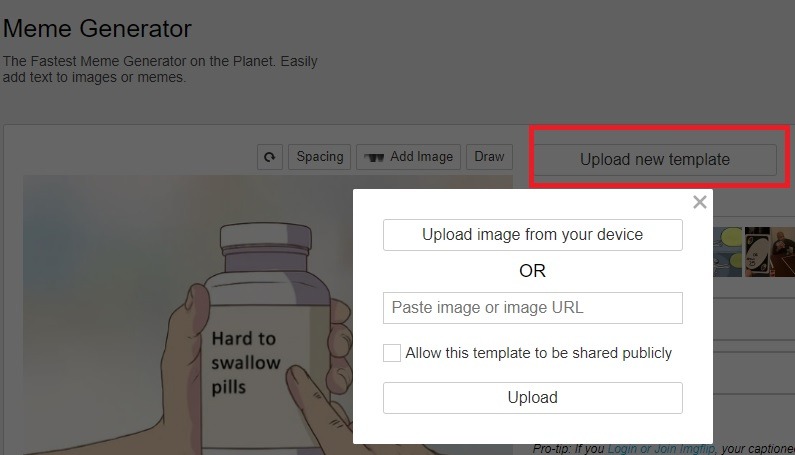 Choose whether to share the template publicly or not. You can keep it private if you'd like (this is the default setting).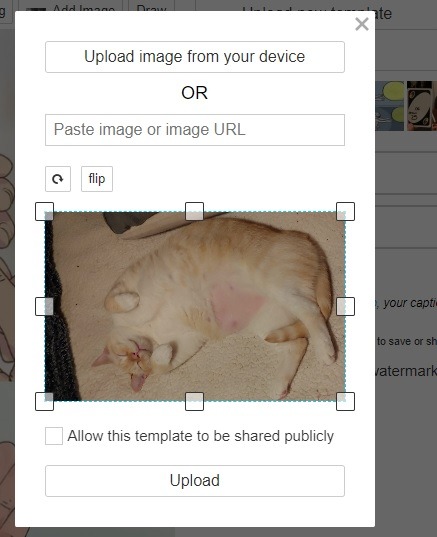 After uploading, the process works the same as when using a template. Add your text and generate your meme. While the editor gives you two text boxes by default, feel free to add more or just use one.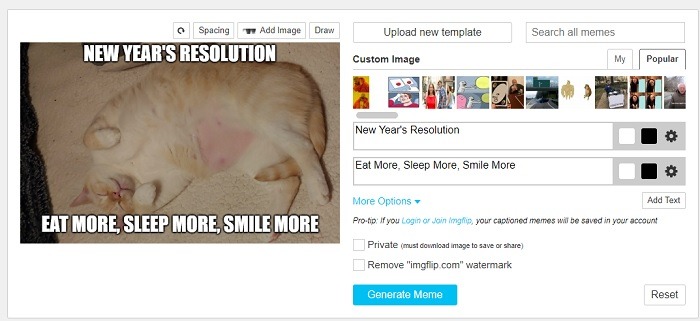 Other IMGFlip Options
When you create your own meme online with IMGFlip, you can also use the "Add Image" and Draw options (above the meme image) to further customize it. For instance, you could add sunglasses to the current meme image or draw something on it yourself.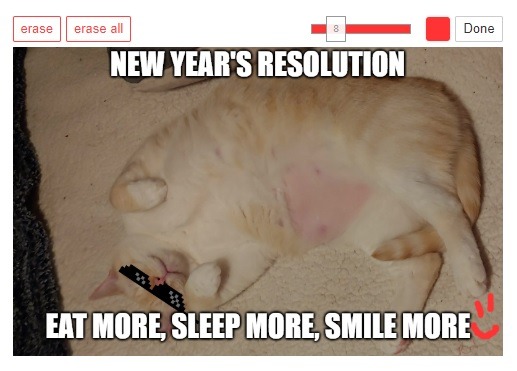 Meme Creation Best Practices and Other Generators
When creating memes, always take the time to fully understand any templates you use. Otherwise, the text you use might not make any sense.
Any templates on meme generators are free for you to use. However, don't just download any random image online and create a meme from it. Sadly, this has happened with social media profile images and left innocent people devastated when horrible memes of them start going viral.
The best way to stay up to date on meme trends and what they mean is to check out KnowYourMeme. Also, you can get inspiration about a particular meme template on IMGFlip by checking out popular memes created with the template (just below the template editor).
Need some inspiration? Check out some of the best memes of 2021. While you're busy thinking up great memes, try out some of 2022's most anticipated shows or some great classic TV shows.