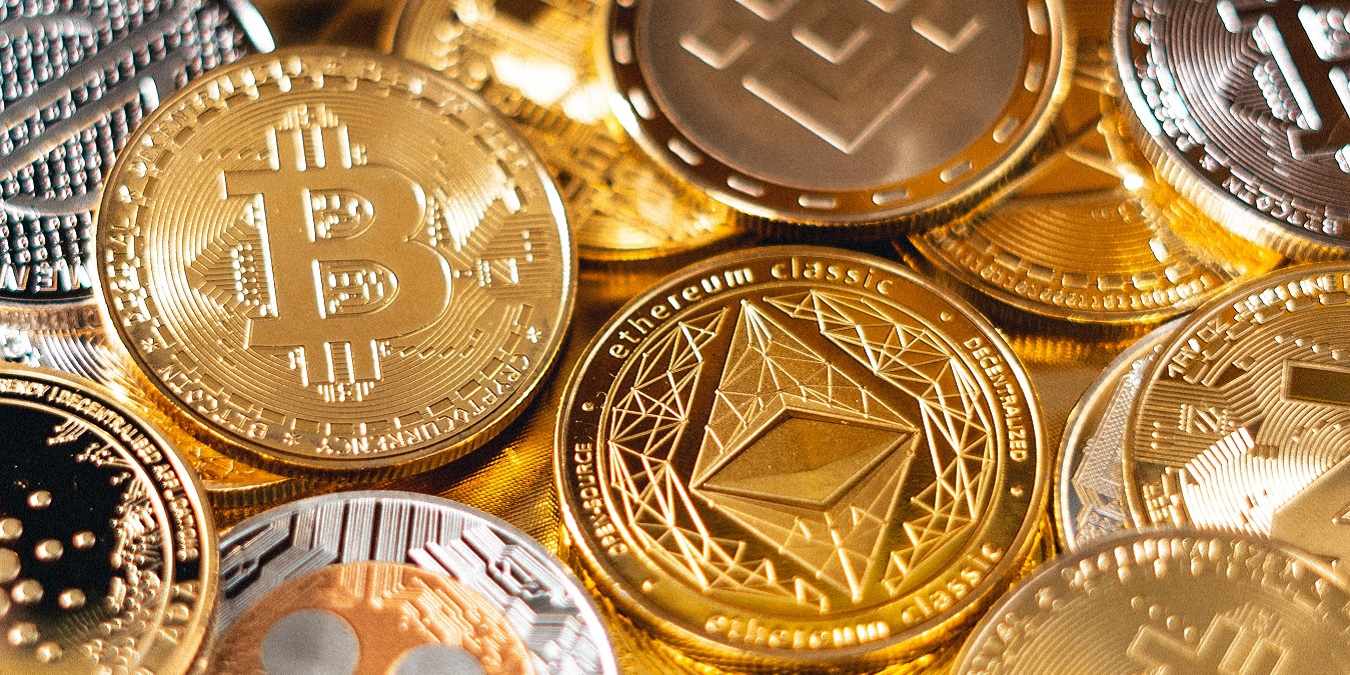 Trying to learn about cryptocurrency online without knowing where to start might just make the whole thing seem both confusing and terrifying. What's a digital wallet, how does blockchain work, and why does the value constantly change? Those are some of the questions that you'll need answers to. Or, maybe you just want to keep up with crypto news. Luckily, finding answers and news is as easy as knowing the best sites and online communities to go to.
While you're here, try out some of the best Steam games of 2021 to help you take a break between learning and starting to invest in cryptocurrency.
1. Decrypt
Whether you want to learn about cryptocurrency as a beginner or dive into deep end, Decrypt is a great place to start. It's a good mix of education, analysis, news, and reviews.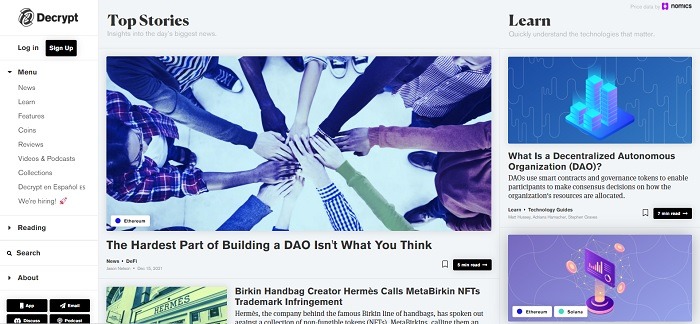 The Learn section is ideal to learn about terminology, current trends, and more. I recommend using the "I'd like to learn about" search box at the top to find what you're looking for. This site is perfect for beginners and experts alike. It's also nice that there are plenty of posts that don't expect you to just simply understand all the jargon.
2. Cointelegraph
With the tagline "the future of money," Cointelegraph has to be on this list. It's a combination of news, analysis, and educational site dedicated to cryptocurrency. Plus, it has a stylized and colorful design with a cool graphic novel feel to the images. This makes crypto seem a bit less mysterious.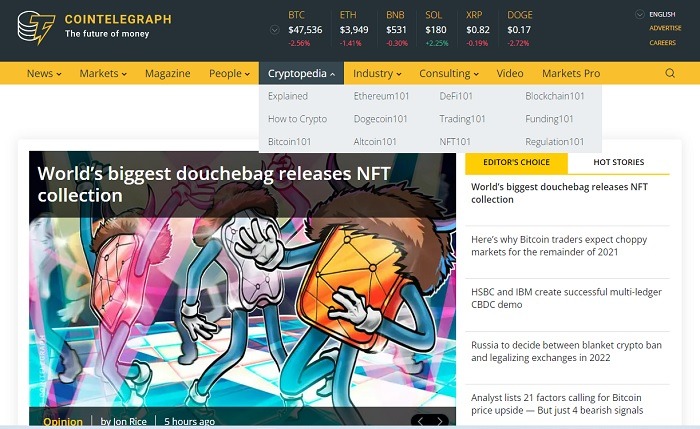 While you could dive straight into the news, if you're new and want to learn about cryptocurrency, start with the Cryptopedia. The Explained and How to Crypto are especially helpful, but the site also has guides on specific currencies, such as Bitcoin and Ethereum, along with info on blockchain and NFTs.
3. Coinmonks
Coinmonks is a Medium publication and non-profit crypto educational site. While there is some news and analysis, the focus is more on explaining the 'why' behind market news, helping readers understand terms and their importance, along with offering lots of guides and lists.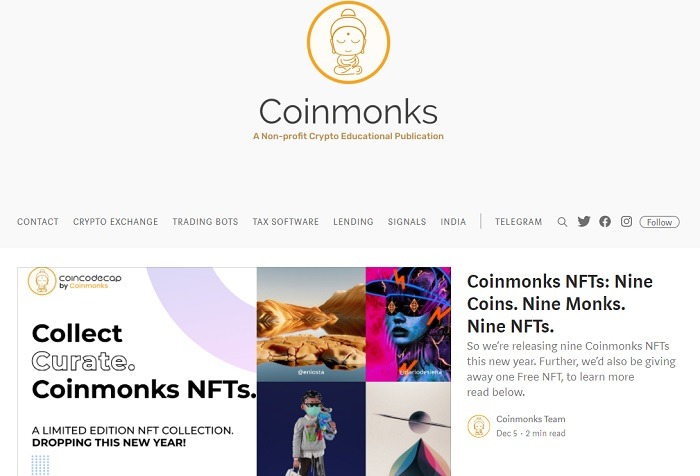 I personally love how well the site explains things in layman's terms. It doesn't read like two experts speaking some arcane cryptocurrency language. A great place to start is with A Beginner's Guide to Bitcoin and Why It Matters or if you're ready to start trading, try A Beginner's Guide to Day Trading Ethereum. You will need a free Medium account (you can use your Twitter account if you have one) to read the posts.
Ty Cooper, author at Coinmonks, even has his own YouTube channel if you prefer a video approach. How to Make and Sell NFTs is perfect if you're still trying to figure out how NFTs work.
4. Reddit
At first glance, Reddit might not seem like the most reliable source to learn about cryptocurrency, but the community is incredible at coming together to discuss news, answer questions, share crypto memes, and share opinions and thoughts. Whether you're an expert or a beginner, Reddit is the perfect place to be.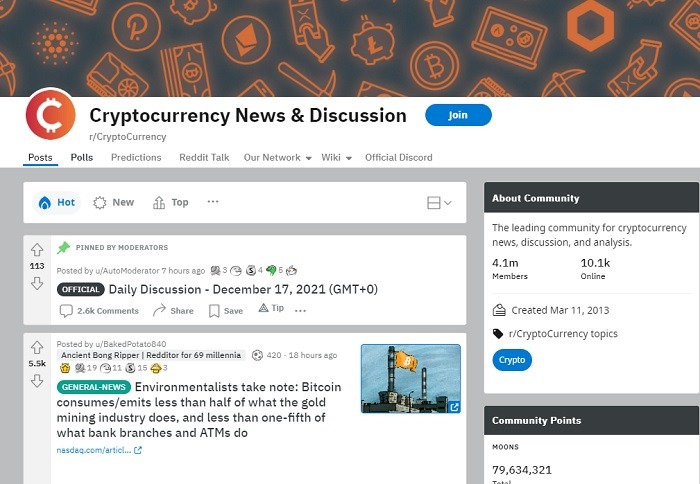 Try out the following subreddits to see which ones work best for you:
5. Coin Bureau
While YouTube has plenty of great videos about cryptocurrency, much of it is just influencers promising you that if you follow their exact approach, you'll get insanely rich overnight. While a handful of people have gotten rich seemingly overnight, they're the exception not the rule. Avoid any videos or sites that tout crypto as a get rich quick solution or require you to buy a special course to get the supposed secrets to success.
With that in mind, Coin Bureau does a great job of explaining the basics, along with advanced techniques and news. If you're a complete beginner, start with Explain Crypto to COMPLETE Beginners: My Guide.
The Educational Guides playlist is also perfect for better understanding how cryptocurrency works, what current news means, and how investment platforms work.
6. Binance Academy
Learn about everything related to crypto and blockchain at Binance Academy. While it may sound like just a beginner site, it's actually ideal for experts looking for tips to create a better trading strategy.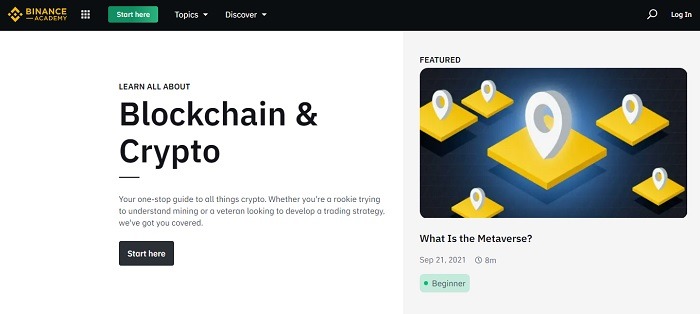 You can start with terminology, try some tutorials, browse by category, or just check out what's featured. I also like that you can filter posts by Beginner, Intermediate, or Advanced to find posts that fit your current crypto comfort level. It really is a great academy-style resource.
7. Coinbase
While Coinbase itself is a platform for buying and selling cryptocurrency, the Coinbase Learn section is an invaluable resource to learn about cryptocurrency. There are no fees or obligations to trade in order to use the educational resources.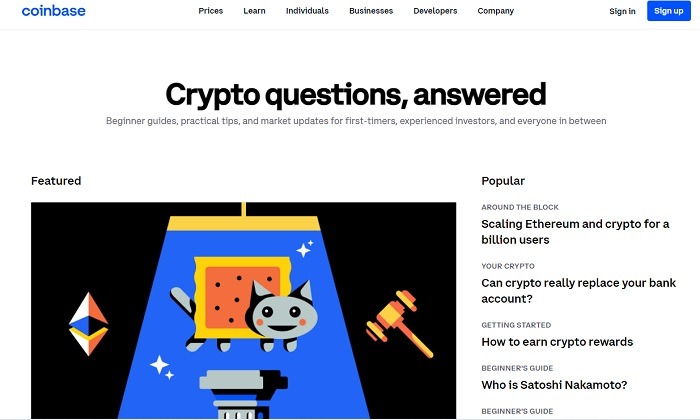 The beginner guides, such as How to Keep Your Crypto Secure, are easy to follow and understand. In addition to tutorials and guides, you can also keep up with market analysis and the most relevant news. Both beginners and long-time traders will find useful information here.
8. CoinDesk
CoinDesk is a go-to source for market news and analysis, but don't let that overwhelm you. Learn about cryptocurrency using CoinDesk's Crypto Explainer+ articles, where one of the first posts is a lengthy guide on What is Bitcoin. Learn about Bitcoin, Ethereum, NFTs, cryptocurrency in general, and investing.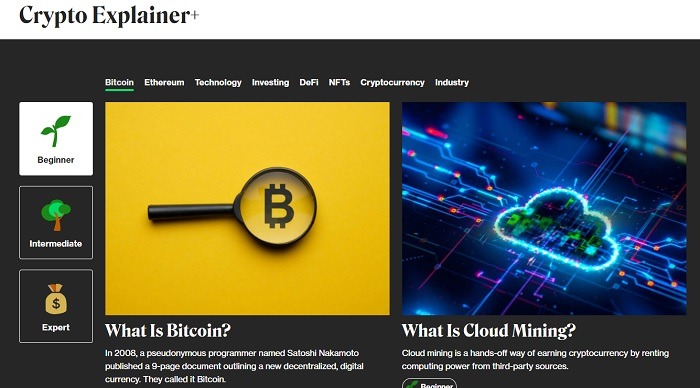 Explainer posts are organized into beginner, intermediate, and expert categories, so there's something here for all expertise levels.
Mind stuffed full of cryptocurrency knowledge and you need a break? Try wasting some time on these fun websites. Or, dive into Reddit with some of the best subreddits.