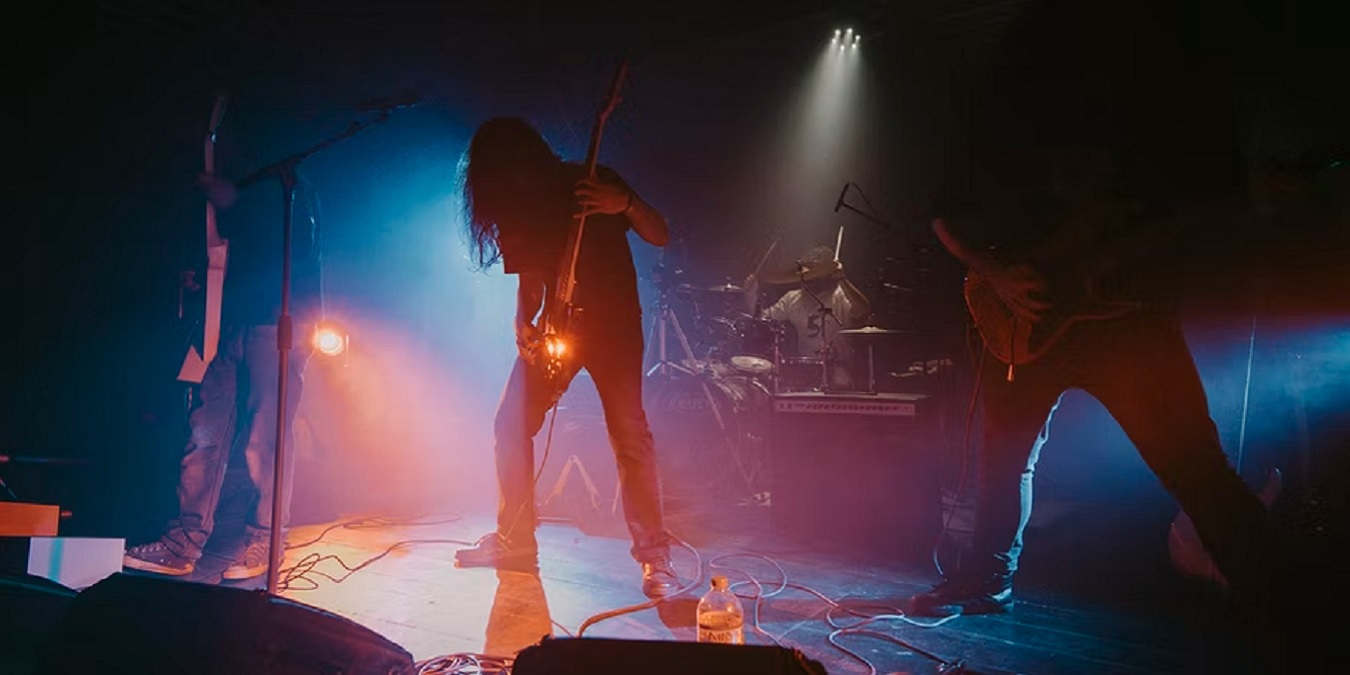 There's no shortage of interviews and video clips of your favorite heavy metal bands online, but there's something different and special about holding a physical magazine in your hands.
Plus, old heavy metal magazines often have exclusive interviews and backstage stories you won't find anywhere else, and special editions are ideal for collectors. Whether you're looking for issues featuring classic metal groups like Black Sabbath, Iron Maiden, and Pantera or more modern groups like Ghost and Volbeat, you'll find them in old issues online.
Listening to classic heavy metal got you feeling nostalgic? Take a step back in time with these nostalgic websites.
Magazine Websites
If you have a specific magazine in mind, the best place to buy old heavy metal magazines online is via the magazine's website. Many offer back issues for as long as the magazine has been in publication. However, early and collector's edition issues may sell out over time. Plus, you can often read older articles online if available.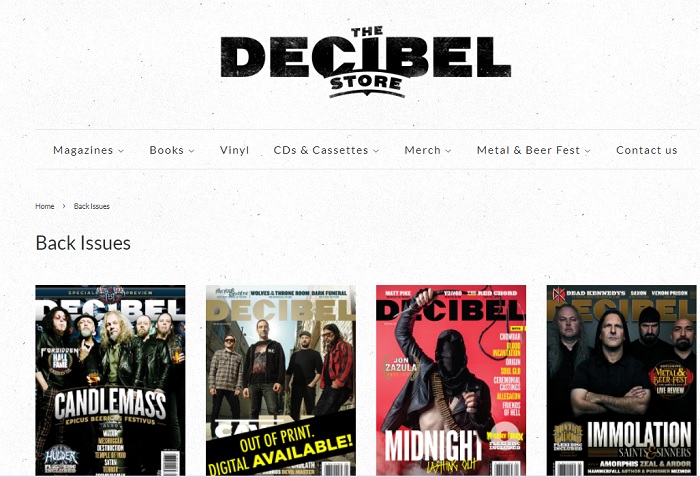 For instance, Decibel Magazine offers back issues of all issues, but early issues are listed as sold out. Other popular heavy metal magazine sites to check include:
World of Books
While World of Books might specialize in books, they also sell old magazines, including heavy metal. It's easy to find what you're looking for by the name of the magazine or a specific artist.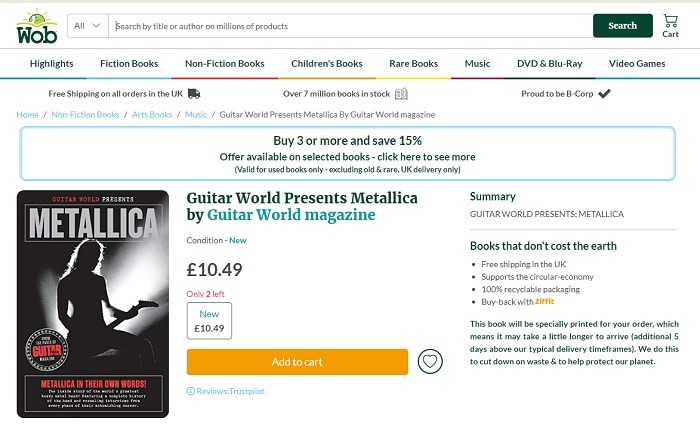 For instance, searching for "Metallica magazine" led me to a collectible edition of Guitar World focused specifically on Metallica. You won't find more obscure heavy metal magazines here, but if you're looking for more well-known bands or magazines, you might be able to find new or like new copies here. Plus, the site offers regular discounts and sales.
eBay
The ultimate place to buy old heavy metal magazines online has to be eBay. Some people will be selling specific issues, while others will have a variety of issues and different magazines, your best chance of finding what you're looking for is probably here.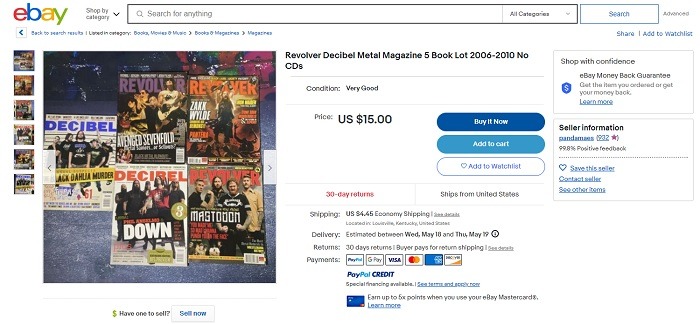 It's important to pay attention to the condition and whether anything is missing. For instance, a Revolver and Decibel lot featuring Mastodon, The Black Dahlia Murder, Avenged Sevenfold, and more are very good quality, but don't include the CDs that came with them.
Pocketmags
Pocketmags focuses on both current subscriptions and back issues. While you won't find a lot of different heavy metal magazines here, you will find some, such as Metal Hammer and Guitar World.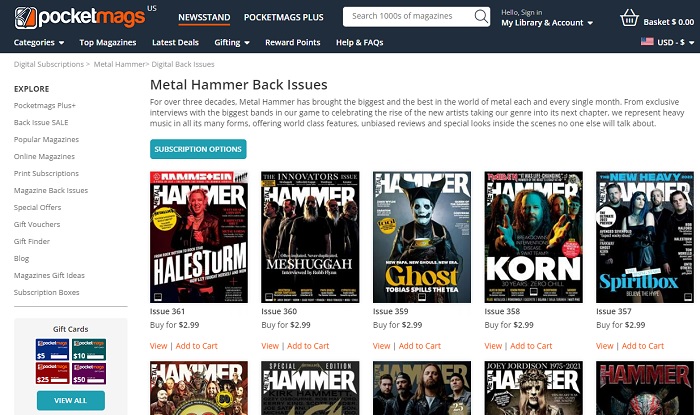 When you find a magazine, you can subscribe to current issues, and will often get anywhere from 6-12 months of back issues for free – some digital only and some offer print and/or digital. Or, check out the back issues that are currently for sale, usually going back two to three years.
You can also subscribe to Pocketmags Plus for $11.99/month to read both current and back issues of hundreds of magazines.
Backissues.com
Backissues.com is one of the best places to find old heavy metal magazines if you want to search by band. All magazines include details of the artists featured in the issue, so it's easy to find magazines with the group(s) you want. For instance, a search for Anthrax brought up three results – two Goldmine issues and one Rolling Stone issue.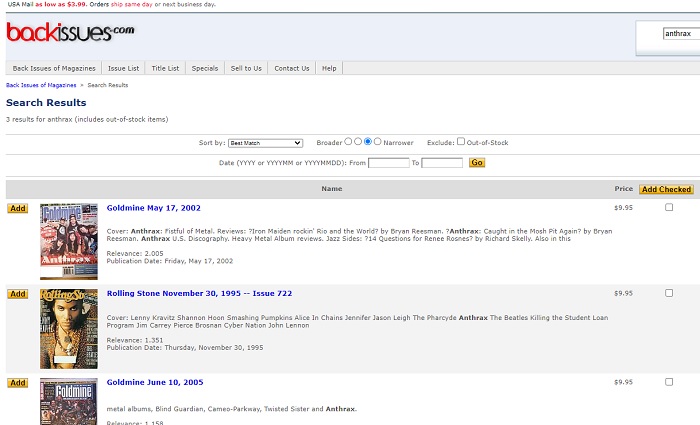 Most issues seem to be around $10 with shipping starting at $3.99, but this all varies based on the magazine and where you're shipping them to.
AbeBooks
AbeBooks often has old heavy metal magazines for sale. Obviously, availability depends on how many people are donating or selling their old magazines to AbeBooks. It's best to search the site for the magazine name or artist (though this can bring up biographies as well).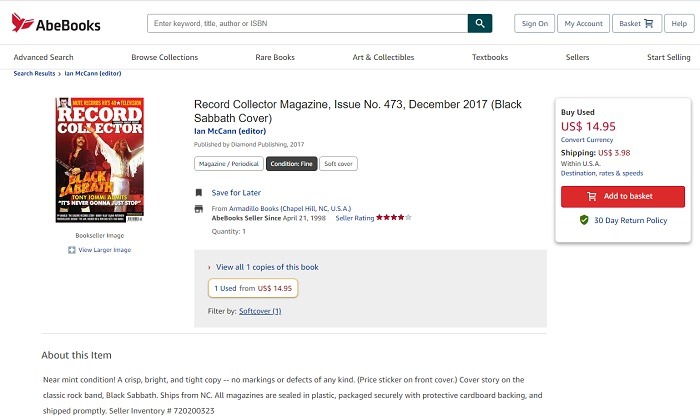 Searching for Black Sabbath led me to a 2017 edition of Record Collector Magazine. A search for Metal Hammer led to seven back-issues. Check back often as stock changes daily. Many thrift and book stores sell items through the site, so there's always something new popping up.
CrazyAboutMagazines
The UK-based CrazyAboutMagazines helps you find vintage issues of your favorite magazines across almost any genre. The Music section features numerous styles, including heavy metal magazines like Metal Hammer, Metal Edge, and Kerrang. It's not unusual for issues to sell out quickly, so check back often if you're looking for something specific.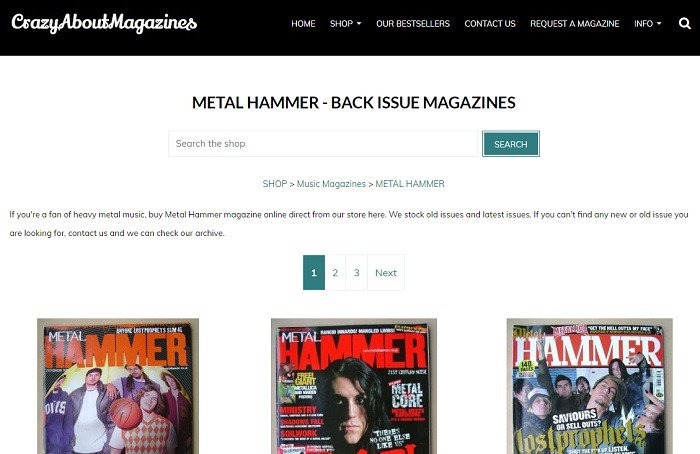 What sets this site apart is you can request magazines. Simply use the contact form to request a magazine and they'll do their best to find it for you.
Read Online Only
If you're looking to buy old heavy metal magazines to read the older articles, you may prefer reading them online versus having to pay shipping costs. A few places to find and read heavy metal magazines online include:
With Scribd, you can often find user-uploaded PDFs of old heavy metal magazines if you want to download and keep them. Plus, you can follow current magazines and view some back issues through the Magazines section of the site. There's usually a 30-day free trial if you want to see how it all works. Plus, you can browse what they have available (without reading specific magazines) for free.
Of course, visiting your favorite magazine's site can also lead you to free back issues and articles. Many let you filter by year so you can easily find interviews and stories that interest you.
Looking to find used books online in addition to magazines? Check out where to buy used books beyond Amazon. You can also indulge in endless comic books with these websites.
Image credit: Sam Moghadam Khamseh via Unsplash