There's an endless number of websites for gamers, but which ones are really worth your valuable time? Whether you're a console, PC, or mobile gamer, you need sites you can rely on for the latest news, reviews, indie releases, and game guides. Get ready to start bookmarking your favorites as you're going to find your new favorite gaming site right here.
Don't forget to check WebGeekStuff's gaming section as well for best-of lists, game guides, and reviews.
PC Gamer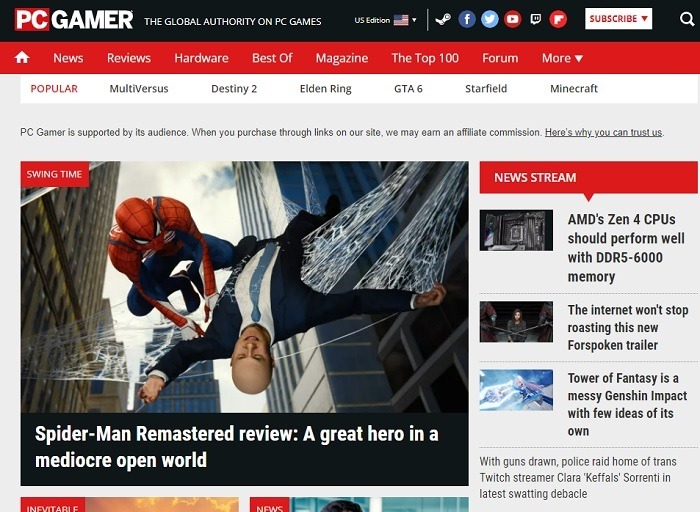 As the name implies, PC Gamer is an authority on PC gaming. Unlike some PC gaming sites, this isn't just about game reviews, though those are great too. Here, you also get hardware recommendations and news, best of lists, upcoming events, and much more. Another feature that makes this site stand out is the PC Gamer Forums, where you can connect with fellow gamers, ask questions, and provide advice to others.
GamesRadar+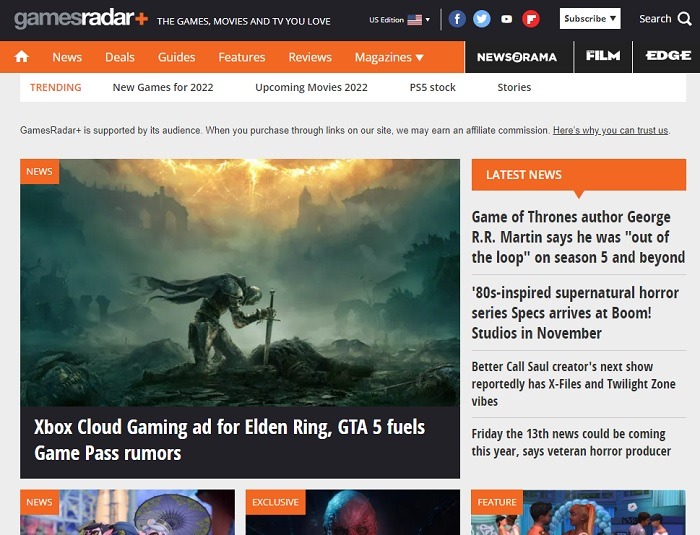 What used to just be GamesRadar has transformed into GamesRadar+, a site filled with gaming news for most platforms/consoles along with a healthy does of movie and TV news and reviews. If you're looking for an all-in-one site for news and reviews for games and movies, it's hard to beat this site. If you love retro games, check out the Retro Gamer section.
Eurogamer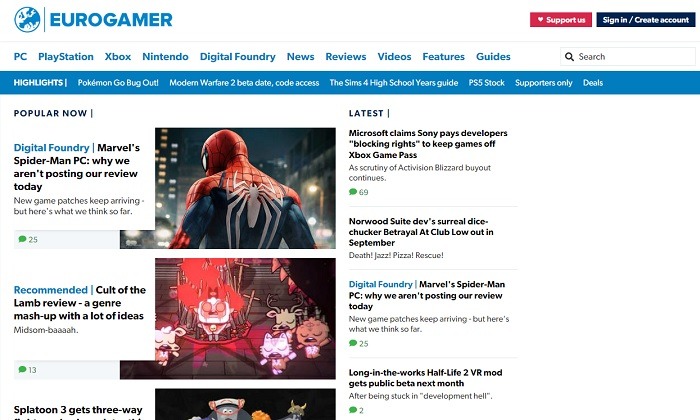 For European gamers, one of the best websites for gamers is Eurogamer. While the site started with a focus just on PC games, it's since expanded to cover all major consoles. Get the latest news, reviews, game guides, hardware reviews and recommendations, and much more. The site's clean navigation helps you quickly find what's applicable to you if you don't just want to scroll down the latest posts on the homepage.
Kotaku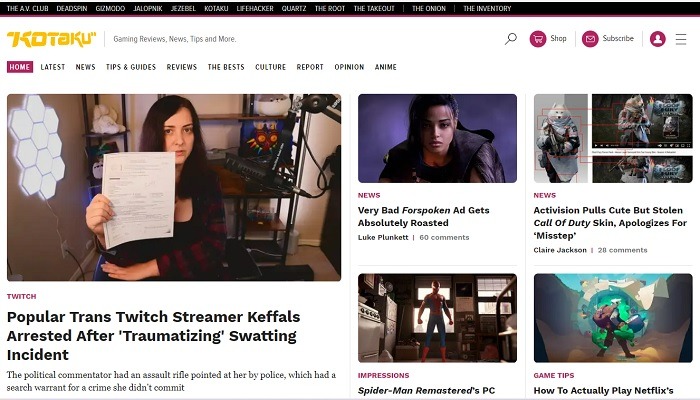 Kotaku, which is part of the G/O Media family of sites (Gizmodo, Lifehacker, Deadspin, etc.), is filled with gaming news and opinions. They often focus on more serious stories, such as swatting incidents, while also providing great reviews and entertaining news. Though the focus is on gaming on most consoles/platforms, you will find some TV and movie news/reviews, especially anime and sci-fi.
Niche Gamer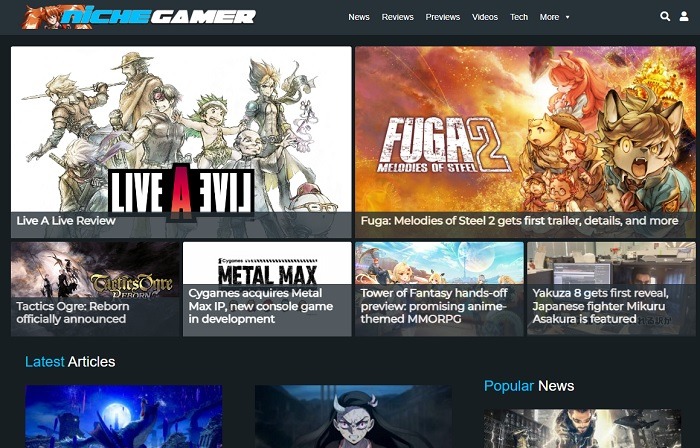 Do you love lesser known or more niche style games? Then Niche Gamer is for you. Site creator Brandon Orselli felt some of the most interesting games were niche or weird. He set out to create a site dedicated to covering these types of games. While you'll see some niche games that have become mainstream, others may be titles you've never heard of, but definitely want to try out. Major consoles, PC, and even mobile games are covered here.
r/Games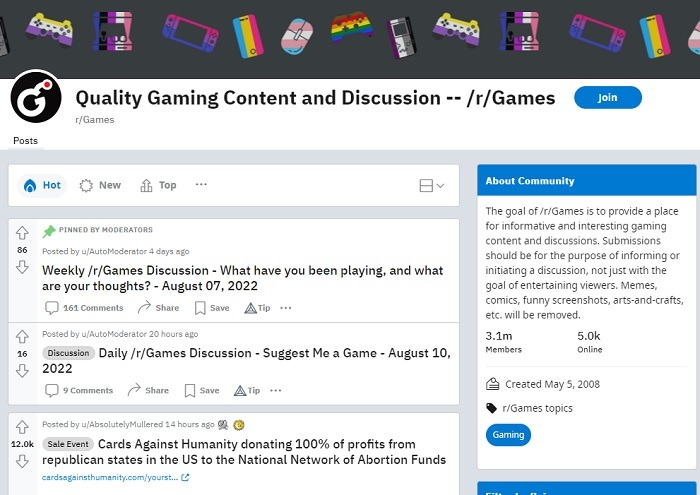 If you're looking for more interactive websites for gamers, join the Reddit's gaming community r/Games. While there are numerous gaming subreddits (see the Related Subreddits section in the community's sidebar), this is the perfect place to start. It's heavily moderated to remove junk, such as memes and self-promotion. Get news, recommendations, hardware advice, and much more. And, of course, post your own recommendations and questions.
Destructoid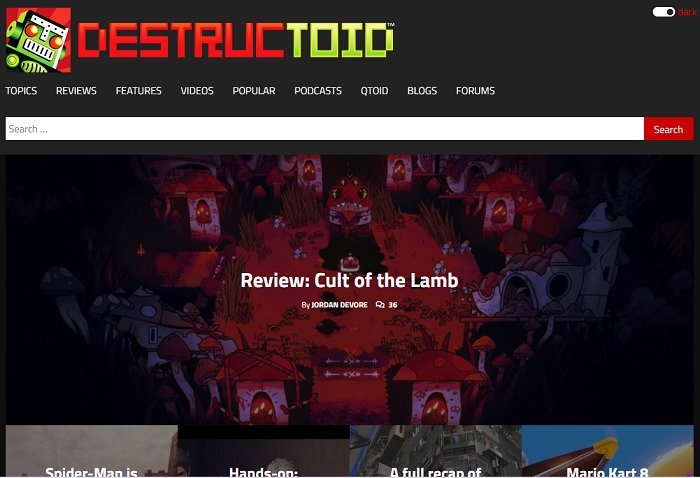 A lesser known, but still one of the best websites for gamers, is Destructoid. It has the most comprehensive list of platforms, consoles, and genres of pretty much any site on this list. Not only are there news and reviews, but you'll find podcasts, blog posts from site members, and an active community of other gamers. If some of the other major gaming sites aren't hitting the mark for you, you'll likely love Destructoid.
Gematsu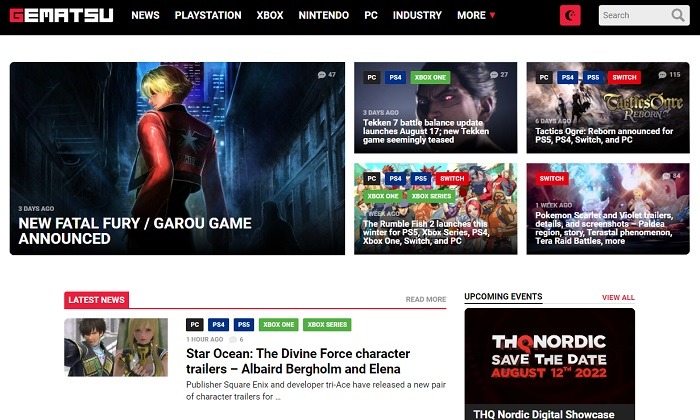 If you love Japanese video games, look no further than Gematsu. This is the main focus of the site. All the major consoles are covered. Get the latest news and reviews of Japanese games, console catalogues, and industry news. The well-organized site makes it simple to jump to various genres, game systems, and companies. There's even an open forum for discussions.
Attack of the Fanboy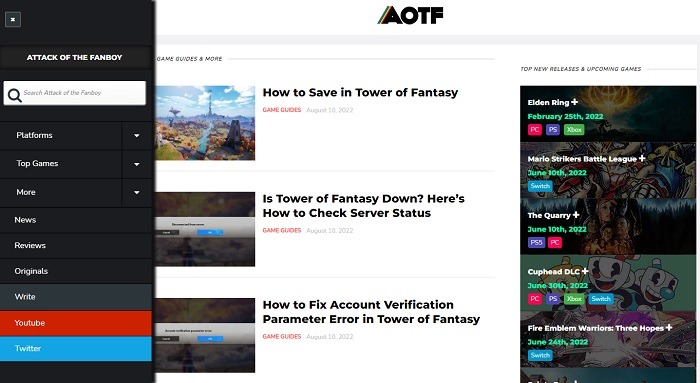 Game news and reviews written by die-hard fans of the games and consoles they cover. This is Attack of the Fanboy summed up perfectly. Enjoy news and reviews, game guides, listicles, and even the AOTF podcast. If you prefer video content, check out the site's YouTube channel instead. The only downside is sometimes the site gets so laser focused on a specific game that dominates the site for a week or so.
Niche Gaming Sites
If you prefer a specific console or platform and don't want to be bothered with news and reviews that aren't relevant to you, stick with the best niche websites for gamers. Some great sites to bookmark include:
Finding Games to Play
While the best websites for gamers all have recommendations, only a few of them have their own stores, such as Steam. If you're looking for DRM-free games, check out GOG. You'll find an ever expanding library of incredible games.
We also have a great list of sites to buy retro games if you prefer classic consoles and games. Or, if you're trying to score a great deal on the latest games, use these sites to track video game deals and add to your collection.
Image credit: Pexels