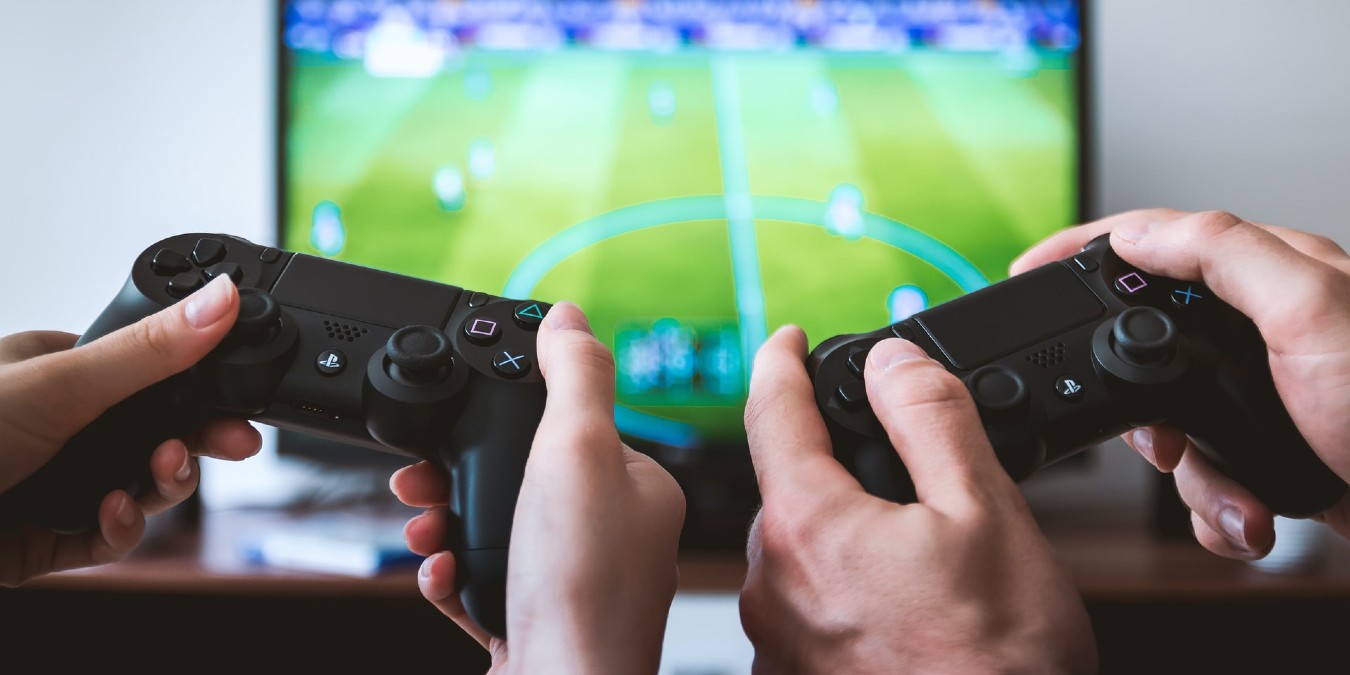 It's a great time to be a gamer. With most videogame purchases these days being digital-only, games are constantly being bundled, discounted and sold at some great prices. You probably own so many games that the thought of waiting for a new game's price to drop before buying isn't so daunting, because you always have that healthy backlog to fall back on.
So that you're not getting ripped off buying games first-party through platforms like Steam, PlayStation Store and Xbox Store, you should get yourself up on a good price-tracking site for games. We have a whole bunch for you, which you can set up to send you the good news that a game you're tracking has hit a price you're willing to pay for it.
1. IsThereAnyDeal
Let's start with one of the oldest and best price-tracking sites for PC games. The whole site design has a word-heavy old-school feel to it, but it remains probably the best way to keep track of the games you want (as well as staying informed of various bundles, freebies and so on). It really is a one-stop shop for PC gaming.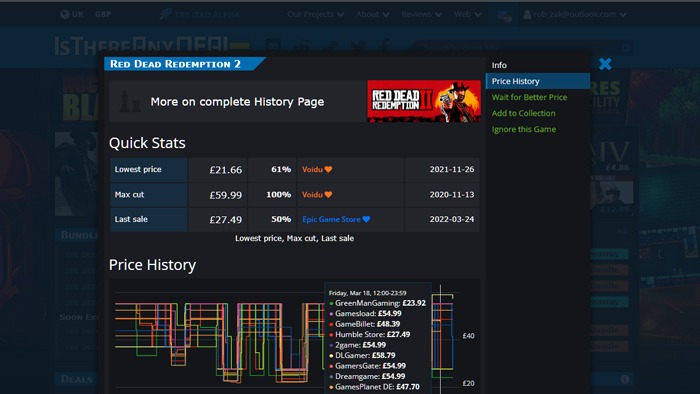 You can link Is There Any Deal to your Steam account to sync wishlists, and also use its Chrome/Edge extension, Augmented Steam, to see the best prices from different sites when on Steam in your browser (yep, you can literally use Steam to shop around different sites – Gabe Newell will be fuming!).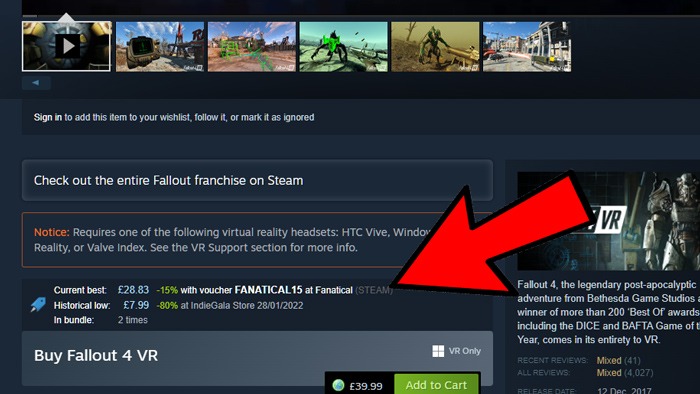 Just create an account (or sign in with Steam), look for games you want to track, then click 'Wait' or 'Wait for better price' to set the price or percentage drop at which to be notified about the game. You can track price histories too, which gives you an idea of how low you can expect a game's price to go and whether to hold out.
2. DekuDeals
When it comes to finding the best possible price on a Nintendo Switch title, there is no better site than DekuDeals. Everything from the way the site is organized to visually charting prices over time to comparing prices among major retailers makes this site so worth it. The site is broken out into a few categories including "Hottest Deals", "Recent Price Drops" and "eShop Sales".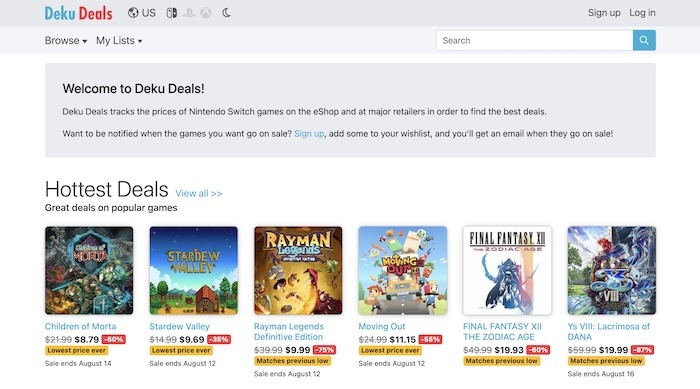 When you jump into the page for any individual game, you will see current prices spread across various retailers (if available), Nintendo's eShop or any other places for purchase. Along with that, you will see the price history, description, how long to beat the game, download size, number of players and more. As far as Switch deals go, this is the only site you need.
3. Reddit
If you are familiar with Reddit, it won't come as any surprise that it makes an appearance on this list. For the most part, both r/GameDeals and r/ConsoleDeals are a good starting point, the latter of which is also good for PC game deals. Both are good for more of a helicopter view of deals but if you want to get a little more granular by console, you can do exactly that. Head to r/PS4Deals for the best in PlayStation 4 sales.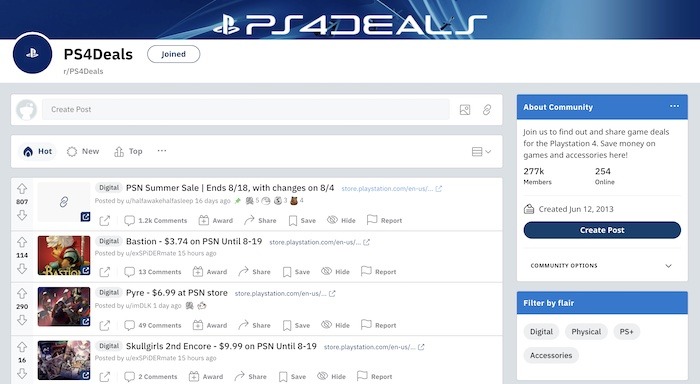 There are plenty of posts for individual games as well as posts for Sony's sales where users will highlight the best games by both discount and Metacritic rating. Xbox and Nintendo users should head to r/XboxDeals and r/NintendoSwitchDeals respectively for the best deals on each platform. Reddit is continuously active so there's a good chance that if a sale exists, it'll appear on the right subreddit.
4. SlickDeals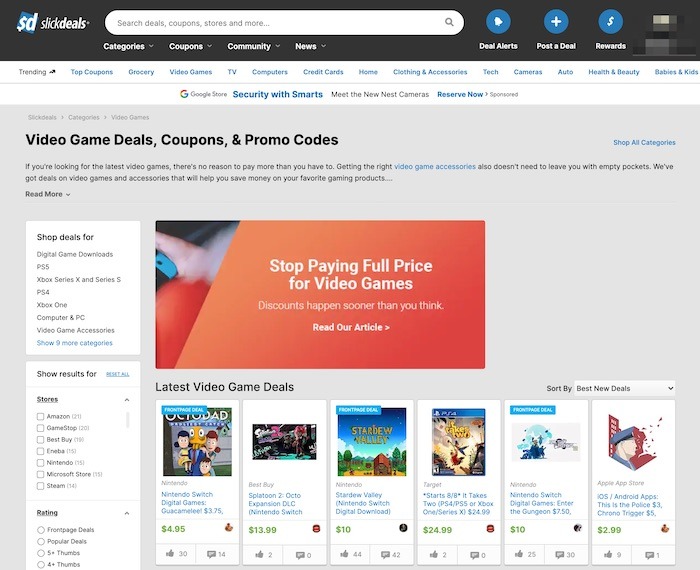 SlickDeals.net is something of a catch-all for sales online and it's grown to be one of the most prominent sites for exactly that. Every deal, no matter the category, includes comments from users so you can double-check whether this is a good deal or a good game. Start with the dedicated video game page where you can sort by the newest or best deals as well as platform, retail stores, price range and brands. Most of the activity is user generated so it won't likely won't include the same selection as Reddit but it should be pretty close.
5. Twitter
Like Reddit, Twitter's active user base is on constant watch for the best in gaming deals. Two accounts, in particular, are the best for users who want to stay up to date on the latest offerings. Follow @wario64 and @videogamedeals and there is a good chance you see something you want.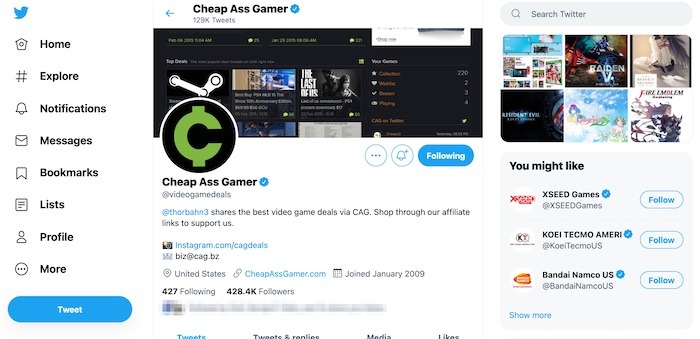 Both accounts go beyond game deals – often including consoles, related accessories and gaming-related toys. If you are away from Twitter for a while, it often helps to scroll back a little just to make sure you didn't miss anything!
6. PS/Xbox/Nintendo Deals
Dedicated gaming sites are fairly common but few are as well organized as the combination of psdeals.net, ntdeals.net and xbdeals.net. For both the PlayStation and Xbox site, the selection ranges across any console where games are still being sold online. That includes the PS4, PS5, PS3, Vita and the Xbox One and Xbox Series X/S.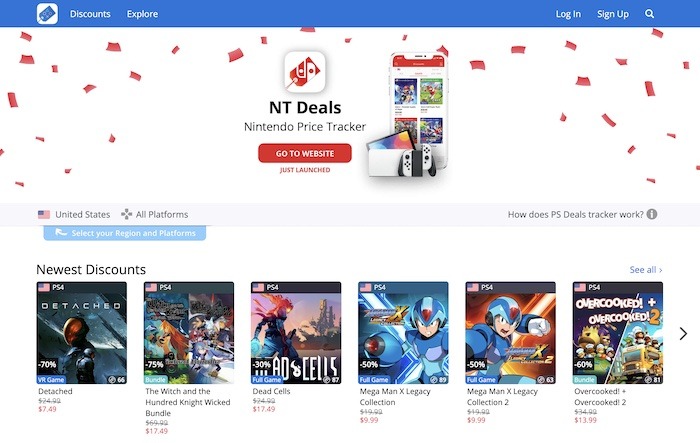 You can set up to receive notifications when a price drops, add to your wish list so you can track over time and even see the price breakdown between dozens of currencies from around the world. The price history tracker lets you know if a recent deal is really that good or if you should try and hold out a little longer. All three sites also offer iOS apps for keeping tabs on deals and wish lists on your iPhone or iPad.
7. CheapShark
Rest assured PC gamers, you have not been forgotten. In your case, CheapShark is one of the better sites for tracking deals across a variety of online gaming stores. That includes the likes of Steam, Humble Store, GoG and more. Each store category shows a list of the hottest deals as soon as you hit the page and then you can access each store's dedicated page for a larger breakdown of savings.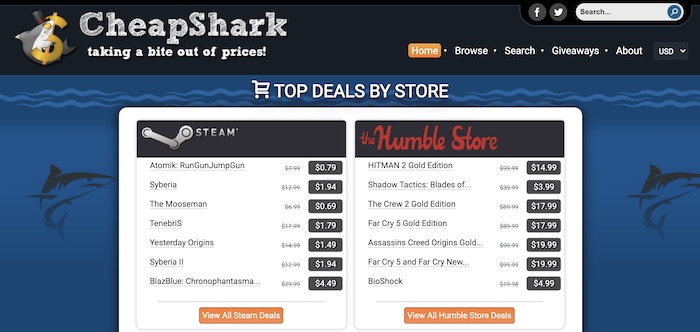 You can organize by savings to look at the biggest discount or by price and start from low to high or vice versa. Want to see game ratings? That's available along with a color-coded icon set that lets you know if a deal is new or old.
Using any of these video game deals sites, there is little reason you should ever pay full price for your games again. Want some inspo for games to deal-hunt for? See our list of the best prison games, as well as the greatest survival horror games to keep you up at night.