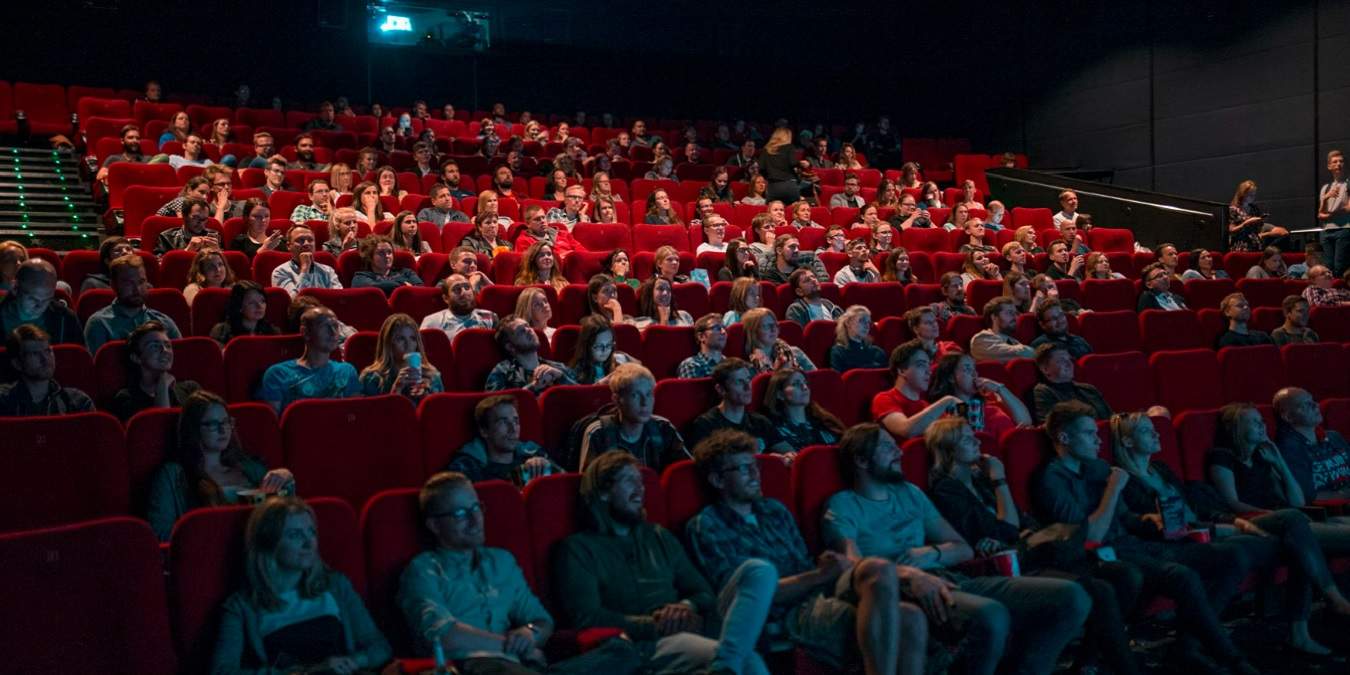 Love discussing every aspect of a movie or just want to hear the latest buzz over an upcoming blockbuster? Discover people just as passionate about movies as you are by joining the best subreddits for movie lovers.
From obscure fan theories to gripes about yet another classic movie remake, you'll find all this and so much more. Plus, you'll probably find plenty of great movie recommendations for your next binge.
If you love crime or detective movies, why not play detective in real life? Try out your crime solving skills with these subreddits for Internet sleuths.
r/Movies
The king of all movie subreddits, r/Movies is kind of a catch-all for everything movie-related. While it's mainly for discussions and news about major releases, you'll sometimes find indie flicks mixed in. While you'll see plenty of movie poster releases, such as this one for Top Gun: Maverick, there are also in-depth discussions about movies and actors, such as one user wondering why Jennifer Grey's career didn't blow up after Dirty Dancing.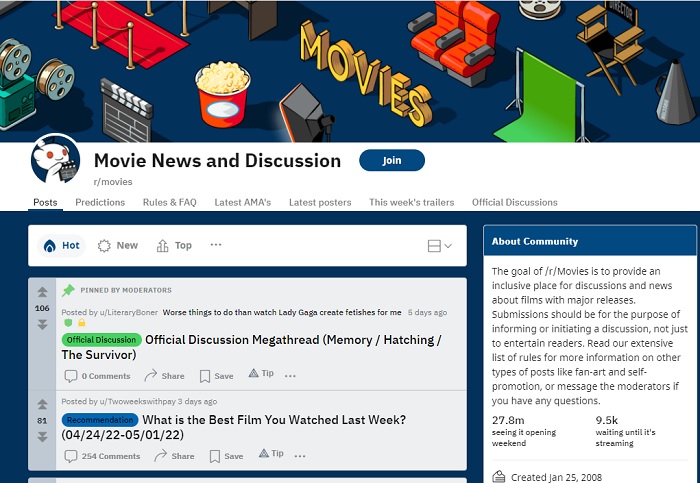 If you don't mind spoilers, check out review threads on current major releases, such as this discussion about Doctor Strange in the Multiverse of Madness. Overall, it's a fun community that welcomes differing opinions on today's hit movies and top movies from the past.
r/FanTheories
Have a theory about your favorite movie franchise? Share it on r/FanTheories. While not nearly as popular as r/Movies, this subreddit will either make you completely rethink some of your favorite movies, such as the theory that R2D2 was the real chosen one in Star Wars, or shake your head in disbelief.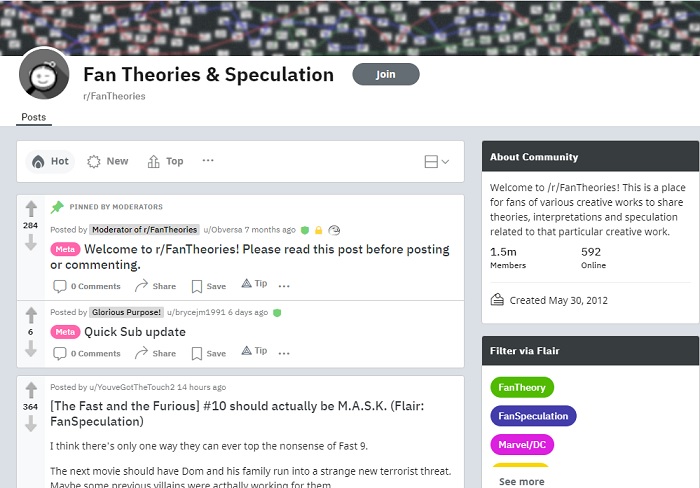 One interesting thread dives into how almost every franchise (movies, shows, comics, etc) are tied together by the same canon. You'll even find theories on popular Disney movies, such as why the Titans in Hercules march off in the wrong direction. You never know what random theory might pop up next, but it's always an interesting discussion as fans spell out exactly why they believe their theory is right.
r/TrueFilm
If you want far more in-depth discussion, head over to r/TrueFilm. It's one of the best subreddits for movie lovers who love analyzing every single aspect, from the cinematography to the most minor plot holes. Share your two cents about the flaws of The Batman. Or see if you agree with others as to why the 2021 version of Dune was disappointing.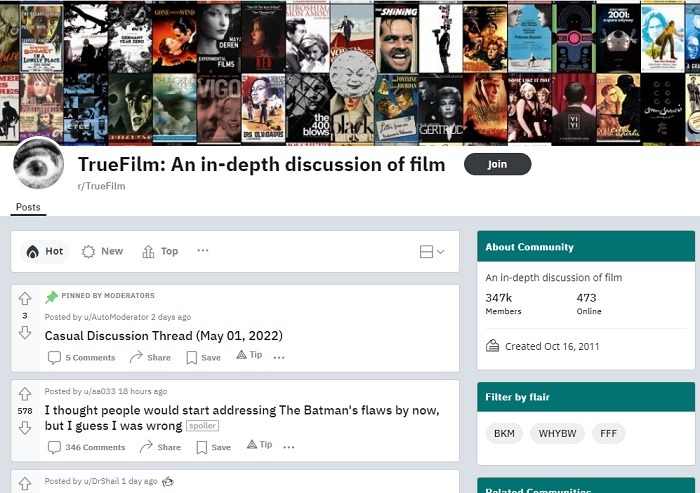 Did you watch a can't-miss blockbuster but just don't get all the hype? Ask fellow movie lovers why they like it so much, such as this post asking why people love Everything Everywhere All at Once. If casual movie discussions leave you begging for more substance, this may be the subreddit for you.
r/MovieSuggestions
Streaming services do a fairly decent job at recommending related movies you might like. But, sometimes they miss the mark completely. This is where r/MovieSuggestions can save the day. You can either request or suggest a movie to start a new thread. For instance, one user absolutely loves Speed and highly recommends it, while another asks for movies related to pursuing your dreams.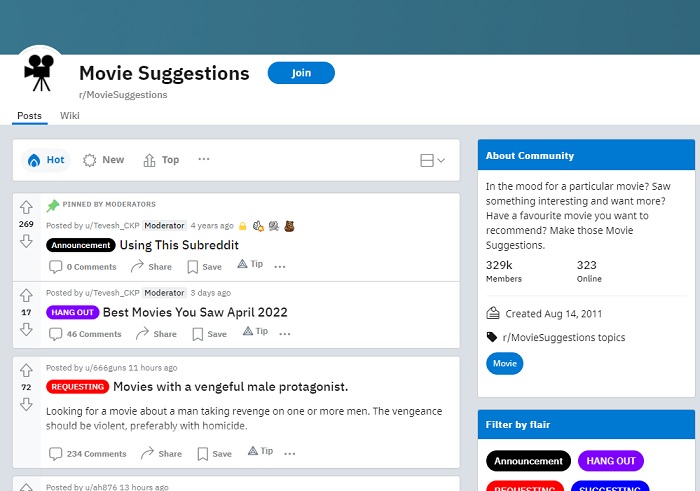 If you ever find yourself unsure of what to watch, visit this subreddit. You'll find movies so bad they're good and the absolute best comedy movies. While r/Movies does have some suggestion threads, this is all this subreddit does and it does it very well.
r/Flicks
If r/Movies is too general and r/TrueFilm is a little too deep, try r/Flicks. It seeks to fill the gap left two of the more popular subreddits for movie lovers. It's the replacement for r/CasualFilm, which is now archived. Discussions are more random here. For instance, discuss movies with the most devastating endings or if you went to theaters in the 80s, talk about how surround sound has changed since then.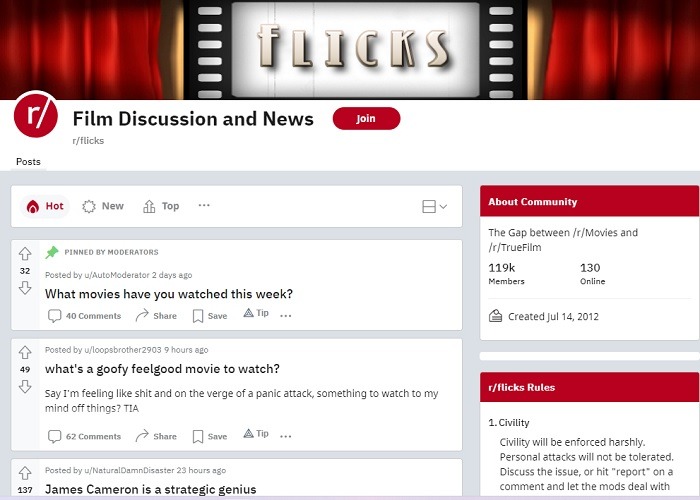 If you want suggestions on what to watch, check the pinned post about the movies the community is currently watching this week. The entire subreddit has a nice casual feel. Discussions may get in-depth, but still remain light-hearted. Overall, it's a nice vacation from both r/Movies and r/TrueFilm.
r/MovieDetails
Are you the person who gets excited over the most minute details in a movie? Then you belong with other movie lovers on r/MovieDetails. You've got to really watch a movie closely to catch some of these details, such as seeing Rapunzel reflected in Flynn's eye in Tangled. If you love picking out easter eggs, you'll feel right at home. Did you notice, for example, that the bunny on the back of Mei's notebook in Turning Red is the same from the short film Burrow?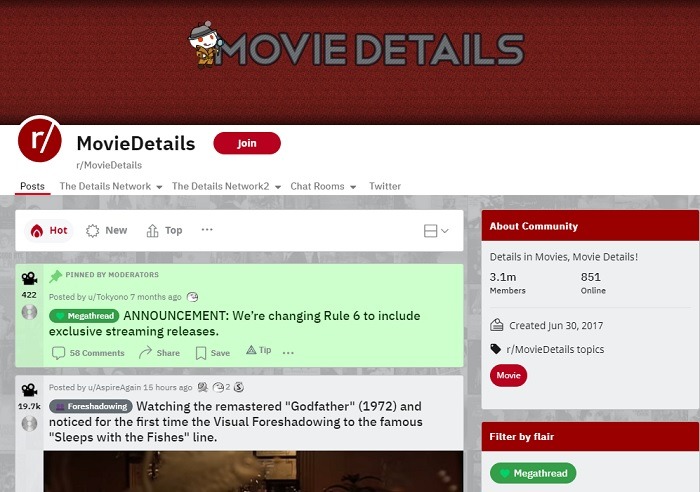 Want to discuss easter eggs on ultimate fans would catch? No problem. Geek out over the Arleen Sorkin tie in between Batman: The Animated Series and Birds of Prey. It's the perfect community for movie buffs and even trivia lovers. Even if you don't always notice the smallest details, it's still incredibly interesting to browse through.
r/Trailers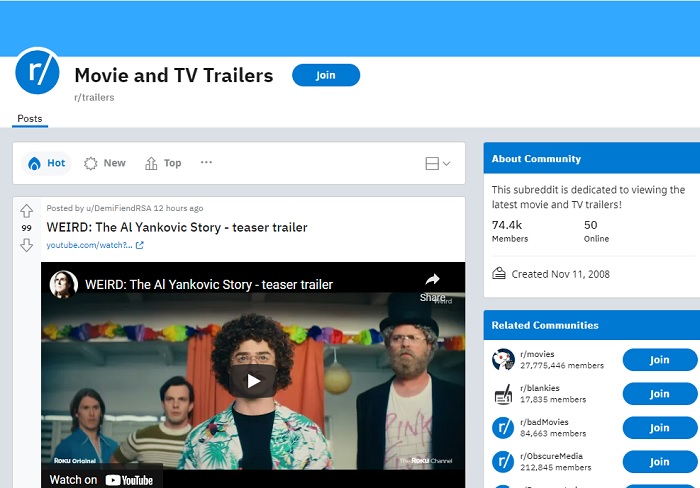 Discover the latest movie and TV trailers on r/Trailers. After all, the best way to get excited about an upcoming movie is to tease yourself with it. While you can go to YouTube for trailers, it's easy to just scroll through the list while you're already on Reddit. You usually won't find much discussion here. Just trailers. Of course, you're always free to jump over to one of the other movie subreddits to talk about the latest trailers.
Even More Movie Subreddits
Reddit has numerous movie subreddits. You can find franchises, directors, genres, and much more. If you're not finding what you need on this list, The Big List of Movie Related Subreddits #2 is the best place to start your search for other options. Or, find even more subreddits in r/MovieDirectory's The Movie Subreddits. If you're interested in how movies are made, you might also want to check out filmmaker subreddits.
Need more movies to watch and discuss? Try the best 80s and 90s martial arts movies or the top Sam Mendes movies.
Image credit: Krists Luhaers via Unsplash