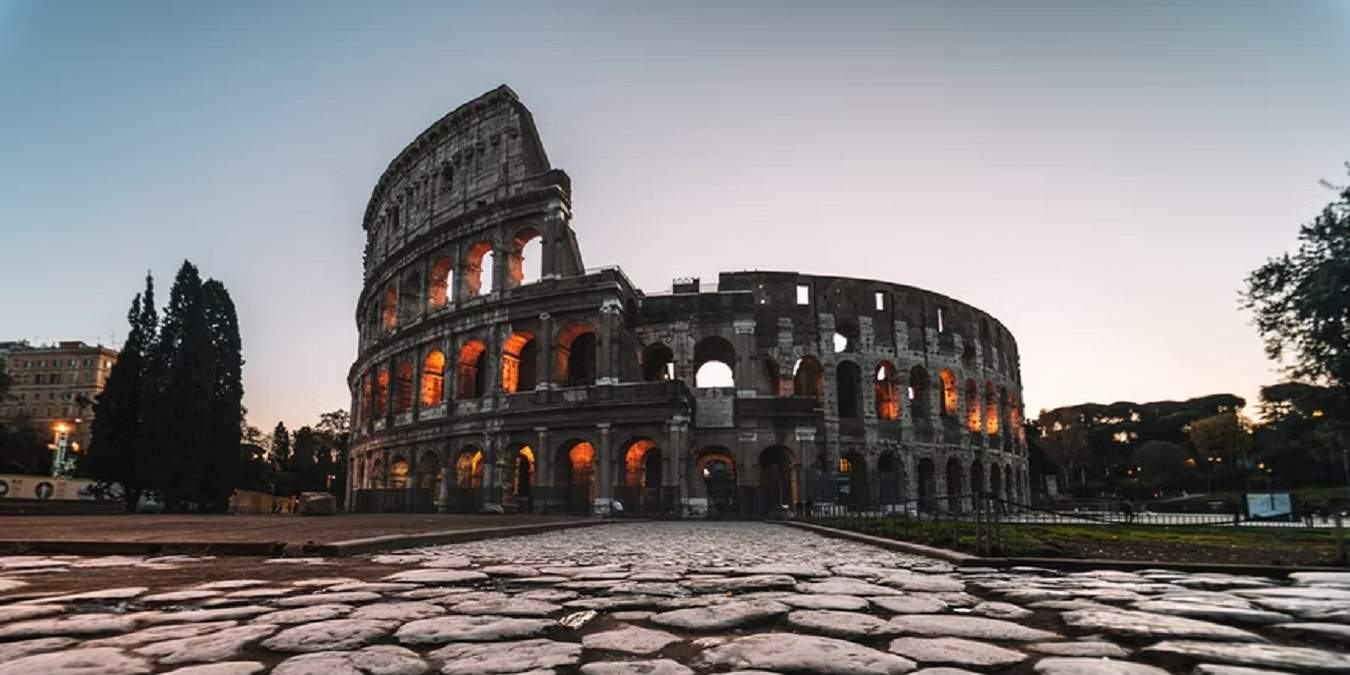 Looking back at the past has a way of making you see the world in new ways. Delving into history doesn't have to endless searching on numerous websites or countless hours dusting off old tomes at your local library (nice though that sounds). Instead, all you need is Reddit.
With a wide variety of history subreddits on just about any topic, such as wars, people, and ancient cultures, you can discuss key historical moments and dive into them with fellow history buffs.
If you love diving into history to learn new facts, you might also want to check out these science podcasts that may help you understand the world around you even better.
r/HistoryMemes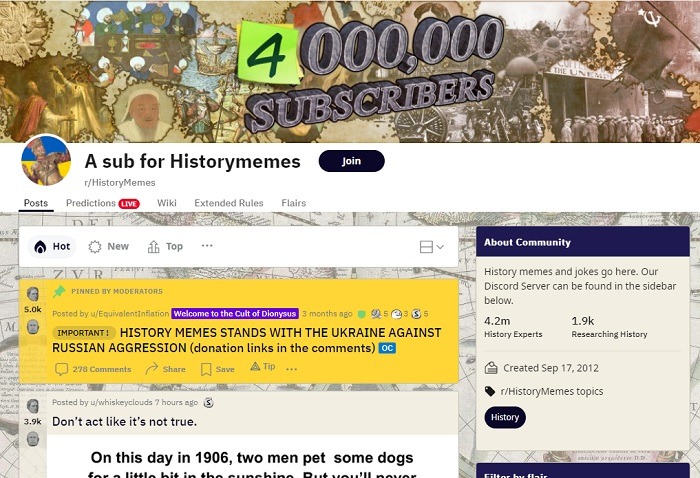 Sometimes history can be rather dark, so let's start off with something lighter. Laugh about historical figures and events with r/HistoryMemes. It's a great break if you're delving into more serious subreddits. While you won't really learn much, you'll still giggle over silly memes such as this one about Napoleon arguing over his height.
You'll also discover just how bad it was for left-handed people during the Victorian age along with why you should never mess with Swiss airspace.
r/TheWayWeWere
Wonder what life was like 50 or even 100 years ago? Discover personal stories along with historic pictures on r/TheWayWeWere. Unlike many history subreddits, this isn't all about major historic events. Instead, you'll often find average people sharing their stories with an older picture, such as a picture of a user's Italian parents from 1955.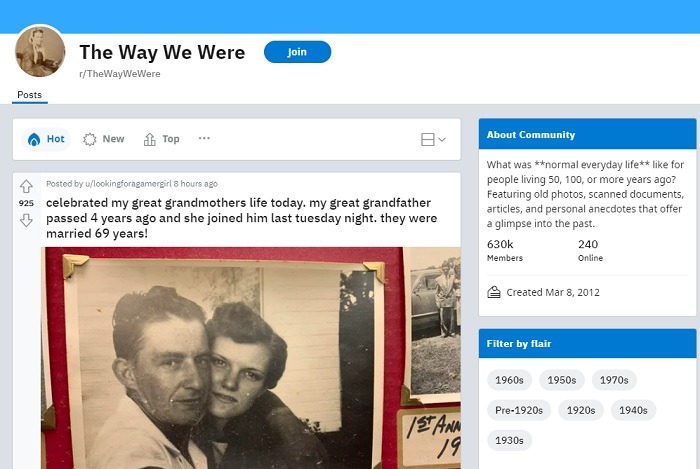 It can also be an inspiring place to delve into. For example, girls may feel inspired seeing a female engineering student in the 1960s. You'll even find major weather events, such as a massive dust storm hitting Chicago in 1933. If you're looking for a particular decade, there are filters starting with pre-1920s through 1970s.
r/100YearsAgo
Learn more about history by looking back on events that happened 100 years ago on r/100YearsAgo. Every day, users post pictures of things that happened exactly 100 years ago from that day. It originally began in 2013 as a way to document WWI day by day. It's still popular today and a great way to look back on history and how the world's evolved (or not).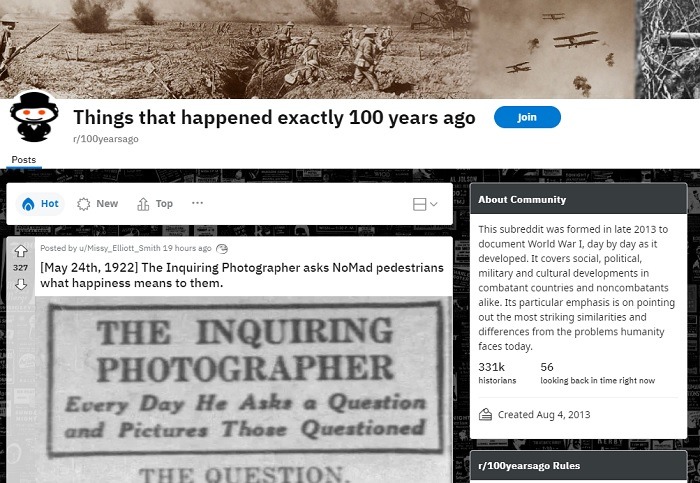 Learn about New York's punch card for traffic violations or look back at historic women marching for better rights. Most stories are black and white photos, though some have been colorized, along with pictures of old newspapers. Obviously, the subreddit is currently focused on 1922, but with nine years of posts, there's a lot to uncover.
r/AncientCivilizations
While many history subreddits focus on more modern history, such as WWI and later, r/AncientCivilizations focuses solely on ancient cultures, battles, and figures. For instance, learn about the historic warrior Khalid ibn al-Walid, a Muslim commander known as Sayf Allah (the Sword of God). Many posts are statues, fossils, or ancient items currently displayed at museums, such as King Khafre's statue from 2570 BCE.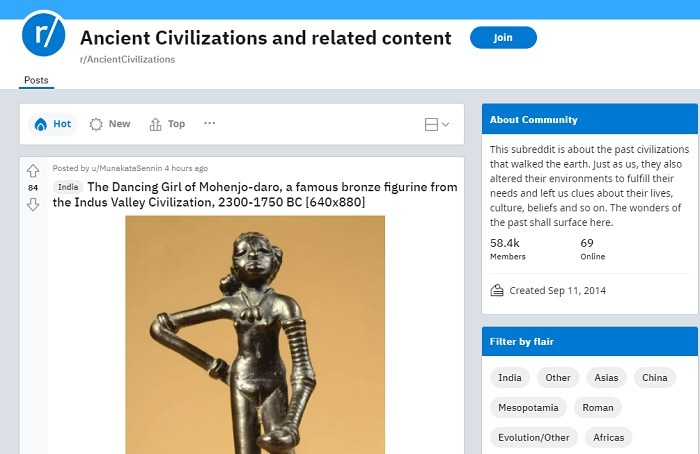 Discover where some of today's favorite pastimes and jobs began, such as how and when sailing was invented. You'll also be amazed at how well historic items have been preserved naturally, such as a 1,700 year old feather from an Iron Age arrow. While there isn't a lot of discussion, this subreddit is ideal for those looking to learn more about what happened thousands of years ago.
r/HistoricalWhatIf
Ever wondered what the world would be like if a major historical event hadn't happened or if it had gone differently? That's what r/HistoricalWhatIf seeks to find out. For any history buffs who love "what if" debates, you could easily spend hours scrolling through various scenarios, such as 'what if prohibition had never happened' or 'what if George Washington had said 'no' to being the first president of the United States.'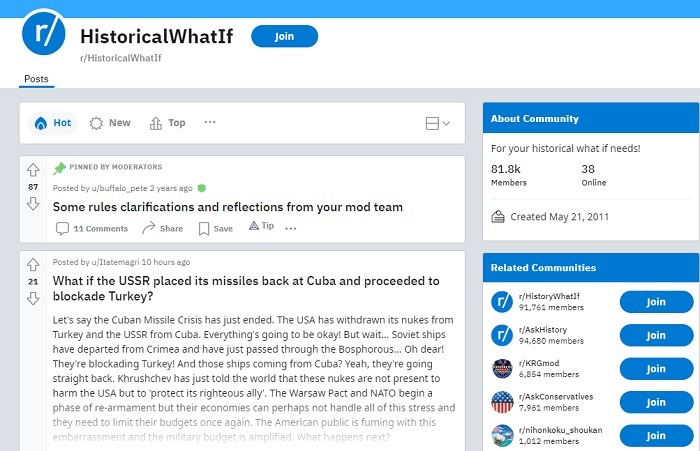 Another fun element here is challenge posts. These ask users to prevent or solve historic problems by putting them in place of historic figures. For example, how could someone have beaten Eisenhower in 1956 or what could have been done differently to make Haiti both politically and economically stable.
If you want even more what ifs, check out r/HistoryWhatIf.
r/AskHistorians
Looking for in-depth history answers and lessons? Then make r/AskHistorians your first stop. Only serious and well-researched answers are allowed. While you won't see a lot of discussion as answers are carefully moderated. Typically, you'll see a lengthy response followed by a bunch of 'thank you' posts.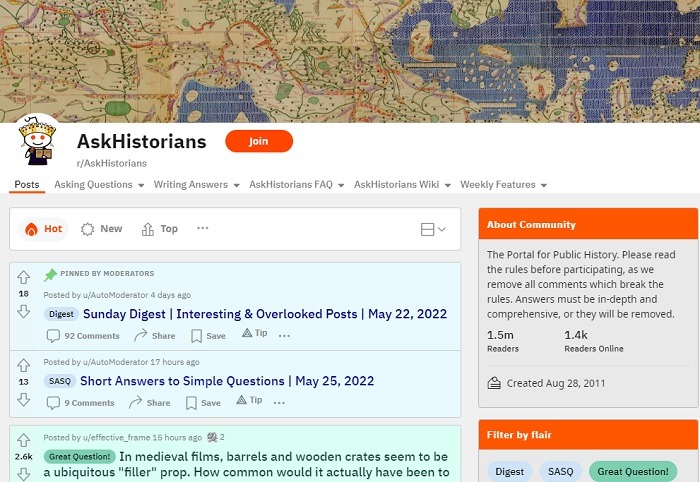 Some questions might make you laugh a little, such as "were ancient warriors actually jacked?" and "where did the stereotypical French attire of a t-shirt with horizontal stripes come from?". Others asking more thought-provoking questions, such as why Tsar Nicholas II didn't change the law to allow his daughter to rule and why Christianity doesn't really have dietary restrictions but Judaism and Islam do.
Other Options to Consider
If you're looking for a more generic catch-all history subreddit, you can't go wrong with r/History. It's the most popular of all history subreddits and even has a book club.
Or, if you're looking for extremely niche or regional history subreddits, check r/HistoryNetwork and their list of history subreddits. It's categorized by type of history, such as academic, regional, eras, and ancient history.
If you love learning more about history, but don't have time to scroll through Reddit, pop in your earbuds and check out these history podcasts instead. Or, step back into your own past with these nostalgic websites.
Image credit: Federico Di Dio via Unsplash