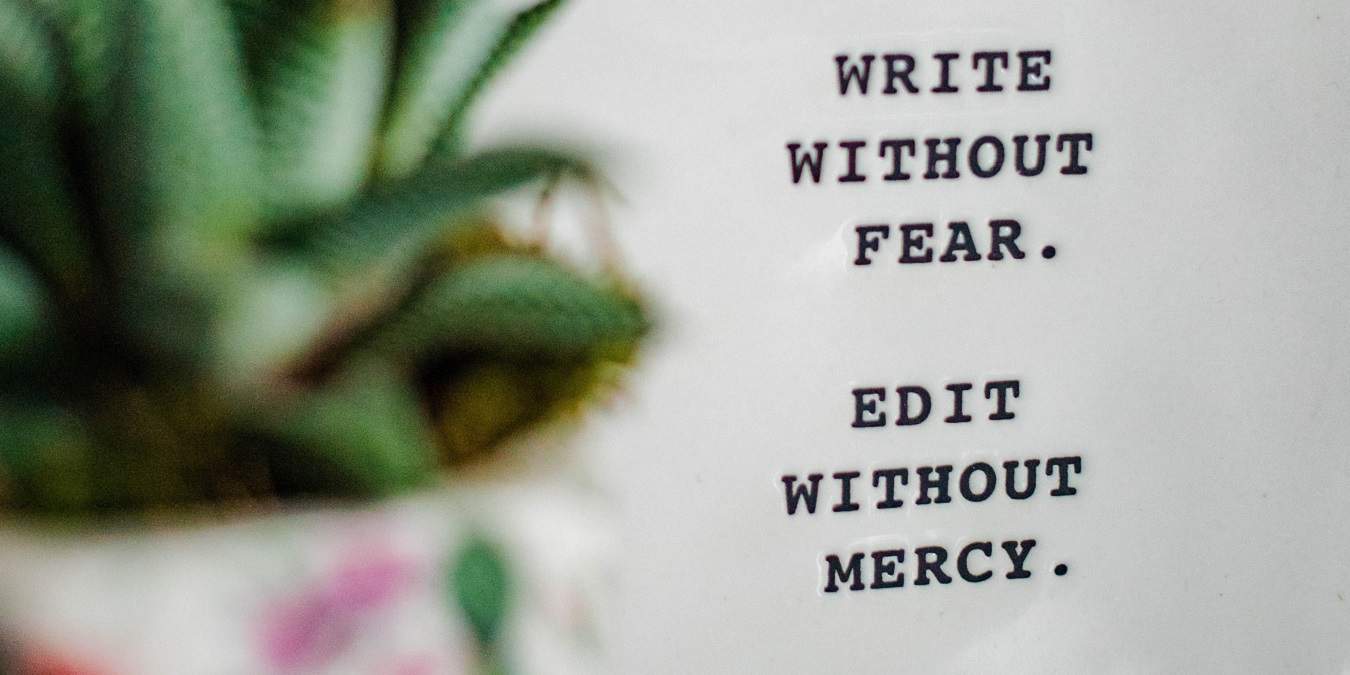 Writing can be pull-your-hair-out-while-cursing-the-muse-that-started-this-whole disaster kind of hard. But, let's face it, if you're a writer, you still love putting together stories, blog posts, articles, or whatever it is you write. However, honing your craft is a constant process. Luckily, it doesn't have to be boring and tedious thanks to these online writing games.
1. Freerice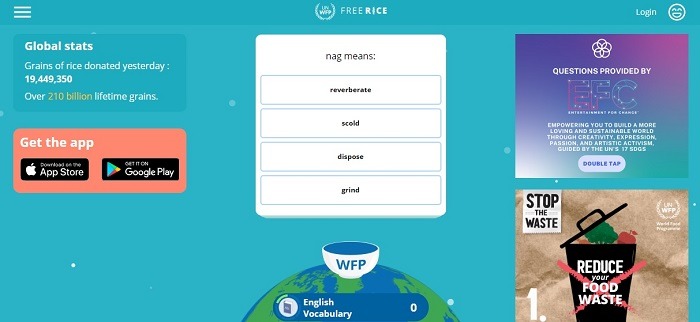 Hone your craft while preventing world hunger? That's what Freerice is all about. It's one of the more unique online writing games. What started as an ad-supported site now has sponsors, so no pesky ads. For every question you get right in Freerice's trivia games, you collect rice, which is currency that's given to the World Food Programme to help feed people worldwide. Just by playing, you're donating to a good cause.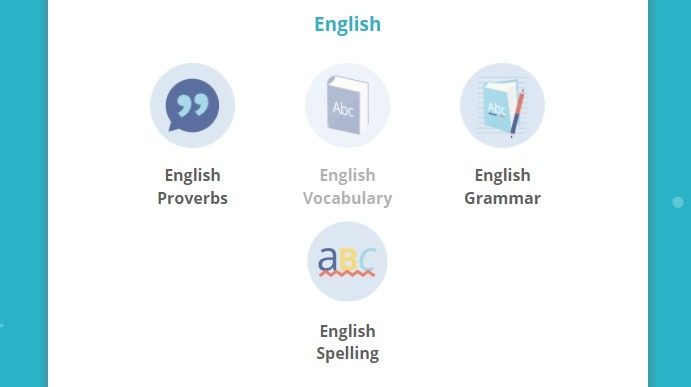 While there are over 50 categories of trivia, writers should check out the English and Language Learning (ideal if you're writing in a foreign language) sections. English includes proverbs, grammar, vocabulary, and spelling.
2. Storium
Having trouble coming up with a story or just need a fun way to flex your creative muscles? Storium is one of the best online writing games. Plus, you can play it with friends. It's best with 3-5 players, though you can go it solo (playing narrator and player).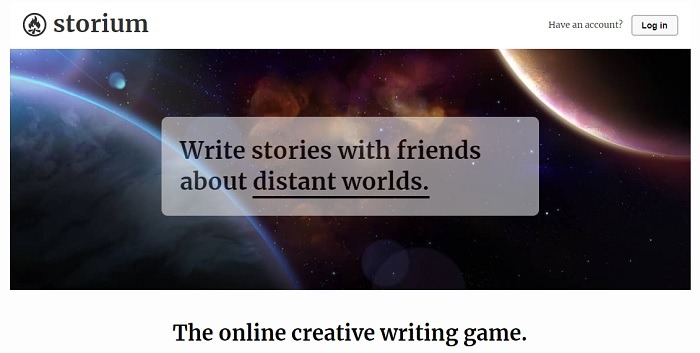 You start out in a world (theme) and have story cards that help you survive, explore, and even change the entire direction of the story. Every player has a voice. Everyone works together to weave a unique story every time you play. You can customize nearly everything and the entire concept is fun and engaging. And yes, it does actually inspire you to write.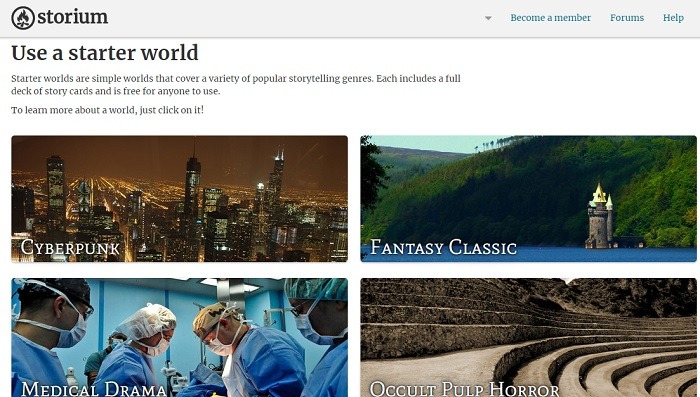 It's free to play, though you can buy premium worlds through Kickstarter or become a member ($5/month) for extra features. I've thoroughly enjoyed the free version myself.
3. Orton
Prompts are perfect for helping you hone your writing skills. Orton has three prompt-style games, including Flash, Photo Booth, and Character Act. Each challenge you to write something based on the prompt in just 10 minutes. If focus and motivation are issues, Orton can help.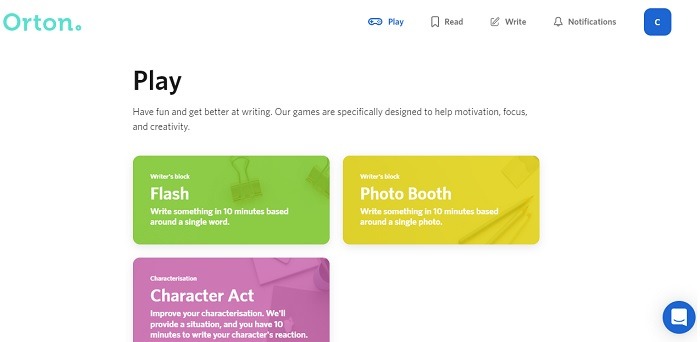 I personally like Character Act where you write about a character's reaction to something. There's also a social element where you can share what you write and get feedback, which is nice. Or, just check out others' works to feel more inspired. After all, reading is a great way to hone your skills too.
4. Dictionary.com
Play in your browser or the mobile apps for free. Dictionary.com isn't just for helping you find the right words, offering a whole host of word-based games for you to enjoy. Choose from three quick and fun games, including Word Puzzle, Quizzes, and Daily Crossword Puzzle. The games are simple yet challenging, so you won't get bored easily.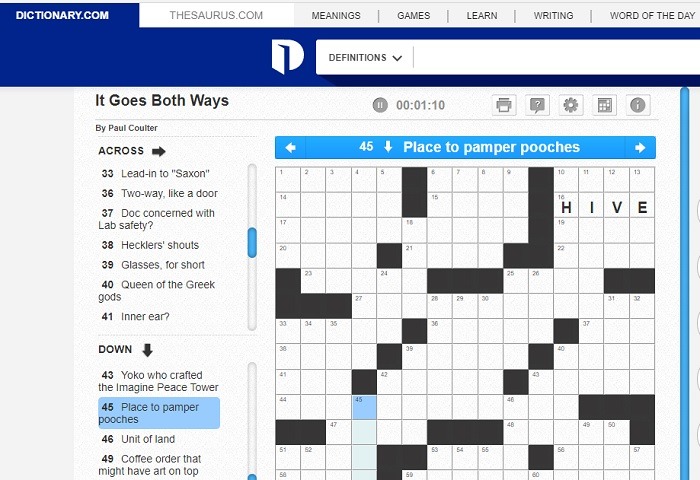 While you're there, check out the Learn section too to discover new words or try Writing for grammar tips, writing tips, and ways to refine how you say things. It's a nice all-in-one place to play and learn.
5. English Club Grammar Games
Need some help with your grammar? Don't know your adjectives from your adverbs? Not a problem! English Club's Grammar Games has you covered. Plus, they're all mobile-friendly so you can play on your phone too. There are over 1,000 games. They're designed for ESL (English as a second language) learners, but if you're a native speaker, they're still useful.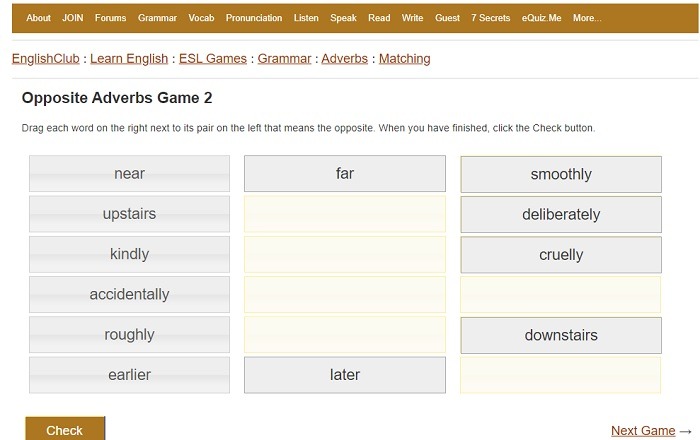 English Club also has hundreds of vocabulary games. Or, opt for a general quiz through eQuiz.me, which is partnered with English Club.
6. Reddit Writing Prompts
Reddit might not seem like a writing game, but the r/WritingPrompts subreddit throws out prompts which you use as a springboard into your own piece of creative writing Since it's on social media, it doesn't feel so much like "real" writing, even though technically it is. In fact, one user went from prompt to a completed six-book series.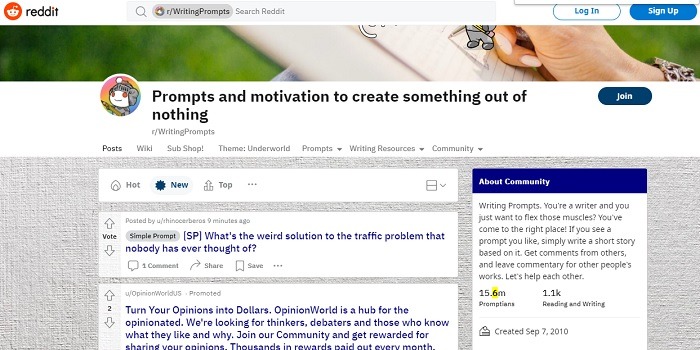 It's fun to see what comes out and then get feedback from other writers. Here's an example of a recent prompt:
You were a mighty hero in your time, until you were trapped under a mountain fifty six years ago. After finally escaping you discover that your grandchildren have become the villains. It's time to whoop some sense into them, grandpa style.
Gets the creative juices flowing, right? By making it a social experience, you hone your craft and might even just write the next bestseller or at least give your 15 minutes of fame online.
7. 4thewords
Having trouble writing consistently? Give 4thewords a try. It's a fun way to gamify the writing process. As you build your word count, battle monsters, beat your friends (or other community members), gain loot, and receive valuable feedback.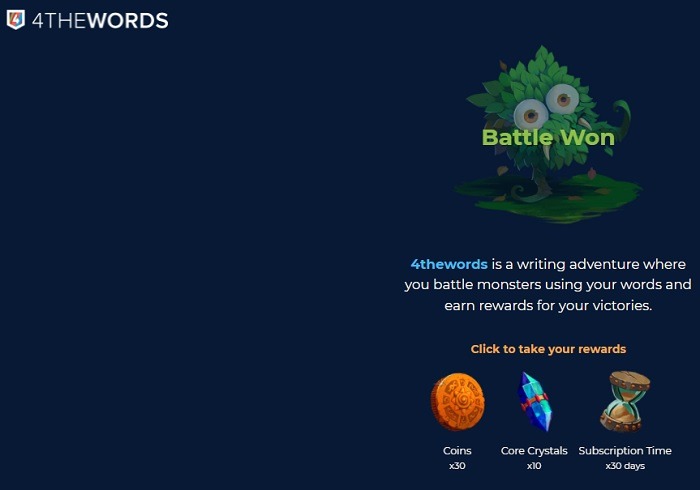 It's part social network, part game, and part habit-building. You'll need to stick to and exceed daily habits to complete quests and get access to other parts of the world. Keeping a streak of 444 words a day or more earns you achievements.
The process of turning words into a game is strangely compelling, and absolutely makes this worth trying. The more often you write, the better you get at it.
The only downside is that it isn't free. However, it has a 30-day free trial after which it's just $4/month, and you can uncover discounts as you play that bring the price down to less than $3/month.
8. Typing Games
If typing is holding you back, don't worry. Learn how to type and type faster through a variety of typing games. We already have a list of seven awesome typing games, including a few you can get on Steam.
Practice helps you hone your writing skills, but online writing games actually makes it fun. For more support, subscribe to some of the best podcasts for writers. Or, dive into an epic story by reading comics online. Of course, playing tabletop games is always a great way to get your creative juices flowing or just escape from writer's block.