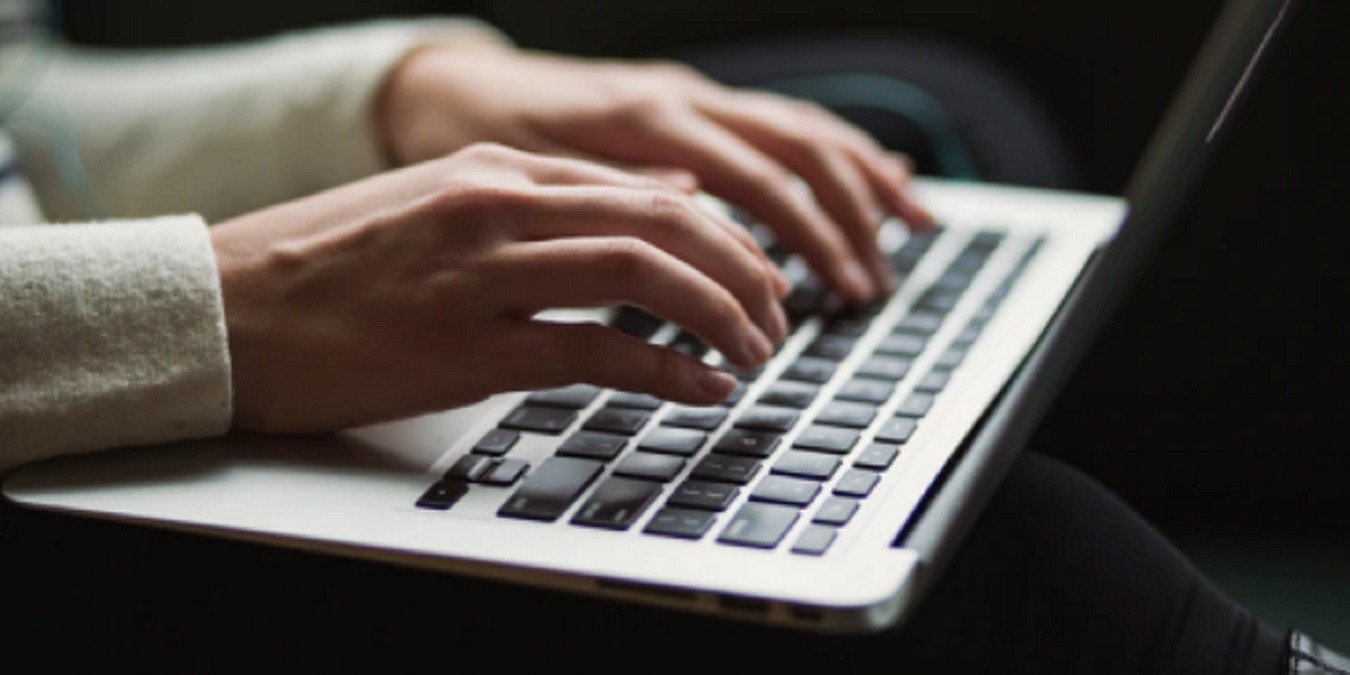 Typing games are the perfect way to hone your typing skills at any age. While many typing exercises are boring at best, games help you enjoy the process and even learn faster. Some games let you compete against yourself, while others let you race against other players. Before you know it, you're trying faster and more accurately. Here are some of the best typing games you should try online.
If you want to work out your body rather than your fingers, head over to our roundup of the best YouTube workout channels for losing weight.
1. Type Racer
There are few better ways to motivate you to become a faster typer than by competing against other people, and Type Racer does just that for you. Extremely simplistic interface yet utterly compelling gameplay, this browser-based game puts you in a race against up to four other racers, all typing the same segment from a book or piece of literature.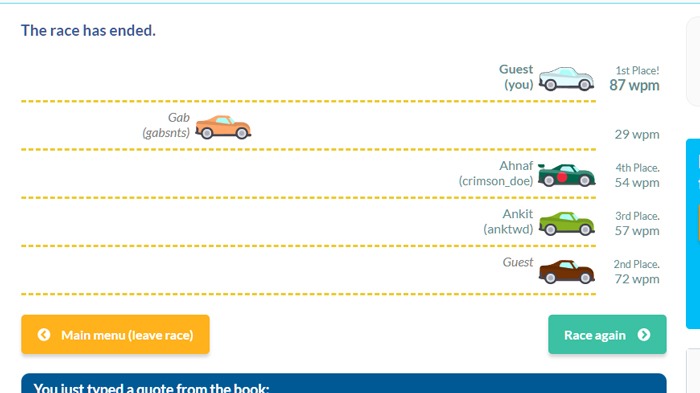 If you make a mistake, you need to go back and amend it, which will trip you up as you race to the finish line. It's hugely popular, so you get matched up in seconds, and it gives you your 'wpm' at the end (we managed 87 wpm and won the race -think you can beat us?).
2. Flappy Typing Tutor
Remember Flappy Bird? The 'Cave Copter' ripoff game with the Mario pipes and very Mario-like fish-bird thing that blew up several years ago? Well, some plucky developer around that time converted it into a typing game – Flappy Bird Typing Tutor – and it may well be the toughest typing game you'll ever play.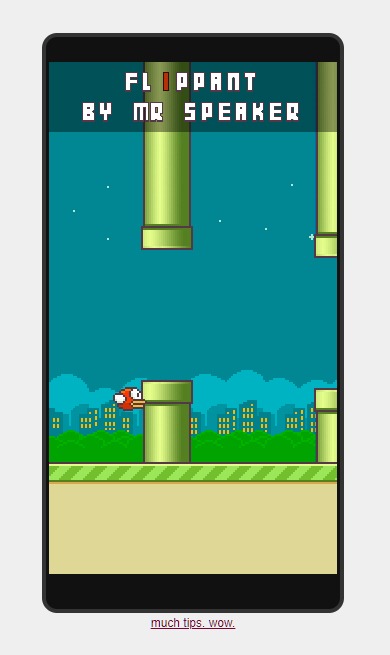 The goal here is to not only keep the titular bird airborne by typing, but typing at just the right pace to guide it between the pipes. So it's not really about typing fast, but essentially steering the bird by typing the words onscreen. We managed to successfully cross about two pipes before smashing face-first into a wall.
3. ZType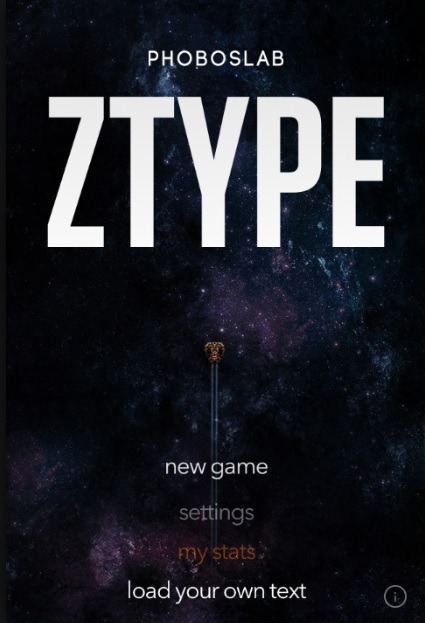 It's one of the simpler typing games, but incredibly fun. If you like the classic asteroid shooter games, you'll likely enjoy ZType. You can play it in most browsers. Your job is to "shoot" the words and ships by typing the words floating down from the top of the screen as fast as possible. With each level, the difficulty increases. It's provided free via Typesy, which is a premium typing course that includes 15 other games. It's $9/month, but ZType is free no matter what.
4. Typing Games Zone
Typing Games Zone is actually a variety of games. My personal favorite is typerush, which is a racing game. If you sign up with a profile, you can keep track of scores, advance to higher levels, customize game items, and more. While the games are simple, they're retro and fun. Plus, they're quick and easy to play when you have a few spare minutes during your day. Of course, the best part is everything's free.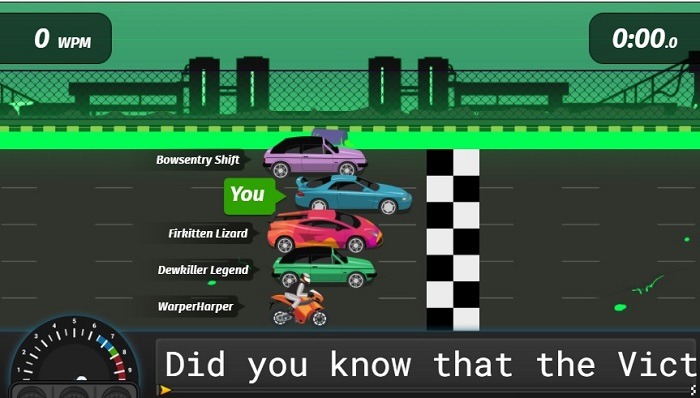 One of our favorite games here is Typing Attack, a typing Asteroids-style game that, admittedly, appears to rip off ZType a bit in both presentation and music. Still, it's a blast!
5. Education.com Typing Games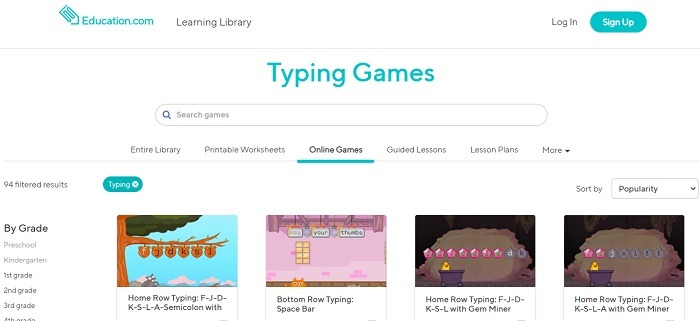 Education.com's Typing Games are geared more toward complete beginners and kids. Practice one row or section of the keyboard at a time. You get to practice both accuracy and speed as you advance through the games. If you want something cute and simple, these games might be perfect, especially if you're trying to help teach your kids to type. All the games are free to play.
6. Epistory – Typing Chronicles
Epistory – Typing Chronicles is a much more in-depth typing game. It features beautiful visuals, an engaging story, and a girl on a three-tailed fox trying to make her way through various lands. As you progress through worlds, you have to "fight" your enemies by typing words. As you progress, the game and typing requirements get harder. If you're looking for typing games that go beyond basics, this is perfect.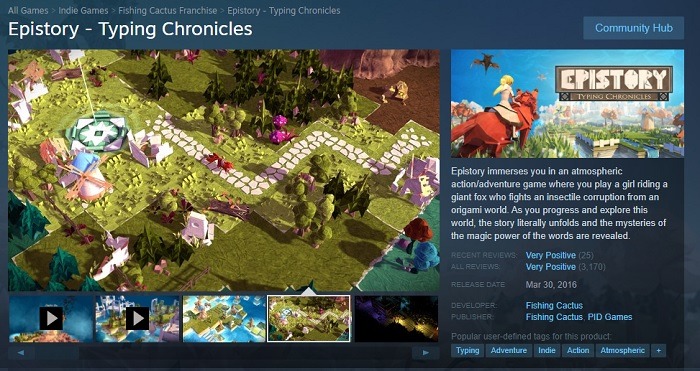 It's available on Steam for just $14.99. You can also buy it as part of two other typing game bundles if you want to get more for less.
7. God of Word
Love word games and want to improve your typing skills? Give God of Word a try. Not only do you type words to defeat your enemies, you also have to find and type words in a scramble of letters. All of this is based in a Greek mythology world of classic Greek monsters. Unlock new armor, skills, and achievements. There are even mini-games to play.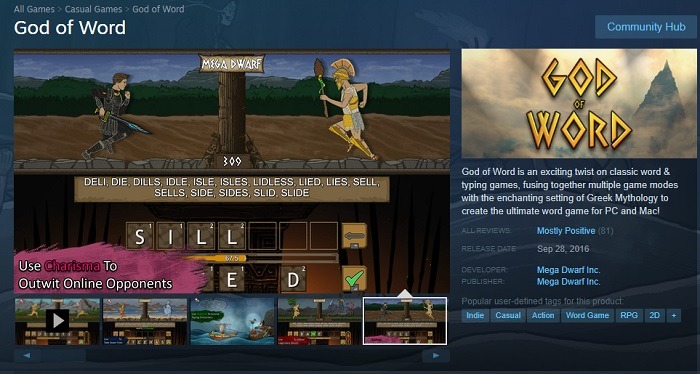 You can check it out on Steam for just $4.99. It's also available in a bundle with Epistory and three other games for $28.
8. The Texorcist: The Story of Ray Bibbia
Ready for a challenge? The Texorcist: The Story of Ray Bibbia isn't for the faint of heart. It's a fast paced typing game that has you typing out exorcisms while dodging all sorts of nasty things. You play as exorcist Ray Bibbia, trying to rid the world of evil. If all the other games on this list seem too simple for you, this will definitely give you the challenge you've been craving.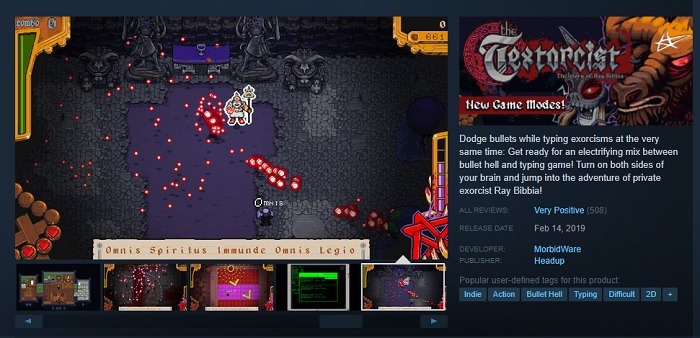 You can find it on Steam for $14.99 along with regular updates.
9. The Typing of the Dead: Overkill
First off, this is one of the few typing games that's only for adults. In fact, you have to enter your birthday just to view the details on it. However, if you love first-person zombie shooters, you'll love The Typing of the Dead: Overkill. As the name implies, it's all about taking out the zombies before they take you out. There's even two-player mode to challenge your friends. All you have to do is type the words or phrases on the zombies before they reach you, but each level gets more challenging so type fast.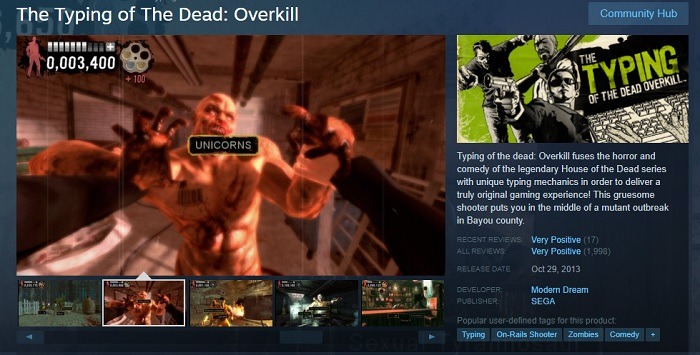 Check this game out on Steam for $19.99. Or, opt for the bundle with all the currentl DLC add-ons for $25.99.
Looking to get creative? Check out our list of the best sites to make music online for free. Or head over to the list of the best Subreddits to while away some time.