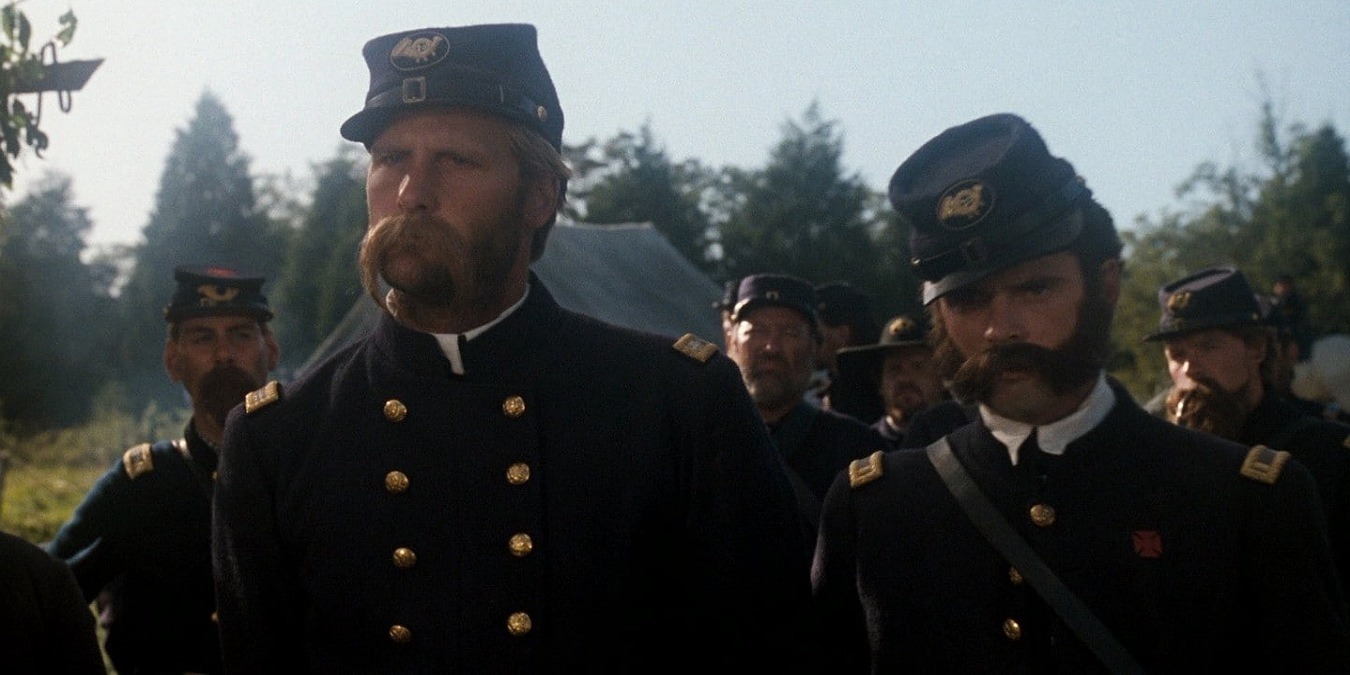 Most war movies are created with fictionalized characters and battles. But, the best war movies will always be based on true stories because the most incredible stories always come from real life. Here are a few of the best war films inspired by true stories that you can watch right now.
If you prefer free movies instead, check out the best War movies you can watch for free in YouTube. Or if you are in the mood for monster films then check out these great classic monster movies.
1. Hacksaw Ridge
Watch it on: Vudu | Amazon Prime
Andrew Garfield won multiple awards for his outstanding performance as Private Desmond Doss in this incredible true story of the pacifist combat medic. After an almost fatal event in his youth, Doss fully dedicated himself to his Christian faith and specifically swore to never violate the commandment – "Thou shalt not kill". Even during the chaotic battles of the Pacific Theater in World War 2, Doss refused to violate his beliefs and morals.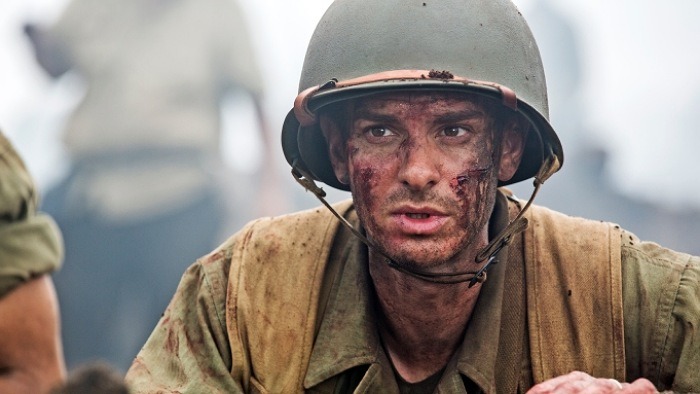 Hacksaw Ridge explores Doss's life as he joins the US Marine Corps after the attacks on Pearl Harbor to help make a difference in his own way to the war. But, he quickly becomes a target of constant abuse and torment from his fellow Marines because their strong distaste for Doss's refusal to use weapons. Desmond's time to prove himself comes during the Battle of Okinawa and his brave heroics to save as many lives as possible will be seen by many as a miracle.
2. 1917
Watch it on: Amazon Prime | Vudu
Inspired by his grandfather's war stories during his service in World War 1, director Sam Mendes delivers one of the most ambitious movies of all time. 1917 follows the suspenseful journey of lance corporals Will Schofield and Tom Blake performed by George MacKay and Dean-Charles Chapman, respectively. General Erinmore informs them that the German army has quickly retreated to setup an ambush for the offensive 2nd Battalion. The duo only have a few hours to deliver the General's message to Colonel Mackenzie before countless lives are lost.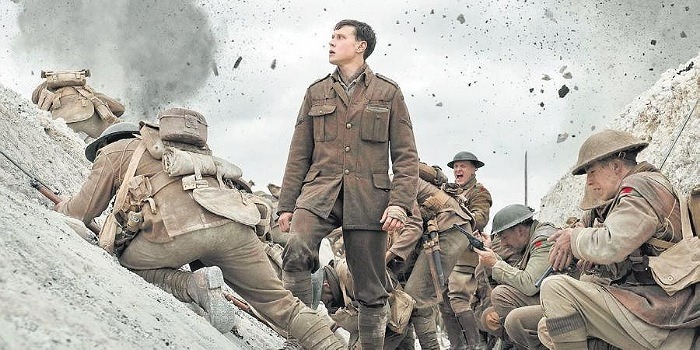 The film does a wonderful job of capturing the audience's attention and it doesn't let go until the credits roll. The movie is presented as two long continuous shots, and the amount of tension and immersion throughout this experience is unparalleled. You can truly feel the desperation of the lance corporals to deliver the message as they cross through no man's land and enemy territory. 1917 won the Oscars for Best Cinematography and Best Visual Effects along with Best Film from the British Academy Awards.
3. Lawrence of Arabia
Watch it on: Vudu | Amazon Prime
Based on the life of military officer T.E. Lawrence comes one of the greatest epic war dramas of all time. Peter O'Toole stars as the Briamtish lieutenant aiding the revolt against the Ottoman Empire during World War 1. Lawrence of Arabia examines the intense struggles of Lawrence during the conflict and his new-found companionship with the Arabian tribes.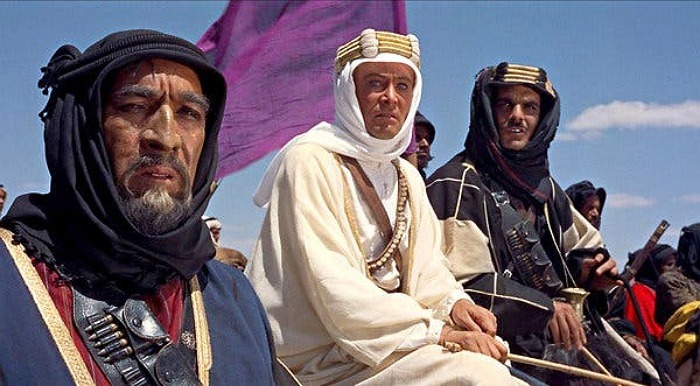 Lawrence of Arabia has become a classic movie since its release in 1962 and inspired generations of filmmakers. Legendary directors like Stanley Kubrick and Steven Spielsberg were heavily influenced by the film. The British Film Institute has ranked it as one of the greatest British films ever made. The film also earned a spot in the National Film Registry due to its significant influence to cinema and entertainment.
Check out these websites for the best place to watch video together with your friends.
4. American Sniper
Watch it on: Vudu | Amazon Prime
Bradley Cooper stars as highly decorated Navy SEAL marksman Chris Kyle in the biographical war drama called American Sniper. The film starts with Kyle's childhood where he learns to hunt and handle firearms from a young age. Years later, Chris uses his skills to join the Navy SEALs after seeing the 1998 U.S. embassy bombings.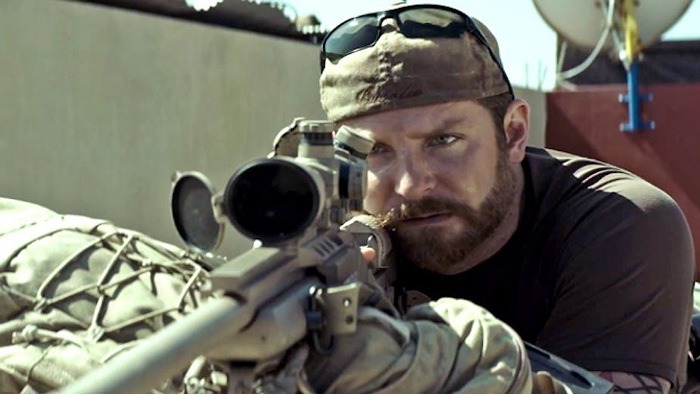 American Sniper showcases Kyle's tale of becoming the deadliest marksman in U.S. history with over 160 confirmed kills. And, it also displays the psychological damage of war leading to severe struggles with personal and family life. The film was a huge success at the box office generating over $545 million on a $60 million budget. It has earned many accolades and nominations as well as being Clint Eastwood's highest grossing film as a director.
5. Glory
Watch it on: HBO Max | Vudu | Amazon Prime
Glory depicts the creation and struggles of the Union Army's 54th Massachusetts Infantry Regiment, one of the first all-black regiments in the Civil War. Captain Robert Shaw, played by Matthew Broderick, is promoted to colonel in order to form the regiment and gather volunteers. Morgan Freeman and Denzel Washington masterfully fulfill their supporting roles as a couple of the many recruits of the regiment.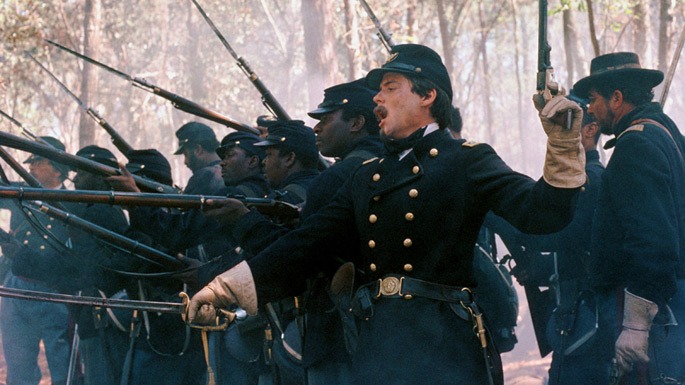 The 54th regiment must overcome turbulent racism and abuse from both sides of the war as they wait for the moment to prove themselves in battle. Obtaining mild success at its release, Glory earned $27 million in the box office compared to its $18 million budget. But, the film did receive very positive reception and earned the Oscars for Best Cinematography and Best Sound. As well as Denzel Washington winning the Oscar for Best Actor in a Supporting Role for his performance as Silas Trip.
6. Gettysburg
Watch it on: Vudu | Amazon Prime
At four and a half hours long, make sure you have plenty of snacks ready for the riveting Gettysburg. Originally planned as a miniseries, this epic war drama depicts the grueling Battle of Gettysburg, the deadliest battle of the American Civil War that resulted in over 50,000 deaths. You'll see the tense events leading up to the conflict and the catastrophic results from both viewpoints of the Union and Confederate States.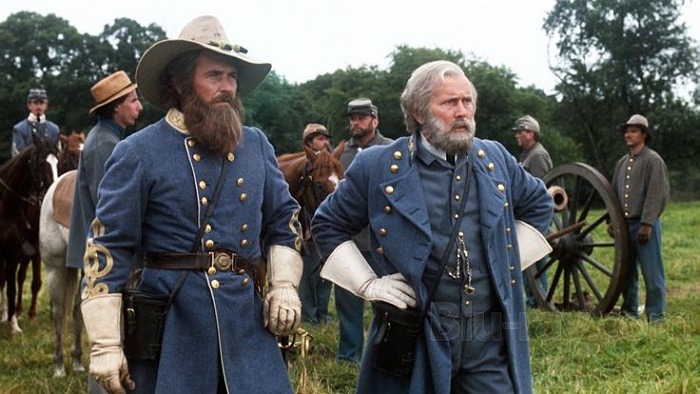 This massive production features a talented ensemble cast of actors playing as key figures such as Jeff Daniels as Colonel Chamberlain and Martin Sheen as General Robert E. Lee. Gettysburg made a small profit earning $13 million at the box office compared to its $20 million budget. Regardless, the film was a major success in terms of ratings, home video sales and positive reviews. Fans of the film widely consider it to be one of the most thrilling dramatizations of the Civil War ever.
7. Letters from Iwo Jima
Watch it on: Vudu | Amazon Prime
Letters from Iwo Jima is one of the rare instances where Western movie studios portray the Japanese perspective of World War 2. Ken Watanbe stars as General Tadamichi Kuribayashi who arrives to Iwo Jima to prepare his troops for the upcoming Battle of Iwo Jima.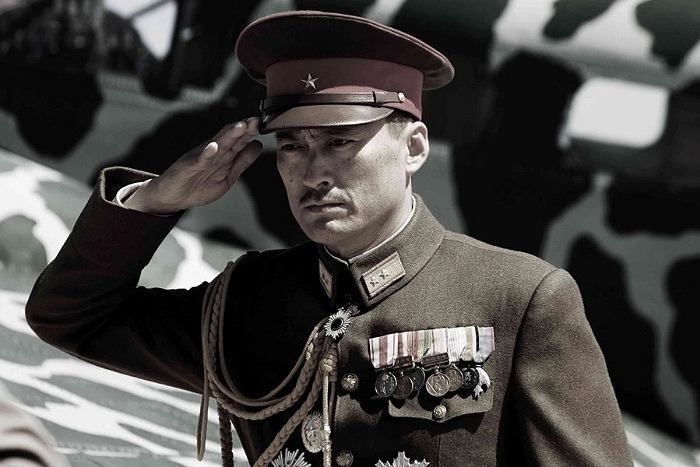 General Kuribayashi has a solid understanding of how the Americans will fight due to his experience traveling the United States and studying at Harvard University. As such, Kuribayashi's strategies proved effective at creating a much stronger resistance than what the American troops were anticipating.
The film is a companion to Flags of Our Fathers which depicts the same battle except through the lens of American soldiers. Both films received critical acclaim and Letters from Iwo Jima won the Oscar for Best Sound Editing.
8. We Were Soldiers
Watch it on: EPIX NOW | Paramount+ | Amazon Prime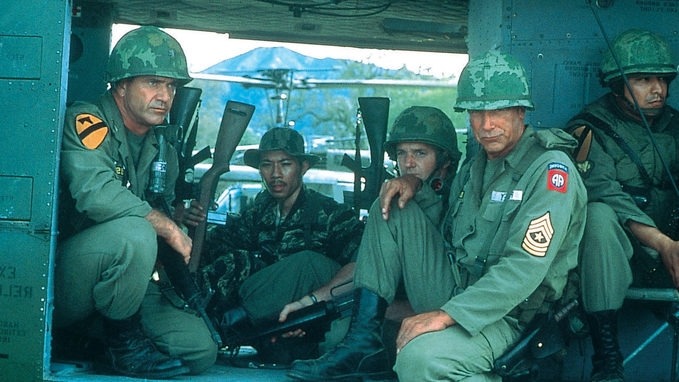 Mel Gibson is Lieutenant Colonel Hal Moore who leads his men into the Battle of Ia Drang, one of the first major conflicts of the Vietnam War. After arriving to field, LTC Moore learns of an American base captured by enemy forces. Moore orders the recapture of the base to his 400 men but they soon learn that a whole division of Vietnamese soldiers are waiting for them. Once the first gunfire and bombs go off then there's nothing but non-stop action until the end of We Were Soldiers.
9. Unbroken
Watch it on: HBO Max | Hulu | Amazon Prime
Bombardier crew member Louis Zamperini, played by Jack O'Connell, is one of the few surviving members of the crashed B-24 warplane. Many days they'll spend floating on a raft stranded in the middle of the Pacific Ocean and eagerly waiting for rescue. They are saved but not by who they wanted to be rescued by – Japanese Imperial soldiers.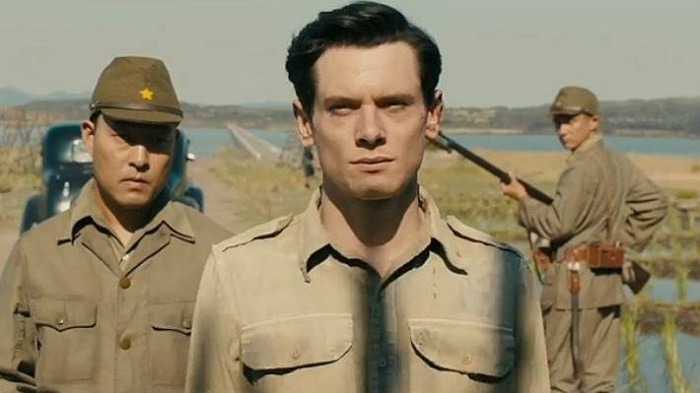 Now, Louis faces even more struggles than before in a Japanese prison camp and it will become an ultimate test of his resilience as he reflects on his past. As Angelina Jolie's first movie as a director, Unbroken was a huge financial success at the box office and received many praises for its cinematography and its inspiring tale of resilience.
10. Schindler's List
Watch it on: Starz | Amazon Prime
Based on the historical novel "Schindler's Ark", Liam Neeson brings to life the true tale of Nazi Party member Osker Schindler who saved over 1,000 Jews during the Holocaust. Schindler's List reveals how businessman Schindler was able to save their lives by employing them as essential workers in his factory. At first, Schindler simply cares about running a profitable business but he gradually becomes more sympathetic and protective for the Jewish people as the war goes and as he witnesses the atrocities bestowed upon them.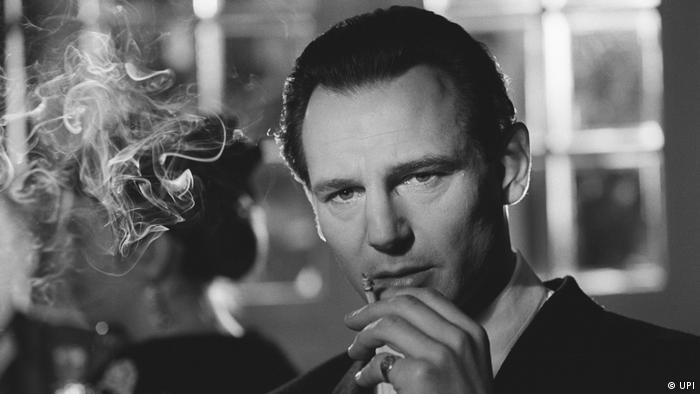 Schindler's List became a massive success at its release, receiving plenty of universal praise for its cinematography, atmosphere and stellar story. The film would go on to win the Oscars for Best Picture, Best Director and many other accolades from the BAFTAS and Golden Globe Awards. It's regarded as one of the best films of all time and earned a spot of preservation in the U.S. National Film Registry.
11. Braveheart
Watch it on: HBO Max | Amazon Prime
Now, let's take a step back from this modern era of firearms and go back to the age of good old fashion swordfights and battlecries. Based on the 15th century epic poem "The Wallace" by Blind Harry comes the dramatization of Scottish warrior Sir William Wallace in Braveheart.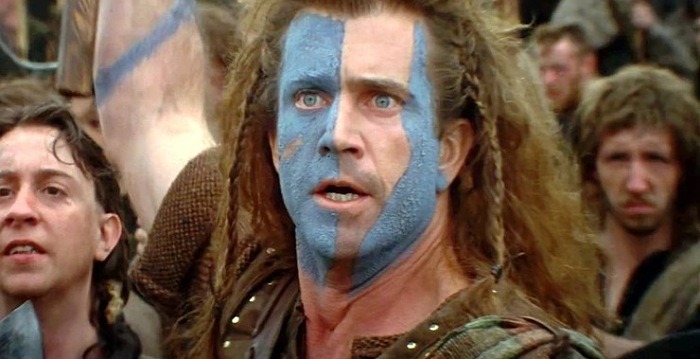 You'll witness tragic moments and vicious battles of Wallace's life as he leads the war for Scottish independence against King Edward I of England. Braveheart was an immediate success that won a multitude of awards such as Oscars for Best Picture and Best Director, and invoked a large surge of interest into Scottish culture and history.
12. Black Hawk Down
Watch it on: HBO Max | Amazon Prime
Black Hawk Down retells the raid of Delta Force and Army Rangers into the city of Mogadishu during the Somalia civil war. The mission is to capture Mohamed Farrah Aidid, the self-proclaimed president of the country and leader of the militia controlling the city. A large ensemble cast such as Tom Hardy, Josh Hartnett, and Ewan McGregor portrays key soldiers in the U.S. attack force as they face heavy resistance in this Academy Award-winning film.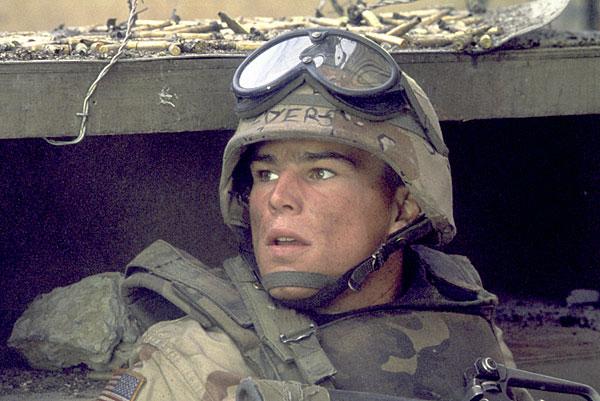 In its own way, creating an eye-catching movie poster is an artform. Here are some of the best movie posters ever created. If war movies are too violent for you but you're looking for some good action then these great boxing films will do the trick.