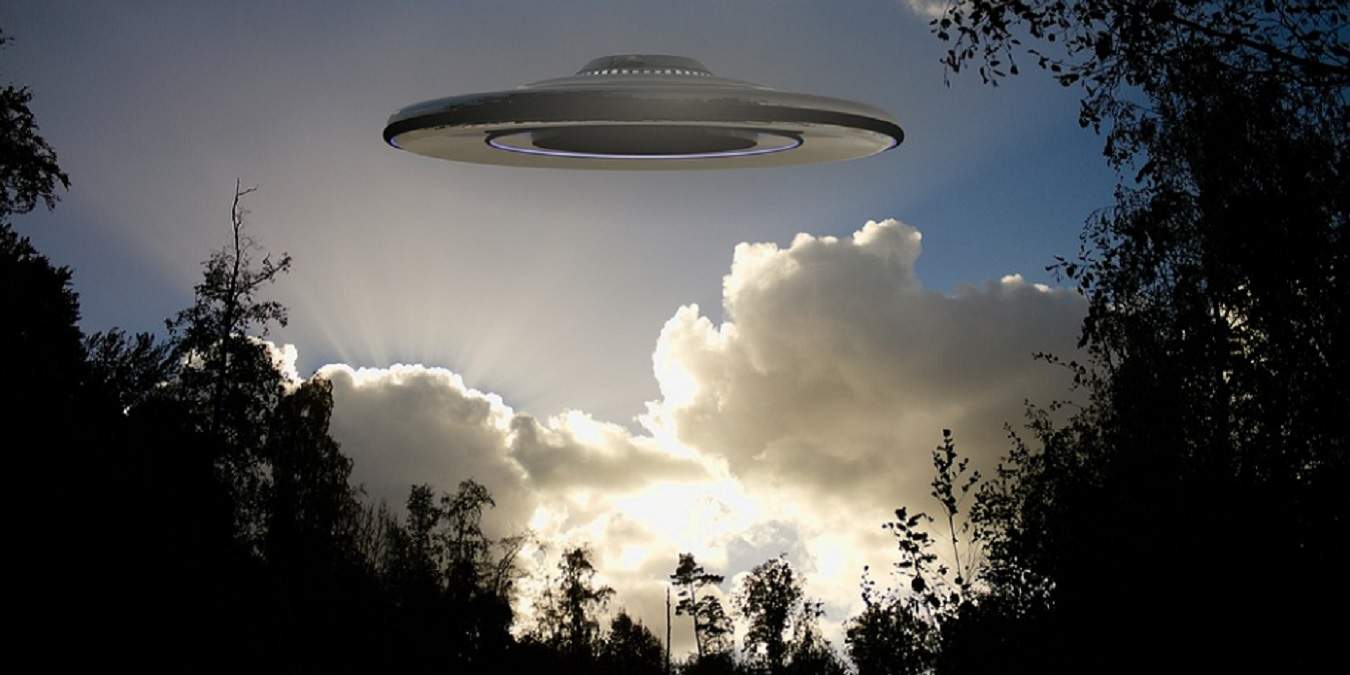 As big as the universe is, it's not hard to fathom that we're not alone. While many might deny it, the best UFO subreddits and YouTube channels let you share thoughts and discuss unusual phenomena with like-minded believers. In light of Pentagon officials discussing numerous unsolved UAP reports in a congressional hearing, it's an even more exciting time to consider life beyond Earth.
While movies might exaggerate things a bit, see cinema's take on alien invasions in these great alien movies.
r/UFO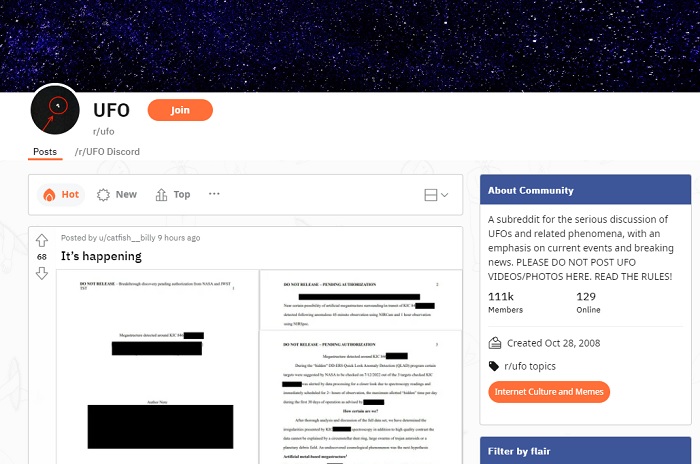 If you want to talk about more recent news surrounding UFOs and related phenomena, r/UFO is one of the best UFO subreddits around. With over 100,000 members, it's a highly active community that supports serious discussions only. This isn't a place to just share random pictures of UAPs. Instead, you'll find threads on the latest news and theories, such as talking about former NASA scientist Paul Hill's theory on UFO technology and an FBI report of a craft going 27,000 mph. There's also a Discord for more discussions.
r/UFOs
While similarly named, r/UFOs is focused not only on news and theories, but encourages users to share their own sightings and experiences. The community provides a place for both serious discussion and skepticism to get to the truth behind each post. It's more active than r/UFO with over half a million members.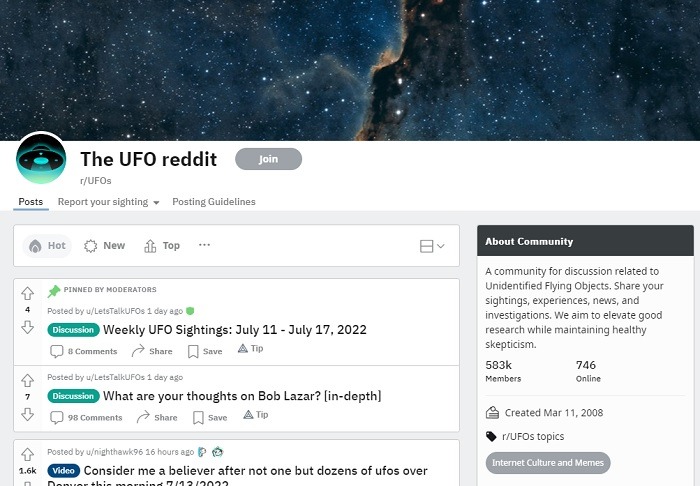 Check out whether this video of dozens of UFOs over Denver is real or join a healthy debate as to whether most UAPs are Earth-based or not. If you want discussions along with sightings, this is the perfect place to start.
r/UFOBelievers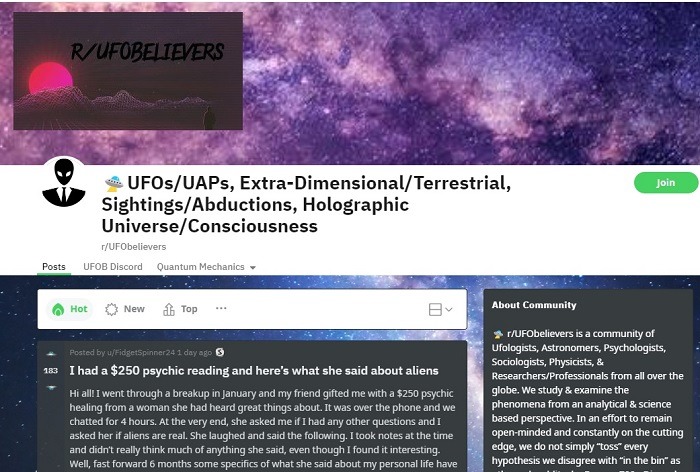 Join a community of professionals and experts, including astronomers, physicists, ufologists, and more for open-minded discussions about UFOs, UAPs, sightings, abductions, and other related topics. In r/UFOBelievers, users share videos, interviews, and theories to start serious discussions as to whether it's real or not. Everyone won't always agree, but that's part of what makes this one of the better UFO subreddits. From details from the daughter of the Roswell Incident's Walter Haut to talks about the US government diving deeper into UAP reports, there's something for everyone here.
r/Aliens
Are extraterrestrials out there? If so, what are they like? Share your thoughts and discuss with others on r/Aliens. It's a well-moderated community for serious discussions on sightings, theories, and the latest news/reports. You'll also find some original artwork, such as "The Truth Is Out There." With over 400,000 members, there's always something new to check out.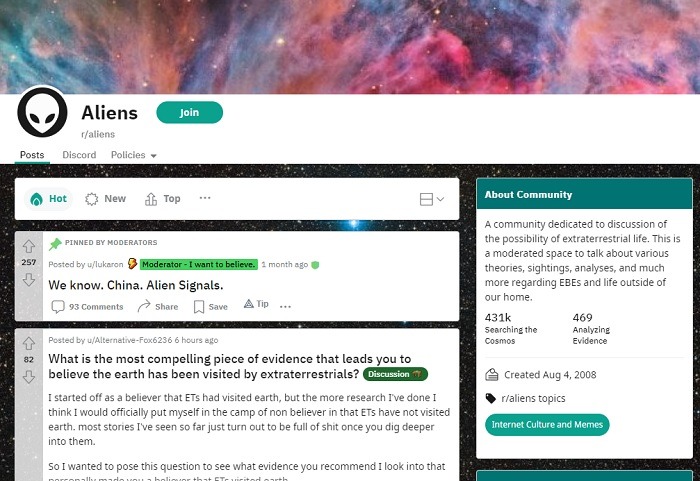 If you're a skeptic, check out other users' stories that made them a believer. Or, dive into the theory that maybe aliens aren't nearly as advanced as we think and they just don't have the tech to travel to Earth.
r/UAP
If you want less speculation and theory and more facts, check out r/UAP. Though it's a smaller group, you'll find numerous serious discussions on the latest news and reports on UAPs. It's one of the best UFO subreddits thanks to careful moderation and a great collection of some of the most reputable videos, news stories, and how the tracking of UAPs is advancing.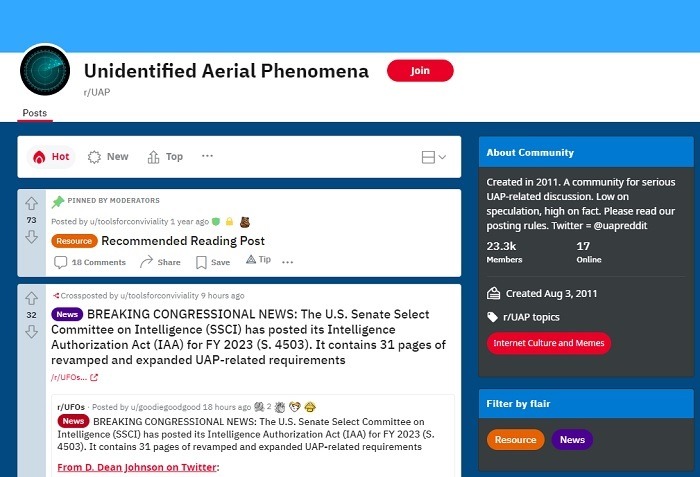 Uncover the latest UAP reporting requirements. See why some experts believe it's well past time to take UFOs seriously. Or, see why some people absolutely refuse to accept credible evidence.
Richard Dolan Intelligent Disclosure
Richard M. Dolan is a well-respected figure when it comes to UFOs and what might exist beyond our world. His YouTube channel, Richard Dolan Intelligent Disclosure, is a regularly updated collection of interviews, the latest from the Richard Dolan Show, and deep dives into reported encounters. If you're already a fan of Dolan's writing and research, you'll definitely want to subscribe.
If you're new to the channel, check out UFOs: The Most Important Thing We're Not Talking About and Managing Conspiracy Theories. These represent the channel well and give you a great introduction to Dolan if you're not already familiar with him.
FindingUFO
If you're interested in seeing some of the latest sightings along with interviews, documentaries, and news, check out FindingUFO. There's a heavy focus on sightings, such as a group of UFOs over the South China Sea and a rotating disk spotted in Argentina.
It's not quite as serious as Dolan's channel, but it's still a great option for seeing what others have experienced and viewed. If you ever feel like you're alone in seeing UFOs or UAPs, this could be one of the best UFO YouTube channels to show you're far from the only person to see something not of this world.
Unidentified Aerial Phenomena
Unidentified Aerial Phenomena is a great source of the latest news on UAPs. Enjoy a large collection of news reports, documentary clips, and interviews. The channel's well organized, grouping similar topics together, such as military encounters, documentaries, UAPs/UFOs/AAVs sightings, presentations, and more.
Check out testimonies from those you've seen UFOs and UAPs, such as astronaut Deke Slayton and Dr. Richard F. Haines. Or, view media coverage, such as this clip about non-human technology.
Do you think the truth is being purposely hidden from you? Then, you might want to check out these conspiracy subreddits. Or, check out these science podcasts, some of which explore UFOs.
Image credit: christianplass via Pixabay