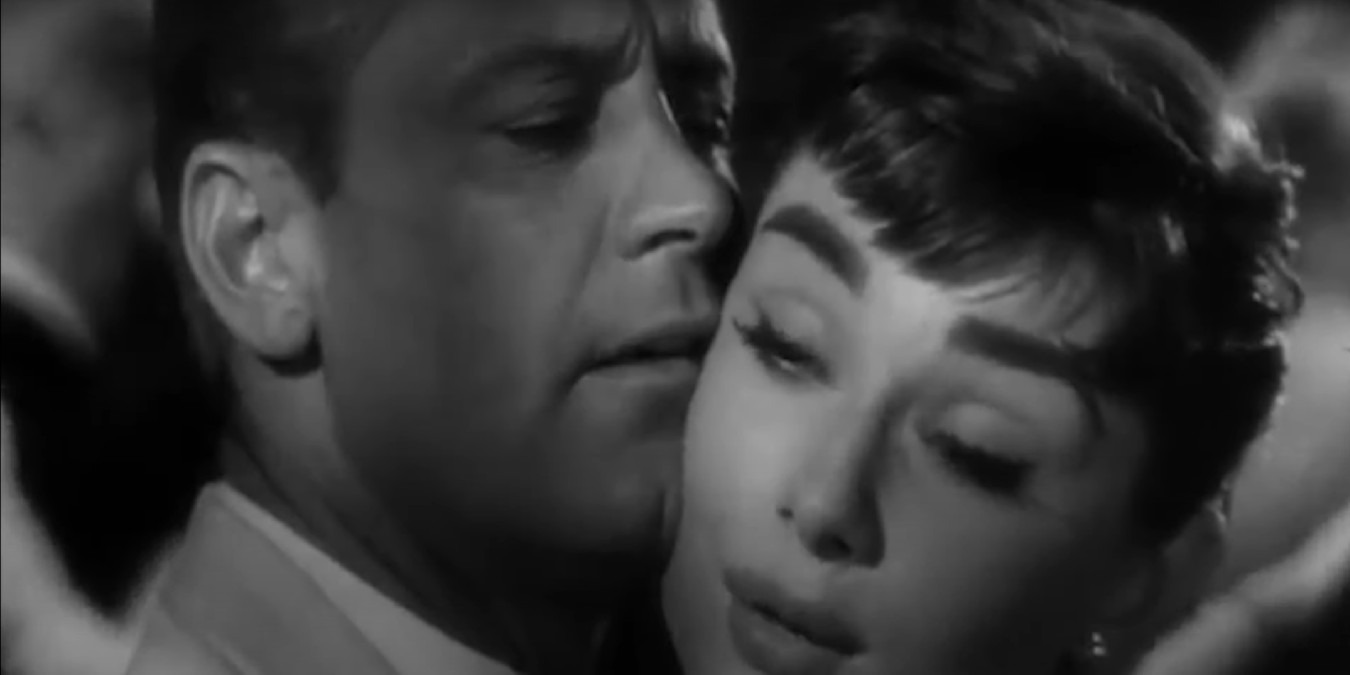 If you are a fan of classic movies, there are plenty to choose from to celebrate with your sweetheart this coming Valentine's Day. There are musicals, comedies, war-time dramas, and even a few tragedies if you can handle them. Whether you're looking to laugh, cry or just feel all warm and fuzzy inside, we have you covered with these ten from the days of the classic movie era.
1. Roman Holiday
Watch on: YouTube (free) | Pluto TV (free) | Amazon Prime Video (purchase/rent)
Roman Holiday is one of the earliest and best performances of Audrey Hepburn's career. She won an Oscar for her portrayal of Princess Ann, who takes a day off from being a royal when the pressures get to be too much for her. During her excursion, she meets Joe, played by Gregory Peck. Unbeknownst to her, he is a reporter trying to get an exclusive scoop on the famous princess.
The love story here will wrap you up, and you will be completely fascinated by the chemistry between Hepburn and Peck. The improvised scene alone with the Mouth of Truth is worth watching the film.
While things don't end the way you'd imagine, there was a real love story behind the scenes. Peck was pretty sad when he arrived in Italy to film the movie because of his recent separation from his first wife. While in Italy, he met his next wife, and they were married until his death. That alone makes up for it.
2. It Happened One Night
Watch on: YouTube (purchase/rent) | Amazon Prime Video (purchase)
In another love story between a reporter and a rich girl, you have 1934's It Happened One Night. Here Clark Gable's character trails a young heiress, played by Claudette Colbert, on the hunt for a story. It turns out that she's running away from an impromptu marriage and her father.
This comedy is a joy to watch. Plus, it's actually funny, and the banter between the two leads makes it all worth it. The hitchhiking scene is the most famous and one of the funniest of the entire movie. Gable's character fails miserably at trying to hitchhike, but Colbert's just has to show some knee, and a car pulls over. The characters' banter over who can do it better is hilarious.
3. Sabrina
Watch on: Pluto TV (free) | YouTube (purchase) | Amazon Prime Video (rent/purchase)
In another great offering from Audrey Hepburn, we have Sabrina. This film features a love triangle with her and two brothers, played by Humphrey Bogart and William Holden.
Sabrina, played by Hepburn, lives with her father at the rich home of the Larrabees, where her father is the chauffeur. She falls in love with David, played by Holden, but is sent away to school before she is old enough to do anything about her feelings for the ladies' man. When she returns, he notices her, but is he the brother that she should be interested in?
This film is another great romantic comedy, but you may be left questioning if the titular character ends up with the right brother. Suffice to say there was a lot of off-screen romantic dalliances and intrigue during filming, which is definitely reflected on-screen. We'll say no more!
4. Bringing up Baby
Watch on: YouTube (rent/purchase) | Amazon Prime Video (rent/purchase)
Cary Grant and Katharine Hepburn are screwball comedy gold in 1938's Bringing Up Baby. This film is what all other screwball comedies should be measured against, which is particularly impressive with Hepburn as this was her first attempt at comedy. The film has a love story, but is also a comedic delight as you watch these two fumble around trying to capture a loose leopard.
What is so surprising about this film is that it was actually a huge fail at the box office. When we look at it today, this is so hard to believe because the film is brilliantly done. It will have you and your sweetheart laughing all night long.
5. Father Goose
Watch on: Pluto TV (free) | YouTube (rent/purchase) | Amazon Prime Video (rent/purchase)
In the second of four Cary Grant movies on this list, he is once again comedic gold. Even though Grant often plays a classy, well-put-together gentleman, here he is rough and boozy but no less lovable.
His delivers one of the funniest roles of his career as Walter, a man on an isolated island whose job is to spot aircraft during World War II. When a teacher, played by Leslie Caron, and her students crash-land on the island, suddenly he has more responsibilities than he ever imagined.
Caron really came into her own here in his 1964 film. She presents such confidence, and is genuinely funny. She grew a lot as an actress between An American in Paris and Father Goose. Watching these two characters banter is the highlight of the film and although things begin rocky, you just know that they're going to fall for each other.
6. Charade
Watch on: Pluto TV (free) | Amazon Prime Video (subscription/rent/purchase) | YouTube (rent/purchase)
WE know, it's Cary Grant once again, but we just can't help ourselves.
Grant was a staple in many romantic movies from the classic era, even in this one where he's pushing 60! What distinguishes Charade is that even though it has romantic undertones, it's very much a mystery movie.
We follow Regina, played by Audrey Hepburn, as we struggle to unravel the truth about what happened to her late husband. She is pursued by a group of men who are all looking for something that he had stolen. But along comes Peter, played by Grant, who agrees to help her solve the mystery while she unabashedly pursues him romantically.
7. The Tender Trap
Watch on: YouTube (rent/purchase) | Amazon Prime Video (rent/purchase)
Although some of the concepts here, such as a woman quitting her career for marriage and children, are outdated, this still remains an enjoyable musical because of the leads, Frank Sinatra and Debbie Reynolds. We follow Charlie, played by Sinatra, as he playboys his way through a multitude of dames until he meets Julie, played by Reynolds. She throws him for a loop by initially rejecting him, beginning a compelling cat-and-mouse game between the pair.
There is an interesting contrast between Reynold's character and Celeste Holm's character, who represent very different women. Holm's character is a career-driven woman, who takes issue with Reynold's character who plans to quit her job once she marries. It is interesting that the film acknowledged these differing opinions, especially given that it was from the 1950s.
If you are looking for Sinatra at his finest, he is here in all his fedora-wearing smooth-talking glory.
Happy Valentine's Day! If you are looking for more choices for classic films to enjoy with your love, check out these Hitchcock films, classic monster movies, MGM musicals and Frank Capra movies.