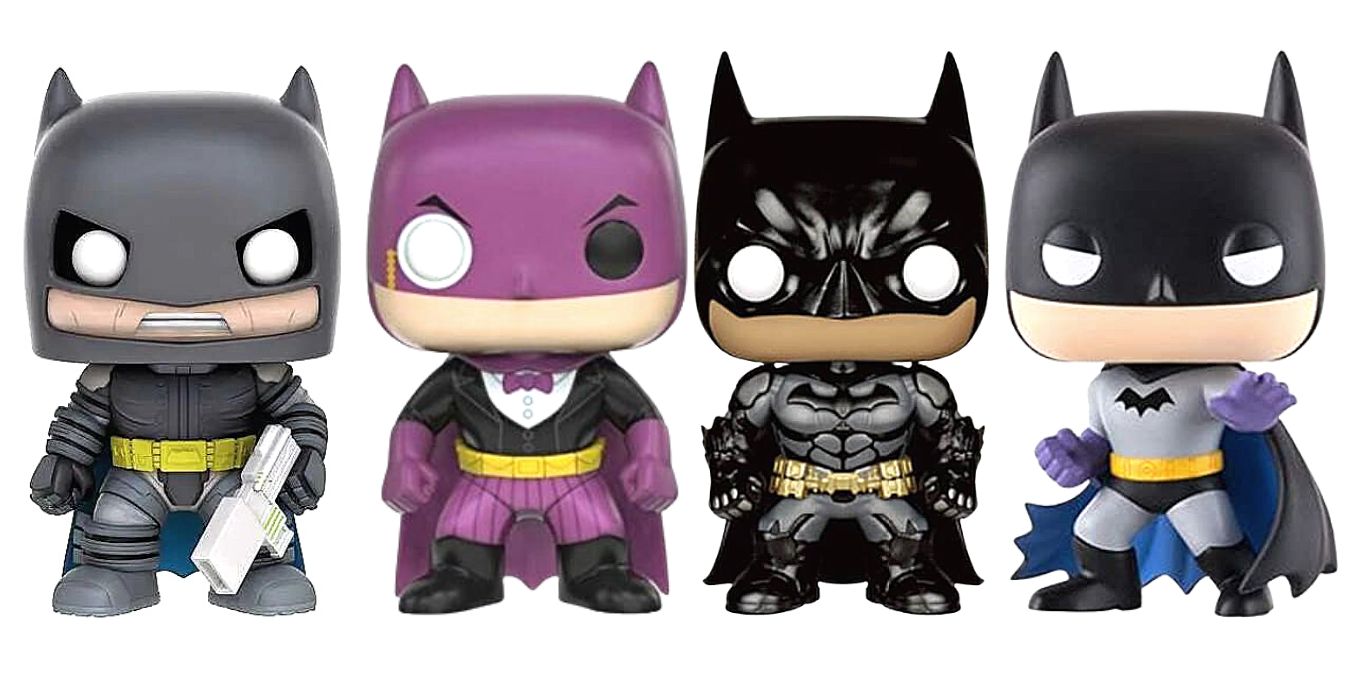 Batman's first appearance in the pages of a 1939 edition of Detective Comics was a landmark in superhero history. As they read those first pages, nobody realize how iconic the unmistakable silhouette of everyone's favorite caped crusader would become. The wealthy playboy turned vigilante is one of the more enigmatic heroes to grace our comic pages. Lacking any superpowers, he relies on intellect to dream up ingenious means of creating technological powers instead. With the wealth to back it up, an adorable sidekick, a lovable butler, and some epic nemeses, it's hardly surprising Batman became a firm favorite.
Funko Pop! have certainly done this stalwart seeker of justice, ahem, justice, with a series of Batman figurines representing the changeable nature of his personality, ethos, and mythos. Here are our top picks for the best Batman Funko Pops currently available.
If you love Funko Pops! check out these unmissable Avengers figures.
7. 8-Bit Batman Funko Pop!
One of the more unique incarnations of Batman released by Funko Pop! The 8-Bit Batman came out for 2017's Fall convention season. A special edition that gave a few different colors of batsuit the 8-bit treatment, along with some of Batman's Rogue Gallery villains.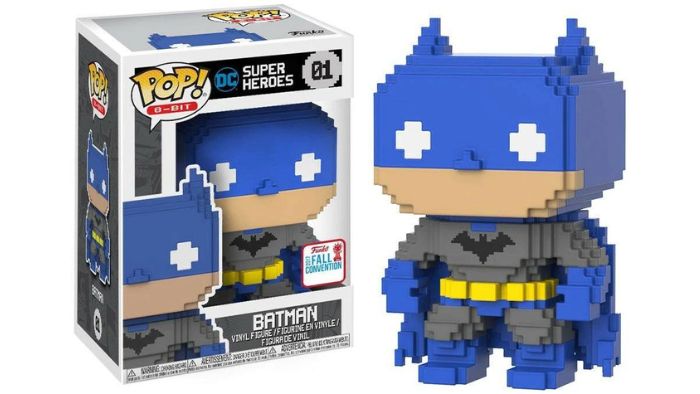 Standing at 3 ¾ inches tall, the 8-Bit Funko Pop! Batman wears the 60s TV series' classic suit, as worn by Adam West. Grey and blue adorned with a yellow bat-belt, this Funko has the truly iconic aesthetic that was indicative of Gotham's defender until Frank Miller created The Dark Knight Returns comics in 1986, and Bruce Banner's look took a decidedly darker turn.
6. The Dark Knight Returns, Armored Batman
Speaking of The Dark Knight Returns, another exceptional Batman Funko Pop is The Dark Knight Returns Armoured Batman. Based on Frank Miller's 1986 series, this is a look you need in your collection. The Dark Knight comics completely changed Batman's aesthetic – not to mention his mythos – forever, casting Gotham in a deliciously dystopian light. This version of the caped crusader is cynical and borderline fanatical in his pursuit of justice. More than happy to take lives if it means defeating the criminal underworld of Gotham City.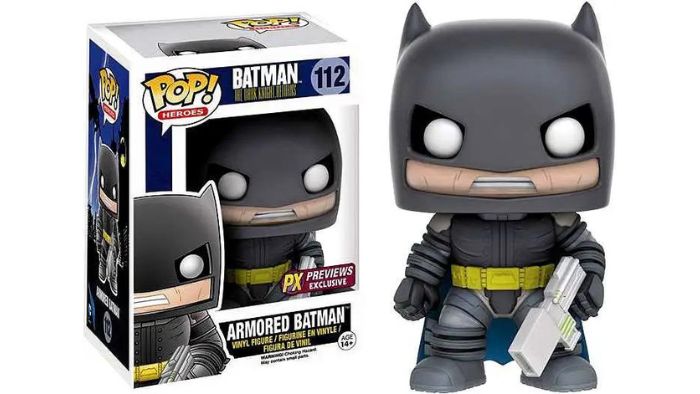 The edge gained by the character in this series also led to the creation of a suit of armor that was more suitable for fighting off nefarious villains and defeating ever-innovative threats.
A 3 ¾-inch Funko Pop! Released for the comic's 30th anniversary, it features Batman in full armor, complete with a helmet and (slightly oddly) wielding a gun. And if you don't like the helmet, there's a version without it.
5. Impopster – Batman/Penguin
Known for his dapper yet quirky sense of style, the Penguin first appeared in Detective Comics #58. Between his penchant for black and white tuxedos and tendency to make aviary puns, Oswald Chesterfield Cobblepot certainly suits the nickname.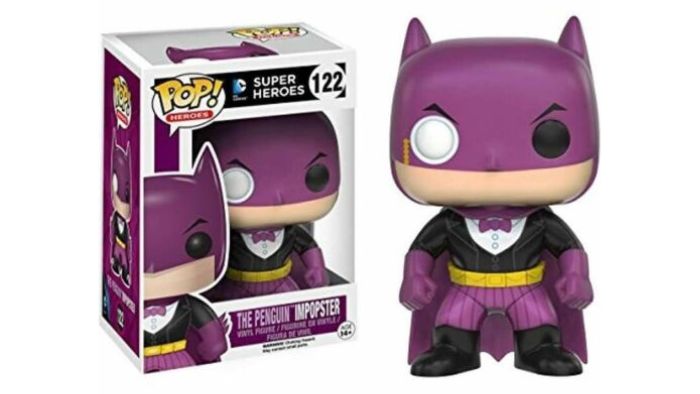 While we are a little disappointed that this Penguin Funko Pop! lacks a top hat and cane, there is a reason. This 3-¾-inch version of the villain is masquerading as the Caped Crusader and wears a bit of a mashup of his tux and the batsuit. While it may sound odd, he looks very dashing.
4. 1939 Batman Funko Pop!
It doesn't get more old school than this one. The 1939 Batman Funko Pop! goes back to the original illustrations of comic legends Bob Kane and Bill Finger, who depicted Batman's debut in Detective Comics #27. Back then, he was a far cry from the broody, dark, sexy vigilante we know and love in the DC Universe. He still referred to himself as "The Bat-Man", and fully embraced the bat aesthetic reflected in his illustrations and, consequently, this figurine.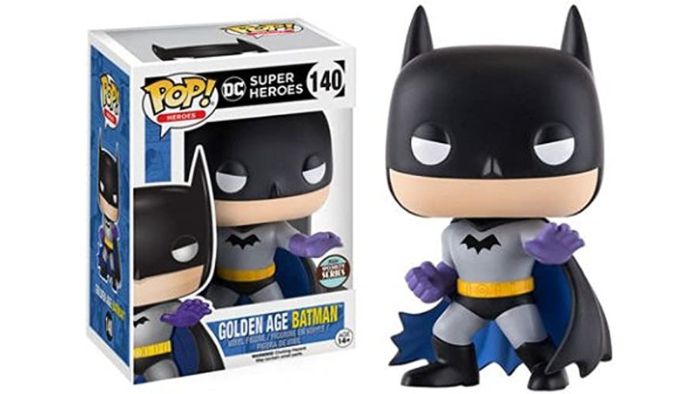 Created to commemorate 80 years of defending Gotham City, this 3 ¾-inch tall Batman has the '30s era Batman cowl with its long, narrow ears, plus a cape with sharp points to mimic a bat. Meanwhile, his suit features the original's classic grey, yellow, and blue colors.
3. 1966 Batman With Batmobile
For many fans, the only true Batman is Adam West. The acting legend portrayed the Caped Crusader between 1966 and 1968, with Burt Ward as Robin. The dynamic duo featured in the 60s series of extremely camp misadventures. West's Batman was affable, friendly, helpful, and loved a good pun.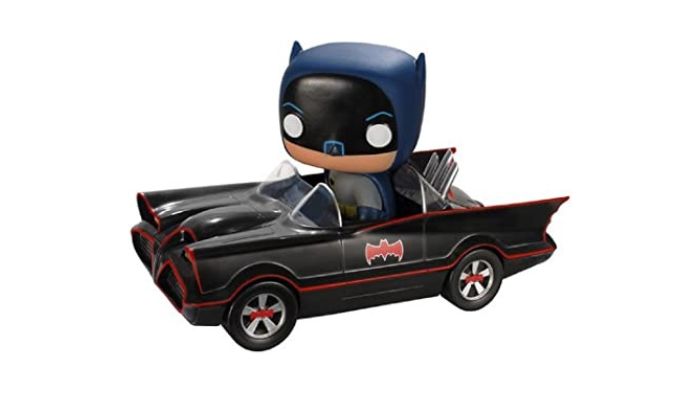 Perhaps the best part about this particular Funko Pop! is that it includes the 1966 Batmobile. The 3 ¾-inch Funko figurine of Batman fits perfectly in the vehicle, as will any other Pop! of the same size.
So, if you happen to have a Harley Quinn Pop! she can take it for a spin (although we doubt Batman would approve).
2. Batman And Robin
Someone who might be more welcome driving the Batmobile is Robin, and with this set you can get your hands on path parts of the Dynamic Duo. They're one of the most beloved and well-known teams in superhero history. Over the years, they've always been together, but they haven't always had the same kind of relationship. Batman has been a father figure, a mentor, a friend, and a savior to Robin over the years, and they've had good times, bad times, and times when Val Kilmer's Batsuit had nipples.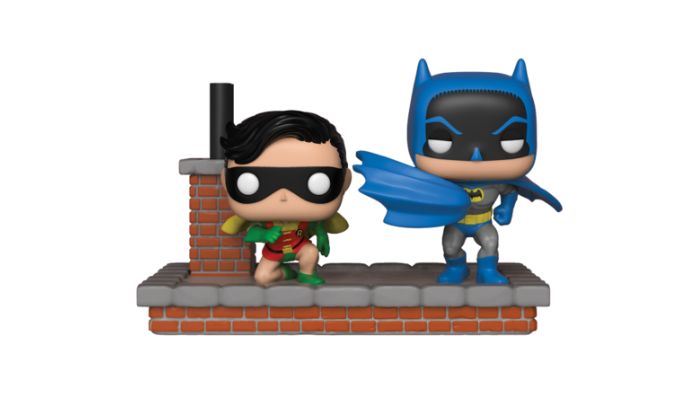 While modern audiences will be familiar with Robin's tragic origin story, which echoes Bruce Wayne's own, they weren't always a pair of orphans struggling to understand a cruel world. Back in the 60s they were far more carefree, and Funko Pop! Comic Moments celebrates them as such: leaping into action.
1. Arkham Knight Batman Funko Pop!
With such successful comics, TV shows and films about Batman, it's easy to forget there are also video games. Yet the gaming franchise for the Dark Defender is not to be overlooked. This Funko Pop! is 3 ¾ inches of Batman from one of the most successful video games of the last few years.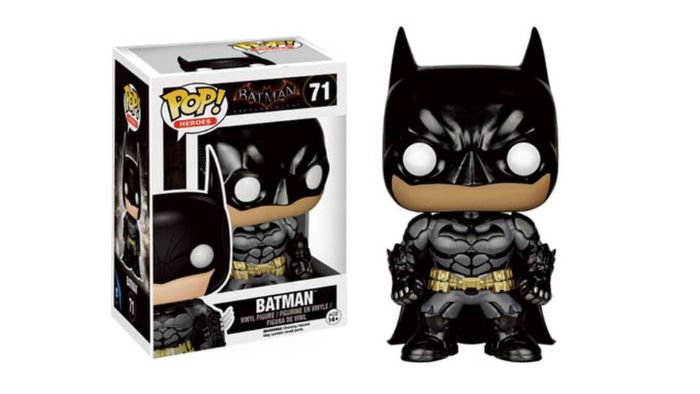 Arkham Knight gives Batman fans a chance to roam the corridors of Arkham Asylum and the streets of Gotham City as the Dark Knight. For many, the Arkham Knight Batman defined the character, and this Funko Pop! gives you the advanced armoured suit from the game.
Want more awesome Funko Pops! Check out our top picks for Disney Collectables.