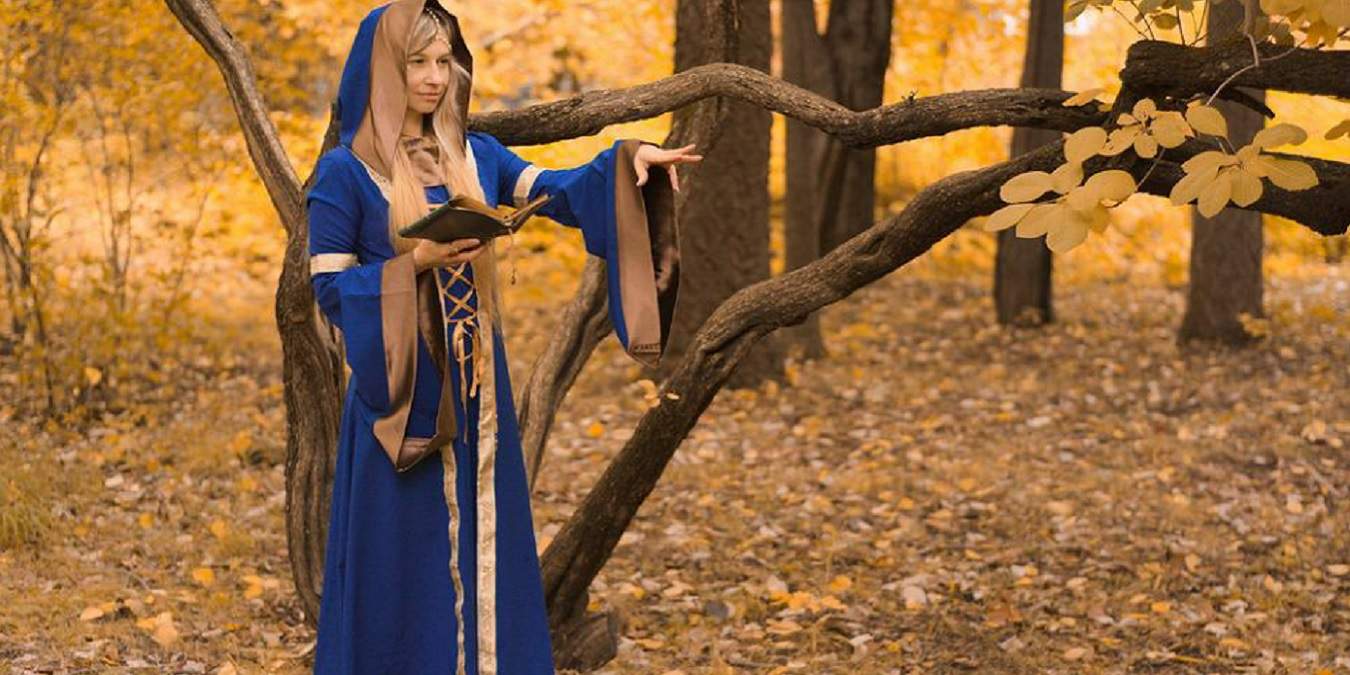 There's nothing quite like donning a carefully crafted costume, slinging your sword over your shoulder, and stepping into a completely different world for a while. Do this even more often by finding LARP groups looking for new people to join. Whether you're into fantasy, medieval, dystopian, or any other genre, you'll find events all around the world. Using the free tools and sites below, you'll quickly find LARP events near you.
While looking for LARP events, why not let yourself get lost in a great story? Check out the best fiction and story podcasts to listen to while you're browsing upcoming events.
Meetup
Meetup isn't exclusive to LARPing, but it is a great place to find groups and events in your area. It's a platform designed for almost every interest to help people share hobbies and interests face to face. It's free to join and you can list your own hobbies, such as a LARP event you might be hosting.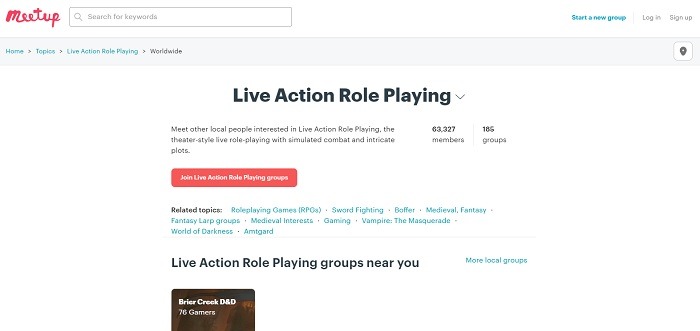 The general Live Action Role Playing category currently lists 185 groups worldwide. You can filter by type, such as fantasy LARPs, and also look for events based on your country and/or city or by a specific LARP or organization, such as Amtgard, which runs medieval and fantasy LARPs.
r/LARP
For everything related to LARPing, check out r/LARP. It's a great place to find LARP events or search for local groups if you've moved to a new area. For example, one user asked about LARPers in Southern California and quickly got multiple responses from others in the area, along with available events the user might want to check out.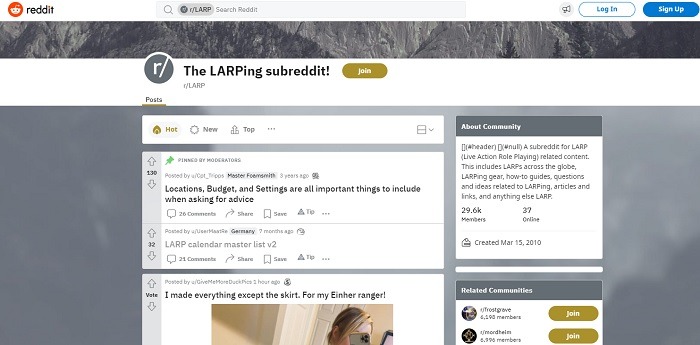 While this isn't exclusive to just events, you'll find quite a few posts asking for LARP events near specific areas, such as this one asking for events near Belgium. It's also a good subreddit for inspiration on costumes and weapons. Or, just learn more about LARPing in general if you're new to it.
LARP Calendar
While the LARP Calendar is a part of r/LARP, it deserves its own section simply because of how useful it is. It's updated several times per year and users are able to add links and their own calendars to help other users find LARP events. What's really nice is the list is organized by country to help you quickly find events closer to you. At the time of writing, the last comment was just four days ago, meaning the calendar is still actively updated. There is an older thread, but some of the links are outdated.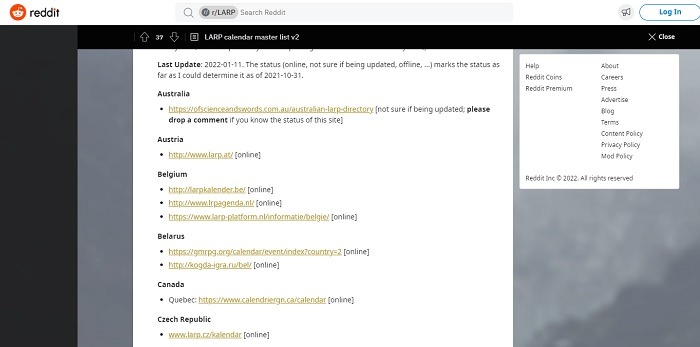 If you know of any LARP events or groups with websites or at least Google Sheets/Docs with details, add them to the comments so the master list can be updated accordingly.
LARP Events
If you're a LARPer in the UK, LARP Events is one of the best ways to find what's happening near you. The site focuses on all types of LARP events throughout the UK. The 10 upcoming events are always listed on the homepage so you can find them faster. You'll also find a list of new and past events, along with a list of recent organizers.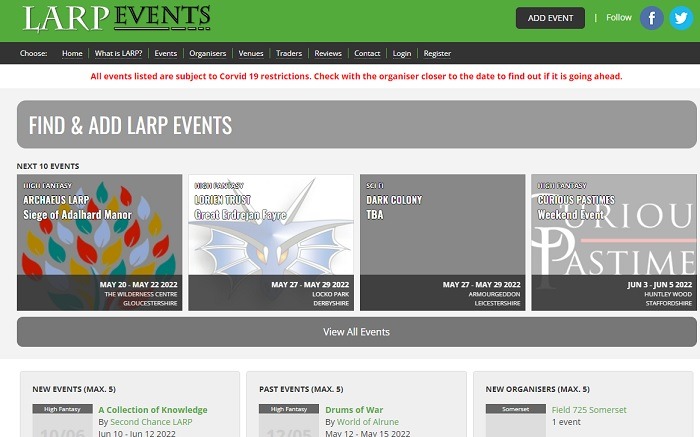 To quickly filter by location, type of LARP, and date, use the Events page. It works much like a spreadsheet with filters. You can even add events to your Google Calendar or Outlook Calendar with one click. At the time of writing, there were 23 events listed from May through October.
List of Live Action Role Playing Groups
The List of Live Action Role Playing Groups Wiki is a list of live action role-playing groups in alphabetical order. While it doesn't list every active group, there are 34 groups currently listed. Each entry leads to the group's Wikipedia page or website with full details on the group and game. Often, going directly to a LARP's website is a great way to find if there are any events near you.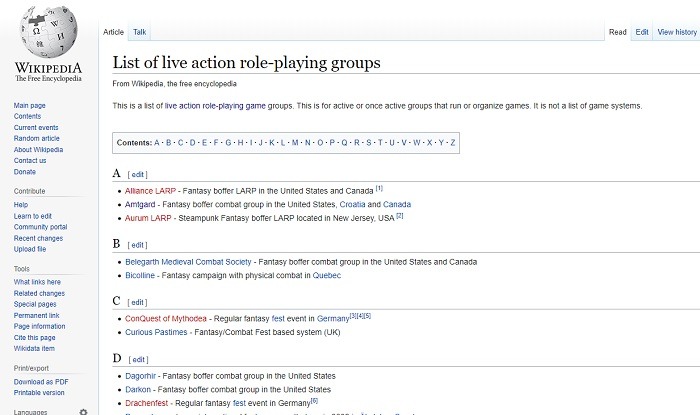 You'll also be able to find out more about that particular LARP's ruleset and how you can create your own local group and event. Some of the groups listed on this wiki offer multiple types of LARPs under one group name. It's well worth going through this list when looking for new events or types of LARPs.
List of LARPs in the USA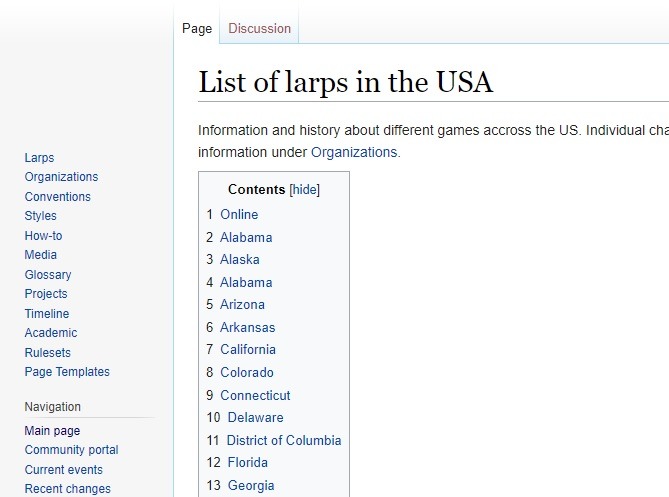 Another LARP Wikipedia page that's extremely helpful for finding LARP events near you is the List of LARPs in the USA. LARPs are broken down by state, though there aren't LARPs listed for every single state. However, you'll find the most variety if you live in California, Georgia, Massachusetts, Texas or Washington, there are multiple events/groups in those states. States like Hawaii, Montana, Nebraska, and South Dakota don't have any currently listed.
LARP Wiki
For everything you might want to know about LARPing, including finding groups and events, check the LARP Wiki. It's a detailed wiki that leads to numerous resources. Some of the most useful are the lists of organizations, LARP conventions, and individual LARPs. The lists within this wiki can help you find groups running events and specific LARPs.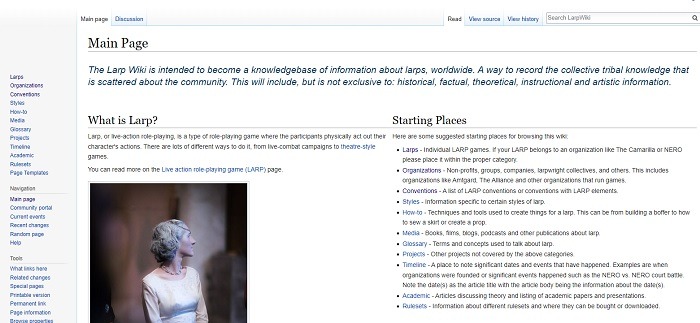 While not every item on this list leads to a website with current events, it's a good starting point for finding LARP events.
Facebook
It's impossible to list every Facebook LARP group. However, numerous LARPs have their own Facebook communities. Ideally, search Facebook for a specific LARP, LARP organization, or location. One of the most active groups overall is Larping.org. There is usually a new post at least once per week, sometimes more often.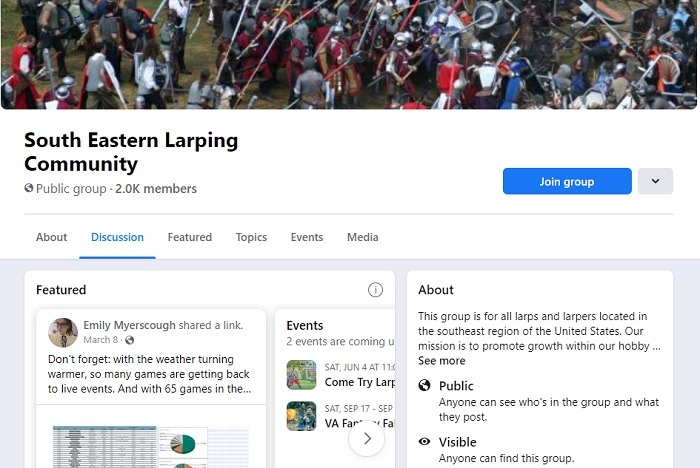 If you live in the southeast portion of the United States, check out the South Eastern LARPing Community. It actually has more members than Larping.org, but it's only for that specific area. There's also LARP Adventures, which is focused mainly in the Maryland and northeastern region, but is working to create chapters through the United States. It combines both European and American LARP styles to create more realistic events with engaging battles.
You can also find individual LARPs once you know the name, which is just one way the wikis listed above can help, especially if you're new to LARPing. For example, there's a Heroquest LARP group with over 700 members.
If you can't find any current events near you, consider diving into a D&D campaign, especially if you love fantasy LARPs. Or, if you need to relax after an ultra stimulating LARP event, try these relaxing games to soothe your mind.
Image credit: Vic_B via Pixabay