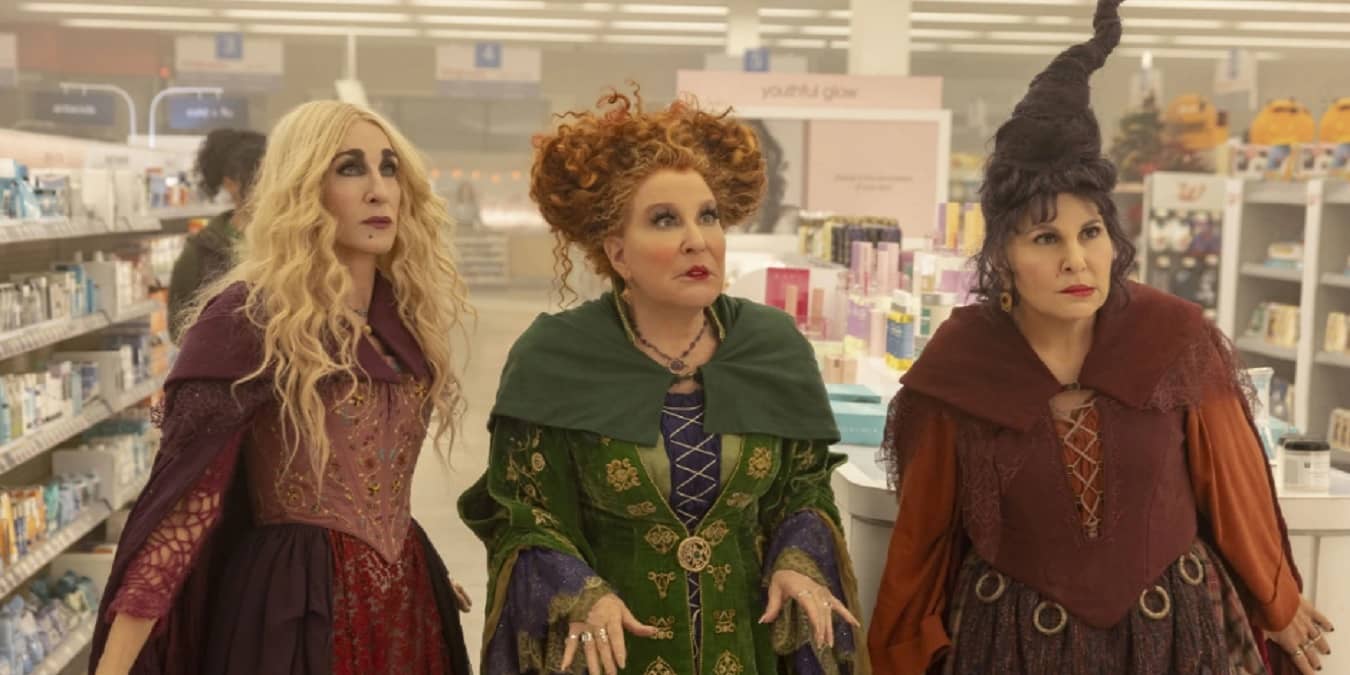 Halloween doesn't just mean gruesome gore flicks. In fact, there's a ton of great family-friendly stuff that's just as fun for kids as adults. Not the super boring pre-school movies either, but movies you wouldn't mind watching even without a younger audience around.
While Disney+ has an abundance of family Halloween movies, they're far from the only option for your Halloween streaming.
Can't get enough witch movies? Once you've picked out your favorites on this list, check out our list of best witch movies.
1. Hocus Pocus 2 (2022)
Watch on: Disney+
If you loved watching Hocus Pocus as a child, then it's a no-brainer to celebrate this Halloween with Hocus Pocus 2. The exclusive Disney+ film stars much of the original cast, including Bette Midler, Sarah Jessica Parker, and Kathy Najimy revising their roles as the iconic Sanderson sisters.
Much like in the original, some clueless teens lit the black flame candle and poof! Set 29 years after the first film, it's a nostalgic throwback of family friendly horror and comedy. Plus, where else will you see witches riding robot vacuums and Swiffers? If you haven't seen the original or just want to start with it, you'll find it on Disney+ too.
2. Monster House (2006)
Watch on: Freevee (free with ads)| Amazon Prime (rental/buy)
Forget the neighborhood haunted house. This one actually wants to eat you. Be ready to laugh until you cry as three kids stumble upon the Monster House on Halloween.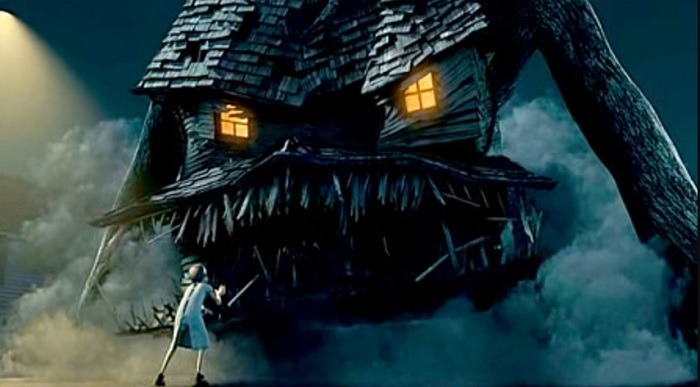 In between trying to impress their new girl scout friend and trying not to get literally swallowed by the house's mouth, the kids discover a chilling secret behind why the house is so incredibly angry. Watch until the very end to see what happens to some of the earliest disappearing characters.
3. Hotel Transylvania: Transformania (2022)
Watch on: Amazon Prime (subscription)
Ever wonder what happened to your favorite vampire and his monster hotel after their summer vacation? Thankfully, Amazon decided to give us a fourth adventure in the Hotel Transylvania series. This time, the roles are hilariously reversed as Drac and his buddies are transformed into humans.
Finally, Johnny gets to see what it's like to be a monster. While a few actors didn't reprise their roles, you won't even notice. It's still the same zany group of monsters (and a few humans) that you've grown to love. And yes, there are a few touching moments throughout.
4. The Haunted Mansion (2003)
Watch on: Disney+ (subscription) | Amazon Prime (rental)
This is easily one of the best family Halloween movies and a classic you'll want to watch every Halloween. Eddie Murphy stars as the workaholic dad who strands his family in a honest-to-goodness haunted mansion that's cursed after the owner's love died there before their wedding. The family is brilliantly played, but it's all the ghosts, fortune teller heads floating in a crystal ball, and other side characters that keep the story flowing.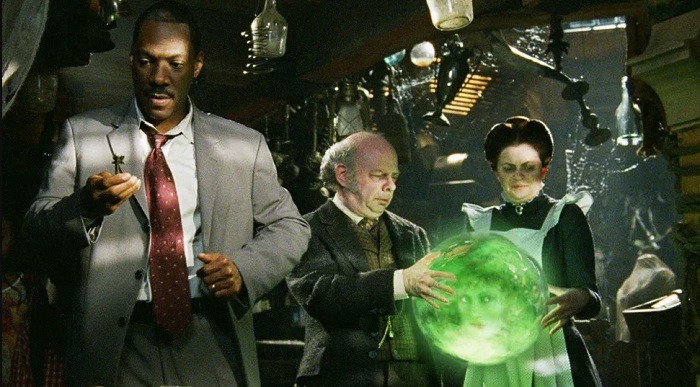 It's a fun, sweet mystery that's appropriate for all ages. If you need something to watch afterwards, check out the Disney original Muppet's Haunted Mansion, which is loosely based on The Haunted Mansion.
5. A Babysitter's Guide to Monster Hunting (2020)
Watch on: Netflix (subscription)
Babysitting's supposed to be fairly simple, but what happens when the boogeyman kidnaps the kid you're supposed to be watching?
You go monster-hunting of course! Good thing our heroine gets some help from a secret society of babysitters that know all about what really goes bump in the night. Think of it as Gremlins meet Adventures in Babysitting. It's a fun Netflix original you won't want to miss.
For kids who are already afraid of the big bad Boogeyman, this might be the perfect movie to show them. After all, these babysitters know how to kick monster butt.
6. The Addams Family 2 (2021)
Watch on: Paramount+ (subscription) | Amazon Prime (subscription & rent/buy)
Revisit your favorite spooky cooky family in The Addams Family 2. Following on the heels of The Addams Family (available on Amazon Prime with a subscription), this animated adventure takes the family on a road trip. As you might imagine, not everything goes as planned.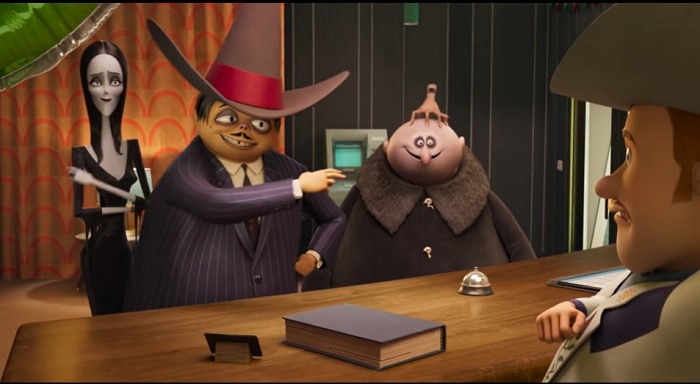 Just like with many parents, Morticia and Gomez hate that their little babies are growing up so fast. So, they make the same tragic mistake other parents make – putting everyone in a haunted camper together for a big family vacation. If you enjoy road trip movies along with zany Addams family antics, it's a can't miss combination.
7. Halloweentown (1998)
Watch on: Disney+ (subscription) | Amazon Prime (rental)
Some of you may have grown up watching the Halloweentown saga starring Debbie Reynolds and Kimberly J. Brown. The original is still the perfect family Halloween movie, and not your typical take on Halloween adventures.
Instead of trying to battle all the supernatural beings, the new witch in the family, Marnie, has to save the monsters from the ultimate big bad. The monster friends she makes along the way make this corny flick surprisingly fun and witty.
You can also check out more of the Halloweentown franchise on Disney+.
8. The Nightmare Before Christmas (1993)
Watch on: Disney+ (subscription) | Amazon Prime (rental)
Whether you think of this as a Halloween or Christmas movie, it's a classic either way – so just watch in on both! It's also family-friendly with music that sticks with you for weeks after watching. Halloween and Christmas collide as Pumpkin King Jack Skellington gets bored with Halloween hijinks and discovers Christmas.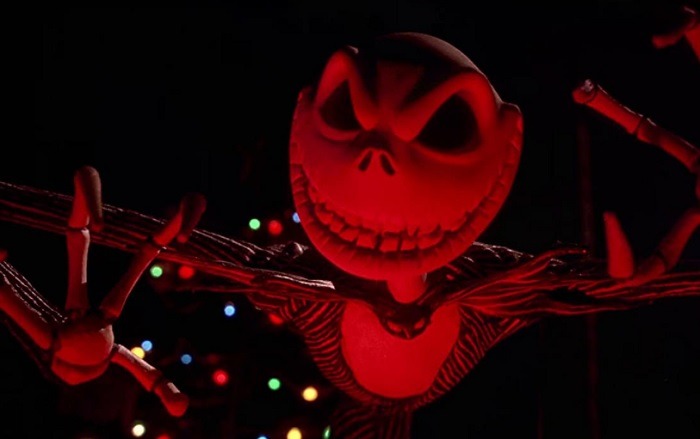 What starts with good intentions goes terrifyingly wrong. While Skellington doesn't make the best Santa, you'll never see Christmas the same way again. After all, this all comes courtesy of the creative mind of Tim Burton.
9. Monster Family (2017)
Watch on: Freevee (free with ads) | Tubi (free with ads) | The Roku Channel (free with ads) | Amazon Prime (rent/buy)
For younger kids, Monster Family is the perfect family Halloween movie. Sure, it might feel a bit corny as an adult, but it's just silly fun. It's also about a family growing closer together after a random curse.
This seemingly normal family starts out as humans. In an attempt to the family reconnect, they all head out to a Halloween costume party together. They'll have to work together, though, once a witch curses them to become actual monsters. Suddenly, those fun costumes become reality.
If you love this one, check out the sequel on Hulu. Also, check out more family-friendly movies, including Halloween movies, on Tubi.
10. The Witches (1990)
Watch on: HBO Max (subscription) | Amazon Prime (rental)
What happens when a kid gets too nosy at a hotel? Witches who hate children just might turn him into a mouse. Anjelica Huston, Rowan Atkinson, and Jasen Fisher bring this fantasy drama and comedy to brilliant life. Watching poor Luke try to take down the witches as a mouse is both hilarious and a bit heartwarming.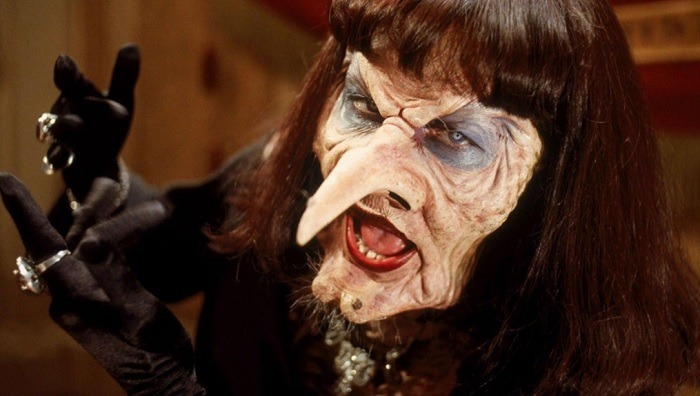 While the original will always be our favorite, check out the remake starring Anne Hathaway, Octavia Spencer, Stanley Tucci, and Jahzir Bruno. It's an HBO Max Original, but is currently only available to rent/buy on Amazon.
11. Ghostbusters (1984)
Watch on: Hulu (subscription) | Amazon Prime (rent/buy)
Ghostbusters will forever be a classic family Halloween movie. Whether you've seen it or you're new to the original, nothing can beat this iconic combination of Bill Murray, Dan Aykroyd, Harold Ramis, and Ernie Hudson as they run their ghost removal service in the middle of New York.
Where else can you find a movie where the big baddie is none other than the Stay Puft Marshmallow Man? It's action, comedy, and drama all wrapped up in a movie you'll want to put on every Halloween. Love this movie? Check out Ghostbusters II and Ghostbusters: After Life (both available to buy/rent on Amazon Prime), which are sequels to the original. Or, try the remake/adaptation starring Melissa McCarthy and Kristen Wiig, available on Amazon Prime (rent/buy) and Freevee (free with ads).
Check out how we rank all four movies.
12. Coco (2017)
Watch on: Disney+ (subscription) | Amazon Prime (rental)
Coco is one of the those rare family Halloween movies that really makes you think about the meaning of Halloween (y'know, outside of costumes and candy). Miguel just wants to play music, but his family forbids it.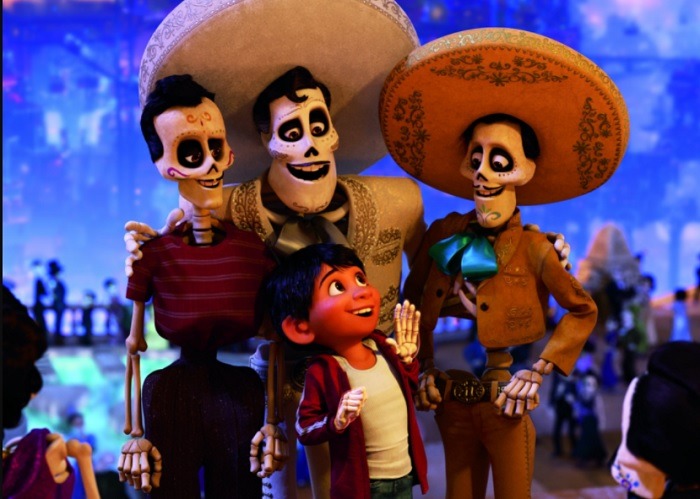 When he accidentally ends up in the Land of the Dead, he only has a day to find his family on the other side and get back to his living family. Along the way he meets a variety of new friends. Warning – it's a bit of a tearjerker, but well worth the watch. But, you get memorable music and a heartfelt reason to look forward to Halloween, beyond all the sugary treats.
13. Nightbooks (2021)
Watch on: Netflix
While better for tweens and up, Nightbooks makes you rethink telling ghost stories to your friends. Poor Alex just loves writing and telling scary stories, but everyone else just makes fun of him. He goes from just writing stories to living in one when an evil witch (played by Krysten Ritter), kidnaps him.
Alex now has two choices – tell a new scary story every night or become the victim in his own tragic story. It's surprisingly scary for a family Halloween movie. Since it comes from horror great Sam Raimi, you know it's going to be full of fun and fright.
Looking for more Halloween movies? Check out where to watch the best classic monster movies. Or, stimulate your mind with the best smart horror movies.