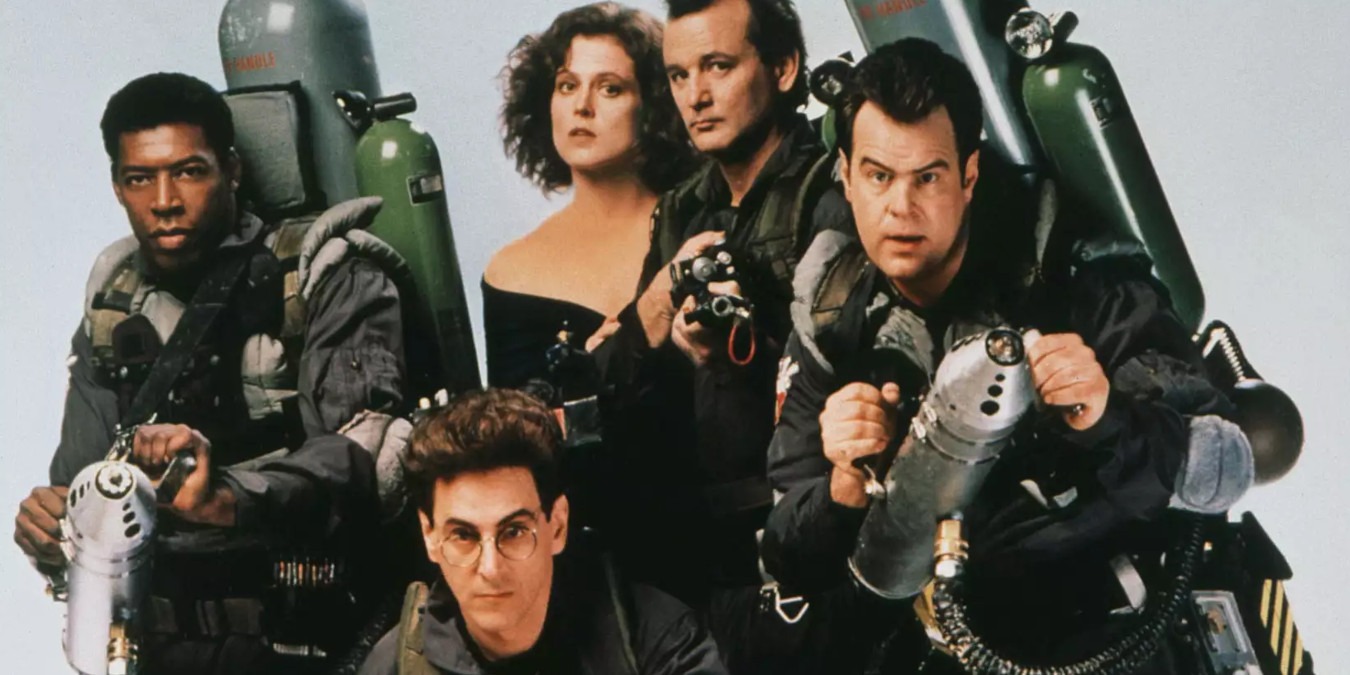 The first Ghostbusters movie hit theatres a whopping 38 years ago – can you actually believe that? But the franchise remains incredibly popular today, despite spawning only four installments over its nearly four decades of existence.
The newest Ghostbusters movie – 2021's Ghostbusters: Afterlife – is now available to watch at home, so what better time to rank all four movies in the franchise and show you where you can watch them online? Let's do it!
While you're here, why not check out our list of the best Ivan Reitman movies?
4. Ghostbusters II (1989)
Watch on: Netflix | Amazon Prime (rental/purchase) | YouTube (rental/purchase)
Yeah, we know what you're thinking – surely 2016's Ghostbusters movie should be positioned here, because you like Ghostbusters II more than you like that. But cast your nostalgia aside, and the fact is, as entertaining as we might find it, Ghostbusters II isn't all that good.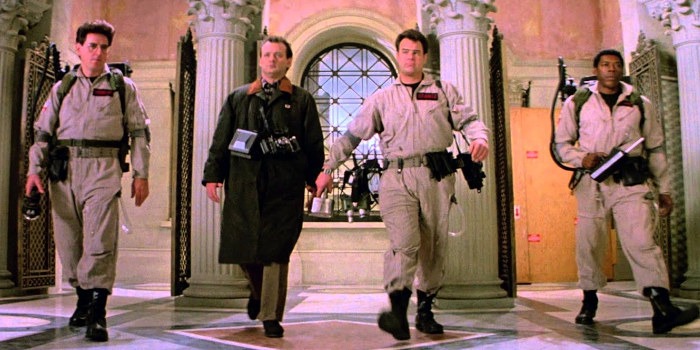 Directed by the late, great Ivan Reitman and starring the returning cast of Bill Murray, Dan Aykroyd, Harold Ramis and Ernie Hudson, Ghostbusters II is a comedy horror set five years after its predecessor and sees the Ghostbusters out of business after the destruction caused during their battle with the deity Gozer. When a new paranormal threat emerges in the form of Vigo the Carpathian, they reunite to combat it and save the world.
Make no mistake, this is still great fun, but it's aimed more at a younger audience (thanks largely to The Real Ghostbusters cartoon resulting in children becoming Ghostbusters fans) and lacks the scary and adult elements of the first movie. As a result, it suffers from a distinct lack of an edge.
3. Ghostbusters (2016)
Watch on: Netflix | Amazon Prime (rental/purchase) | YouTube (rental/purchase)
A supernatural comedy directed by Paul Feig, Ghostbusters stars an all-female spook-hunting line-up of Melissa McCarthy, Kristen Wiig, Kate McKinnon and Leslie Jones.
It's kind of a remake – or reimagining – of the first Ghostbusters movie. It sees paranormal enthusiasts Erin Gilbert and Abby Yates teaming up with nuclear engineer Jillian Holtzmann and subway worker Patty Tolan to stop an otherworldly threat triggered by mad scientist Rowan North.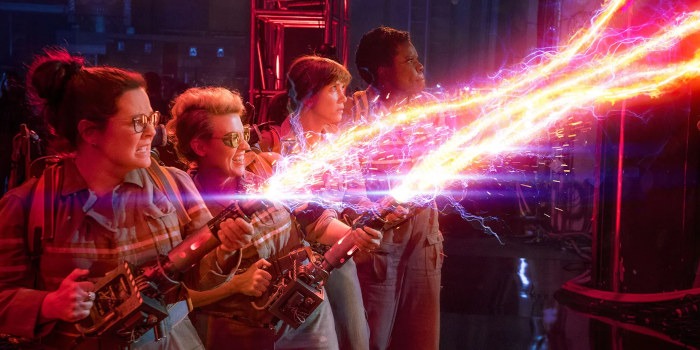 This movie got a bad rap courtesy of the controversial decision to use an all-female cast of Ghostbusters, which is more a reflection on angry internet kids than the movie itself. If people were capable of seeing it as a standalone movie and reviewing it on its own merits, rather than comparing it to the original Ghostbusters, they'd see it's actually a lot of fun.
Don't get us wrong: it's nowhere near as good as the original, but it's still plenty humorous with some great acting performances. The one major criticism it does deserve is that it goes way too heavy on the CGI.
2. Ghostbusters: Afterlife (2021)
Watch on: Amazon Prime (rental/purchase) | YouTube (rental/purchase)
The newest movie that's only recently been released on certain streaming platforms, Ghostbusters: Afterlife is a supernatural comedy directed by Ivan Reitman's son, Jason. It sees the majority of the original cast – including a CGI Harold Ramis – returning to reprise their roles, alongside franchise newcomers Carrie Coon, Finn Wolfhard, Mckenna Grace and Paul Rudd.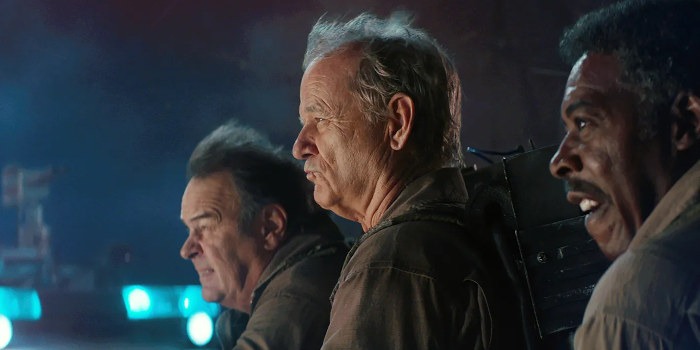 It's a sequel to the original movies and is set 32 years after the events of Ghostbusters II. The story follows a single mother and her children when they move to an Oklahoma farm they inherited from her estranged father – original Ghostbuster Egon Spengler. While there, they uncover their connection to the Ghostbusters, the secret legacy their grandfather left behind, and a plethora of supernatural beings that threaten the world once more.
It was always going to be risky making an official sequel to the original Ghostbusters movies, but this is a real nostalgic treat. It captures the feel and look of the first movie (albeit in a new setting) and the new cast are great – as are the returning originals (even the CGI Ramis feels right). It's slick, funny and endearing, maintaining the heart of the original movies whilst successfully managing to appeal to a new generation.
1. Ghostbusters (1984)
Watch on: Netflix | Amazon Prime (rental/purchase) | YouTube (rental/purchase)
The first and by far the best Ghosbusters movie, Ghostbusters. Directed by Ivan Reitman, its iconic ensemble cast includes Bill Murray, Dan Aykroyd, Harold Ramis and Ernie Hudson in the titular roles, alongside the likes of Annie Potts, Sigourney Weaver and Rick Moranis supporting them.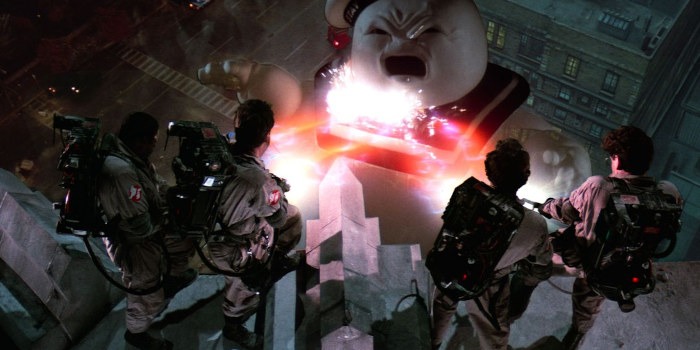 The movie where it all began sees three eccentric parapsychologists start a ghost-catching business in New York City. When the number of supernatural events in the city begins to increase, they recruit a fourth member to assist them – but they get more than they bargained for when the evil deity Gozer emerges with world-conquering intentions.
This is the best supernatural comedy ever made and one of the very best comedies of all time, period. The chemistry between the cast members is palpable, the scares and laughs come in beautifully-balanced measure, and the quotable one-liners are reeled off in almost every scene. If you haven't seen Ghostbusters before, you're seriously missing out – it's a movie everybody has to watch before they enter the afterlife.
Now that you're done reading this, please take a look at our lists of the best Wes Craven movies and the best John Carpenter movies.