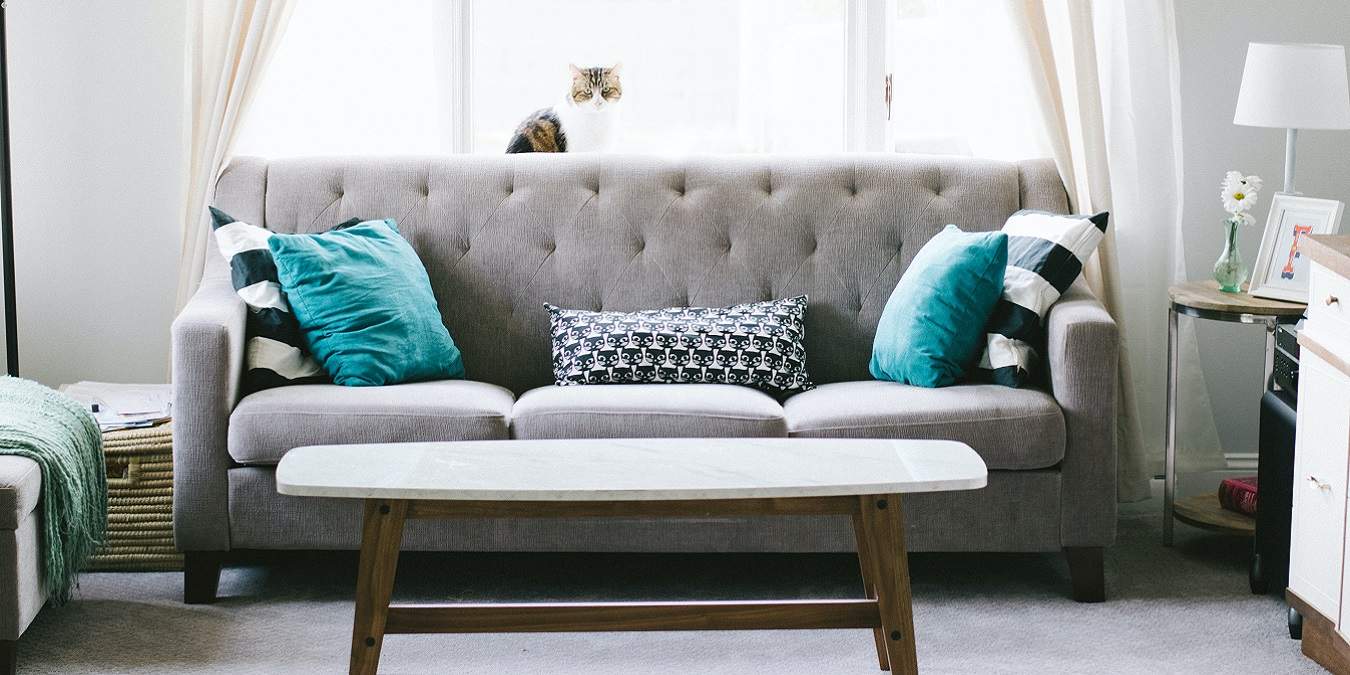 If you love the convenience of shopping online, then it's time to give online furniture shopping a try. Whether you just need a new chair or you're ready to redesign an entire room, the best furniture websites have everything you need to get the job done. I've chosen the best sites based on selection, what makes them unique, and price.
1. Wayfair
It's hard to beat Wayfair when it comes to online furniture shopping. The selection is impressive and there's something for every room in your home, including rather unique items like puzzle tables. They even have furniture for mudrooms and entryways. In addition to just your standard furniture, Wayfair also includes a wide variety of accessories to complement your new furniture, such as rugs, lamps, lighting, organizers, and much more.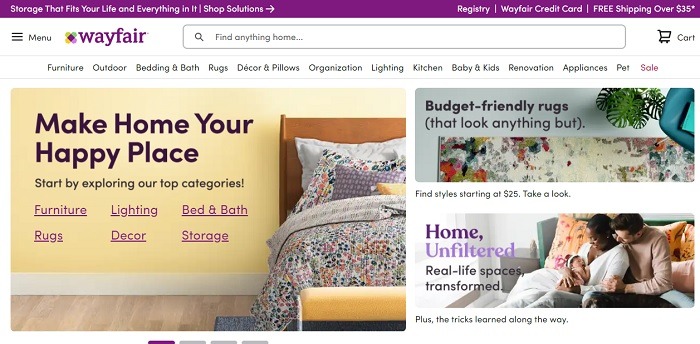 If you want an all-in-one furniture shopping experience, Wayfair is the best place to start. Pricing is fairly affordable and regular sales means you can get great deals easily.
2. Etsy
Etsy is a marketplace for one of a kind items that are often handcrafted. What makes Etsy one of the best sites for online furniture shopping is the unique variety. You won't find this furniture anywhere else. It's not the most affordable pricing, but you're likely to get higher quality furniture and designs your friends will envy.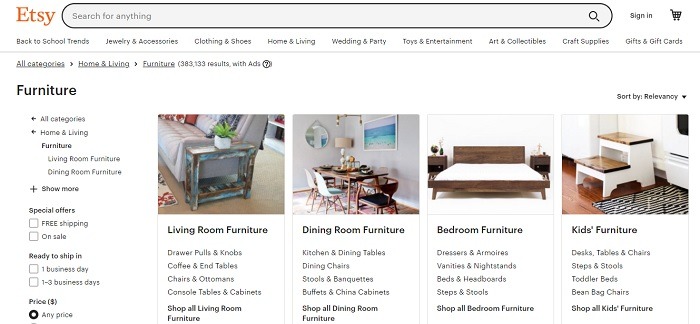 The selection varies greatly from week to week based on what sellers have made and have to offer. Check back regularly to find something new.
3. West Elm
For slightly higher end, yet still affordable furniture online, try West Elm. The sheer variety makes it perfect for this list. There's furniture available for every room, including outdoor rooms and patios. They're similar to Wayfair as they have a large selection of accessories to go with your new furniture.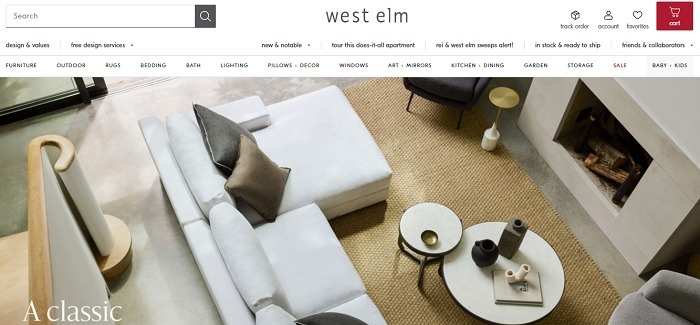 Something that really makes them stand out, though, is their resources for helping you pick the right furniture for your room and home. The Room Planner helps you see what items would like in your own home, while the free fabric swatches help you color match with ease.
4. Rooms to Go
Hate trying to match furniture pieces yourself? Rooms to Go is easily one of the best sites for online furniture shopping because they sell entire rooms of furniture together. Of course, you can buy individual pieces too. They have a constantly growing selection of amazing living room, kitchen, patio, and bedroom sets. Plus, pricing is rather affordable overall, especially during seasonal sales.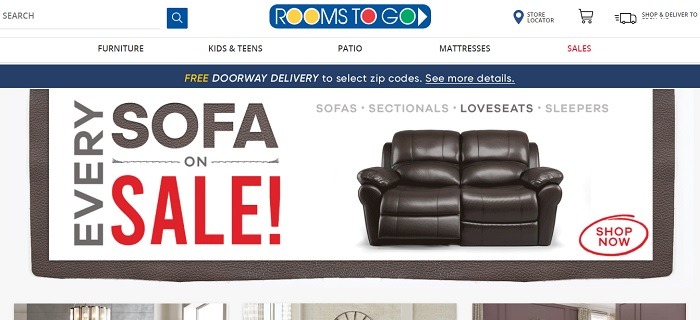 While it's an American-based company, they'll ship to an American export company to ship internationally as well.
5. Amazon
It's hard not to include Amazon when it comes to online furniture shopping. The retail giant really does sell everything. Pricing varies drastically depending on the brand and if it's a third-party seller. However, it's hard to beat the variety. Personally, when I needed a new dresser, I found some of the best prices at Amazon and the quality was surprisingly well.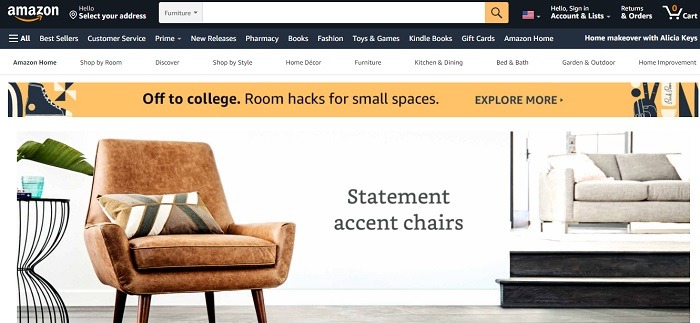 Of course, you can also find any accessories and accents you need at the same time. Plus, many items ship free, especially with Amazon Prime.
6. Kardiel
Want unique, handcrafted, modern designs you can't find anywhere else? Kardiel is easily the best website for online furniture shopping for anyone that wants a modern aesthetic. Each collection is crafted in small batches, so there's always something new and fresh arriving. High-quality materials are sourced from around the world to ensure the best furniture possible.
While this is more luxury pricing, it's worth taking a look at. Plus, there's a 365-day return period to ensure you like what you're buying. No one else really offers that.
7. Apt2B
Apt2B is the go-to destination for slightly more affordable, modern furniture for every room in your home. They even have pet furniture so your pets don't feel left out. They also have one of the widest color varieties available. Want a pink, purple, or forest green sofa? No problem. Plus, furniture is constructed to last, meaning it's well worth paying a little extra for.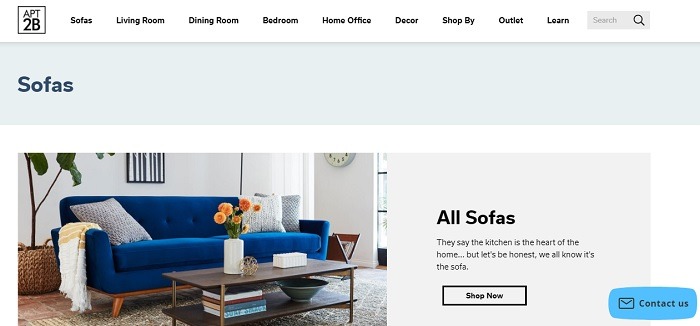 There's also a nice selection of accessories, such as rugs and lamps, to complete any room. Also, check out the Outlet section for regularly discounted pieces.
The next time you start shopping for furniture online, check these seven sites out first. The hardest part is narrowing down your options from all the incredible choices.