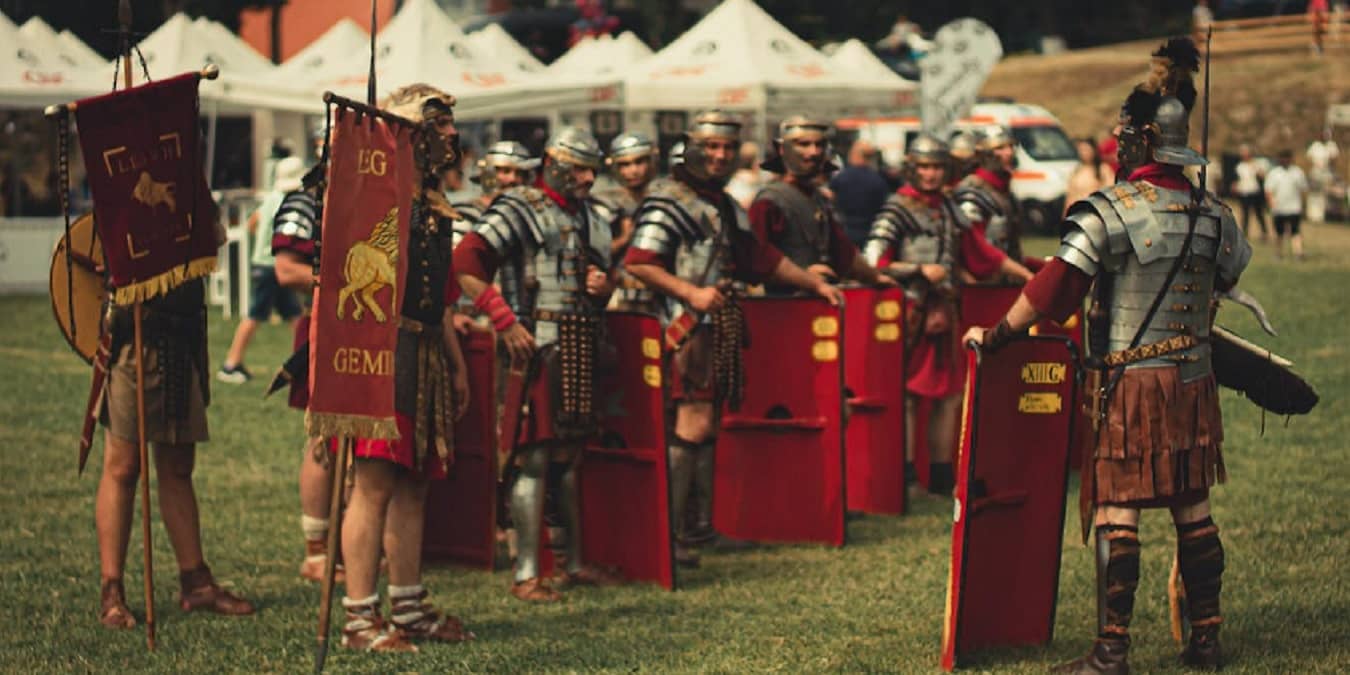 If you're going to be truly battle ready, you need LARP armor. While you can purchase pieces or full kits, which you can customize as needed, you can also create your own. From medieval to fantasy and everything in between, there are a variety of resources and tutorials available to craft armor from foam, leather, metal, and even wood.
If you're new to LARPing and aren't sure how to get started, check out these YouTube channels for everything you need to know.
1. Punished Props
If you want to create LARP armor that perfectly fits your body, Punished Props is a great place to start. They have multiple tutorials on creating body armor, weapons, and props using foam, leather, and even duct tape and plaster.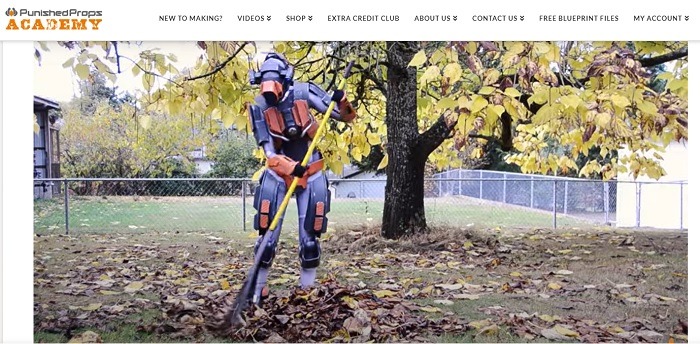 A great example is the custom printed bodysuit and armor attachments for a Destiny Sweeper Bot. Prefer an Elven helmet? Try this tutorial to create a Lord of the Rings style dwarven helmet from foam.
In addition to free tutorials, you can also buy patterns. If you're completely new to creating LARP and cosplay items, try the New To Making section.
2. Dark Horse Workshop
If you want to create more authentic armor and props for medieval and fantasy based LARP events, it's hard to beat Dark Horse Workshop. This YouTube channel focuses on leather work and offers a mix of tutorials and patterns to create armor, costume accessories, and more. The in-depth detail that shows how to carve intricate patterns into the leather are amazing to watch.
If you're a beginner, these might feel a bit advanced. But, if you're ready to move beyond foam to something sturdier, the tutorials on crafting hand carved Viking and Celtic body armor are inspiring to say the least.
And if you are a serious Fantasy fan, you should look forward to these upcoming Fantasy adaptations.
3. Alliance LARP Forums
Alliance, a fantasy LARP, offers a forum filled with great LARP armor resources. It's not just armor, though. The Alliance LARP forums feature details on sewing and crafting costumes, armor, weapons, and props. It's not the most active forum currently, but browse through the posts to find inspiration and tutorials.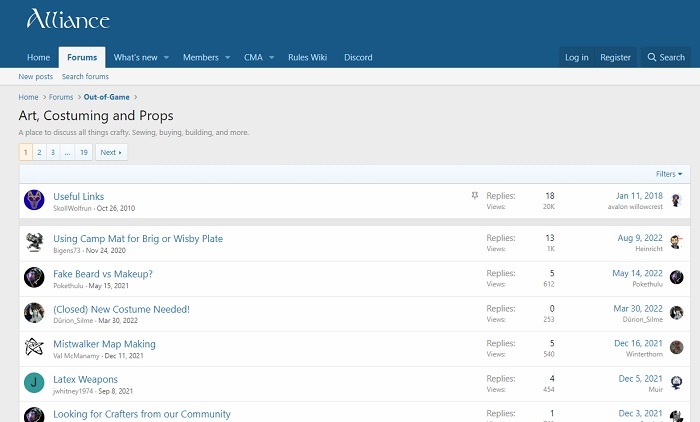 The real gem is the Useful Links thread. Here you'll find resources for materials, tutorials, patterns, and the best places to buy armor and costumes directly. Despite the thread being started in 2010, most of the links are still valid and highly useful.
4. Greenleaf Workshop
Want to use metal for your armor? Learn metalwork techniques with Graham, the owner of the YouTube channel Greenleaf Workshop. He specializes in creating realistic metal armor for museums, reenactors, historians, and as he puts it "any who wants to buy and wear it."
While he'd obviously love if you just commissioned a piece from him directly, his YouTube videos focus on techniques and tips. From making medieval thigh plates to how to take and interpret measurements, it's the ideal channel for crafting armor that not only looks great, but lasts as well. You can find more from Graham on Instagram as well.
5. r/LARP
The r/LARP subreddit focuses on everything related to LARPing, including armor making. The great part is it's a fairly active community, so if you have any questions, feel free to post and ask. Not only will you find helpful tutorials, such as this one on patterning leather armor from scratch, but inspiring examples, such as this hand-painted Wyrmwick armor.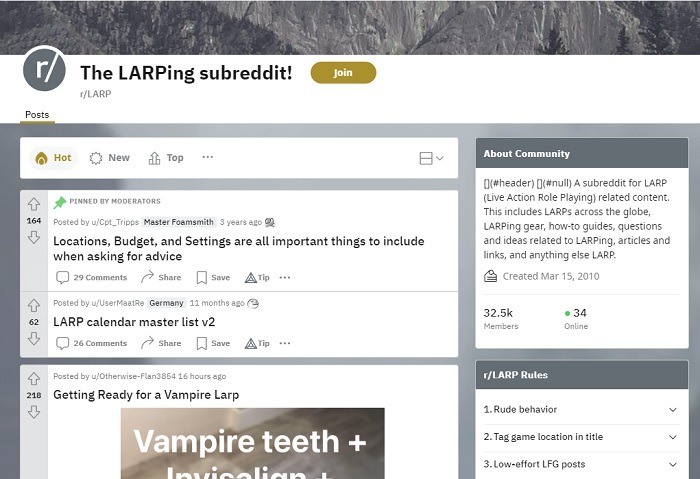 If you're new to LARP or trying to find fellow LARPers, this is also a great community to be a part of. For those trying to create costumes, you'll find ample resources here.
6. Cosplay Central
Cosplay Central focuses on crafting costumes for most any type of character from TV, movies, video games, and comics. So, if you're involved in a LARP that's similar to characters from media, you might want to check out the guides on this site. While they don't go usually provide full tutorials, they do talk about what materials are used and link to resources, such as patterns, books, and shops to get you started. For instance, a popular guide on the site at the time of writing is about how to make a cosplay from The Boys.
If you really want to become a master a creating armor, check out the Cosplay Master Class about cosplay armor featuring Vampy Bit Me. This helps answer common questions to take the guesswork out of LARP armor making.
7. Prince Armory
For fantasy armor, Prince Armory should be your first stop. While the tutorials focus mainly on leather armor, they can be adapted to other mediums as well, such as metal or foam. To get started, you have to sign up for free. The Fantasy Armor Digital Apprenticeship is a collection of tutorials and patterns. These are more basic guides and some of the referenced patterns are premium only and have to be purchased in the store.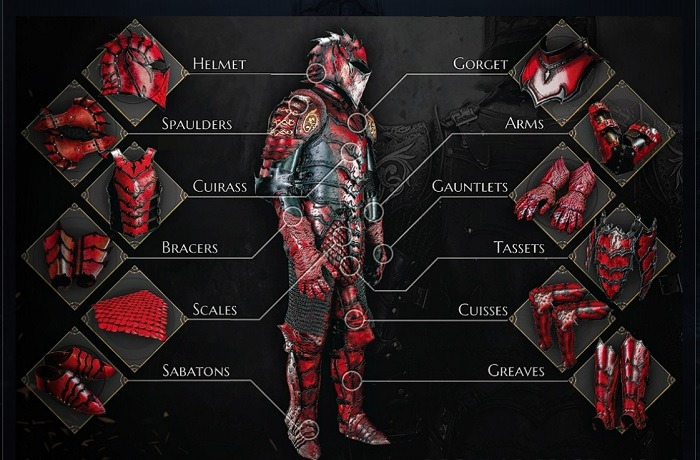 For a truly in-depth series on creating a head-to-toe leather armor set, join the Prince Armory Academy. All premium patterns, along with far more in-depth tutorial videos, are included for just $250 or $20.83/month for 12 months. But, this one price gives you access to expansion sets, such as the Imperial Knight series, and all future sets and tips videos added in the future. If you just want a custom armor set, you can commission one from them too.
8. KamuiCosplay
Many LARPers and cosplayers turn to KamuiCosplay for tips and tricks on armor and costume making. The duo that runs that channel regularly adds new videos, so you'll want to check back often. For help with armor, you'll want to start with the Crafting Tutorials playlist.
What's nice about this channel is it goes beyond just cutting out and assembling the pieces. It also guides you on how to create patterns, such as creating 3D scans with your phone and using Blender to create foam items. Of course, it's always just fun to watch to see what the two create next and how incredible it looks.
9. Cosplay Tutorial – The Costuming Resource
Cosplay Tutorial offers a lengthy list of articles, tutorials, and videos for almost any type of LARP armor and material you could think of. Want budget-friendly armor? Try cardboard. Want fantasy or medieval chainmail? They've got you covered. Everything is neatly organized by type of material in alphabetical order.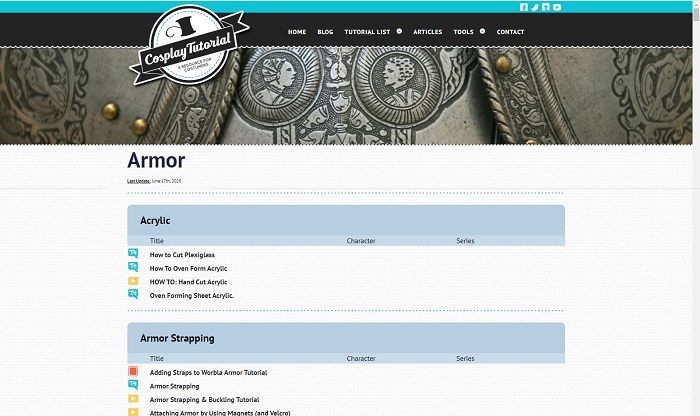 While it'd be nice to have a table of contents at the top, you'll just have to scroll or use your browser's search feature to search for a keyword, such as foam or wood. Every tutorial is labeled as mainly text, image, video, video+text, or a downloadable PDF file.
10. LARP WARS!
Prefer to get your tutorials from Facebook, while interacting with fellow LARPers? Try the LARP WARS! Facebook group. As the name implies, it's all about armor and weapons for LARP wars. You'll find a mix of tutorials, members showing off their latest creations, great online shops, members who'll create custom items for you, and questions about how to create your own.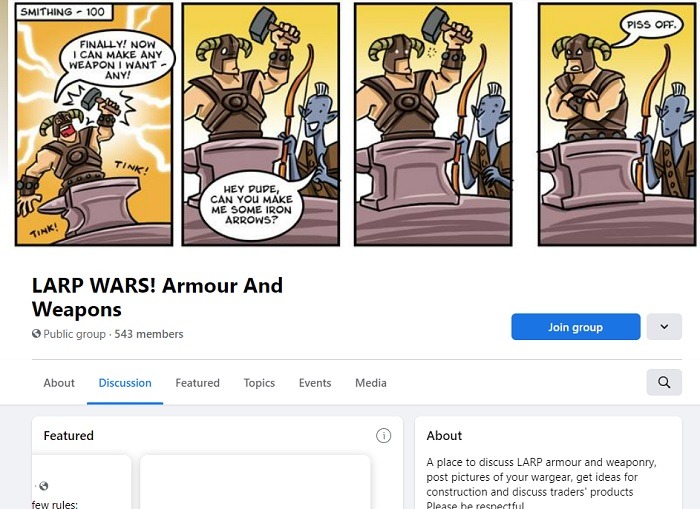 The group has over 500 members and only has a few posts a month. But, as you scroll through, you'll find ample resources to help you along your armor making journey. And, if you ever get stuck, you'll likely find the perfect store to help you out.
11. Ari Rubin
On Ari Rubin's YouTube channel, the professional model and actress brings her love of fantasy, LARP, cosplay, and design skills to life for everyone to enjoy. While she doesn't have many videos at the moment, there are two that really stand out due to their attention to detail.
First, learn how to make Saiyan armor with a 22 minute tutorial. The materials aren't overly expensive, but it actually looks better than you might expect thanks to the way it's painted. Or, check out the video embedded above to make a Lord of the Rings inspired elven armor.
12. SKS Props
Want to learn how to make foam armor and props from an award winning professional cosplay fabricator? Just visit SKS Props on YouTube. The tutorials mainly use EVA foam and often focus on masks and helmets. However, there are various tutorials on making armor for specific characters, such as Warhammer Dwarf Ironbreakers and Dragonball Z Saiyan.
The attention to detail really sets this channel apart. The way he crafts realistic looking components from foam is mind-blowing. Naturally, the way you paint them after cutting out the pieces really makes a difference. Even if you can't find exactly what you're looking for here, you'll learn some great techniques to create something else.
13. Pinterest and Etsy
It's impossible to pick just one Pinterest board for LARP armor. However, if you're looking for patterns or inspiration, make sure you try Pinterest. It's an endless source of free resources and items from small and larger businesses.
Also, check out Etsy for custom pieces. These range from full kits to basic pieces that are easy to customize to your needs. Simply look for the type of armor you need and you'll find multiple shops ready to help. If you become a master at creating armor, try selling your own pieces on Etsy.
Got some amazing armor, but no where to go? Use these resources to find LARP events near you. If you're really into fantasy LARP, you might also want to try out these fantasy TikTok accounts
Image credit: AV RAW via Pexels