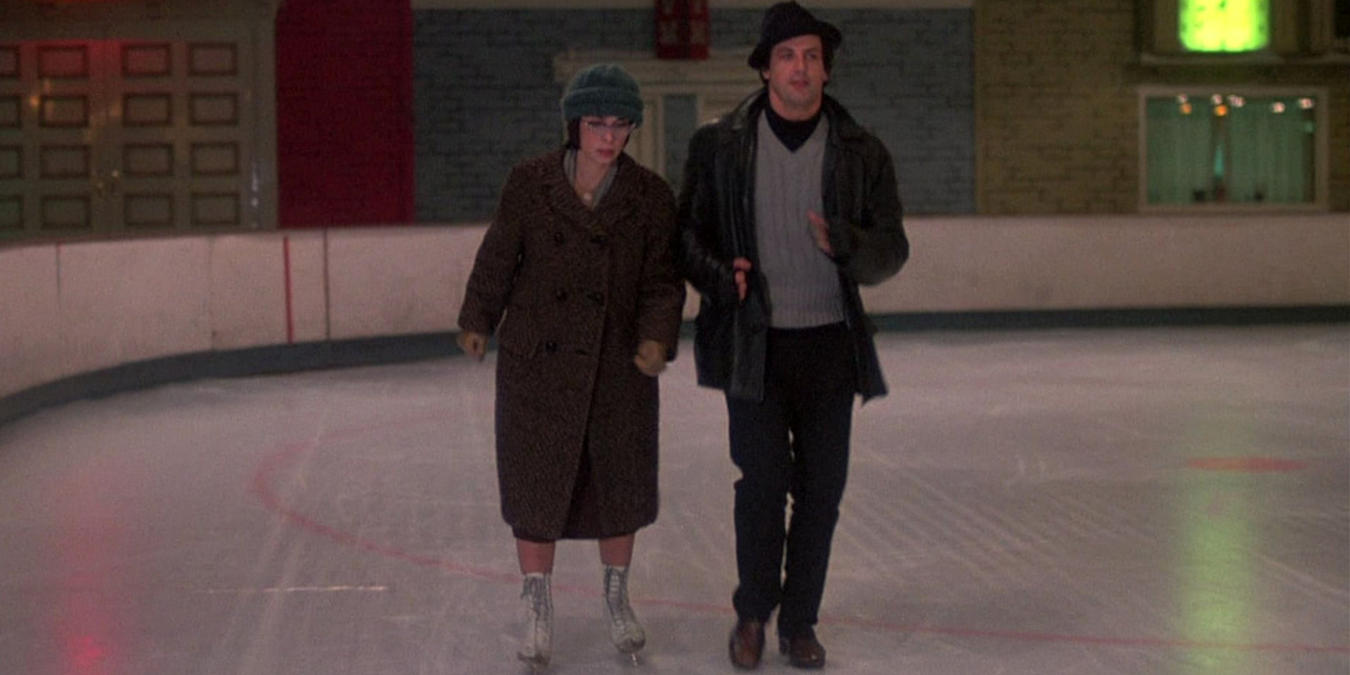 Thanksgiving is a time when we should be giving thanks for the good things in our lives – and what better thing is there than movies? (The answer is nothing, of course).
Over the years, countless movies have been set on and around Thanksgiving – with many more having at least one scene set around that time – and some of them have been very good.
In this piece, we'll be taking you through the best Thanksgiving movies you can watch online – with the only criteria being that the movies in question must have a single scene or more set on Thanksgiving. Yep, we're feeling generous!
Why not check out or list of classic monster movies streaming on Peacock while you're here?
1. Planes, Trains & Automobiles (1987)
Watch on: Netflix | Amazon Prime | NOW
Probably the best – and definitely the funniest – Thanksgiving movie ever made, comedy classic Planes, Trains and Automobiles is about a temperamental marketing executive and a well-meaning but annoying shower curtain ring salesman. The unlikely duo share a three-day adventure full of mishaps as they try to get the former home to Chicago, on various modes of transport, in time for him to spend Thanksgiving with his family.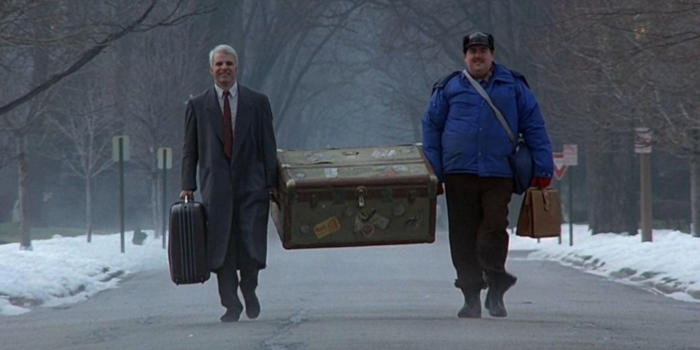 The chemistry between the two leads is absolutely perfect and results in a hilarious and heartfelt movie.
Directed by John Hughes. It stars Steve Martin and the late, great John Candy. Martin and Candy essentially play themselves – which is actually Planes, Trains and Automobiles' biggest strength – and the ending will leave you feeling all warm and fuzzy inside.
2. Rocky (1976)
Watch on: Hulu | Amazon Prime
Thought by many to be the best sports movie of all time, Rocky is about the titular Rocky Balboa – a down-on-his-luck working class Italian-American who works as a part-time debt collector and club-level fighter – who receives an unlikely opportunity to win the world heavyweight championship against a superstar boxer.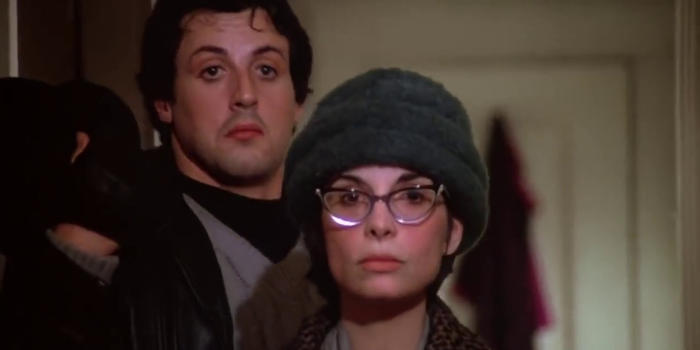 A memorable Thanksgiving scene sees Burt Young's Paulie taking Rocky home when his sister's cooking dinner, before insisting the pair go out on a date, which ultimately results in them getting together.
Rocky is a bona fide masterpiece. Having been nominated for ten Oscars, it won three – including the prestigious Best Picture gong. One of the finest underdog stories ever told.
3. Holiday Inn (1942)
Watch on: Amazon Prime | NOW
Holiday Inn is a musical classic that was directed by Mark Sandrich and stars legendary pair Bing Crosby and Fred Astaire. While "White Christmas" is undoubtedly the most famous song in this movie, it takes place over the course of a year, with each holiday getting its own song. "I've Got Plenty to Be Thankful For" is the catchy Thanksgiving number.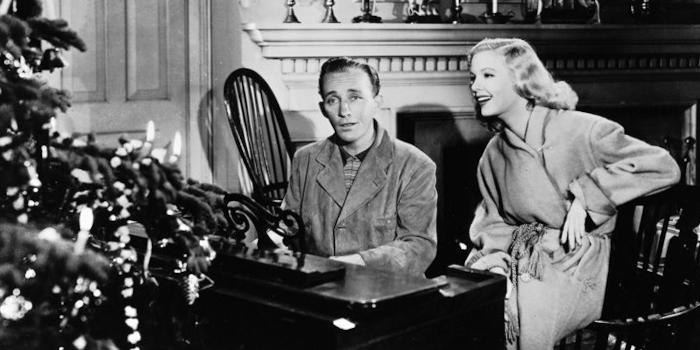 It's about an inn which is only open during holidays. The plot follows a crooner and a hoofer as they compete for the affections of a beautiful up-and-coming performer.
A very graceful movie, Holiday Inn doesn't go over the top in its attempts to entertain, but it's an easy watch and very light-hearted, ensuring you'll always come away from watching it in a good mood.
4. She's Gotta Have It (1986)
Watch on: Netflix | Amazon Prime
She's Gotta Have It is about a young, attractive New York-based artist who is dating three men at the same time – and the movie focuses on the feelings this scenario provokes in the involved quartet. It fits the bill for this list, as the artist invites all three men over to her apartment for a memorable Thanksgiving dinner.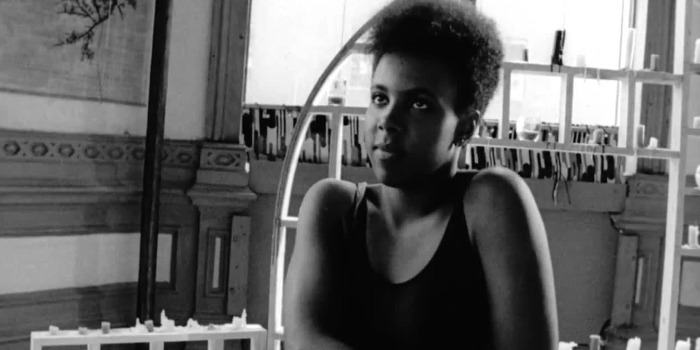 Directed by Spike Lee in his feature movie debut, this movie launched Spike Lee's career, which says everything you should need to know about it. The fact that it loses nothing in spite of its unpolished nature is the best compliment you can give it. Lee adapted it into a Netflix series in 2017.
5. Tower Heist (2011)
Watch on: Netflix | Amazon Prime
Tower Heist is about a group of luxury apartment workers who lose their pensions in a Ponzi scheme. As a result, they vow revenge by planning to steal from their employer when everyone is distracted by the Macy's Thanksgiving Day Parade.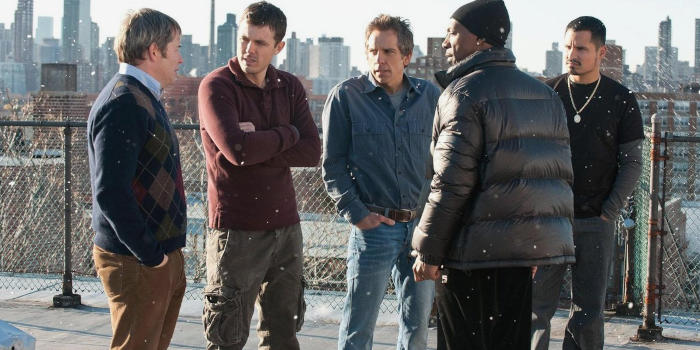 There's nothing extraordinary about Tower Heist – and you certainly don't need to be a genius to enjoy it – but it succeeds in being the most important thing a movie should be: a lot of fun. The cast have great chemistry and it's both amusing and energetic throughout, so enjoy the ride.
Tower Heist is directed by Brett Ratner and boasts an ensemble cast that includes the likes of Ben Stiller, Eddie Murphy, Casey Affleck and Matthew Broderick.
6. Hannah And Her Sisters (1986)
Watch on: Hulu | Amazon Prime
The movie tells a number of intertwined stories about an extended family over two years that begins and ends with a family Thanksgiving dinner. Major events in the story include Hannah's husband falling in love with her sister Lee and her hypochondriac ex-husband rekindling his relationship with her sister Holly.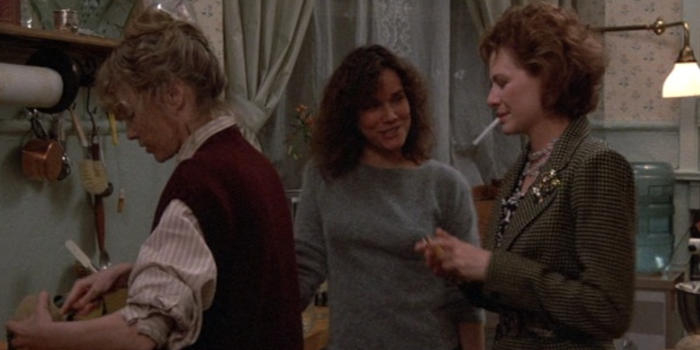 It's a very smart and sensitive movie that's both brilliantly written and gorgeously acted. Having been nominated for seven Academy Awards, it succeeded in winning three – including Best Supporting Actor and Actress for Caine and Wiest.
Directed by Woody Allen (who also c0-stars in the movie), Hannah and Her Sisters is a comedy-drama featuring a talented cast that includes Michael Caine, Mia Farrow, Dianne Wiest and Carrie Fisher.
7. Miracle on 34th Street (1947)
Watch on: Amazon Prime | NOW
Although it's very obviously a Christmas movie, it actually opens during the Macy's Thanksgiving Day parade, making it fair game for inclusion here. It's all about a department store Santa Claus who claims to be the real Father Christmas, and his attempts to legally prove that claim.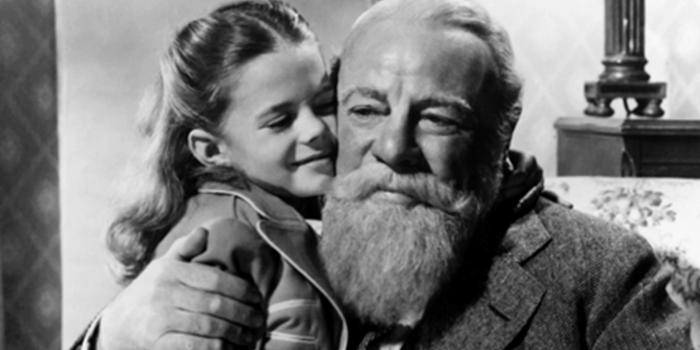 It's an utterly charming and wonderfully festive movie that's impossible not to enjoy. Miracle on 34th Street is also actually quite funny too, so it'll tickle you as well as giving you them fuzzy Christmas feels.
Miracle on 34th Street is a Christmas comedy-drama directed by George Seaton and based on a story by Valentine Davies. It stars Maureen O'Hara, Edmund Gwenn, John Payne and a very young Natalie Wood.
8. You've Got Mail (1998)
Watch on: Netflix | Amazon Prime
You've Got Mail is about two people who find themselves in an online romance while being unaware that they're also business rivals. It was the third time Hanks and Ryan starred together in a movie, after 1990's Joe Versus the Volcano and 1993's Sleepless in Seattle (also directed by Ephron).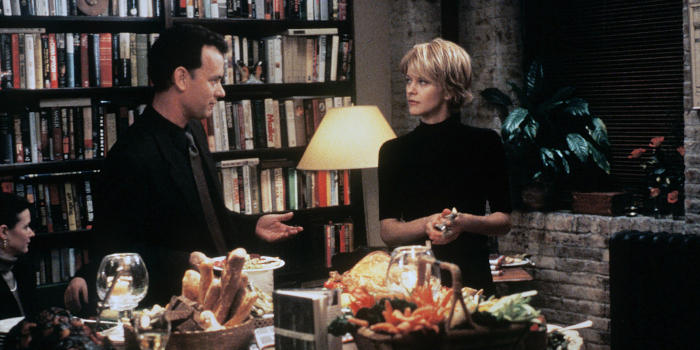 This is a lovely movie with two extremely likeable main characters, who also happen to have fantastic chemistry. It has an iconic Thanksgiving scene in a grocery store, in which Hanks' character awkwardly assists Ryan's when she mistakenly takes her groceries to a cash-only register, despite only having a credit card in her possession.
You've Got Mail is directed by Nora Ephron and starring Tom Hanks and Meg Ryan. It was inspired by the 1937 Hungarian play Parfumerie by Miklós László, which been adapted twice before; in 1940 as The Shop Around the Corner and in 1949 as In the Good Old Summertime.
9. Scent of a Woman (1992)
Watch on: Netflix | Amazon Prime
Scent of a Woman is about a prep school student who takes a job as an assistant to a cantankerous, blind, medically retired Army lieutenant colonel – and he ends up learning more than any college could ever teach him. The movie takes place over Thanksgiving, so it definitely belongs on this list.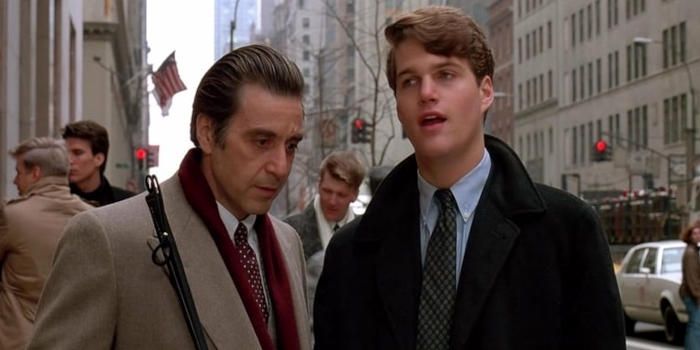 The movie was nominated for four Oscars, with Pacino winning the Best Actor award – and it's his performance that makes Scent of a Woman what it is. Pacino is an absolute tour-de-force here, as he goes big, bold and occasionally over-the-top, making for some incredible dramatic moments.
Scent of a Woman is directed by Martin Brest, and starring Al Pacino and Chris O'Donnell. It's a remake of Dino Risi's 1974 Italian film Profumo di Donna, which was adapted from the novel Il buio e il miele (Italian for "Darkness and Honey") by Giovanni Arpino.
10. Addams Family Values (1993)
Watch on: Netflix | Amazon Prime
Addams Family Values is a satirical black comedy that sees the Addams Family trying to rescue their beloved Uncle Fester from his gold-digging new lover – a black widow named Debbie. Meanwhile, the teenaged Addams siblings – Wednesday and Pugsley – experience a fish out of water scenario as they're sent to summer camp. Its Thanksgiving tie-in is a great scene featuring a play unlike any other, with Wednesday Addams leading the charge.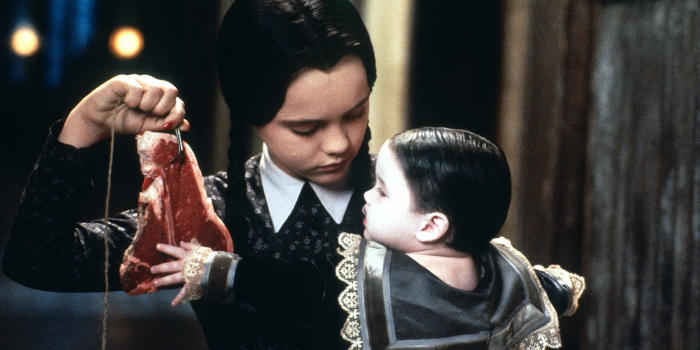 This movie improved on its predecessor and looks fantastic, which earned it an Oscar nomination for Best Art Direction (though it lost out to the amazing Schindler's List). It's funny, subversive and fleshes out the Addams characters quite substantially. Simply put, it's a hoot!
Directed by Barry Sonnenfeld and starring an ensemble cast that includes Anjelica Huston, Raul Julia, Christopher Lloyd and Christina Ricci. It's the sequel to 1991's brilliant The Addams Family.
Thanks for reading! Now, why not check out our lists of the best places to learn about space online and the best YouTube channels to learn how to DJ?