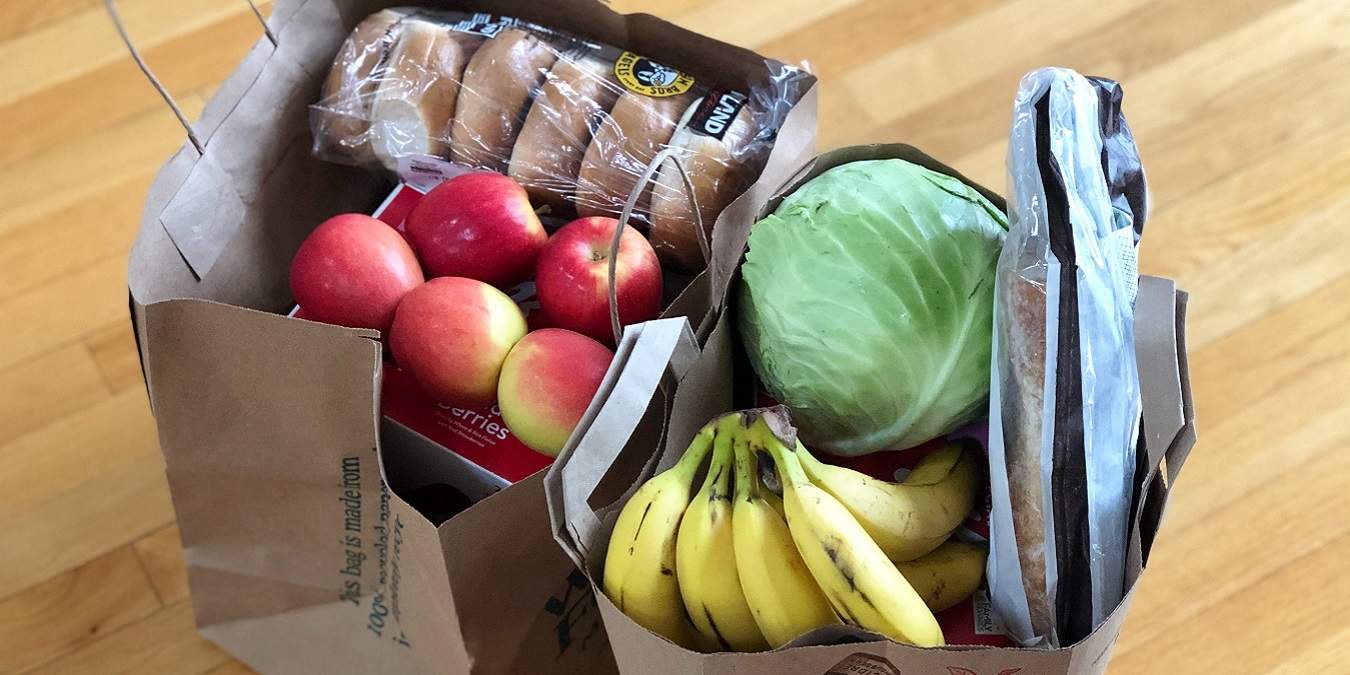 Forget long lines, empty shelves, and driving around by opting for online grocery shopping instead. Many sites now offer everything you could want from the comfort of your home. While some offer delivery, the range might be limited. But, many offer curbside or parking lot pick-up as an alternative. Get the best experience by knowing where to grocery shop online.
1. Local Grocery Store
Everything from large chains and online-only stores to small local grocery stores offer online grocery shopping. If you love your local supermarket's options and pricing, check their website to see if they offer online shopping. You'll also be able to check delivery costs and pick-up options. Since the pandemic, more local stores than ever offer grocery shopping online.
2. Thrive Market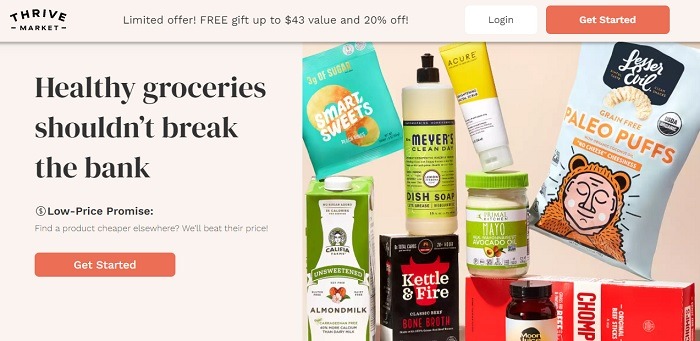 If you want to eat healthier and enjoy helping those in need, Thrive Market is the best site for online grocery shopping. It's a membership-based site that costs $60 per year, but the fees go toward memberships for families who can't afford it. From there, you get low prices on over 6,000 different items. You can even check out kits based on over 70 different diets and needs.
Orders over $49 are shipped free. Plus, if you find lower prices at other online grocers, Thrive Market promises to beat their price.
3. Amazon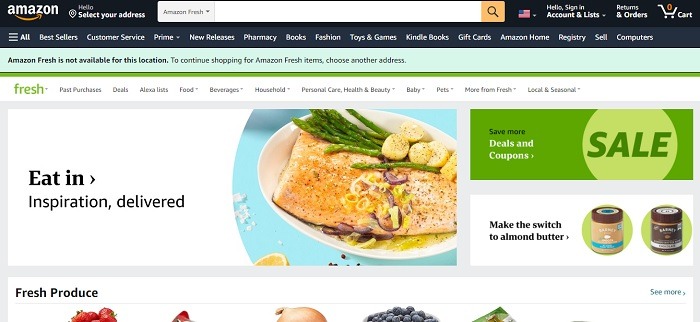 As with most options for grocery shopping online, availability is based on your location. With Amazon, you can order many non-perishable grocery items worldwide, which makes it a great option. Plus, many of these items are included in the subscribe and save program, offering you discounts and regular deliveries so you never run out.
In the US, Amazon has partnered with Whole Foods to offer delivery of fresh produce and meats to select locations. With Amazon Prime, you can get groceries in less than two hours, where available. You can shop strictly from Whole Foods or through Amazon Fresh. Both have a wide selection for all types of dietary lifestyles.
4. Instacart

Want someone else to do the shopping for you? Instacart is one of the top sites for grocery shopping online for those in the US and Canada. Instead of a single store, you're able to shop from a variety of local stores. A personal shopper then does all the in-store shopping for you. Depending on your location, you can get your order in as little as an hour. Though, pick-up options are available too.
Fees vary greatly, but a membership option is available to reduce costs and provide exclusive discounts on products. Of course, it's worth noting that Instacart offers various deals on products that your local stores aren't offering.
5. Misfits Market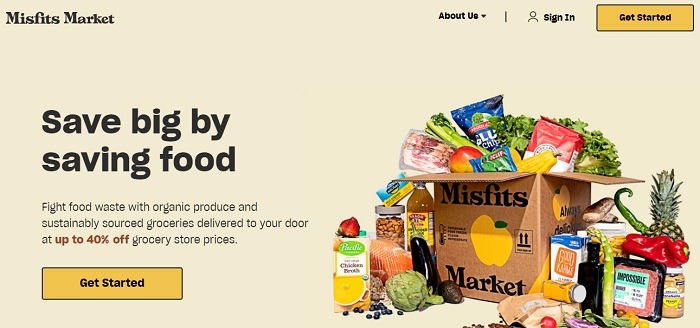 One of the more unique online grocery shopping options is Misfits Market. Get ready to shop for produce that might not always look perfect. Misfits Market offers misshapen produce, short-dated items, out of date packages, and other types of items your normal grocery store wouldn't sell. Any out of date items are still perfectly safe.
You get access to a constantly changing selection of organic and healthy options for up to 40 percent off. Plus, you're buying foods that would otherwise be thrown out, creating a more sustainable grocery shopping option. It's only available in certain US states, but more locations are coming soon. You can also check out Imperfect Foods.
6. Boxed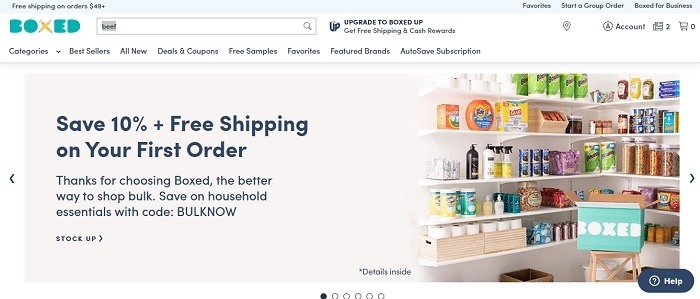 Love wholesale prices and the convenience of grocery shopping online? Try Boxed. While membership is free, a $49/year fee eliminates all shipping costs. For shelf-stable items, delivery can take up to three days. You get major discounts because you buy in bulk. Some perishable items are available in certain areas with same-day delivery.
It's the ideal option for families looking to save money on a variety of non-perishable items. Plus, additional deals and coupons make it an even better alternative to traditional grocery shopping.
7. Shipt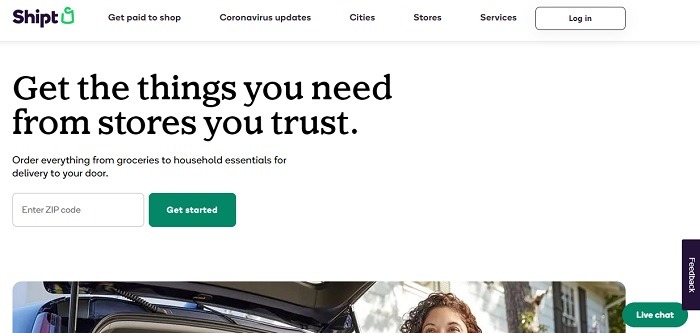 Shipt is similar to Instacart. A personal shopper does the shopping for you and delivers items right to your door. What sets Shipt apart and makes it one of the best around is real-time text alerts. If an item you want isn't in stock, you'll get a text with potential substitutions to ensure you get the things you need. You can even shop from local drug stores, pet food stores, and other retailers in addition to grocery stores.
Items are slightly higher when purchased through Shipt, but this pays for the service itself. Memberships are $99/year and this gives you free shipping on all orders over $35.
8. Yümmy Bazaar

If you want a wider selection of worldwide flavors, look no further than Yümmy Bazaar. Since products come from all over the world, you'll only find shelf-stable pantry items here. But, you'll also find items you can't find at other online grocers. Choose a country to shop just those flavors or shop based on category. There's always something new being added.
Shipping is free for orders over $59. If you're ready to spice up your food, this is the place to shop.
Online grocery shopping is easier now than ever before. Where's your favorite place to grocery shop online?