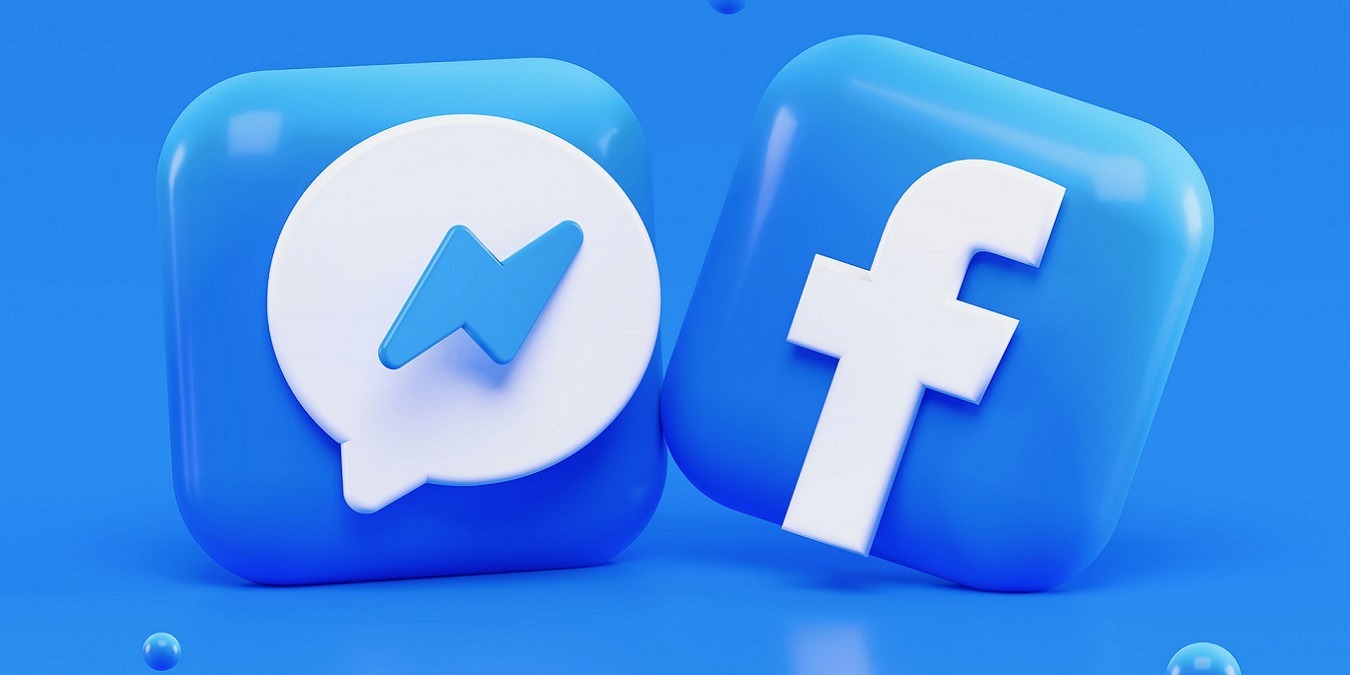 It's not always obvious how to keep yourself safe while using Facebook. With a variety of privacy settings, it's sometimes confusing as to what you need to set to limit who sees what on your profile. Even outside of Facebook settings, there are various ways to stay safer. Before you post, like, or share anything else, take a moment to make your next Facebook experience safer and more private.
Facebook Privacy Settings
The best place to start to keep yourself safe while using Facebook is changing the built-in privacy settings. While this doesn't restrict what Facebook tracks, it does restrict what other users can see and do in relation to your profile and content.
Login to Facebook and open the settings menu. Select "Settings & Privacy."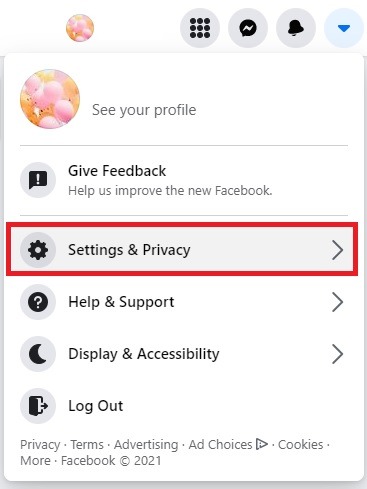 Select "Privacy Shortcuts." If you'd like a brief overview of the various privacy settings, select "Privacy Checkup" instead. You can still go back and change your settings when you're finished. Privacy Checkup is great way to better understand Facebook's privacy stettings.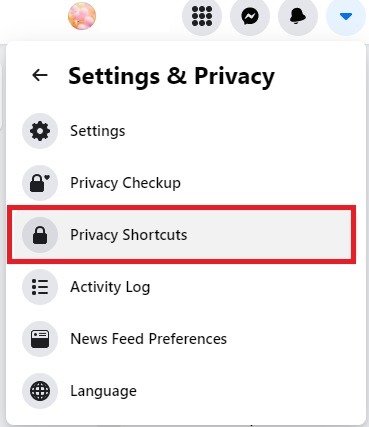 This page contains all the various account privacy and security settings in a single place. It's easier to manage this on desktop, but you can do it on mobile too. If you don't see certain options on mobile, open Facebook in your mobile browser, open the browser's settings menu, and select "Desktop view."
Start with the Privacy section at the top. Select "See more privacy settings" to view all your options.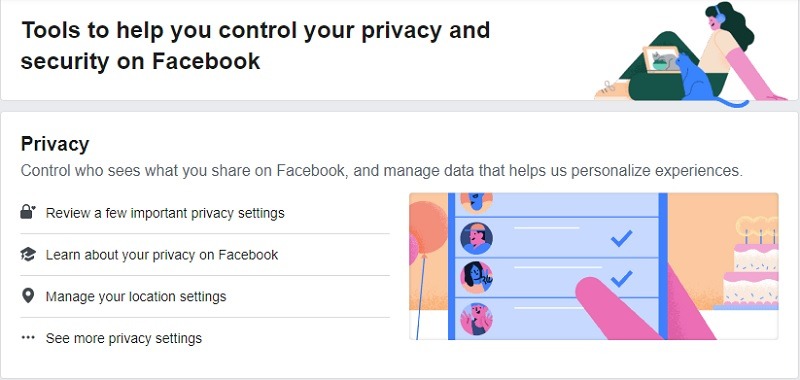 Go through each privacy setting to customize what other users are able to view and do with your profile and content. These are things you can edit under each section:
Privacy Checkup – Go step-by-step through common settings to understand what they are and change them as you go, such as who can view your profile.
Your Activity – Limit who can see your posts and the people, pages, and lists you follow (you can set most of these to Public, Friends, Friends Except, Specific Friends, and Only Me). You can also view any posts you're currently tagged in.
How People Find and Contact You – Choose who can send you friend requests, how people search for you (such as by email and phone number), and who can view your friend list.
How You Get Message Requests – Limit who can send you message requests. (you can limit anyone from sending you requests if you want)
If you want to see how your profile looks publicly, click "Manage your profile" under Privacy Shortcuts. Click the three dots beside Edit Profile (which is under your profile and cover photos). Select "View as."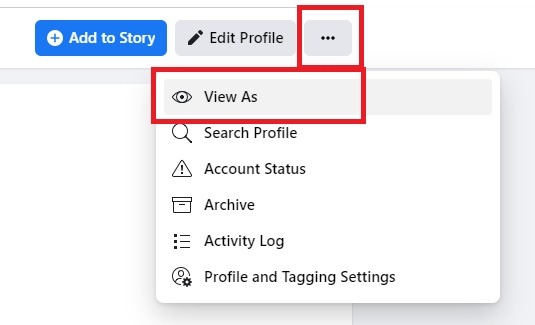 This shows you how your profile looks to anyone who's not your friend. Your current profile and cover photo always show, but you can change these to generic images for better privacy.
Limit Tagging
Once you've gone through all the privacy settings, select "Profile and Tagging" in the left pane to manage tagging privacy. This changes how other users are able to tag you in posts and pictures along with who can add content to your profile, such as preventing someone from tagging you in an embarrassing photo.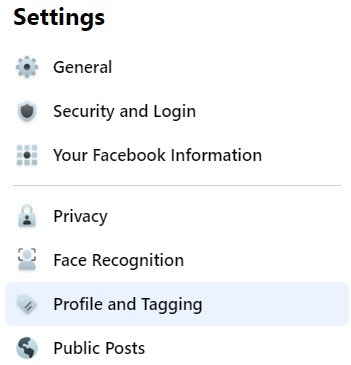 You can change the following settings here:
Viewing and Sharing – Limit who can post content on your profile, share your posts, and even hide comments if they contain specific words (great for limiting political posts).
Tagging – Limit who can see posts you're tagged in.
Reviewing – Turn on the option to review any posts and photos you're tagged in before they're visible to others.
The more restricted, the safer and more private your profile. Typically, choosing "Friends" is the best option for most settings. Of course, reviewing any tags before the post to your profile is recommended.
Change Location Settings
Another way to stay safe while using Facebook is to turn off your location settings for mobile devices. These allow you to check-in, get local recommendations based on where you are, and show friends where you're at. Your location also puts you at risk since people know where you are at all times, such as someone who wants to break into your home would easily know when you're away.

Select "Location" in the left pane after you're finished with the tagging settings. Turn "Location History" to off. There's not way to completely restrict Facebook from tracking you, but it does keep your location from being broadcast to other users.
Other Ways to Stay Safe While Using Facebook
While Facebook does provide settings to help you stay safer, there are some other strategies to use as well. First, be careful about what you post. Keep private information off Facebook. Never post your address, your current location (post those vacation picks when you get home), children's names, any account details, and similar information.
Next, stay safe while using Facebook by limiting how much Facebook can track you. For instance, iOS 14.5 helps block Facebook's cross-site tracking. You can also use privacy browsers that block trackers for you. There are several great options for desktops and Android as well. Using Private Browsing or Incognito Mode also helps, which is available in most browsers. Alternately, you can use alternative Facebook apps if you'd rather use an app versus a browser.
There isn't really a way to block Facebook from gathering info or tracking. However, you can limit Facebook's overall reach and drastically limit what other users are able to see. Together, these two things keep you safer.