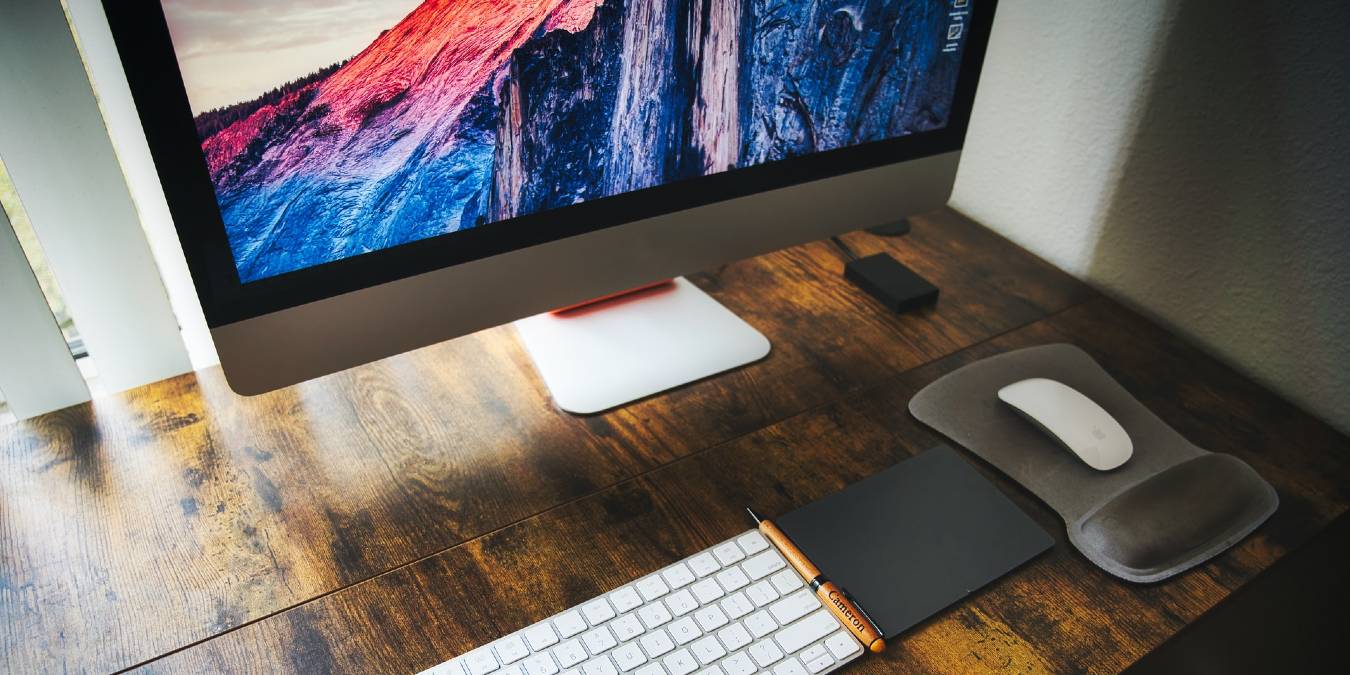 Widely considered to be healthier than sitting, a standing desk can help you see greater productivity but can also maintain your energy levels throughout a workday. Working from the relaxing comfort of your couch sounds great, but it's going to wreak havoc on your neck and back. A standing desk converter is the best of both worlds, allowing you to sit when you are tired or need a break and stand when you are ready to take on your to-do list. Take a look at our list of the best standing desk converters for your home office.
Huanuo Adjustable Laptop Stand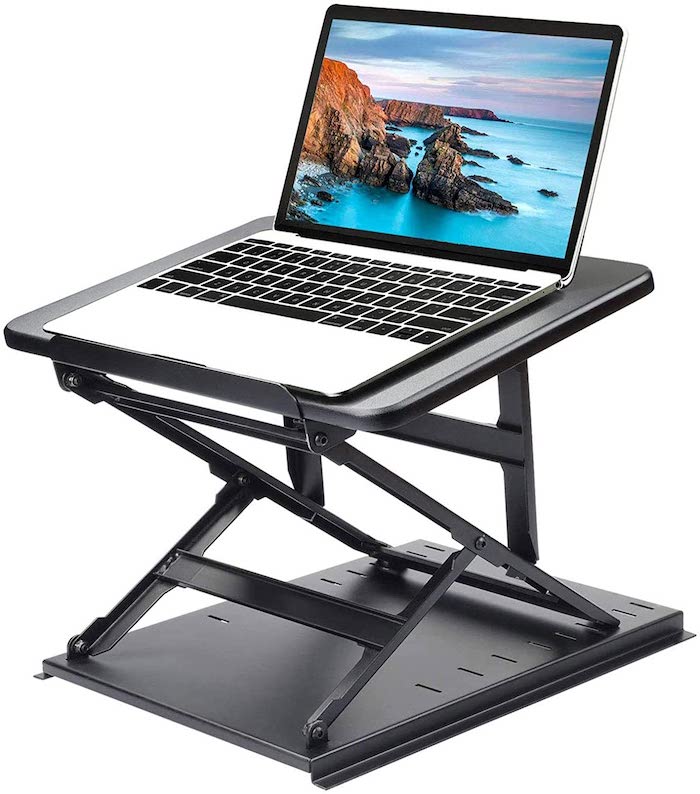 If you're the type that just prefers to use a laptop sans monitor, the Huanuo Adjustable Laptop Stand is perfect. With a total of nine different adjustable angles, this stand is perfect for people of any height, so neck and back pain can be reduced dramatically. Any laptop up to 15.6 inches will fit with room to spare. Installation can be done in a matter of minutes. The non-slip design and angled bar in front ensures that your laptop will stay safe and secure. The heavy duty metal legs makes the Huanuo feel incredibly durable and like it will last as long if not longer than the laptop it's being used with. For around $40, this laptop stand cannot be beat.
Readydesk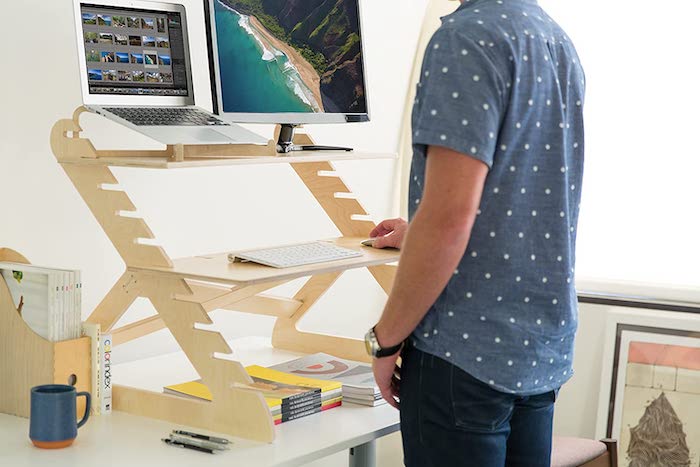 One of the most unique solutions in the standing desk converter space, the Readydesk is an excellent option. Requiring absolutely no tools for assembly, the Readydesk can hold two 27-inch monitors across its top shelf. Capable of holding around 75 pounds total, that's more than enough for even the largest all-in-one computer. Depending on your height, both the monitor and keyboard shelves are adjustable and include cable management. Readydesk says its adjustable laptop stand is best used by anyone between 5'3″ and 6'3″ inches.
Varidesk Pro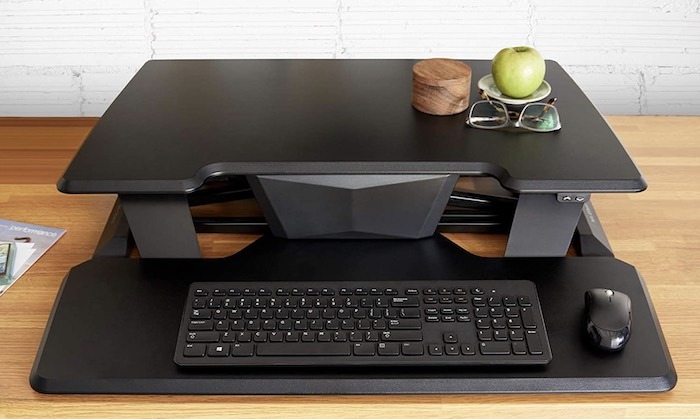 Varidesk is a name that has become synonymous with standing desks, especially for anyone in the corporate world. As an electric model, there's plenty to love about the Varidesk Pro, including its reputation. With adjustable height settings up to 19-1/8″ and only requiring 21″ of desk space (the unit is 36″ in total length), it's a great solution for anyone at home or with limited space. Best of all, the Varidesk comes completely built right out of the box. It's incredibly stable and can hold up to 40 pounds without any impact to the electric motor. The two-tier design ensures your hands and wrists are at a comfortable level, ensuring that back and neck alignment are a top concern.
Ohuhu Standing Desk Converter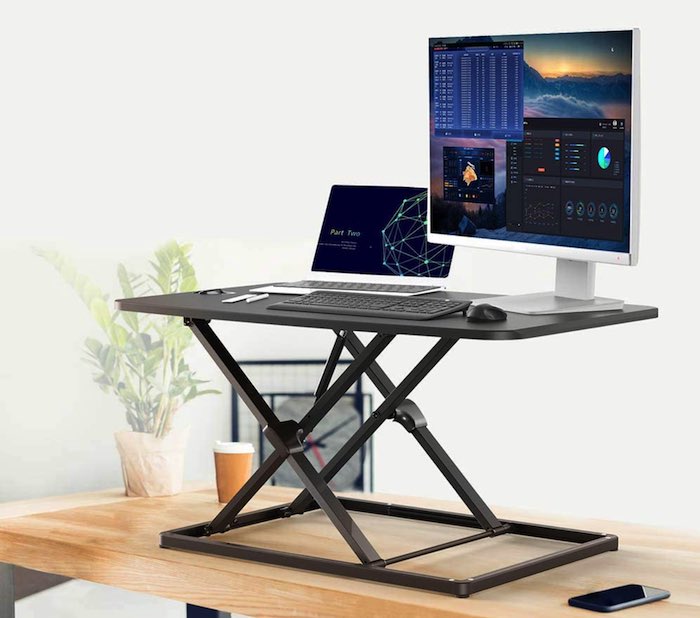 When space is at a premium, the Ohuhu Standing Desk Converter is the ideal choice for your desk. With one-handed operation to lift it up courtesy of a gas-powered mechanism, the Ohuhu is very easy to operate. Similarly, lowering it to your desired height is equally as easy and fast with a single button press. Speaking of height, the converter can work between 1.6″ 16″ in height. Measuring 31″ in width, the Ohuhu isn't small and can hold 44 pounds while being water- and slip-proof. By far the biggest benefit of this standing desk option is its ability to fold down nearly flat for storage opportunities.
WorkFit-Z Mini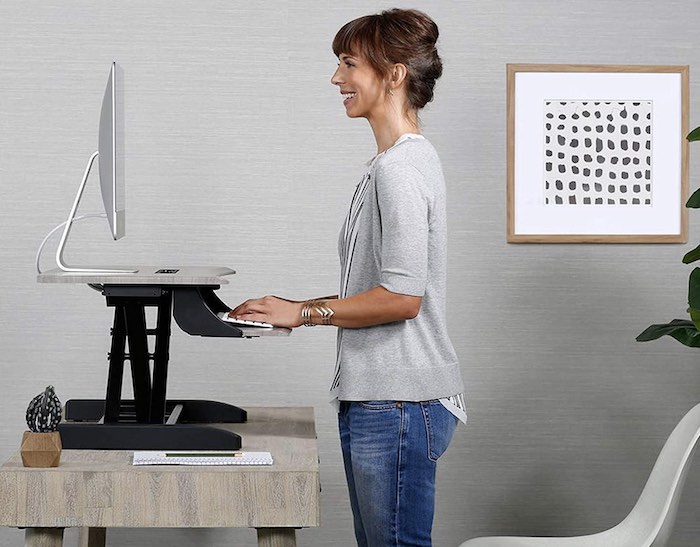 Adding up to 12.5″ of vertical space, the WorkFit-Z Mini Sit-Stand Desk is a basic solution with a few important extras. Easily transforming into a standing desk, the WorkFit can easily lift up to 25 pounds, which makes it perfect for laptops or single monitors. At only 31″ in total width, it's compact enough to not take up an entire desk. The keyboard stand is 24.5″ in width, which is plenty of room for a full-size keyboard and a wireless mouse. The best part of the WorkFit is the addition of a tablet/smartphone holder, keeping everything nice and tidy. With no assembly required and a collapsible design, the WorkFit is a popular option for very good reason.
Mount-It Standing Desk Converter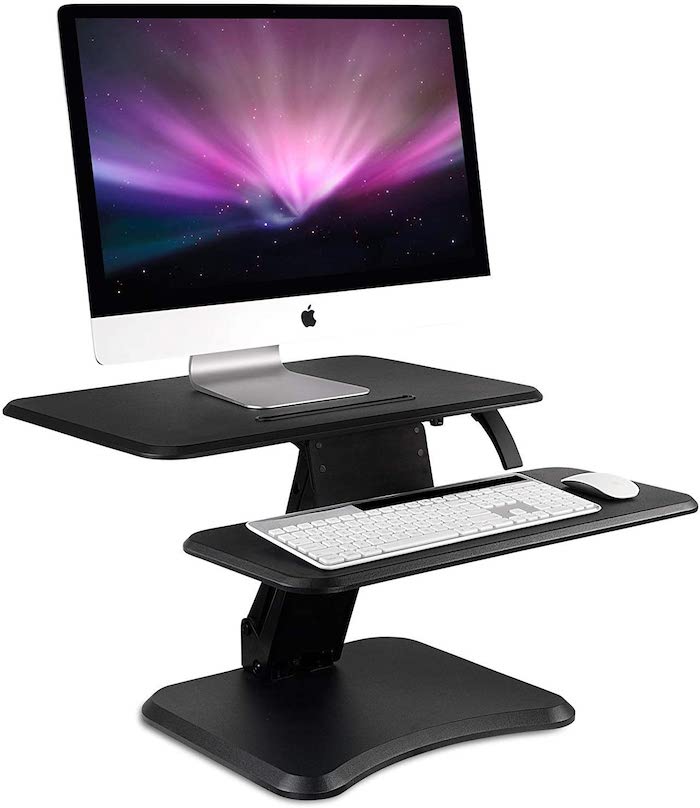 Perfect for home offices with smaller spaces, the Mount-It Standing Desk Converter is another option well worth a look. Adjustable in height from 6.25″ to 17″, there's a perfect height for anyone. At 25″ in width, dual monitor fans should give this option a hard look. It has more than enough space and weight capacity for two monitors. With only minimal assembly required, the Mount-It is ready to go within just a few minutes. With both a cup holder and a tablet or phone holder on the second shelf, there is plenty of storage even with two monitors. The spring-assisted mechanism allows the height to raise and lower with ease. All of this plus a price tag that won't break the bank make the Mount-It a strong consideration over other standing desk converters.
Rocelco Portable Laptop Riser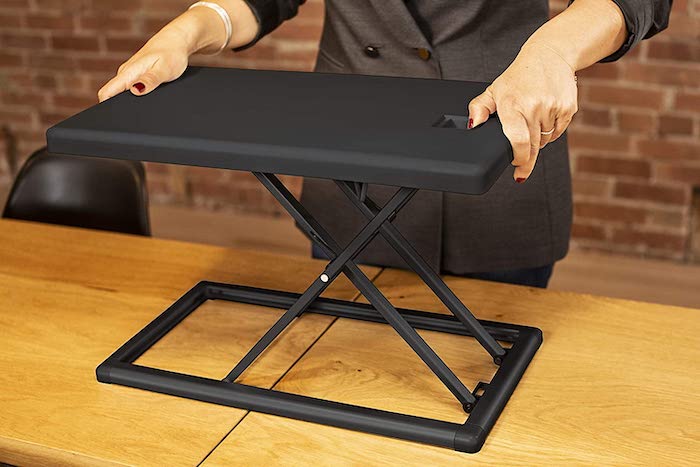 If portability matters above all else, the Rocelco Portable Laptop Riser is your next home office purchase. Weighing a mere 7 pounds, it's so portable, it even carries its own carrying pouch. With 19″ of total surface space, it's really best served for laptops and a mouse, so monitor users will likely want to steer clear. Folding up to less than 1″ in height, the riser can still reach up to 15″, with up to eight height settings in general, all but ensuring you can find the perfect height for you. Notably, it can be moved quickly from room to room, allowing you to change things up and keep your "view" different from week to week. There's just so much to like about the Rocelco.
Final Thoughts
With home offices growing in importance as remote work skyrockets in popularity and frequency, standing desk converters are more important than ever. While home office use increases, so, too, does the need to be comfortable and remain productive throughout the day. As the practice of standing at a desk has plenty of science behind it saying it has more health benefits than sitting, any of the above options are a must to be comfortable and stay on top of your to-do list.