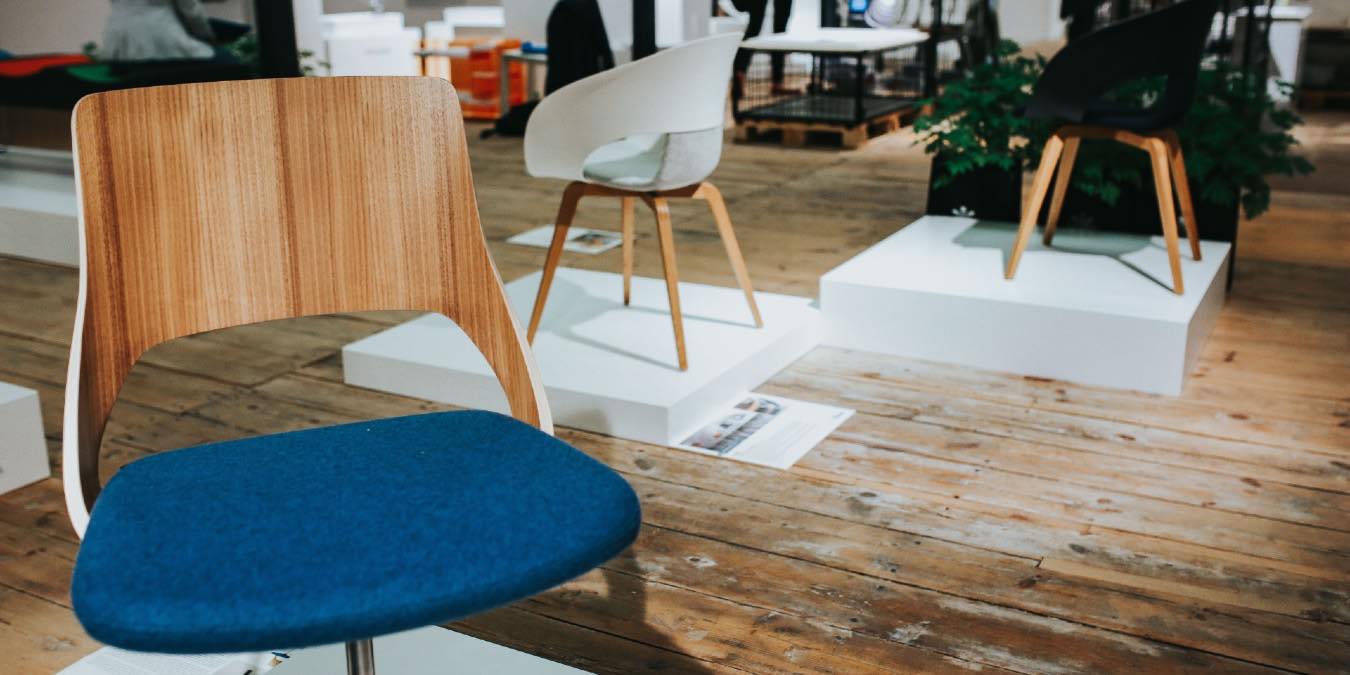 Sitting at a desk for hours on end can be uncomfortable and lead to plenty of discomfort. When getting an office chair, it's important to consider comfort along with other factors like price, size, etc. With so many options available, how do you choose which office chair is right for you? The good news is that we have already done the homework. Here are some of the best office chairs for those working from home in 2022.
Best Budget Option
Let's start with the stuff that everyone can afford if they want it. The John Lewis Gerard Office Chair will set you back just £50 in the UK (more if you want international delivery), which is super-cheap for the design and high quality you get here. It has a very compact build with a generous cushion and gentle curvature in the backrest to give your lower back some support.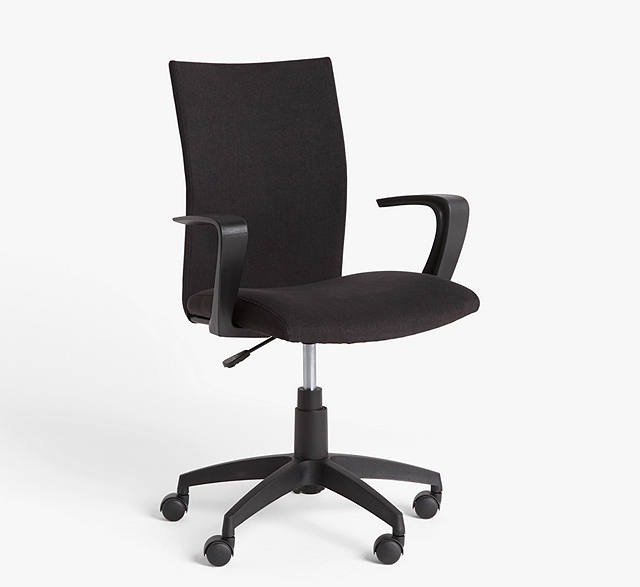 It's upholstered in a soft fabric that's soft and doesn't feel scratchy, and its (non-adjustable) armrests are comfortably positioned. The only thing you can adjust is the height of the chair itself (just remember how little you're paying!), and its plastic castors are designed not to scratch hard floors and roll easily along soft ones.
Best Overall – Steelcase Series 1
When it comes to comfort, style and cost, the best integration of all three falls to the Steelcase Series 1. Boasting Steelcase's "LiveBack" technology, the Series 1 chair contours and supports your back all day long. The chair itself is relatively unassuming, but that ends up being a good thing. The style is just right to fit into nearly any home office aesthetic without distracting. The mesh backrest is comfortable and remains cool throughout the day thanks to increased breathability.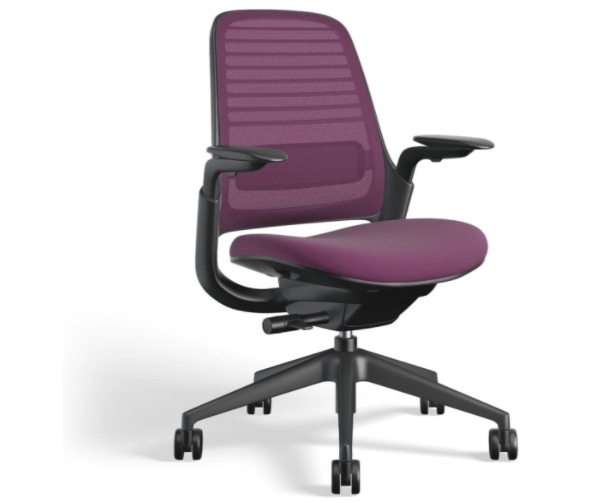 Even without layers and layers of padding, mesh backs have more than proved their worth, and the Series 1 is proof of that point. Adjustable soft arm caps allow for easy movement to help you find your perfect fit along with height and depth settings. At just under $400 on Amazon, the Steelcase isn't inexpensive, but given how much use it will get, the cost is well worth it. That it comes in a multitude of styles and colors is just a bonus.
Best Value for the Money
With over 10,400 reviews on the Amazon store, the AmazonBasics high-back leather executive office chair is the best bang for your buck. Available in brown, black or white, the padded seat cushion and back provide all-day comfort. A butterfly seat plate helps contour the chair to your body, as does the high back which works to keep your back properly aligned. Raising from 41 to 45 inches, the chair is adjustable for a multitude of individual heights. Separately, the chair can also be tilted or tightened so that it does not rock at all.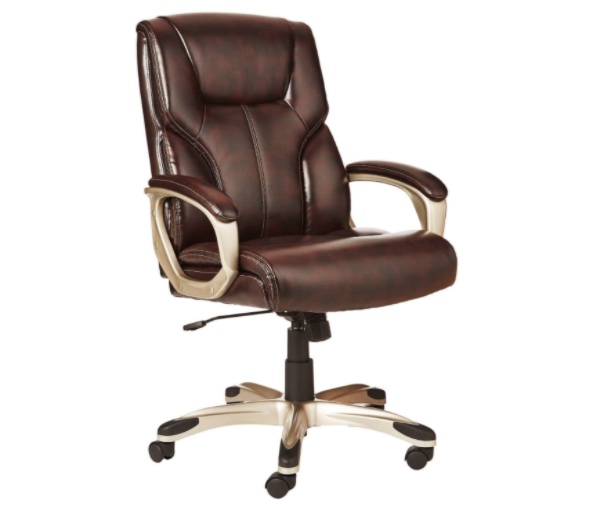 The bonded leather and PVC manufacturing feels durable and is likely to last for years. With a price tag right around $165 dollars, the value for the money is easily as good as an office chair can get.
Best for Ergonomics
When it comes to ergonomics, few chairs do it better than the Herman Miller Aeron. Is the $1,400 price tag a little crazy for a home office chair? Absolutely. The ergonomic design for the Aeron is something all office chair manufacturers can learn from. Rest assured that for the price, this is the chair by which all other ergonomic chairs should be measured. The mesh back, sturdy base and three different size options make it an incredibly good fit.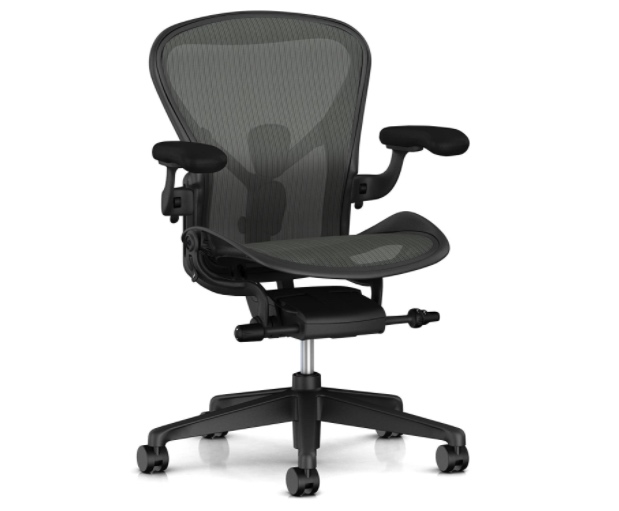 You can adjust pretty much everything, including the tension on the zones of fabric as well as the tilt and angle of the adjustable arms. There are two potential profiles for sitting, including one that adjusts for when you need to lean forward. Another profile can be adjusted to help your body positioning when you lean back and recline. When comfort and ergonomics matter above all else and price is no object, the Aeron is the only chair for you.
It's not cheap at $1000 or more, but the Aeron is a really high-quality chair for those who stay seated for many hours a day.
Best for Adjustments
For anyone who gets restless sitting in a chair all day, the ability to adjust, tweak and change how you are sitting can make a world of difference. The Space Seating AirGrid office chair can change the seat height and position of the arms, which is among the most important adjustments you would want to make.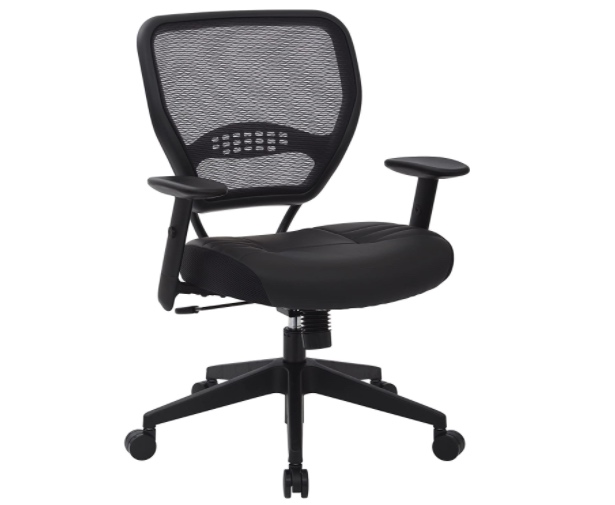 Want to shift the armrests left and right for extra support? You can do that. Want to adjust the tilt? You can do that too. With similarly-adjustable chairs commanding prices three and four times more expensive, it's easy to recommend the AirGrid for just about anyone.
Best for Standing Desks
Standing desks are all the rage these days, and the science is behind their use as a healthier option for all-day work. Sometimes, you just want to sit. Fortunately, the Songmics Pro exists and offers the best of both the sitting and standing worlds. Part stool, part chair, it's little more than a place to sit your rear with two small handles on the sides.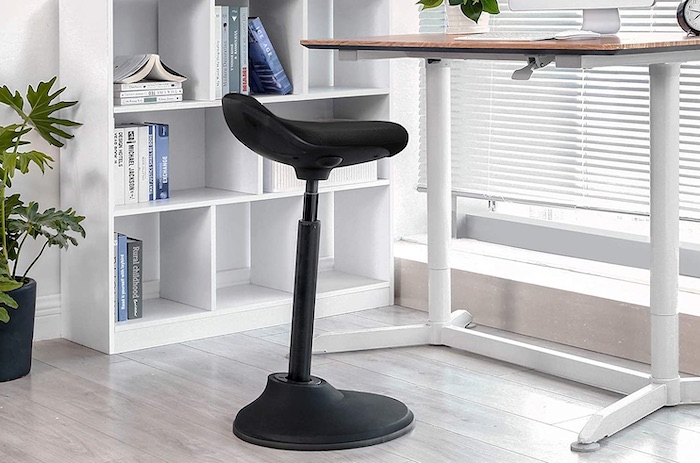 There are no armrests and no fancy leather or mesh back – just somewhere to sit and rest. The height of the seat can be adjusted from anywhere between 24 to 34 inches, while the pole can be moved up to 8 inches in any direction. Capable of supporting up to 265 pounds, the padded foam is ultra comfortable for a few minutes or a few hours. The best part of this chair is its easy assembly. Just put the pole into the holes at the base, and you are ready to sit.
No matter how you look at office chairs, there are plenty of options. Still, there are some universally loved options like the Herman Miller, Steelcase or basically anything AmazonBasics. When you are buying one of those brands, you know what you are getting even before the chair arrives.