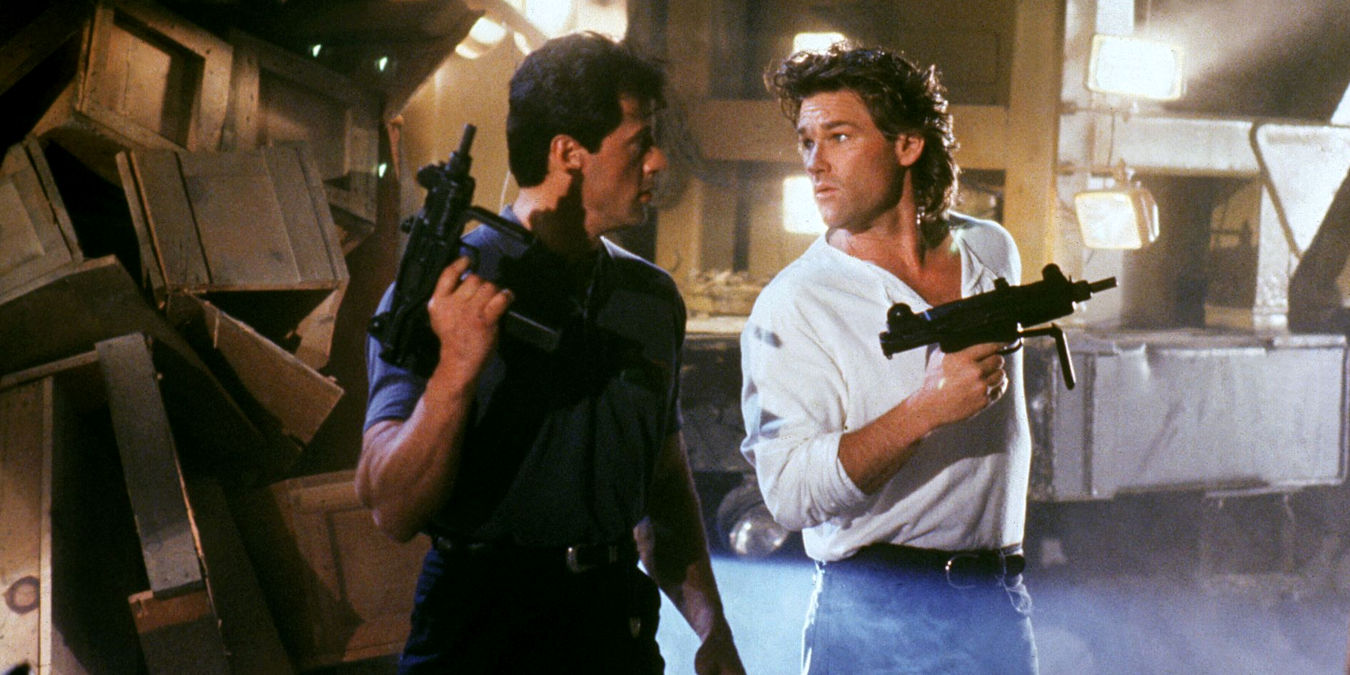 The buddy cop movie is a subgenre – generally of action and/or comedy movies – that generally throws two law enforcement officers with conflicting personalities together, forcing them to work as a team to solve a crime and defeat the bad guys.
The result is usually hilarious and teeming with adventure, as the pair start out at odds, utilizing conflicting methods, trying to outdo each other, before successfully working as a cohesive unit to complete their mission.
There have been some fantastic examples over the years – and we're going to run you through a few of them, as well as providing information about how to watch them online.
While you're here, please check out our list of the best J-horror and K-horror movies on Netflix.
1. Bad Boys (1995)
Watch on: Netflix | Amazon Prime (Rental/Purchase)
Bad Boys is the first movie in what has now become a trilogy of the same name. Directed by action guru Michael Bay, it stars Will Smith and Martin Lawrence as two Miami narcotics detectives called Mike Lowrey (a lavish playboy) and Marcus Burnett (a family man).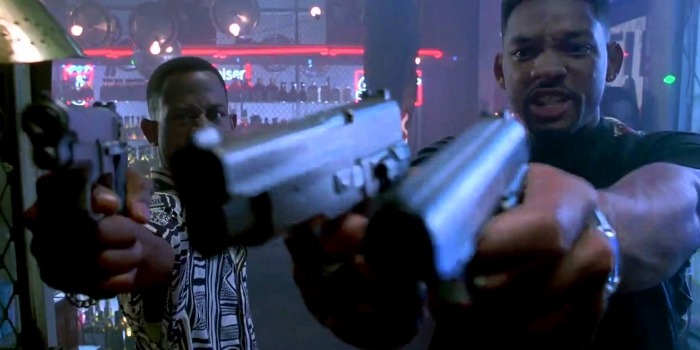 In this movie, they must protect a witness to a murder, while simultaneously investigating some heroin being stolen from the evidence storage room of their police precinct.
It's a witty, funny, action-packed spectacular, with the chemistry between Smith and Lawrence the icing on the cake. The two sequels – 2003's Bad Boys II and 2020's Bad Boys for Life – can also be found online.
2. Tango & Cash (1989)
Watch on: Amazon Prime (Rental/Purchase)
Tango & Cash stars Sylvester Stallone as Ray Tango and Kurt Russell as Gabriel Cash. Tango is from the Westside of L.A., wears smart suits and lives a middle-class life, while Cash is a rough man from the Eastside, living in a bachelor pad in a rundown neighborhood.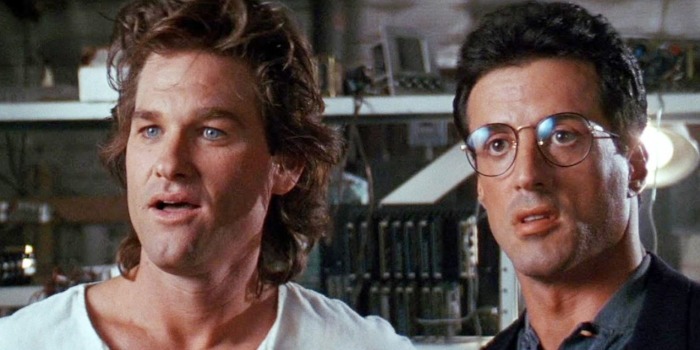 Directed by Andrei Konchalovsky, it sees the two rival narcotics detectives forced to work together, after the criminal mastermind Yves Perret frames them both for murder.
With two action icons in the lead roles, this is a deliciously violent movie that was never going to win any Oscars, but has everything you could possibly wish for if you're after classic 80s fun.
3. Lethal Weapon (1987)
Watch on: Amazon Prime (Rental/Purchase) | NOW
A classic of the action movie genre, Lethal Weapon is arguably the most popular buddy cop movie ever made. Directed by Richard Donner, it stars Mel Gibson and Danny Glover as Martin Riggs and Roger Murtaugh. Riggs is a young, suicidal narcotics officer and former Special Forces soldier, while Murtaugh is a homicide detective and Vietnam veteran close to retirement and skeptical of Riggs' mental state.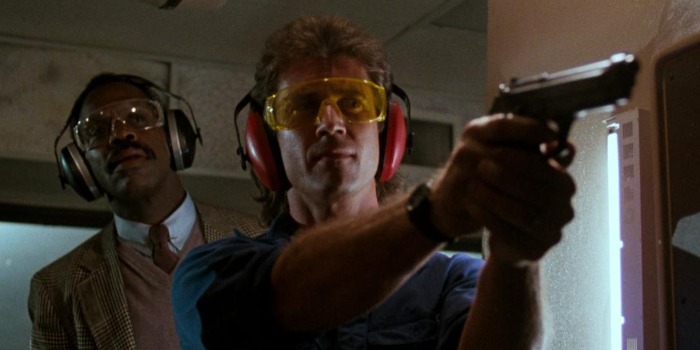 Set in Los Angeles, the movie sees the unlikely pair having to put aside their differences in order to catch a gang of drug smugglers.
This movie packs a punch with unrelenting drive, great action and fantastic chemistry between its leads. It spawned three sequels, simply called Lethal Weapon 2, 3 and 4 – and you can find all of them online.
4. The Other Guys (2010)
Watch on: Netflix | Amazon Prime (Rental/Purchase) | NOW
Directed by Adam McKay, The Other Guys stars Will Ferrell and Mark Wahlberg as New York cops Allen Gamble and Terry Hoitz. Gamble is a mild-mannered soft touch (and, weirdly, a chick magnet), while Hoitz is far more hot-headed (and a laughing stock, having mistakenly shot shortstop Derek Jeter during the World Series).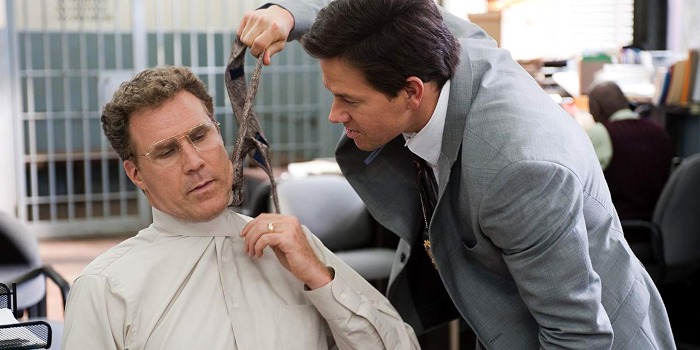 A subversive buddy cop offering, the movie first introduces audiences to the far cooler cop pairing of Samuel L. Jackson and Dwayne Johnson, before focusing on the less exciting titular duo, as they seize an opportunity to become like the top cops they idolize by thwarting a multi-billionaire's embezzlement scheme.
This is a hilarious parody with loads of laughs, genuinely great action, and some wonderful chemistry between Ferrell and Wahlberg.
5. Red Heat (1988)
Watch on: Netflix | Amazon Prime (Purchase)
Red Heat was directed by Walter Hill and stars Arnold Schwarzenegger and Jim Belushi. Arnie plays Moscow Militia Captain Ivan Danko and Belushi plays Chicago police detective Art Ridzik – two men who were essentially on opposite sides of the Cold War, at a time when it was still ongoing.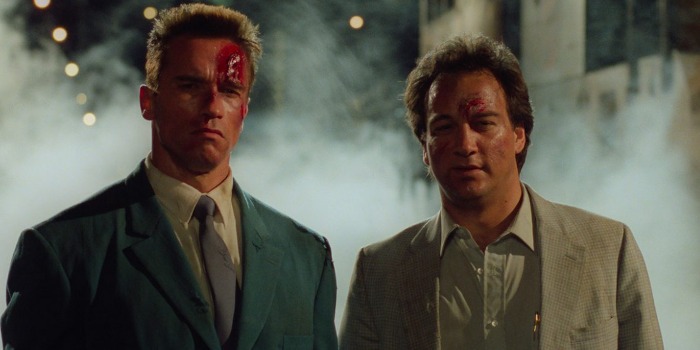 In the movie, Danko and Ridzik work as partners to catch a deadly Georgian drug kingpin called Viktor Rostavili, who also happens to be the killer of Danko's previous partner back in Soviet Russia.
While it's very formulaic, Red Heat is a very easy watch, as it's often quite funny and the action is more comic book-esq than truly brutal or violent.
6. Turner & Hooch (1989)
Watch on: Amazon Prime (Rental/Purchase)
While the main characters of most buddy cop movies are human duos, Turner & Hooch was a little different. Directed by Roger Spottiswoode, it stars Tom Hanks as uptight and by-the-book California detective Scott Turner – but his partner is a dog named Hooch.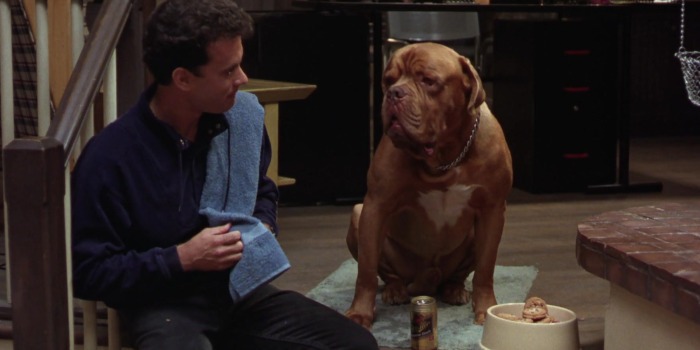 When Turner's friend Amos, the proprietor of a junkyard, is killed, Turner reluctantly inherits his dog – and soon realizes that, as the only witness to the murder, Hooch may be able to help him solve the case. Chaos inevitably ensues.
At its heart, Turner & Hooch is a very silly movie, but any movie with Hanks starring alongside a big dog is going to be fun – and it definitely doesn't disappoint in that respect. There are plenty of laughs and it provides some mild action. It spawned a television movie sequel and a legacy sequel television series.
7. 48 Hrs. (1982)
Watch on: Amazon Prime (Rental/Purchase) | NOW
Directed by Walter Hill, 48 Hrs. stars Nick Nolte as San Francisco cop Jack Cates and Eddie Murphy as convict Reggie Hammond. Although it's actually predated by Richard Rush's terrible 1974 movie Freebie and the Bean, it's often credited as being the first buddy cop offering.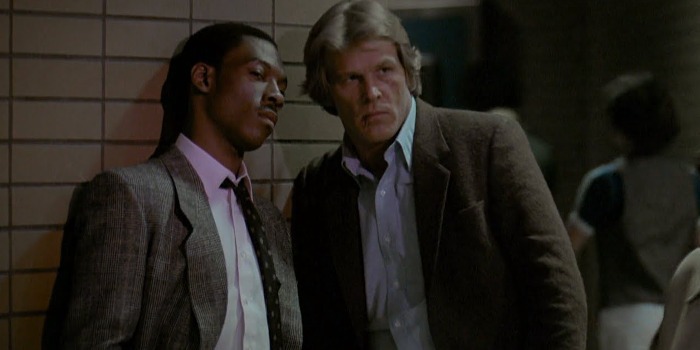 The premise is that the pair have to catch two cop-killers called Albert Ganz and Billy Bear – the former of whom used to be Reggie's criminal partner. Jack manages to get Reggie a 48-hour release from prison in order to assist him.
Considered one of the outright best movies of the 1980s, 48 Hrs. was Murphy's feature debut. His chemistry with Nolte is exceptional and the action-packed movie is paced to perfection. A 1990 sequel – Another 48 Hrs. – can also be found online.
Now that you're finished with this article, please check out our pieces on the oldest internet forums you can still visit and the best new podcasts of 2021.