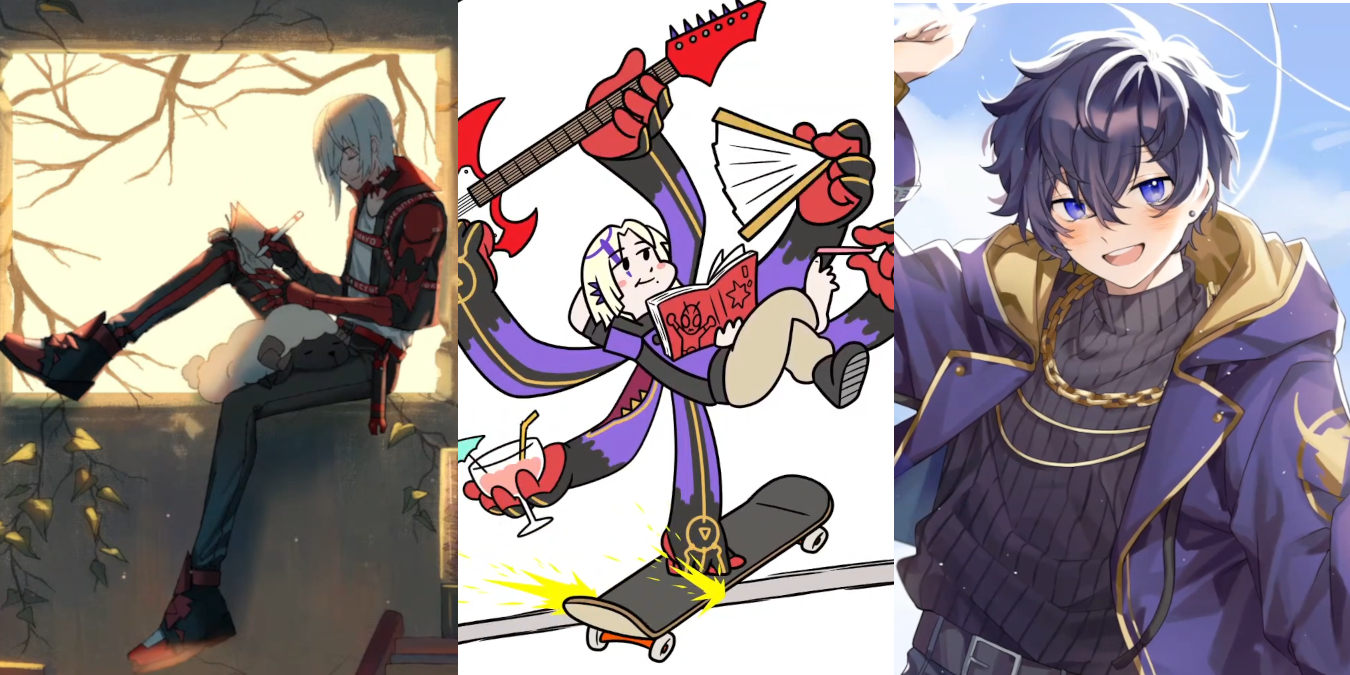 Male Vtubers tend to be far less popular than their female counterparts. However, when the talent agency Nijisanji unveiled 'Luxiem,' a wave of English-speaking, all-male vtubers, their popularity took the vtubing world by storm. It showed that there was clearly a significant western audience for this style of content.
With all of the different vtubers on the scene right now, it can be a confusing matter to figure out which vtubers would be the best to start with. To help figure out who you should be watching, we've made this list of male vtubers to keep your eye on.
Curious about other vtubers to watch? Check our list of popular english-speaking vtubers.
1. Vox Akuma
Platform: YouTube
Since their debut, 'Luxiem' has been an outstanding source of content. They and the other Nijisanji talents are well worth watching, but I wanted to highlight at least two streamers who would be a great introduction into the Vtubing world.
The first one is Vox Akuma, the voice demon. He Has a gorgeous model, a silky smooth voice, and an amazing sense of humor. His best streams are when he gets to flex the full vocal power behind his voice. Examples of this are when he voices characters, zatsudon streams (talking streams), and ASMR work. He also plays horror games and smash where his personality makes each stream an enjoyable experience.
Each Vtuber usually has a unique blend of entertaining talents and their own brand of chaos, and for Vox, that comes in the form of a relatively chill attitude toward what's going on in his streams paired with a strong understanding of how to make people laugh.
2. Fulgur Ovid
Platform: YouTube
The second Nijisanji Vtuber I wanted to talk about is Fulgur Ovid. Hailing from Ninjisanji's second all-male English-speaking wave, 'Noctyx', Fulgur is an android from the future who comes off as a lovable nerd.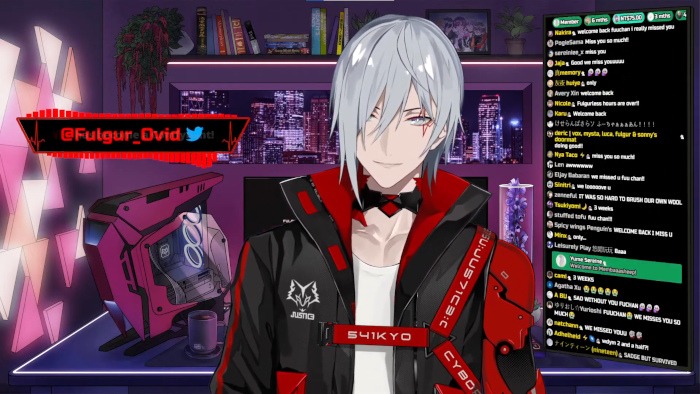 While his solo streams show off his sense of humor and voice talent, his interactions with the other Nijisanji members during a collab are wholesome bundles of light-hearted joy. He has a wonderful dynamic with everyone, and no matter what collab he's participating in, he has a way of bringing out everyone's personality.
All of the members of Nijisanji work hard to create their own unique content, and Fulgur stands out with his mixture of thoughtful discussion, gorgeous voicing, and hilarious character breaks. Usually he'll have a calming vibe to his streams, but the moments where Fulgur lets his high-spirited reactions slip or whenever a person brings out the insanity in him are comedic gold.
3. Magni Dezmond
Platform: YouTube
Even before he streamed, Magni became the meme that kept on giving. The "Morbin" meme found its way to Magni's early fans who morphed it into "maggin'." Before he knew it, Magni's pre-chat was flooded with the phrase "I'm maggin," 20 hours before his debut even started. Even the CEO of Cover Corp (the parent company to Hololive and HoloStars) joined in on the memes.
As a streamer, Magni is equal parts refreshing honesty, chill vibes, memes incarnate, and absolute comedy. He jokes about topics that other Holomembers would be afraid to comment on, and does so with a witty sense of sardonic humor. But Magni's relaxed art streams paired with those kinds of jokes allows viewers to unwind and enjoy his hysterical commentary.
One of the best demonstrations of this is one particular stream where he repeatedly drew Sonic, made fun of management, did spot-on impressions of his Tempus genmates, and told his chat how dangerous it is for content creators to care too much about their numbers (viewer count, subscriber count, etc.).
4. Noir Vesper
Platform: YouTube
While Magni is the memelord of Tempus (Holostars newest branch of english-speaking vtubers), Noir Vesper is the grounded and relatable member of the group with enthralling stories and fascinating discussions for his viewers. In the words of Magni performing an impression of Vesper, "you guys wanna have a seven hour zatsudon (talking stream) where we talk about grass? It'll be the most engaging stream you've ever watched in your life!" Based on how well Vesper was able to talk about plastic for almost five minutes during his debut, there's a good chance Magni is speaking the truth.
Besides his stellar debut, I recommend watching Vesper's FTL: Faster Than Light streams. It's already entertaining to watch a good player show their expertise in a roguelite. Having Vesper showoff how well he navigates each run and also keep the content understandable for fans of all skill levels is both impressive and fantastic content to watch.
5. Shxtou
As I said earlier, there's a particular joy in listening to someone with zero filter. That kind of refreshing honesty comes off as both comedic gold and lovingly transparent. This goes double for vtubers when they are openly down bad for people. In collabs, it feels like watching an embodiment of chat's sentiments.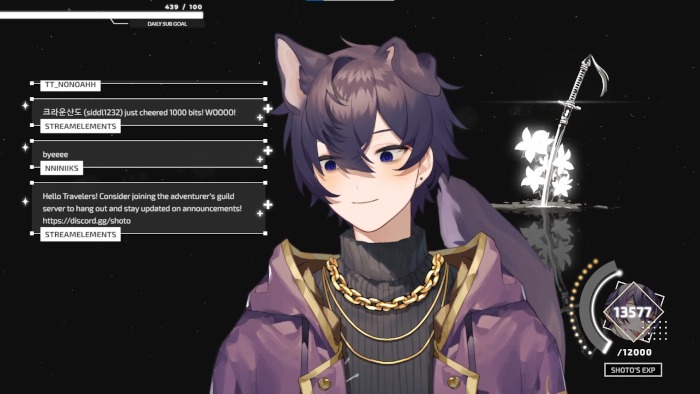 All of these factors along with his honest, unadulterated reactions are some of the best parts of Shxtou – he is a genuine streamer that is a pleasure to watch. Whether it's being flustered for saying something silly, or getting caught up in a laughing frenzy because something amusing happened in a game, Shxtou's reactions are absolutely priceless. It also helps that he has one of the smoothest voices to grace your ears.
Shxtou's delightful interactions with chat are also some of the best points to his streams. In addition to that, his reactions to horror games are especially priceless. He has a strong tendency to jinx himself or walk into jump scares with the world's most ironic timing.
6. RPR
Besides being a vtuber, RPR is an Apex Legends professional player that is currently contracted to the SCARZ esports team. He and the other members of SCARZ, Mande and Taisheen, qualified for the ALGS Championships in 2022 and placed 11th overall out of the 40 other teams that qualified.
RPR is still fairly new to the Vtubing scene, but his blunt sense of humor and practiced skill at shooters is why he's an amazing content creator. He usually streams Apex Legends on Twitch where fans are treated to front row seats to RPR's adventures in ranked or scrims against other professional teams.
When he collaborates with vtubers, RPR's jokes and willingness to call out everything and everyone is more entertaining than has any right to be. His malding tangents steal the show whenever they pop up along with how well he plays off his mistakes in games like Valorant.
Need more anime in your life? Here's a list of famous actors that have appeared in anime, and a beginner's guide to Japanese anime words.