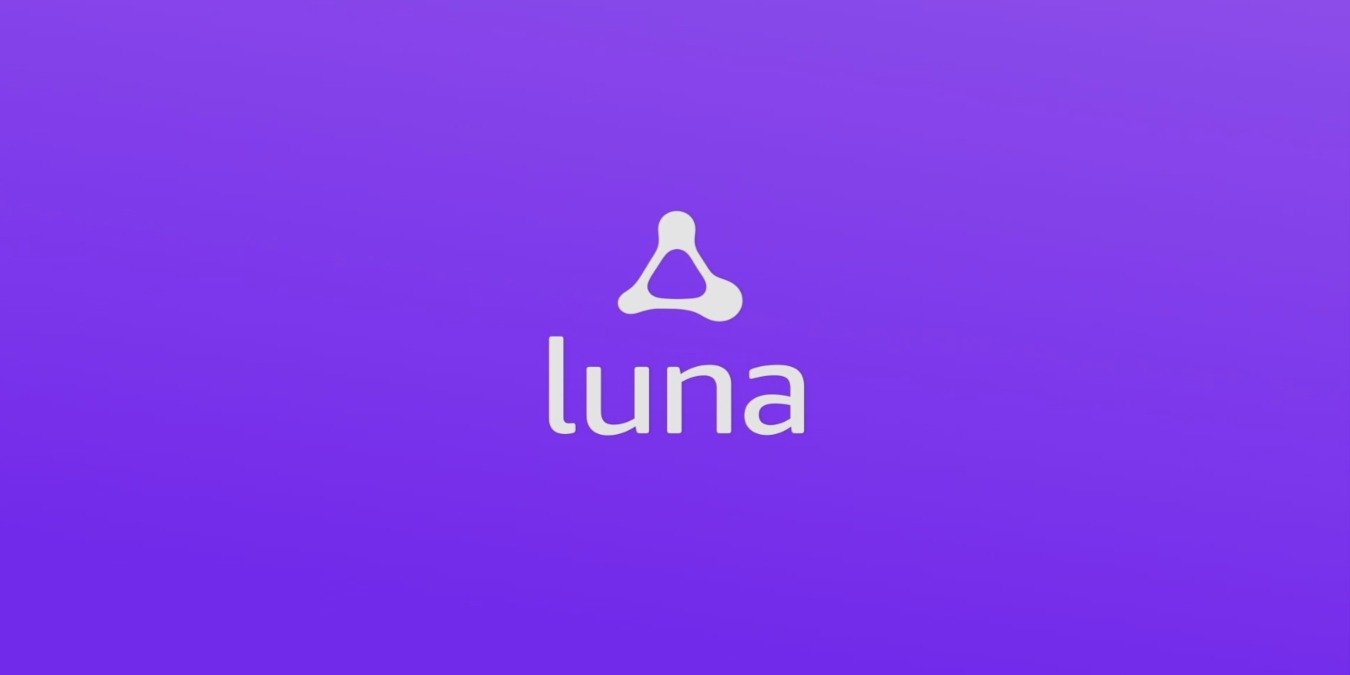 Amazon Luna finally left early access and was released to US customers back in March. But what exactly is it? And will it finally make us take note of Amazon as a worthy competitor in the gaming space? Let's find out.
Looking for games on Amazon Luna? Here's a list of the Best Games on Amazon Luna in April 2022.
What is Amazon Luna?
Amazon Luna is a cloud gaming service whose basic services are included with a Prime membership. Prime Memberships are $15 a month or $139 a year, however it's possible to purchase specific 'channels' without a Prime membership.
Games on Luna are broken down into 'channels' or groups of games organized by genre like the Retro Channel which focuses on retro games, or the 'Family' channel which has plenty of family-friend party/multiplayer games. Once you find games that you want to play, just pay the monthly fee to unlock its channel.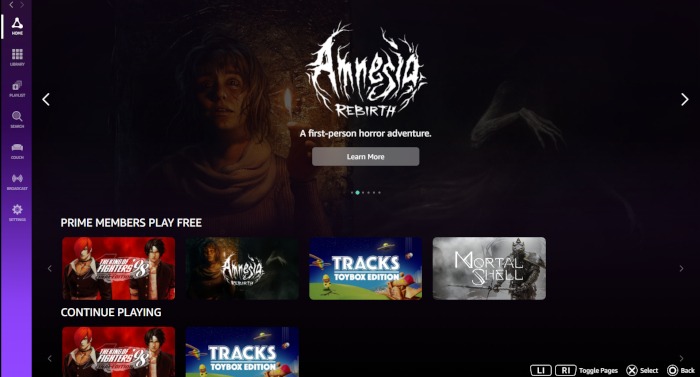 Luna is the newest addition to the cloud gaming scene. You don't have to download anything or worry about hardware requirements since the game is hosted on Amazon's server. All you need is a good internet connection, a browser, and enough bandwidth to accommodate the stream.
Why use Amazon Luna?
Luna's "pay-for-what-you-want" service means you can just purchase the gaming channels you're interested in and keep your monthly costs low. This can make Luna's monthly fee as low as $5 a month or as high as $44 a month if you want everything. If you're already a paying Prime-member, then you're getting four free games each month.
One of the advantages of Amazon Luna is its native Twitch integration. From either the Luna app or the Luna home page, you're able to stream your gameplay directly onto Twitch.
Luna also allows you to use your smartphone as a face-cam while you play. While the options are more limited compared to dedicated streaming software like OBS, it still has plenty of features to help you keep an eye on chat, and access to Twitch's stream manager page.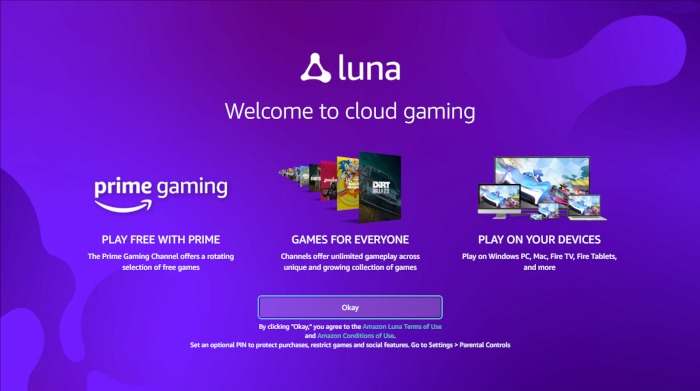 If you're looking for 4K resolution streaming, then you may want to look elsewhere for now. According to their website, Amazon Luna's highest streaming resolution is 1080p and 60fps. Luna does have 4K resolution unlocked for some select titles like Assassin's Creed Valhalla, but it comes at the cost of a lower frame rate. This, along with Luna's ability to stream to 4K devices (like the Fire TV Stick 4K), suggests that Amazon is tinkering with 4K streaming.
Pricing Plans
Amazon Luna organizes its catalog of games into different channels. Users can select which channel they want to subscribe to by paying that monthly fee.
Here's a list of the channels, their rates, and their game selections:
Luna+ ($9.99/month): selection of 117 games from across a variety of genres. Some stand-out titles include Lumines, Blazblue Cross Tag Battle, Resident Evil 7: Biohazard Gold Edition, and A Plague Tale: Innocence.
Family Channel ($5.99/month): 45 games that are both family-friendly and can be played with the entire family like Overcooked, Phog, and Battle for Bikini Bottom.
Retro Channel ($4.99/month): 48 retro and classic games like Street Fighter II, Metal Slug 3, and Castlevania.
Ubisoft+ ($17.99/month): 39 games from the game company Ubisoft, including games from the popular Assassin's Creed, Tom Clancy's Ghost Recon, and Farcry franchises.
Jackbox Games Channel ($4.99/month): gives access to the eight Jackbox Party Packs and Artful 2.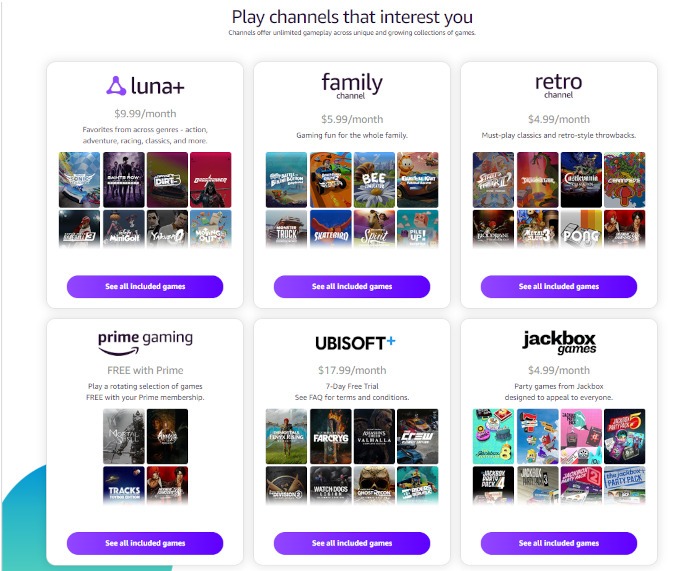 If you have Amazon Prime, then you automatically get access to Prime Gaming's Luna channel, which has four free games that rotate every month.
What Devices Can Use Amazon Luna?
Amazon Luna is playable on Windows PC, Mac, Fire TV, Fire Tablet, Fire TV, Chromebook, iPhone, iPad, or Android Phone. On top of that, it's playable on Google Chrome, Microsoft Edge, and Safari browsers. You can visit the 'Getting Started' page here to get a detailed break down of the requirements.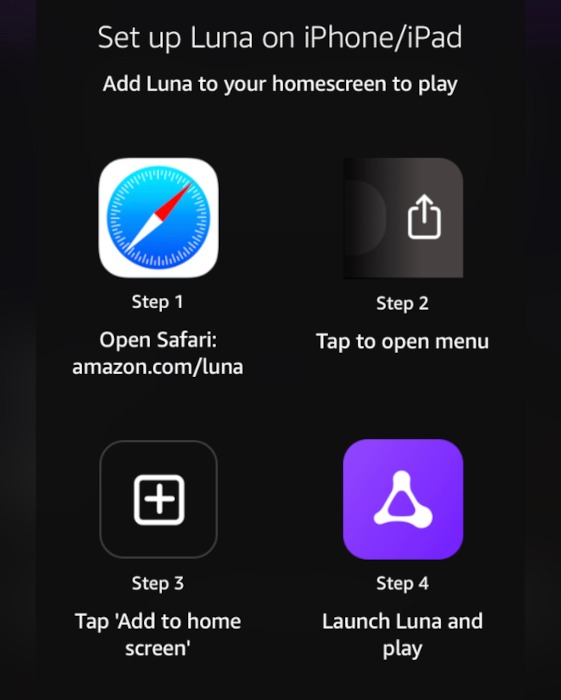 To play on the iPhone, iPad, and some Android devices, you will need to add Luna to your homepage first. Just open the Luna homepage through a Safari or Google Chrome tab and it will show you instructions of how to do just that.
What Controllers Can I Use?
Amazon's website specifically states that Luna supports Xbox One, DualShock 4, the Razer Kishi Mobile Game controllers and the good old-fashioned mouse-and-keyboard. Just plug them into your PC and play, or connect them to your device of choice through Bluetooth.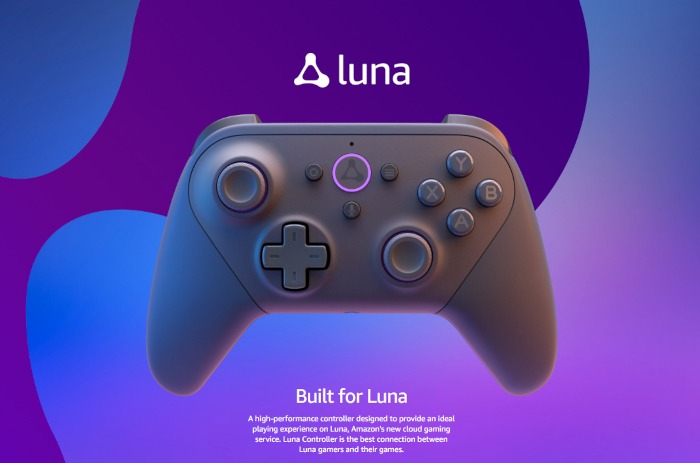 Luna also supports Amazon's own Luna Controller, along with a feature to turn your phone's touchscreen into a controller too. Both of these options are setup through the Luna Controller app which is required for the Luna Controller's setup and turning your smartphone into a controller. The setup instructions and app are found here.
While it may sound odd to need an app to setup a controller, there's a good reason for it. The app connects the Luna Controller to your router which will then connect it to the Amazon server you're using. According to Amazon, this reduces input lag by "17 to 30 milliseconds," which sounds like it could be worth it. Once setup is done, the app isn't required anymore unless you want to turn your phone into a controller as well. This Cloud Direct Technology is also the only way to use this controller with Luna on the iPhone and iPad.
If you're not interested in using their app, the Luna Controller also connects via Bluetooth. On PC, the Luna controller requires a driver which can be downloaded here.
Luna Couch is Amazing To Play With Friends
This is one of the coolest features, especially while the world continues to struggle with the pandemic.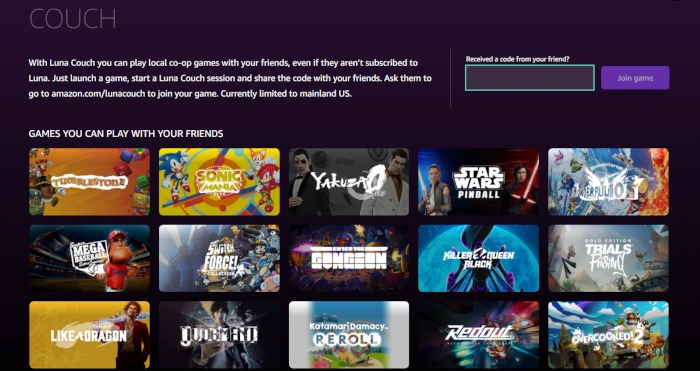 Luna Couch allows you to play with your friends even if they don't have a Luna subscription and regardless of how far away they are from you. To use Luna Couch just start a game, open the Luna menu, and select 'create a couch session.' Once that's done, there will be a code you can share with your friends. Your friends have to enter that code into their browsers, and then bam, they're playing in your game as if they were right next to you, which is perfect for games like Metal Slug 3 or Overcooked!
Want to read about some of the games on Luna? Check out the Best Fighting Games with Rollback Netcode and All Farcry Bosses RANKED.