When Adobe ended support for Flash in 2020 and began blocking Flash content in 2021, millions wondered how to play Flash games without putting their computers at risk. With so many security flaws, Flash was too dangerous to continue using, so most modern browsers don't even support it any longer. The good news is there are still several ways to play those nostalgic Flash games as often as you want without needing to enable or install Flash.
HTML5 has replaced Flash as a much more secure alternative. That means new games. If you want to move on from Flash, check out the best online HTML5 games to try in your browser.
1. Ruffle
Ruffle is a Flash emulator that allows you to safely play Flash games using a sandbox approach. Once installed, any Flash content on a site is safely sandboxed, letting you play to heart's content. Many websites that want to preserve the legacy of classic Flash games, already have Ruffle enabled on their site, so you don't have to do anything.
However, if you're visiting a site that doesn't have Ruffle enabled, add it to your browser. It's currently supported by Firefox, Safari, and Chromium-based browsers, such as Chrome, Opera, Edge, and Brave. It's also available for desktop use to play Flash games you've downloaded. Use Ruffle by doing the following:
Browser
Download the latest version of Ruffle for your browser.
Open the Ruffle extension in your browser. You should see an icon to the right of the address bar. Or, you may need to open the browser menu at the far right and select "extensions" or "add-ons."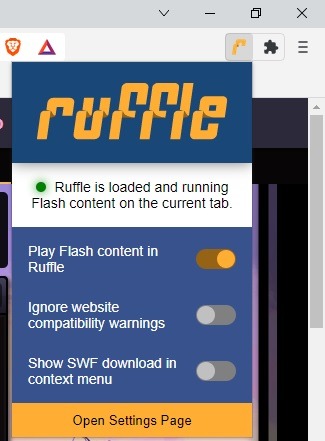 Ensure "Play Flash content in Ruffle" is enabled. You can also enable "Show SWF download in context menu" if you want to download Flash games.
Now, browse to a site that has the game you want to play and it should be unblocked now. Some sites that have their own Flash emulator or player may not work with Ruffle. Instead, you'll need to download that particular site's player, such as with Newgrounds, which I'll cover later on.
Desktop
Download Ruffle for your operating system. Windows, Mac, and Linux are supported.
Decompress the download and open the folder.
Select "ruffle" and choose an SWF file from your computer to start playing.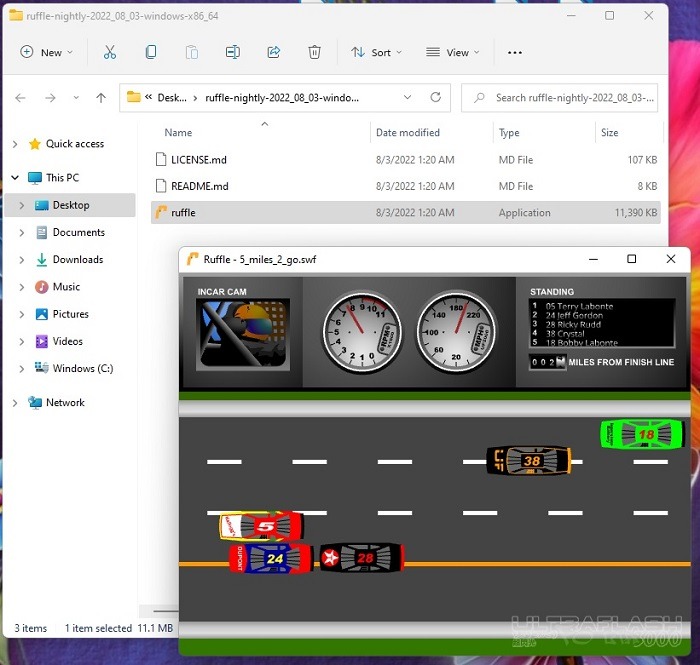 2. BlueMaxima's Flashpoint
One of the best ways to play Flash games is through BlueMaxima's Flashpoint. It's a Flash game preservation project. Since 2018, the project has managed to archive over 100,000 Flash games, along with more than 10,000 animations. The Flashpoint Secure Player doesn't cause security flaws in your system like Adobe's Flash Player. However, it's a simple, easy to use desktop player to play some of your favorite Flash games.
Flashpoint comes in two versions – Infinity (the smaller option) and Ultimate (a much large download). Infinity is just the player. You're able to download just the games you want, when you want. If you want the entire Flashpoint archive at once, download Ultimate. As a comparison, Infinity is 3 GB when extracted and Ultimate is 874 GB when extracted.
Download the version of Flashpoint you want. I'm using Infinity for this example.
Extract the files from the download. This is a self-extracting download, so all you have to do is double-click it.
Open the extracted folder and select "Start Flashpoint."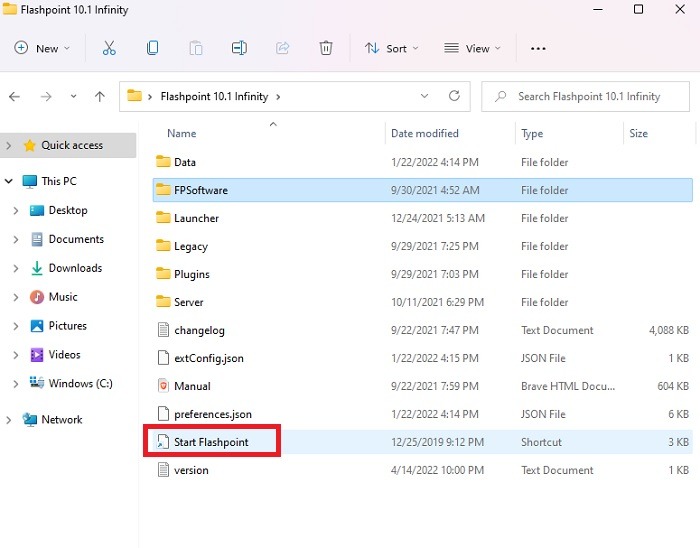 The home screen lists suggested random games to try. You can also filter by platform or just browse the Games section in the menu.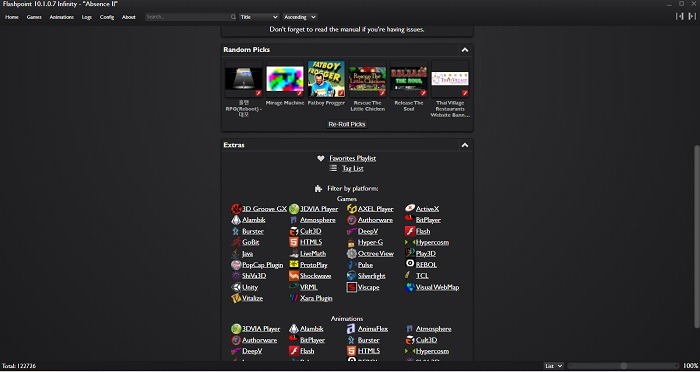 Once you pick a game, click "Play" in the right pane.
You'll be prompted to download the game. Once downloaded, it'll load in the emulator to start playing.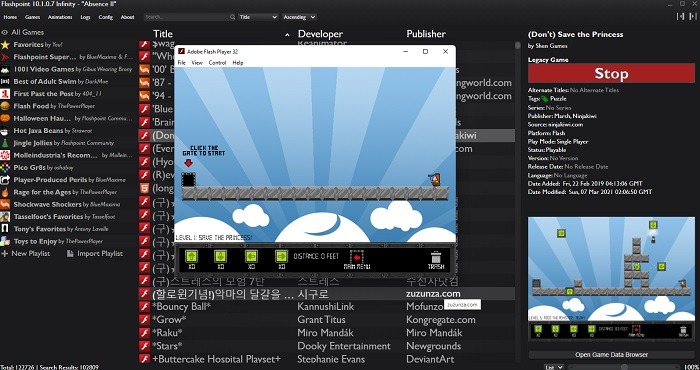 3. Internet Archive
Thanks to the Internet Archive, you can still play Flash games right in your browser without needing to install anything. You're also free to download the Flash games to play offline on your desktop using any player you want, such as Ruffle. However, Internet Archive uses Ruffle to emulate most of the Flash content to let you enjoy it safely in your browser.
You can visit the Internet Archive and search for the name of the game you want or browse by going directly to the Flash section. This includes games, animations, and more. The selection is far more limited than Flashpoint, but you also don't have to install anything, so that's a perk.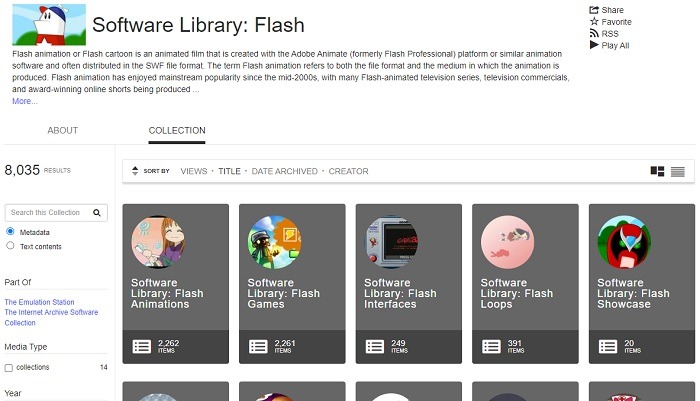 Select any game and click the "Click to Begin" button to start playing. Or view the Download Options on the right just below the game window.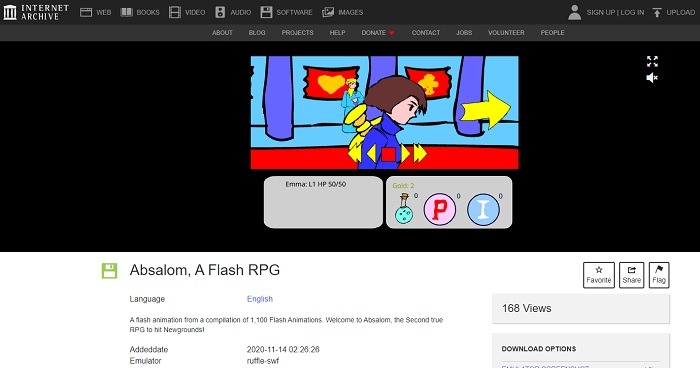 4. Newgrounds Player
Newgrounds.com used to be one of the best places to find the latest Flash games. Of course, all those wonderful Flash games are now blocked in most modern browsers. Some developers have created alternate versions, but for those that don't have a non-Flash counterpart, Newgrounds created the Newgrounds Flash Player. It's a desktop app for Windows that lets you open blocked Flash content on Newgrounds in the app. It's designed to not have the same flaws and it can actually play downloaded Flash content as well.
Download the Newgrounds Flash Player and install it.
Launch the player on your desktop.
Navigate to a blocked Flash game on Newsgrounds.com in your browser. I'm using The Company of Myself. You'll see a message below any blocked games saying "Launch in Newgrounds Player."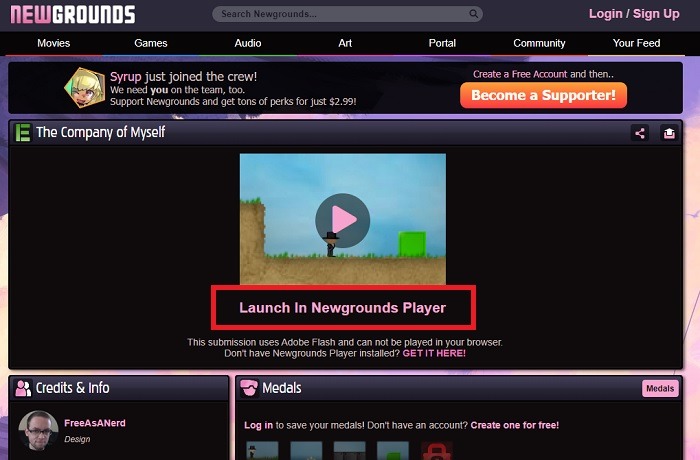 Once the player is installed, when you click the "Launch in Newgrounds Player" link, it'll launch in the desktop app.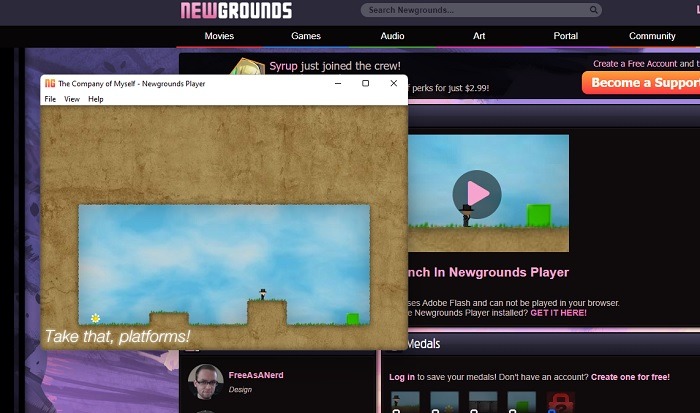 How to Play Flash Games in Your Browser
As mentioned earlier, many sites have installed Flash emulators or created their own to let you still enjoy classic Flash games in your browser without installing anything. You don't need to enable Flash in your browser or have a special desktop app. Just click and play. The selection varies greatly based on the site.
CrazyGames and Poki both have a nice selection of free Flash games to play. While Armor Games has a bigger selection, many of them don't work in Ruffle yet, which what Armor Games uses to emulate games in the browser.
For sites with Flash games that don't yet have an emulator or download option, you may still be able to download the game to your desktop and play it with a desktop emulator like Ruffle. For instance, on AGames.com, Flash games aren't supported in the browser. You get an error message like this one instead.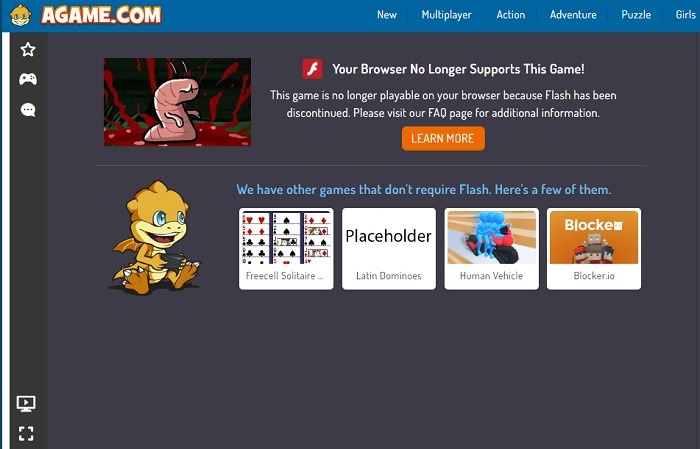 Instead of moving on, right-click on the page and choose "View Page Source."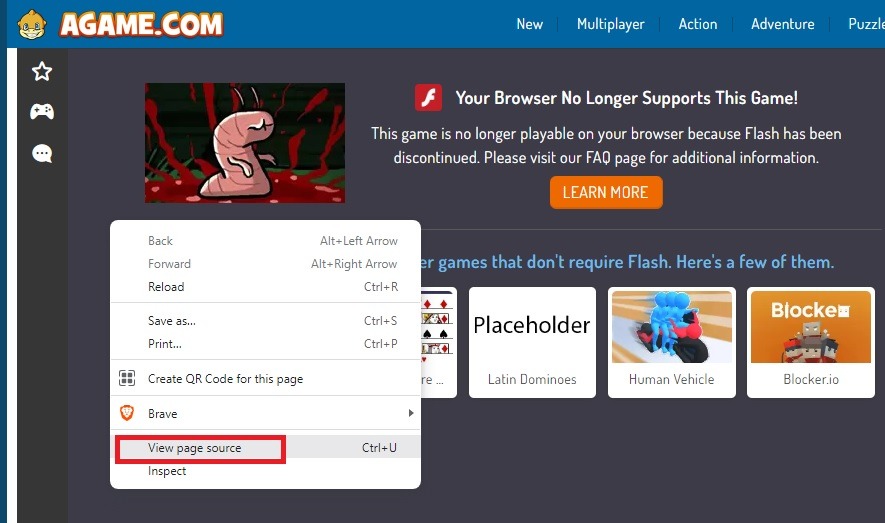 Press Ctrl + F or use your browser "Find" feature to search for "swf," which is the Flash extension. If the extension is found (though it might not always be), highlight and copy the URL for the file, like in the example below: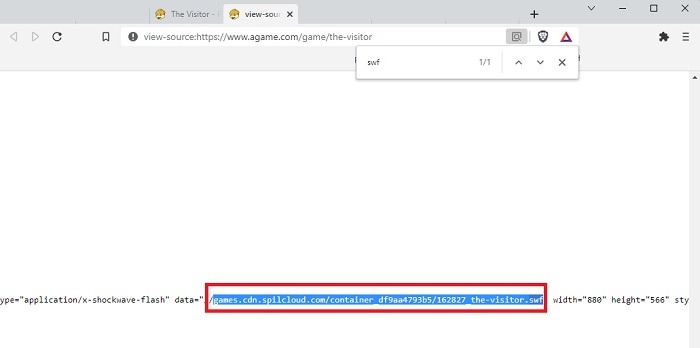 Paste this URL into an empty browser window. When you hit enter to visit the site, you should see a download window instead. Save the file and enjoy your game.
If you're not finding Flash games you like, try picking up some retro games online. Or, if you just want to kill time for a few minutes, try out these quick browser games. You could even play the best Pico-8 games.