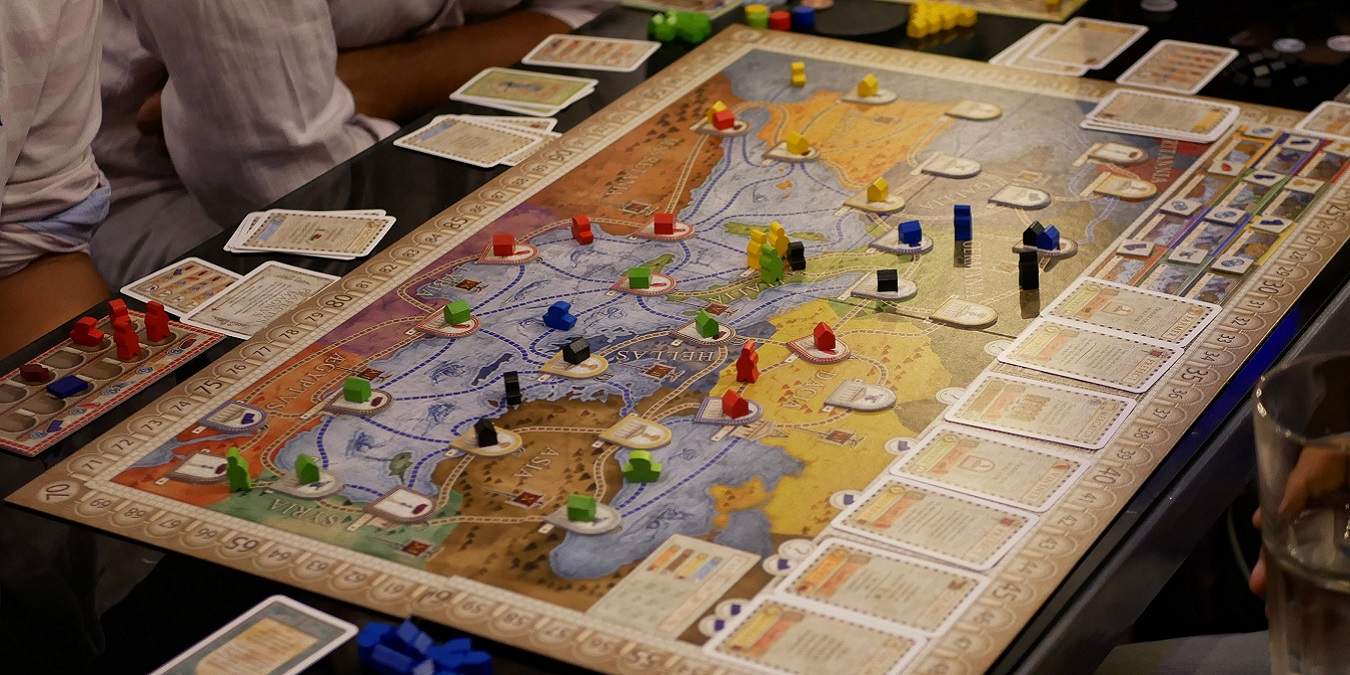 Sometimes, it's hard to get a tabletop gaming group together. Whether you live far apart or your friends and family just don't like the same games you do, you'll find plenty of options to play tabletop games online. Enjoy classics like Monopoly, strategy favorites like Pandemic, and even roleplaying games like Dungeons & Dragons. While some options are free, others cost a one-time or monthly fee.
Board Game Arena
If you're looking for an active community and large variety of tabletop games, Board Game Arena has you covered. With well over 300 games to choose from, there's something for everyone. Many games are free, but premium games, voice/video chat, and playing within the same house cost $2/month when paid yearly. This is cheaper than most of the games available on the site.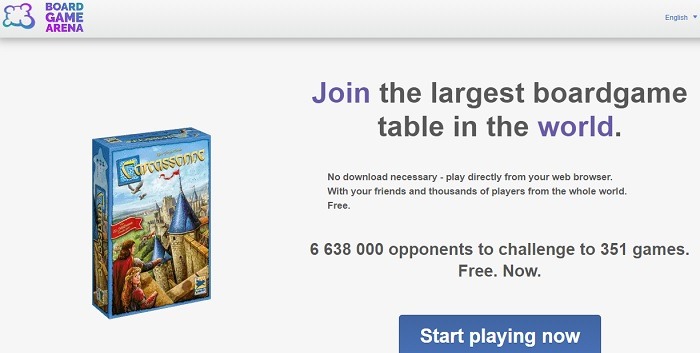 Invite people to a table, join existing games, or create a game and let community members join.
Tabletop Simulator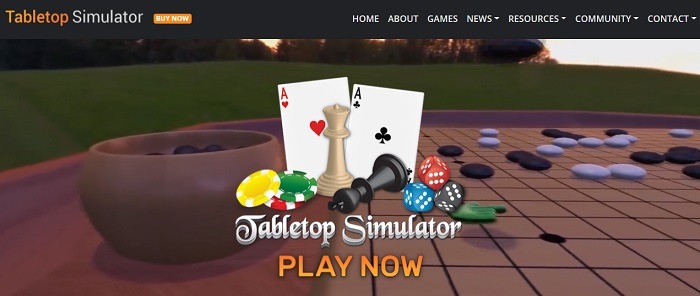 Tabletop Simulator is one of the best ways to play tabletop games online if you want a more classic tabletop feel. The only problem is you have to buy the Tabletop Simulator via Steam for $19.99 and each game separately ($3.99 to $14.99). This can make it cost more than many other options on this list. However, the graphics and experience may make it well worth it. There's even VR support.
Roleplaying Game Options
If you're into tabletop roleplaying games, there are several great online options to bring everyone together no matter where you're at in the world. Each one provides support for different game systems, such as D&D, Pathfinder, Forbidden Lands, and more.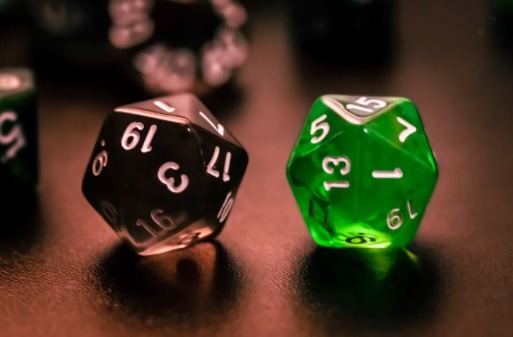 Some of the best options include:
Tabletopia
From simple to complex, Tabletopia has it all. With over 1,700 games available, it's one of the top sites to play tabletop games online. While some games are free, there are also premium games. The Silver ($4.99/month) and Gold ($9.99/month) plans gives you access to all games and additional features.

One thing that makes Tabletopia unique is you can also create and monetize your own board games. If you can't find a game that's just right for you and your friends, create your very own.
BrettspielWelt

While BrettspielWelt has a very outdated looking site, there's some surprisingly good tabletop games available. There are limited options, but they are free. Depending on the time of day, you'll find anywhere from a few thousand to around a hundred other players online. This makes it ideal if you want to find new people to play with. Use the translate option in your browser to translate certain elements of the site if necessary.
BoardSpace.net

You won't find any major names on BoardSpace.net, but you will find more general tabletop games. Play online or download the game engine to play offline as well. Everything is free to play. Invite friends or join a game in progress. There's even a option to check out the most active times to increase your chances of finding opponents.
Steam

Steam has a little of everything, including tabletop games. If there's a favorite you can't find anywhere else online, try Steam. While it won't likely be free, you'll get a high-quality online version to play with friends. Just make sure the games say multiplayer to ensure you're able to play with others.
Yucata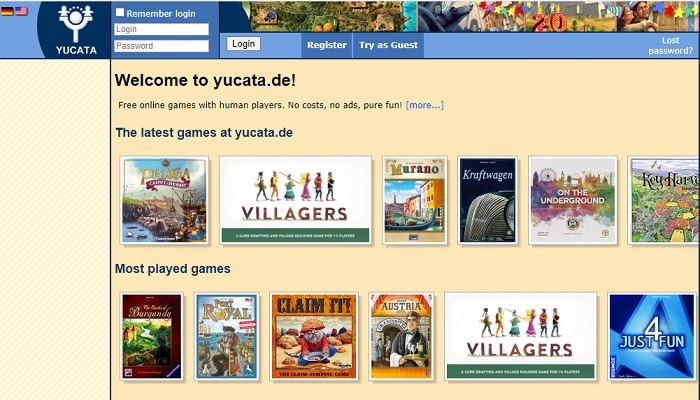 Yucata is one of the best sites to play tabletop games online if you want free and zero ads. There are currently over 170 games available, which is impressive for a free site. Try it out as a guest first and then register to play all you want. Join other players or invite your own friends and family.
Happy Meeple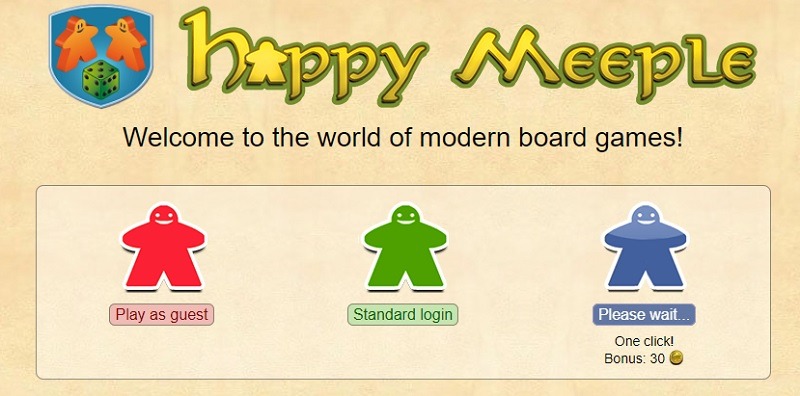 Despite a limited selection, Happy Meeple is a great place to play tabletop games online. Everything is free and there are even solo and 2-player options. The site prides itself on choosing award winning games and even has Catan and Ticket to Ride. You can choose to wait and get reward points or play instantly. Play against other players or the AI.
Other Options
Many games are only available on individual sites. If you're looking for a specific game, search for it using your favorite search engine. For instance, if you wanted 7 Wonders, search for "play 7 wonders online."
The Exhaustive List of Board Games You Can Play Online for Free is a consistently updated list of board games available to play online and where to find them. Some links are outdated, but the list owner tries to remove these links when reported.
Check out the sites above and find your favorite online tabletop solution to game night. Have other sites you prefer? Share them in the comments below.
Image credit: Wikimedia Commons/Valve