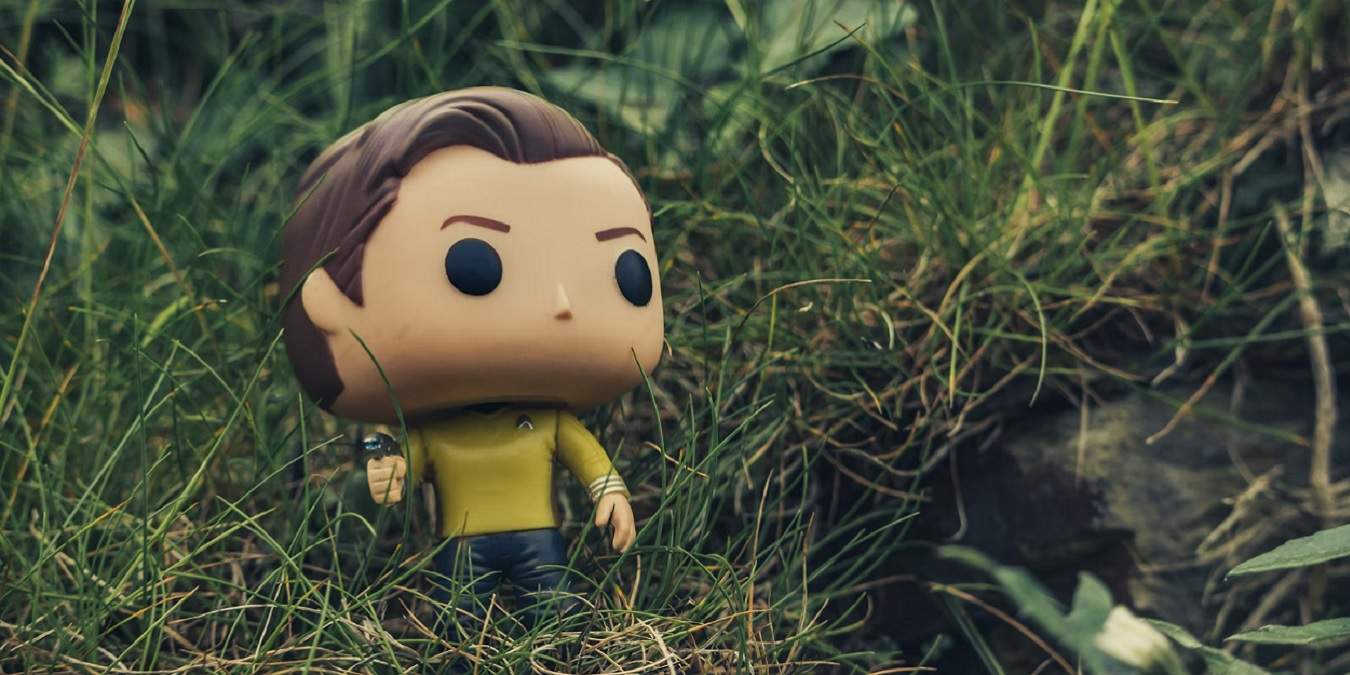 Finding fellow geeks who love the same fandom is as simple as wearing a t-shirt. Show off your geeky side and favorite fandom with the best women's geek t-shirts. Not only do they look great, but they're perfect for striking up conversations and debates, such as whether Star Wars or Star Trek is better. And remember, you can never have too many geeky shirts.
Geeks don't just love one thing or fandom. While you're here, check out gift ideas for fans of the show Supernatural and Pokémon lovers.
Star Trek Original Series Handwritten Speech Tee
Even if you've lived under a rock your entire life and never seen a single version of Star Trek, there are some lines that you've heard, such as "space – the final frontier" and "to boldly go where no one has gone before."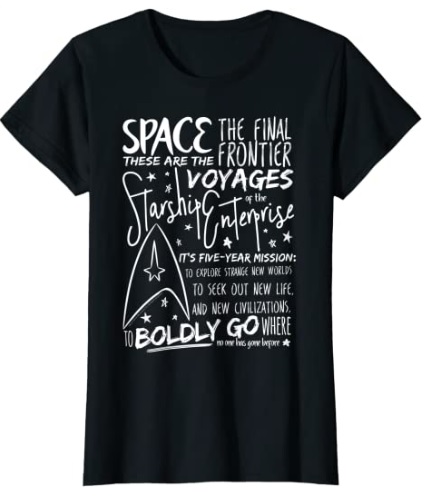 This Star Trek shirt features several quotes from the original series in various handwritten fonts. Any true fan will know every quote and don't be surprised if somehow flashes you a Vulcan salute when you're wearing it. Grab it in one of five colors for just $22.
I'm Not Procrastinating, I'm Doing Side Quests
Gaming is a lifestyle and whether it's tabletop RPGs or video games, side quests are a vital part of gaming. Of course, side quests are an important part of life too. That's what's so great about the I'm Not Procrastinating, I'm Doing Side Quests shirt. It's the perfect way to tell everyone that no matter what you're currently doing, it's an important part of the game known as life, even if that means skipping the daily grind for something more fun.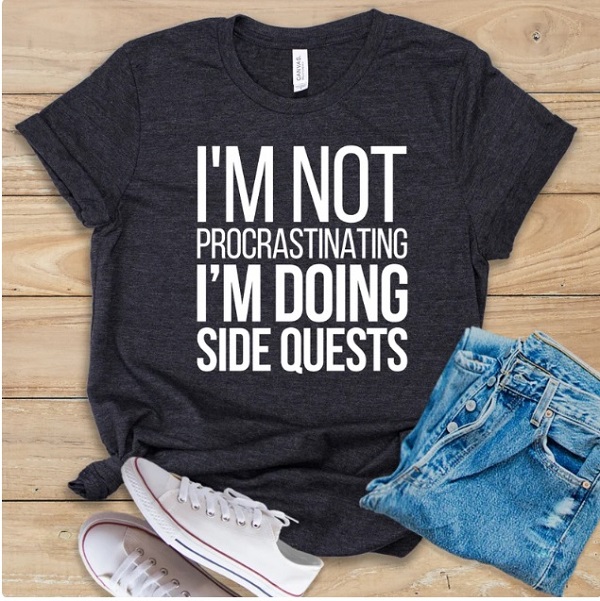 This Etsy shirt is available in black and grey and available in unisex, women's, and men's options. You can grab one yourself for just $20.
Star Wars Periodic Table of Elements
You can't have a women's geek t-shirts list without a Star Wars shirt. While there could be an entire list devoted to Star Wars, the Star Wars Periodic Table of Elements shirt is a perfect mix of Star Wars and science geekiness. Instead of scientific elements, this shirt lists characters and groups them by type, such as rebels, jedi, creatures, aliens, and more.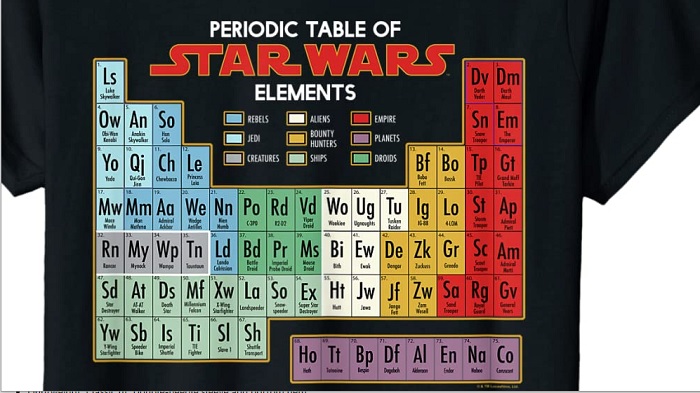 Grab this fun colorful shirt in one of five main colors for just $23.
Marvel Avengers Character Text
Instead of just having pictures of Marvel characters on it, this Marvel Avengers Character Text t-shirt spells out "Marvel" with each letter representing a main Avengers character. For instance, the "M" is for Hulk, while the "L" is Thor's hammer.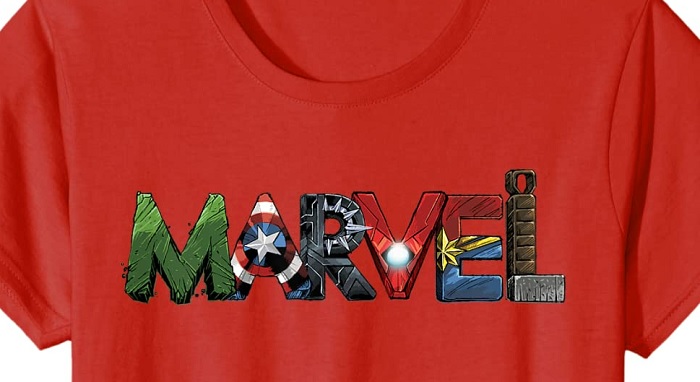 It's a simpler design, but somehow that makes it look even better. Besides, it's a great way to represent your love of all things Marvel versus just one character. Grab this shirt in one of eight colors for just $20.
Two Kinds of Nerds
There are a lot of different types of geeks and nerds, but what kind are you? The Two Kinds of Nerds t-shirt helps you quickly answer that question. It'll also help you find the right nerds to hang out with. What's the right answer to "May the force be…"?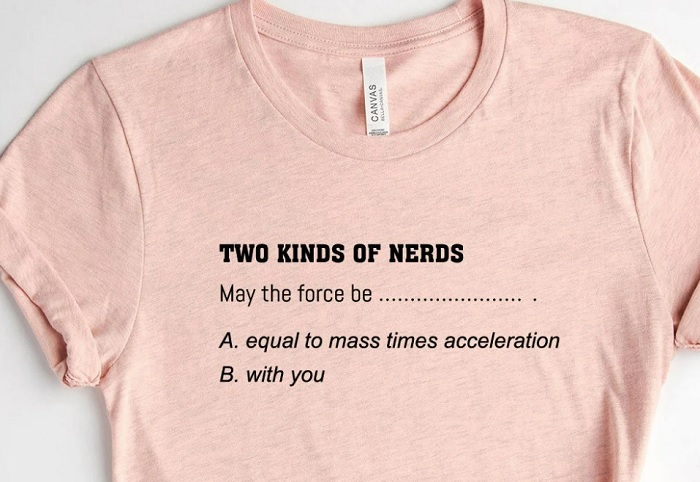 You're either all science with answer A or a Star Wars fan with answer B. Either way, you're a geek/nerd through and through and proud of it. Get this shirt in one of 13 colors, starting at $16.50.
I Solemnly Swear I'm Up To No Good
If you're more of a fantasy geek, it's hard to pass up this Harry Potter I Solemnly Swear I'm Up To No Good shirt. Featuring a wand, Marauder's Map footprints, and a broomstick, it's perfect for any Harry Potter fan. It's a surprisingly stylish shirt that's available in 21 colors and patterns. Tie-dye and heather varieties give you ample options to choose from.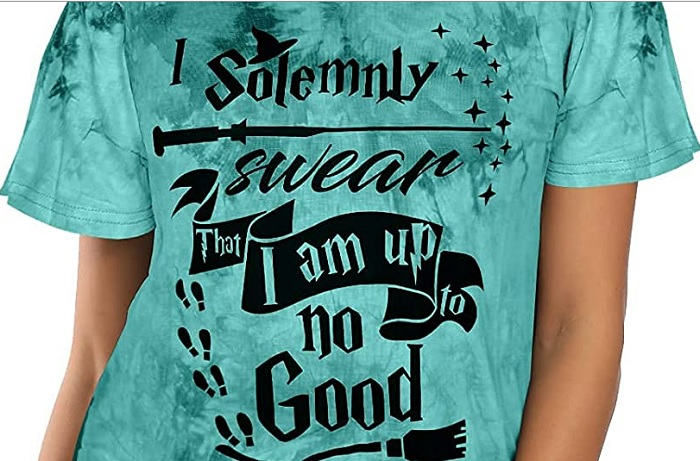 Even better, this is an incredibly affordable shirt, starting at just $9, with some options going up to $18.
DnD D20
What are the odds? Wait, don't tell me. I just might roll a 20. Okay, so that happens far less often that you'd like when you're desperately trying to win a major fight, but you never know when that natural 20 will give you a critical hit at the perfect moment. Show everyone that you don't care about the odds with this DnD D20 shirt.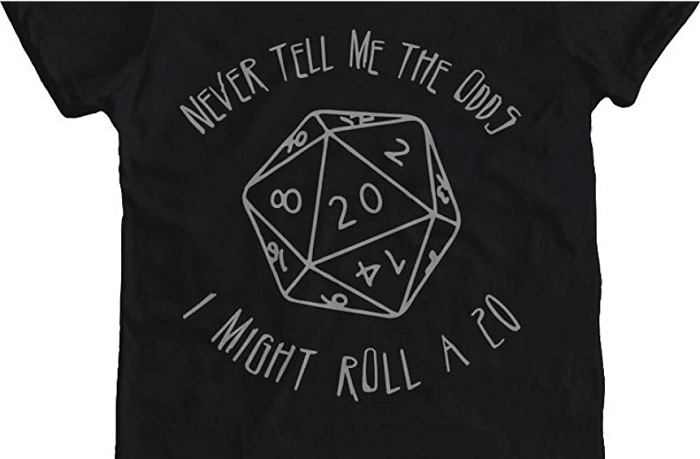 Get this shirt in one of three colors. Pricing ranges from $25-$31.
Sorry I'm Late Gamer T-Shirt
Sometimes, you've just got to keep playing. The Sorry I'm Late Gamer shirt one of the best women's geek t-shirts for any female gamers that are serious about saving their progress in their favorite games. After all, time flies when you're battling it out with other players or trying to save the world.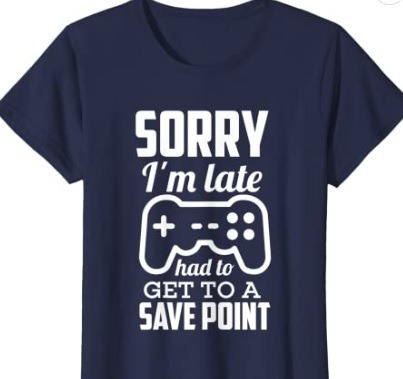 If you've ever lost track of time while gaming, pick up this shirt in one of five colors for just $20.
I 8 Sum Pi
For all the math geeks out there, the I 8 Sum Pi shirt will definitely make you and your fellow mathletes smile. The shirt features four quadrants, each with an equation or symbol that spells out I 8 Sum Pi. It's perfect to wear for Pi day, or just to show off your love of numbers. Either way, it's geeky and corny, which is always a great combination.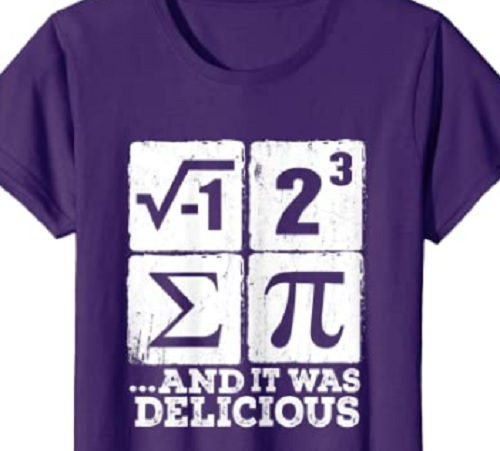 Pick up this shirt in one of 10 colors for just $19.
Super Who Lock
Hard to pick just one fandom? That's how Super Who Lock was born and why fans of Supernatural, Dr. Who, and Sherlock need this Super Who Lock shirt. Featuring elements of each fandom, this shirt reminds everyone to "grab the salt," "don't blink," and "text Sherlock." As a combo geek shirt, it's hard to beat this one.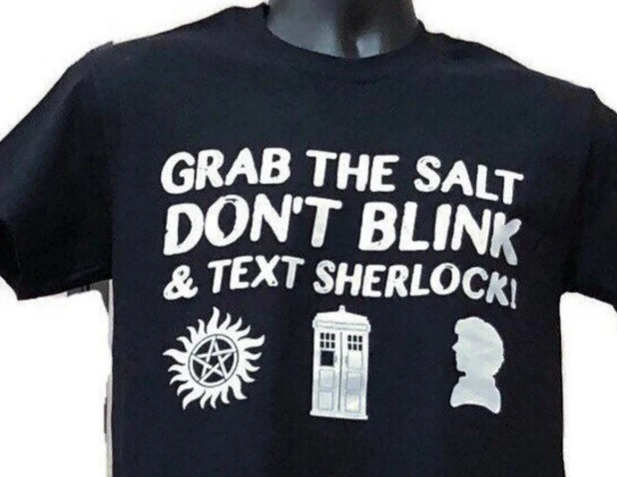 It's only available in a unisex fit in black. However, you can grab your own for just $22.
Looking for more geeky items for yourself or someone else? Try out these 31 great geek gifts or these gift ideas for superhero movie fans.
Image credit: Dom Talbot via Unsplash