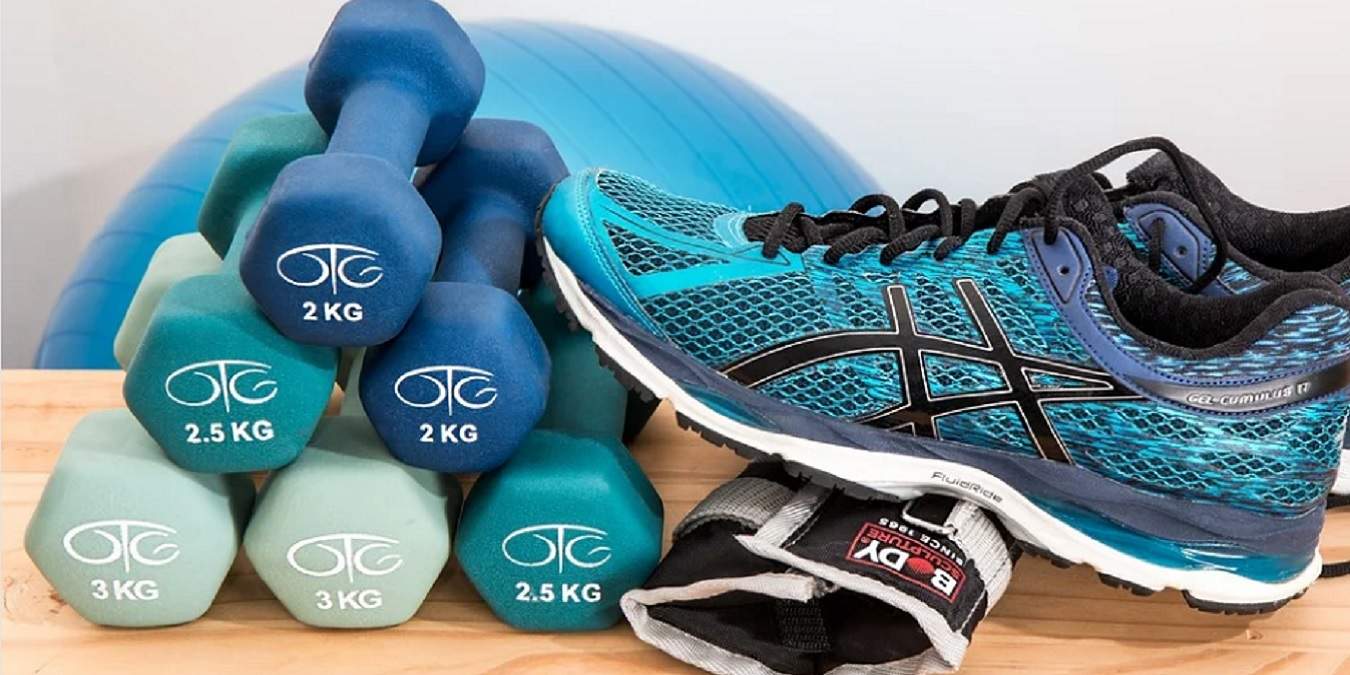 Who really has time to go to the gym to workout? Of course, on-demand videos at home are often just as expensive as gym memberships. Get fit, lose weight, and workout from anywhere just by going to YouTube. Try out some of the best YouTube videos to lose weight absolutely free and in the comfort of your own home.
Dog-walking is another great way to stay in shape. If you have a poochy pal, check out our list of the best dog podcasts you can listen to.
Intense Cardio | High-Impact | HIIT
Growing Annanas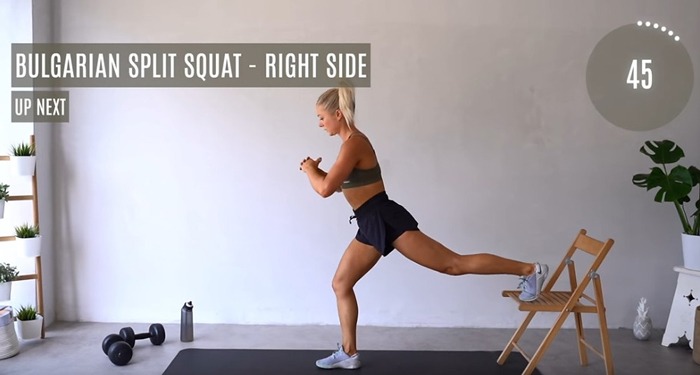 Few workouts are better for that fat-burning than HIIT, which involves high-intensity exercise usually of 15-40 minutes. You go full-pelt for 30 seconds to a minute, then a very quick break, then jump right into the next exercise. Many of the exercises on this channel are called "KILLER" workouts, and you'll soon find out why.
Her channel is split up into various challenges, such as the 7 Day Killer HIIT Challenge and the 28 Day HIIT It Hard Challenge, which makes it nice and adaptable depending on how much time you have.
Fitness Blender
With over 500 free workout videos, you'll find a variety of cardio, HIIT (high intensity interval training), and targeted workouts to help you reach your goals. This channel has some of the best YouTube videos for weight loss and there aren't any annoying gimmicks either. They also have a Facebook group for additional support.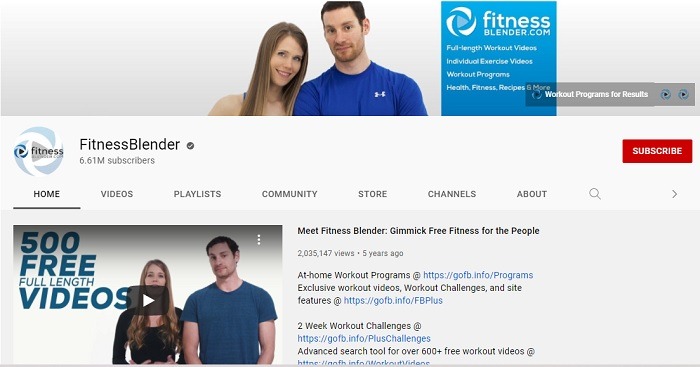 If you're not familiar with HIIT, it's a cardio workout, but a bit more intense. Any type of cardio works with HIIT, but you go at a high intensity for 30 seconds to three minutes before having a slower or rest period. It's highly effective, but if you're just getting into exercise, keep your intense intervals shorter at first.
HASfit
No matter your age, body type, or current fitness level, HASfit has something for you. From completely beginner workouts to more intense HIIT routines, you'll definitely drop the pounds with these videos. Most workouts range from 5-30 minutes, so it's a low time commitment.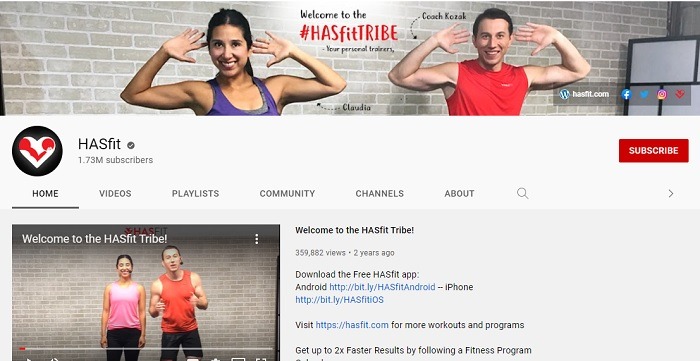 The energetic instructors keep you motivated, even if you really would just like to sit down, grab a snack, and binge watch your favorite show. Plus, I like there are multiple instructors, so you don't get bored if the same person over and over again.
POPSUGAR Fitness
If you like high-energy exercises, you have to check out POPSUGAR Fitness. It's one of my personal favorites for all the dance workouts. Most workouts are 30-60 minutes, and the channel also features yoga and barre workouts. It's a great feel-good channel to help motivate you.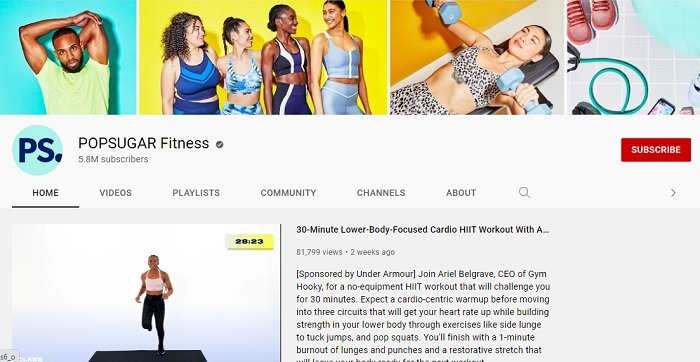 If you're new to barre, all you need is a chair or even low desk or counter. These are the types of exercises you might see in a ballet class where they perform stretches on the bar along the wall. Don't worry if you're not super flexible. You can easily work your way up from stiff as a board to Gumby flexy.
Low-impact | Light Cardio
Holly Dolke
If you want quick workouts, try Holly Dolke. She posts a variety of targeted and full-body workouts that are usually around 10 minutes each. This makes it easier to get fit no matter what your crazy busy schedule might be.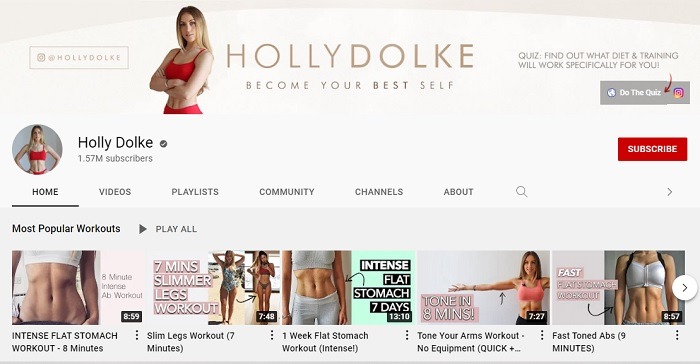 I love that she has no-impact workouts, including a walk at home series, that are ideal for everyone. Since their easy on your joints, they're perfect for beginners, anyone with arthritis, seniors, or anyone who wants a calmer way to get fit without worrying about injuries.
Body Project
Your weight loss workout journey has to start somewhere, and the good folks at Body Project know that. With a focus on low-impact cardio and plenty of videos designer for beginners (their 30-minute and 25-minute low impact fat burns rank among their most popular content, so it makes sense they've doubled down on that stuff).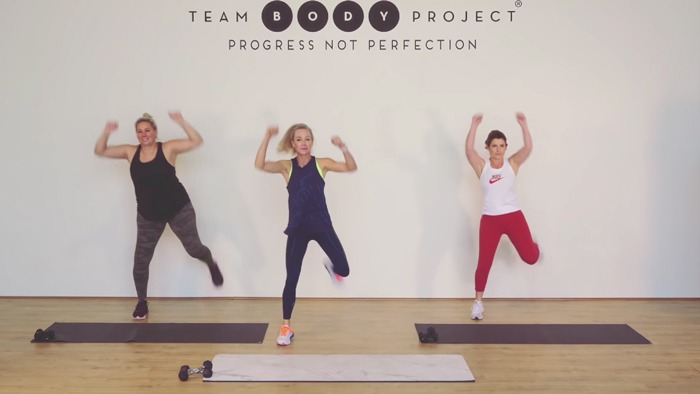 The output of this channel isn't particularly prolific, putting out a new video every month to every few months, but seeing as it's been going for seven years, there's a huge backlog for you to jump into, and by the time you get through it you can create your own playlist of your favorite content from them.
For more advanced workout heads, Body Project features quite a few HIIT cardio workouts, which cram maximum intensity into relatively short (20-30-minute) time chunks.
Beatrice Caruso
It can be a little alienating, even intimidating, to watch workout YouTube channels designed for weight loss presented by all these people whose weight loss journey is already complete (if indeed they ever had to actually make that journey in the first place, as opposed to maintaining their already svelte shape).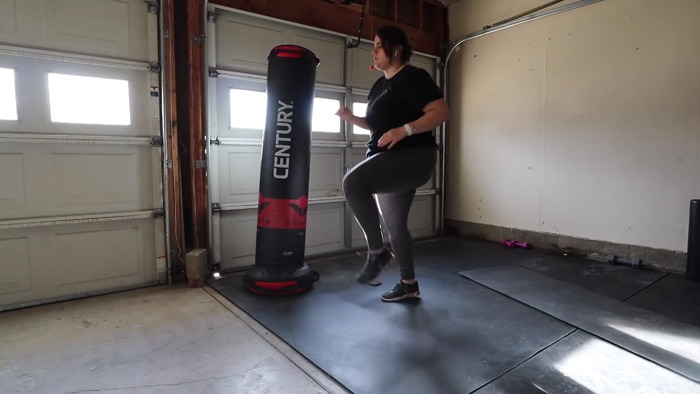 Beatrice Caruso gives a much more human take on that journey, as viewers join her own her own quest to lose 100 pounds using a combination of CICO dieting and exercise. A key thing here is personality: her channel is more of a vlog than a workout channel, though she's always linking to the workouts and challenges she herself does, as well as posting CICO diet-friendly recipes and giving updates on her weight.
At the time of writing, she's shed 80 of the 100lbs she's aiming for, and could prove a great inspiration in your own weight loss journey.
Walk at Home by Leslie Sansone
If the idea of fast cardio and dance workouts make you want to curl up in bed instead, try out something a bit simpler.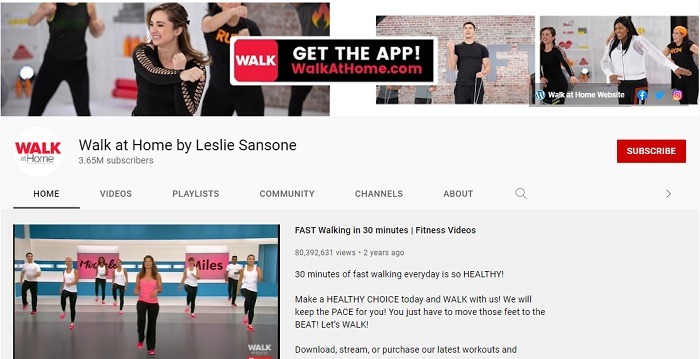 Walk at Home by Leslie Sansone has some of the best YouTube videos for weight loss. As the name implies, these are all walking exercises that mix up walking with various other movements and even resistance bands. It's a great entry point for anyone just starting to get back into exercising after a long lay-off, injury, or pregnancy.
Achieving your fitness goals doesn't have to mean getting stuck in traffic while heading to the gym or putting yourself through the torture of intense bootcamps. Instead, just pull up YouTube and find the perfect exercises for you.
Yoga | Pilates
Yoga With Adriene
Life's stressful and yoga classes are expensive! That's why I fell in love with the Yoga With Adriene YouTube channel. She adds new videos every week to help you learn and practice yoga. Even if you're a complete beginner, you'll find it easy to get started with her beginner series. Plus, every routine is designed to help you relax, find balance, get healthier, and lose weight.
What's great about her channel is she doesn't expect you to be a yoga master already. Her videos aren't overwhelming and she focuses on more than just the exercise element, such as her RESET series for taking some time to yourself. Overall, it's just an highly approachable and friendly channel that actually makes yoga simple and fun.
Blogilates
Mixing cardio and pilates, you'll find some of the best YouTube videos for weight loss through Blogilates. The channel's been around for over a decade and is still going strong. There are also healthier eating videos that are surprisingly easy to implement in your daily life.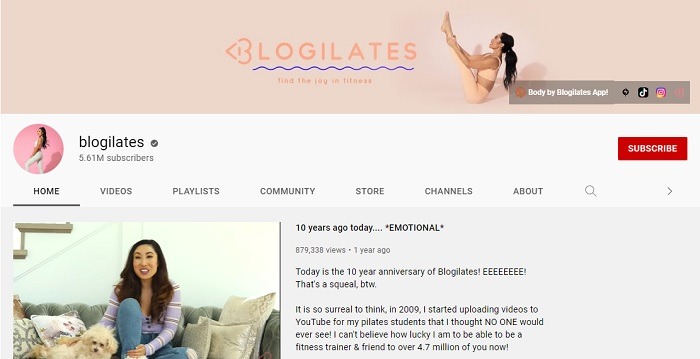 What I love is there are playlists dedicated to firming and toning up common problem areas. Anyone else hate the idea of getting flabby arms? From arms to thighs, this channel helps you tone it all, including getting a firmer booty. The 12-minutes to toned series is absolutely amazing if you're crunched for time. Pun totally intended.
Dance | Cardio
BeFiT
Get started with BeFiT's 30-day fat burner challenge that consists of concise 10-minute workouts. You'll find a large variety of shorter workouts, such as the 7-minute full body workout. Cardio and dance videos add a fun element that makes exercise a little more fun and a little less daunting.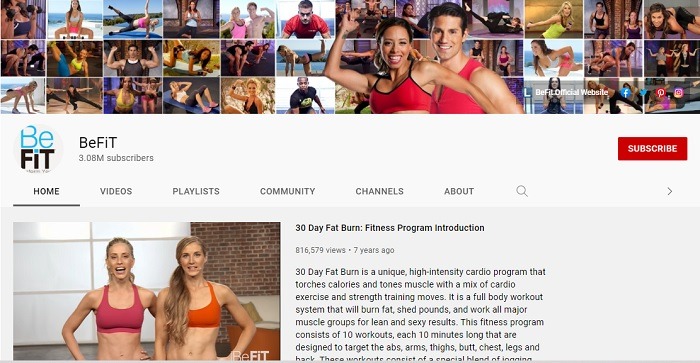 Instead of feeling like working out, it just feels like dancing to your favorite songs. If you're like me, I hate the whole bootcamp-barking-orders type of fitness. I just want to get fit and enjoy myself.
Tiffany Rothe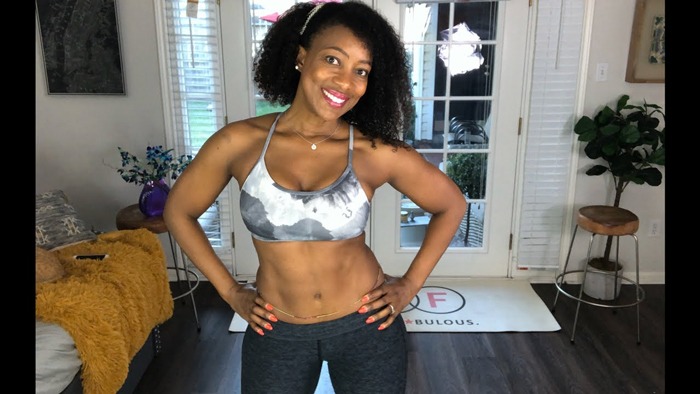 Where some weight loss channels on YouTube can feel a little sterile, Tiffany Rothe invites you right into her world. Her workout routines – which range from 10 to 40 minutes usually – take place right in her living room, giving it the feel of going over to a friend's for an exercise class.
A lot of Rothe's routines focus on sculpting, and with over 25 years experience in the PT and mindset coaching space, she's a great person to accompany you on your exercise journey.
Her channel is divided into different playlists like Fabulous Fat Burning Workouts and Bombshell Bootie Shaping Workouts, so whichever part of your body you want to focus on, she's got you covered.
MadFit
No space? No problem. MadFit features workouts designed to work even in small apartments. Forget sweating to the oldies. This channel uses current hits to get you moving to the music. Targeted, full-body, and dance routines give you plenty of variety so you never get bored.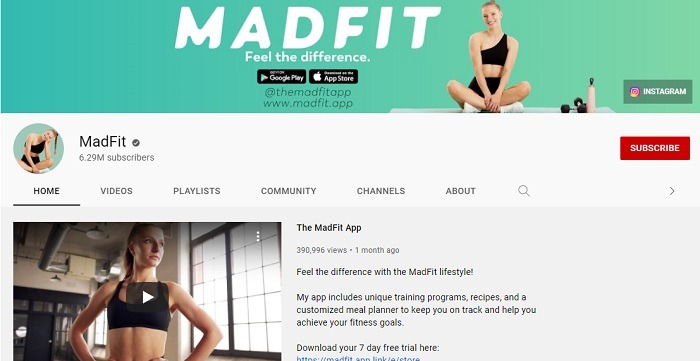 You really don't need much space for these. Most workouts, outside of the dances, fit on your standard yoga mat, which you might want to get to have better traction. Otherwise, just give yourself several feet around you to bounce, jump, and dance your way to the body you've dreamed of.
305 Fitness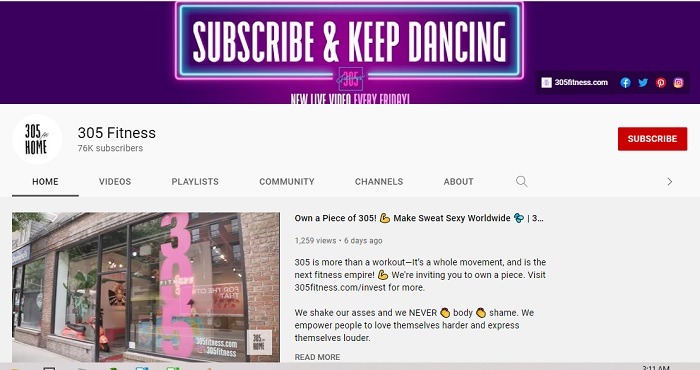 Want the experience of a fitness class without having to get all sweaty in a room full of strangers? Try 305 Fitness. They feature some of the best YouTube videos for weight loss. Workout live every Friday or dive into their growing library of cardio dance videos. Everyone's welcome – so dive in, let go, and have some fun. It's easily one of the most energetic channels on YouTube.
Once you have the routines down, why not exercise while watching movies? Try out some great feel-good movies or catch up on some of the best Netflix original movies.