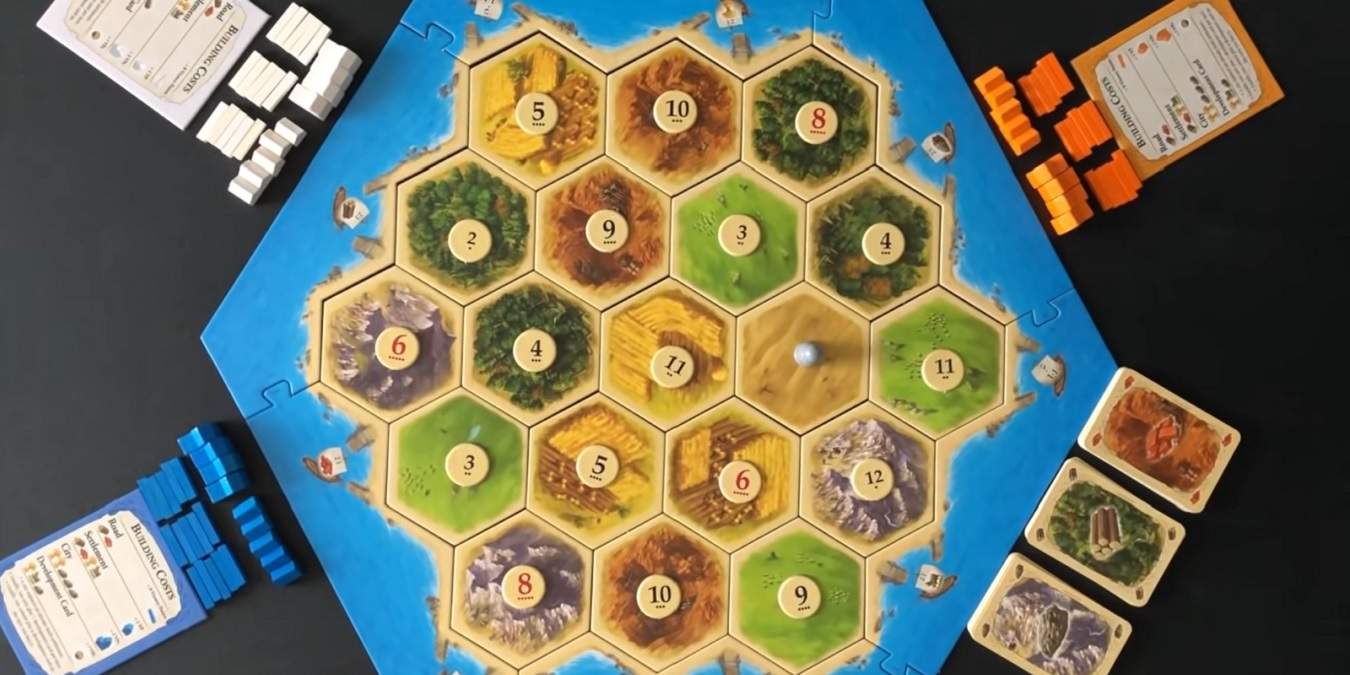 Many people associate 'gamer communities' with video-gamers, but there's more than one kind of gamer, people! What about those of us who love sitting around a table, laughing and trash-talking each other while playing physical board games? Don't worry, there are plenty of online board game communities to get game recommendations, discuss strategies, and find people to play with, both online and offline.
While you're here, check out the best free online board games you can play.
1. BoardGameGeek
One of the absolute best online board game communities is BoardGameGeek. Not only is the site constantly updated with news about games and designers, the forums are incredibly active. Discuss anything board-game related, from favorite games to designing your own. There are also sections for digital board games. You can even just chat with other gamers to find people to play with online or even locally.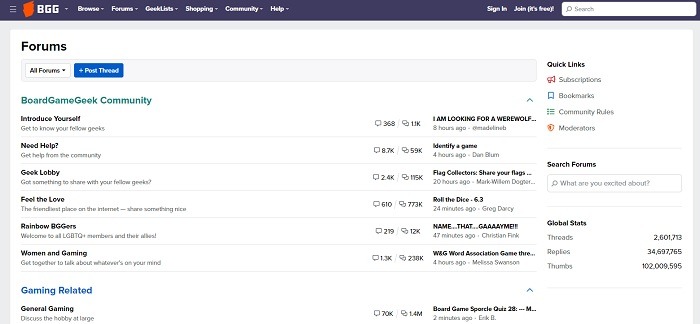 The community here ranges from complete tabletop beginners to veterans. However, everyone's helpful and just wants to have a great time. I'd also recommend checking out the GeekLists for user-generated lists of games.
2. Board Game Atlas
Board Game Atlas is similar to BoardGameGeek, but you'll find fewer articles and more board game deals on the homepage. However, if you want to connect with other gamers, check out the forums. While it's just one long feed, you'll find active discussions on recommendations, strategy (such as what game mechanics to avoid), and general advice, such as the best ways to learn and teach board games.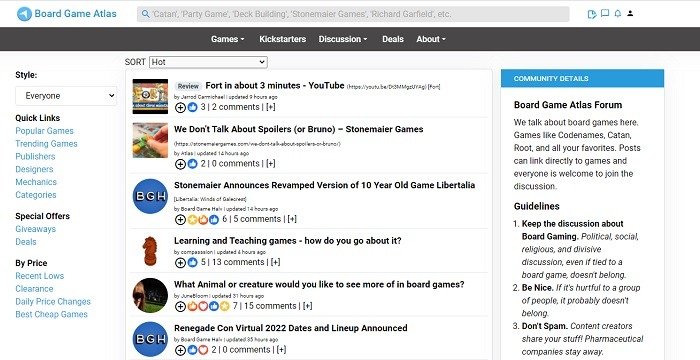 It's a fun place to discuss games, and especially useful for finding the best deals on new games.
3. r/BoardGames
As you may already know, there's a subreddit for nearly any topic. This includes the incredibly popular r/BoardGames subreddit. Get news, game recommendations, game con updates, tips/tricks, and pretty much anything else related to board games. With over 3.5 million members, you'll find plenty of other gamers to talk with.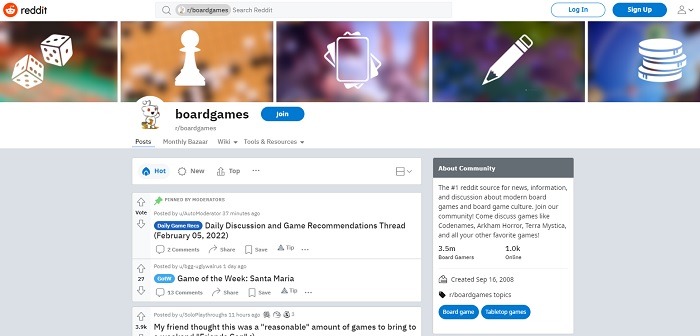 It's also the place to go if you want to show off your board game collections, such as this friend who brought way too many games to a weekend gaming session.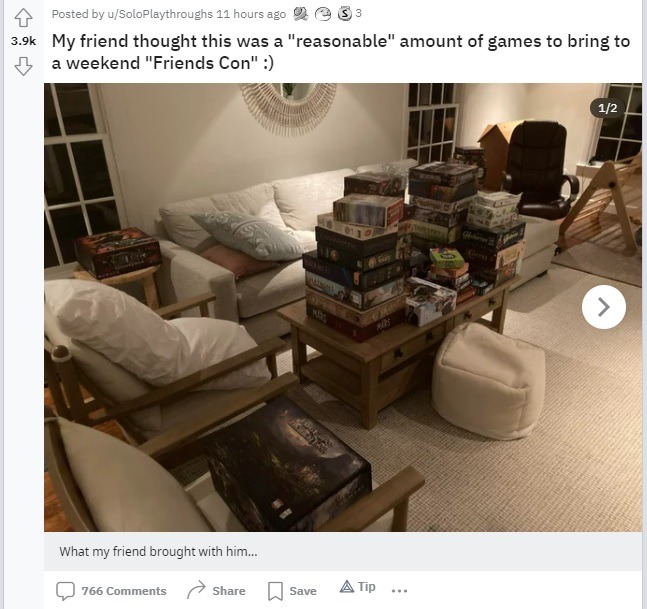 There are in-depth discussions about what makes people love or hate certain games along with talking about your favorite game experiences.
4. r/SoloBoardGaming
If you're having trouble finding people to play with, check out r/SoloBoardGaming. Believe it or not, you can actually play many board games on your own. This includes games that may originally be meant for multiple players and the growing number of single-player board games. Users often post gameplay images and experiences, such as this session playing Under Falling Skies and this session playing Spires End.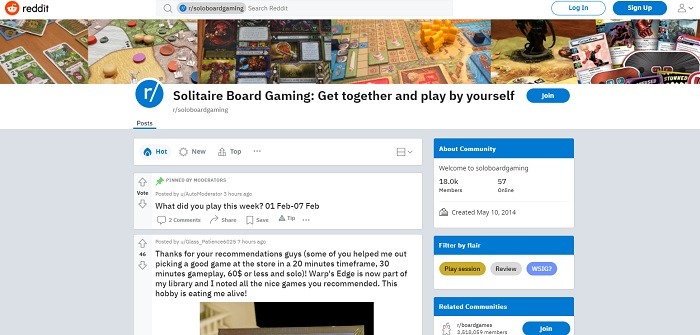 If you're looking for ideas on best solo board games or how to rework certain games to play by yourself (which is also a good way to learn before teaching others), browse this subreddit or ask a question of your own.
5. There Will Be Games
There Will Be Games (TWBG) provides game reviews and board game advice. But, if you'd rather interact more, the TWBG Forums are perfect for finding game recommendations. These forums aren't quite as active as some of the others on this list, but some threads that were created over a decade ago are still going strong, such as What Board Game Have You Been Playing and What Board Games Are You Buying.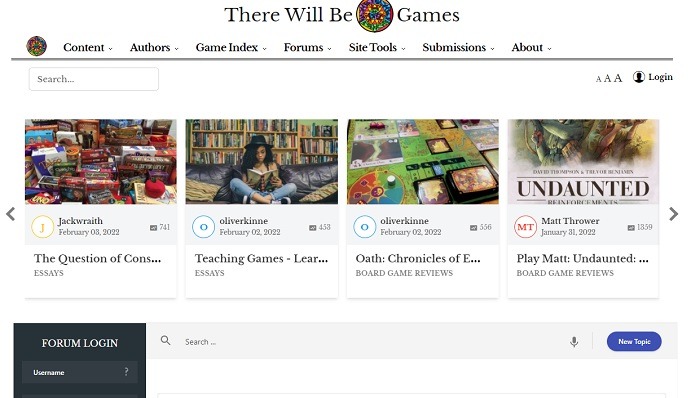 You'll also find a thread for helping you find fellow Board Game Arena players. Board Game Arena is for playing popular board games online.
6. Shut Up and Sit Down
Shut Up and Sit Down is an active Discord server all about board games. Talk with other users about board games they're currently playing, best print-and-play games, and general topics such as crowdfunding games. There are over 3,500 members, so if you have any questions or comments, someone's likely to respond fairly quickly.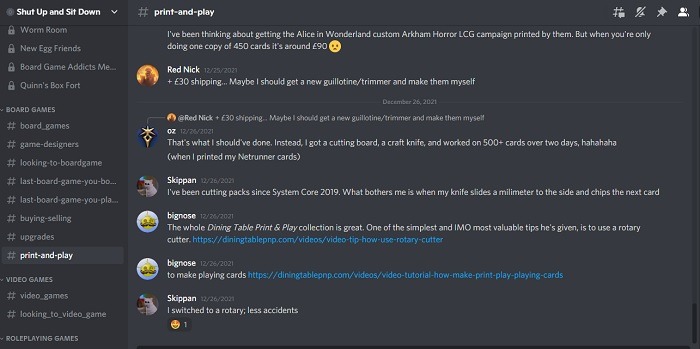 In addition to standard board games, there are sections for RPGs and video games. So, if you're not a huge board gamer but love RPGs, you'll find a comfortable place here.
7. Connecting With Local Players
Online board game communities let you geek out talking about your favorite hobby, but what if you just want to find some people to play with and places to play in your local area?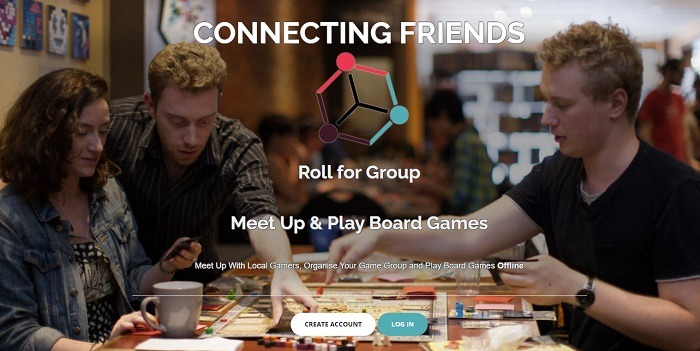 Luckily, there are multiple places to find local board gamers to share favorite games, try out new ones, and even start up a regular group:
Roll for Group – This is one of the best sites to find players in your area, places hosting board game events, and even just chatting with other players. It's free to join, but you can subscribe for extra features.
Meetup – While Meetup isn't just for board games, it's the go-to site for finding local groups and events for almost any interest, including board games. I personally found several dozen game events and I live in a small town.
Facebook – From just asking people on your friend list to joining board game or community groups, Facebook can help you connect with local board-gamers.
Local library or game shop – If you have a local library or game store, check to see if they host any game nights or will allow you to host one.
Need some recommendations for tabletop games for your next game night? Check out this list of best tabletop games. If you're between game sessions, try out some of the best Steam games of 2021 or give some of these Nintendo Switch multiplayer games a shot.