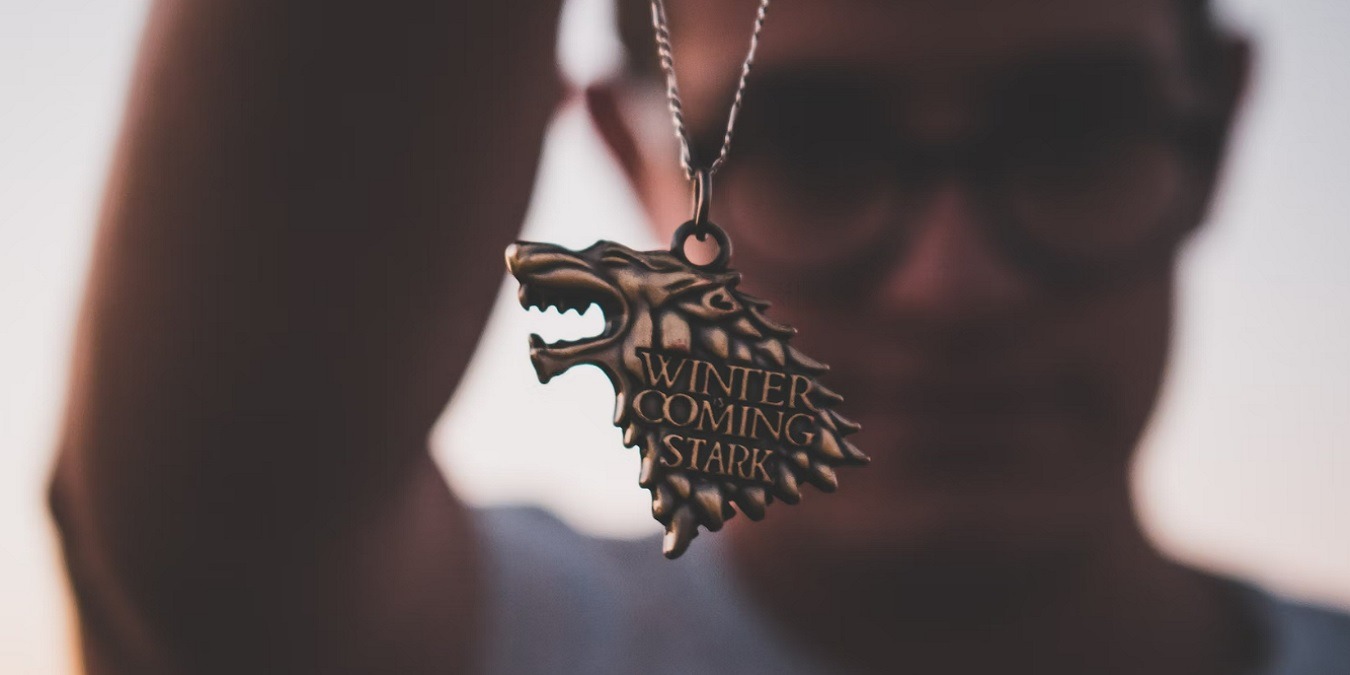 Winter is coming and so is the gift giving season. Luckily, if you have any Game of Thrones fans on your list, just get them some themed gifts of their favorite books and shows. From clothing to games and everything in between, there's something perfect for every fan. Plus, when they open your gift, it'll definitely be their favorite since you obviously know them so well.
Think you know everything there is to know about GoT? You might just be surprised by these 10 things.
1. Game of Thrones Leather Box Set
Paperbacks are nice and all, but every true Game of Thrones fan needs a durable leather-back set. These not only look amazing, but fit well in the hand. The colorful covers ranging from light blue to red to represent fire and ice instantly add class to any bookshelf.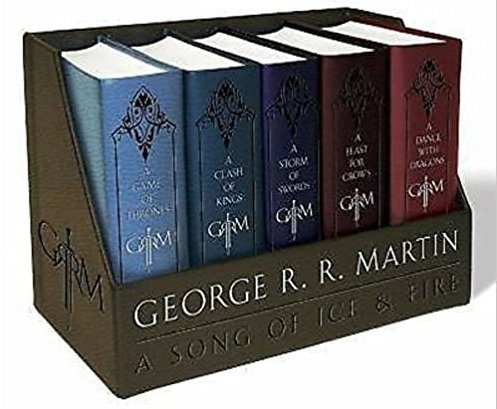 And, for the fan who might have watched the series but hasn't read the books, it's the perfect set to inspire them to read the stories that spawned the epic series. It's also a steal for just $75. Of course, if you're looking for something a little cheaper, check out the paperback set for just $26.
2. HBO Game of Thrones Trivia Game
One of the best gifts for Game of Thrones fans is the HBO Game of Thrones Trivia Game. It features questions from the first four seasons for just $60. You can add on the season 5-8 expansion pack for $16. Both the base and expansion sets include 1,200 questions each, so you'll get hours and hours of play.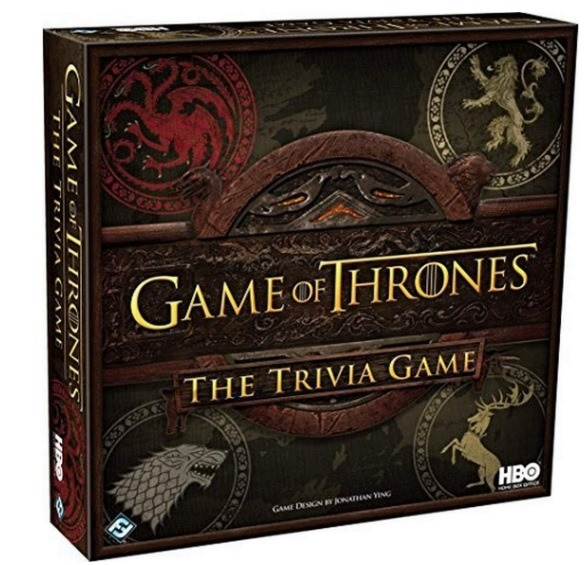 This is the perfect gift for couples who both love the series. Or, if you know multiple fans, gift one of them the game and have a major trivia night to see who's really a fan and who's just a wannabe. Think of it as your own battle for the throne, albeit a little less cutthroat.
3. A Feast of Fire and Ice Cookbook
Create your own feast worthy of Winterfell with the A Feast of Fire and Ice Cookbook for $17. For any Game of Thrones fans who love to cook, you can't beat this gift. It features 100 recipes categorized by region, such as King's Landing, The Wall, and Dorne. Full color photos, entertaining guides, and passages from the books help the cook create a more authentic experience.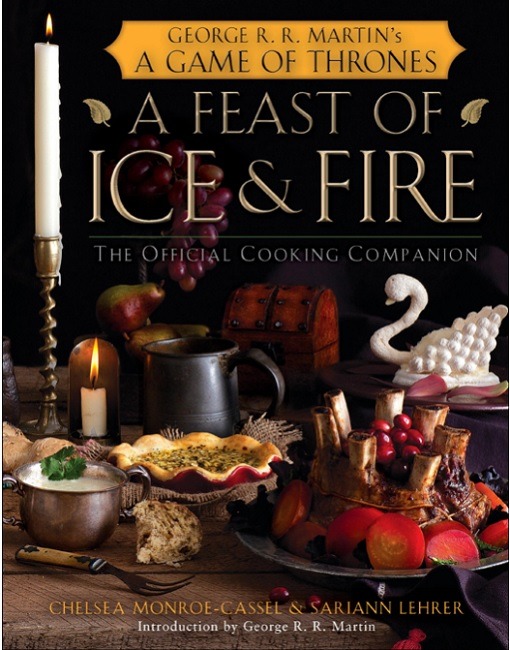 Sure, ingredients might come for the local supermarket versus foraging in the cold for food, but either way, any meal from this cookbook will instantly make you feel like part of the series.
4. House of Stark 3D LED Lamp
The House of Stark 3D LED Lamp is one of the inexpensive gifts (just $16) for Game of Thrones fans, but still looks amazing in any room. Easily place it anywhere thanks to a dual-power option – use batteries or a USB cable. The included remote control lets you turn it off from a distance and change the color between one of 16 options. You can even alternative colors.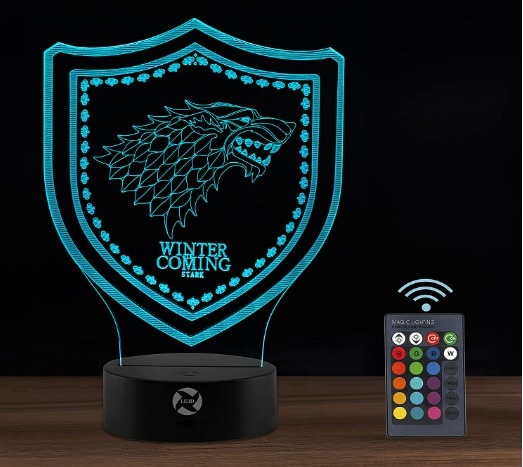 It features the iconic House of Stark sigil. It'd make a great addition to any entertainment or game room. Or, just use it as a perfect way to light up a Game of Thrones collection.
If you're looking for something more mature, try the Rabbit Tanaka Game of Thrones Table lamp that features the throne as the base and a map of Westeros as the lamp shade. It is a pricier at $80.
5. Game of Thrones Map of Westeros
Every Game of Thrones fan will immediately recognize the map of Westeros on this t-shirt. Designed for both men and women, the detailed map stands out against any of the six available colors. And, luckily, all the colors are light, so if you happen to have a dire wolf at home that sheds a lot, you don't have to worry about the hair showing, unlike a black tee.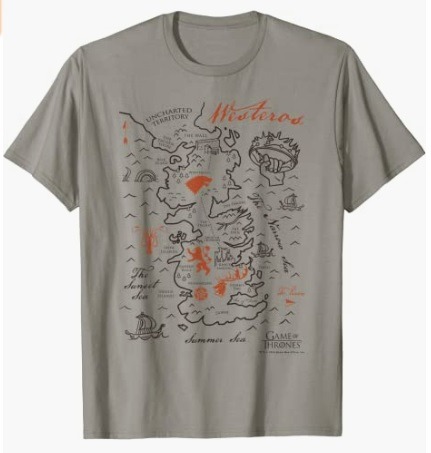 Surprisingly, the shirt is just $22. So, it's a great gift for any occasion. Or, maybe you just want to order yourself one and make your friend jealous.
6. Game of Thrones Group Shot Pop Art Figures
Have a friend that loves POP! figures and Game of Thrones? Then, they'll love this group shot of all the main characters as POP! figures that's just $20. It's cute and features 16 characters on the same shirt. You'd be hard pressed to find any other shirts that represent everyone quite as well. Plus, you can get it for men and women in one of four darker colors.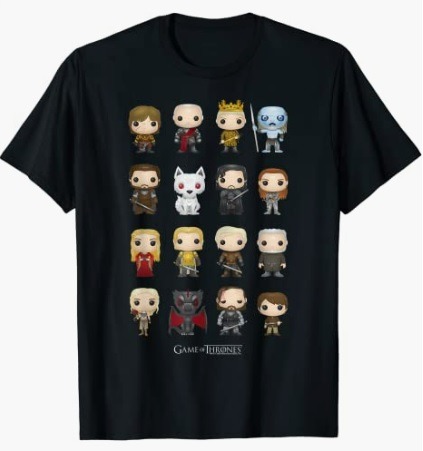 Of course, with winter coming and all, a tee-shirt might not be warm enough. So, for friends in colder climates, opt for the hoodie version for $47.
7. Game of Thrones Monopoly
Yes, there may very well be a version of Monopoly for every fandom out there, but that doesn't make any of them any less awesome. The Game of Thrones Monopoly features six tokens representing six iconic houses. While the game plays technically the same as Monopoly, you'll be traveling Westeros and trading at various locations throughout the Seven Kingdoms.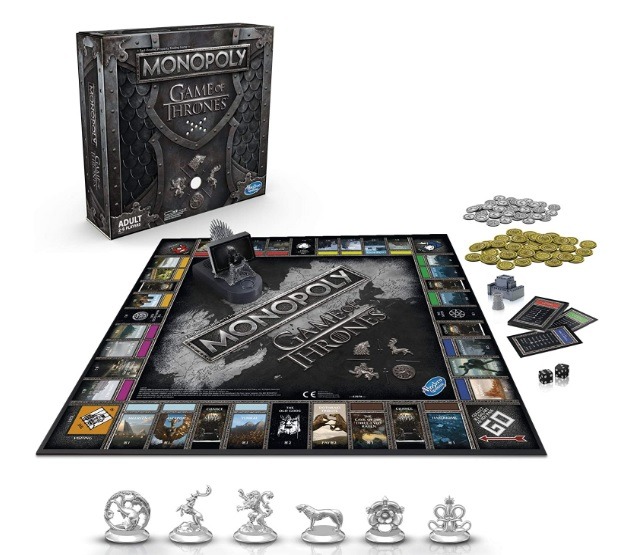 Buy and sell castles and holdfasts with gold dragons and silver stags instead of standard currency. It's Game of Thrones in Monopoly form for $64.
If Risk is more your friend's style, try Risk Game of Thrones instead for $68.
8. Daenerys and Jorah with Swords Funko POP!
Funko POP! movie moments figures always look more epic than just the standalone figures. This is especially true with the Daenerys and Jorah with Swords Funko POP! for just $24. Relive this epic moment as Funko perfectly captures the action and determination to fight to the death if need be. It's one of the best gifts for Game of Thrones fans and fits in perfectly for any Funko POP! collector. You might also want to consider these Avenger Funko Pops as well if they're a Funko collector.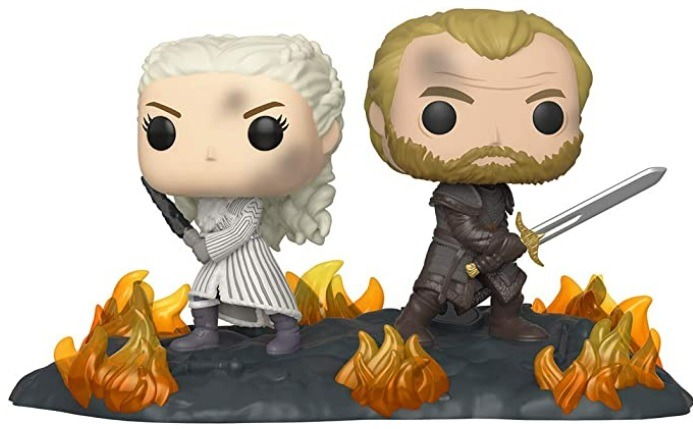 If they already have this one or you're looking for a different movie moment, try the Night King on Dragon Funko POP! instead. It's a rarer figure and slightly larger, costing $72.
9. Game of Thrones: A Guide to Westeros and Beyond
This book is the perfect companion to anyone who loved the HBO series. It covers all eight seasons with illustrations, essays, deep dives into plots and storylines, and incredible photos of the characters. For any fan that wants to get a little more insight into the series, this is a must-have book.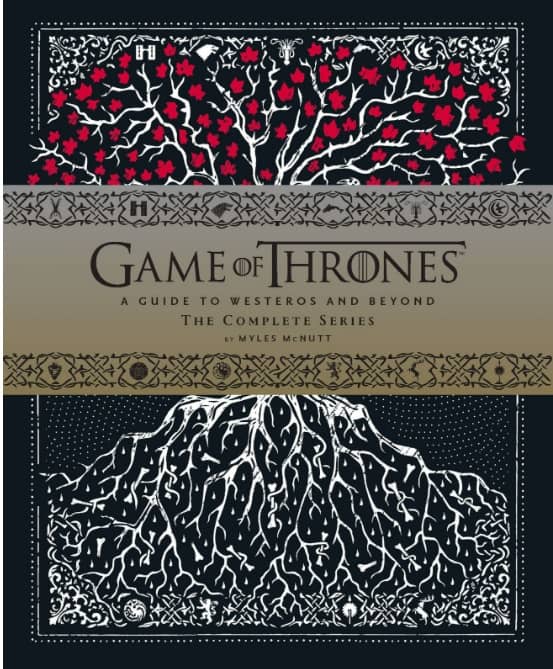 With 288 pages, fans will spend hours digging through this visual representation of the series. Think of it as an inside look into what it takes to make an epic series like Game of Thrones come to life. Plus, the hardcover is just $33.
10. Game of Thrones Fan Art Prints
Every fan will love these fan art prints on actual Game of Thrones book pages. The colorful illustrations pop off the page. Each page is $25 or you can get all eight for $175. Choose between Jon Snow, Arya Stark, Brienne of Tarth, Daenerys Targaryen, Tyrion Lannister, Sansa Stark, the Night King, and Cersei Lannister. You might want to consider buying them a frame to go along with their page(s).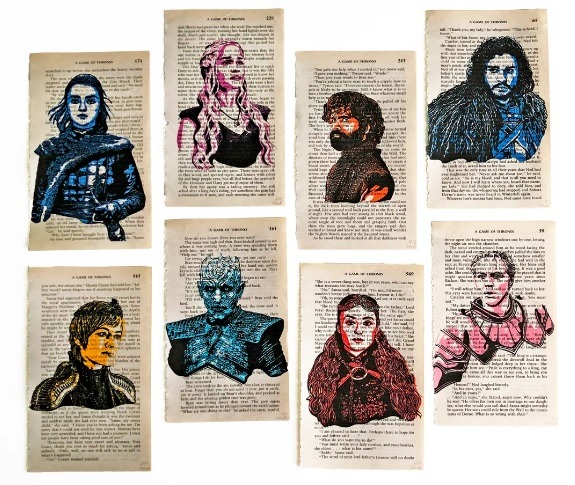 If you're looking for something different, check out this 3-poster set including House of Stark, House of Lannister, and House of Targaryen, starting at $23.40. Or, gift them a fan art print and these posters to really spice up their walls.
Love everything about George R.R. Martin? Check out how much Martin contributed to Elden Ring. And while your playing Elden Ring, check out all the best side quests to do.
Image credit: Kylo via Unsplash