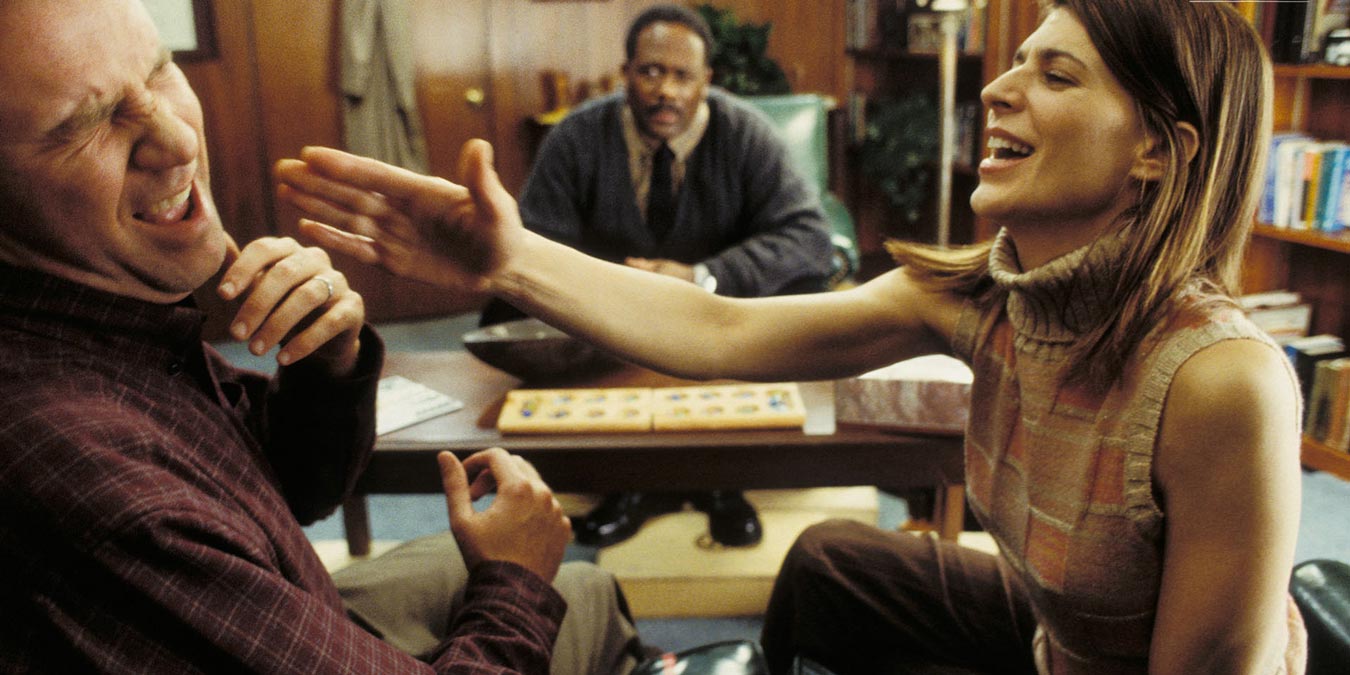 This time of year is more commonly associated with the chills and scares that only horror movies can provide. However, if you want a break from all the spooks, then comedies are the perfect way to decompress.
NOW – a service available to customers in the UK, the Republic of Ireland, Germany, Austria, Switzerland and Italy – offers a huge collection of comedy movies (old and new, famous and obscure) to provide enough laughs to make anybody's day brighter.
For a more than reasonable fee, NOW's cinema package is all you need to fill your future with endless belly laughs – and we're going to run you through the best movies to provide them!
Incidentally, Netflix offers an abundance of feel-good movies – and you should definitely check out our take on the best of them.
1. The Big Lebowski (1998)
Featuring an incredible ensemble cast, Joel Cohen's The Big Lebowski is one of the finest crime comedy capers ever made.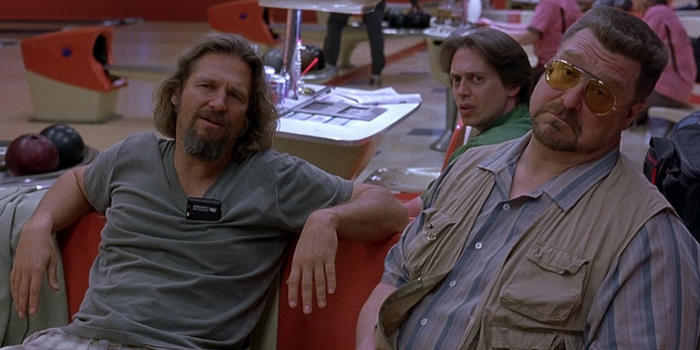 With Jeff Bridges shining in the titular role as the Los Angeles-based slacker and avid bowler Jeffrey "The Dude" Lebowski, the movie sees his character assaulted as a result of mistaken identity – a millionaire with the same name as him was the intended target of the assault – and getting embroiled in the strangest of crime stories.
And if you don't like it? "Yeah, well, you know, that's just, like, your opinion, man."
2. Ferris Bueller's Day Off (1986)
As quintessential an 80s movie as it's possible to be, John Hughes' Ferris Bueller's Day Off is arguably the greatest teen comedy movie of all-time. Starring Matthew Broderick as the titular high school senior, the movie sees him faking illness to take a day off school and the adventures that follow.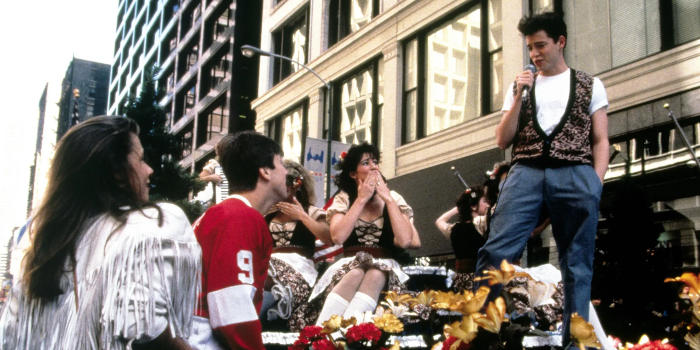 While Ferris and his friends explore Chicago, they create some incredibly memorable scenes in the process, such as the famous parade singalong below:
Bute Ferris' Dean of Students is out to thwart him, making it his mission to prove Ferris is playing truant, making for an epic battle of wits between the pair. It's an absolute blast!
3. Little Monsters (2019)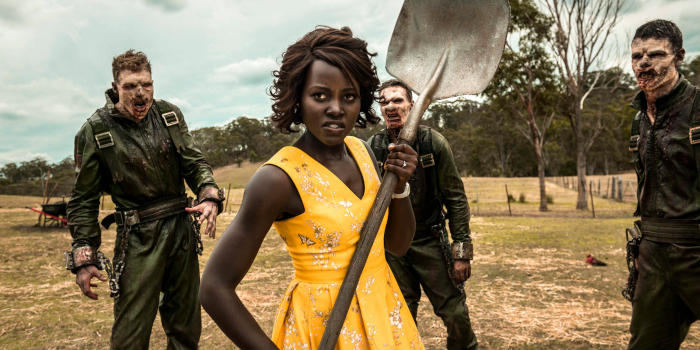 This movie focuses on the exploits of a kindergarten teacher, a washed-up musician, and a children's television personality, as they join forces to protect a group of kids on a field trip during the sudden outbreak of a zombie virus. This movie stars the wonderful Lupita Nyong'o, which should be reason enough to watch it!
4. The Ladykillers (1955)
A bona fide classic and by far the oldest movie on our list, The Ladykillers is a British black comedy crime movie. Considered one of the best comedies – and one of the outright best British movies – ever made, it features an incredible cast led by Alec Guinness.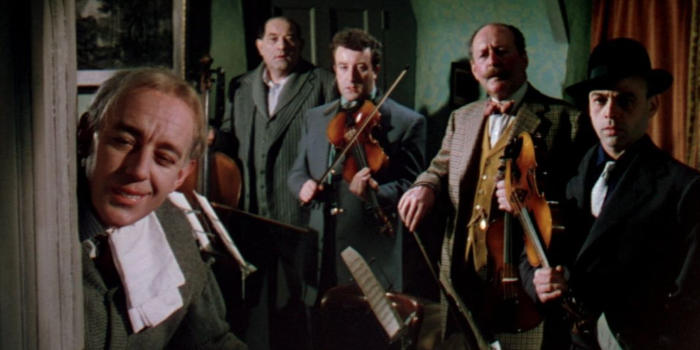 Directed by Alexander Mackendrick, the movie follows the exploits of five oddball criminals who are planning a bank robbery. In doing so, they rent rooms from an octogenarian widow who lives in a subsiding lopsided house, built over the entrance to a railway tunnel in Kings Cross, under the pretext that they are classical musicians. Truly wonderful stuff.
5. Airplane! (1980)
Airplane! is surely one of the best spoof comedies ever made, right? Well, quite possibly – and don't call me Shirley! Directed by the trio of Jim Abrahams, David Zucker and Jerry Zucker, it stars Robert Hays and Julie Hagerty, and famously features Leslie Nielsen.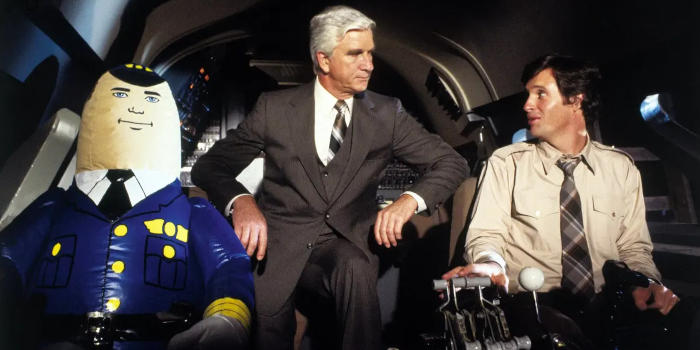 A parody of disaster movies, Airplane! is about man who must ensure a plane lands safely after the pilots become sick, in spite of his pathological fear of flying. This movie features some of the greatest slapstick comedy and use of puns (both verbal and visual) in cinema history.
6. Bridesmaids (2011)
Paul Feig's Bridesmaids is so much more than just a "chick flick" – it's a genuinely hilarious and brilliantly-written movie. Boasting a superb ensemble cast led by Kristen Wiig and Rose Byrne – and featuring an Oscar-nominated performance by Melissa McCarthy – the movie is focused mainly on Wiig's Annie, who endures a series of mishaps after being asked to serve as maid of honor for her best friend, Lillian (Maya Rudolph).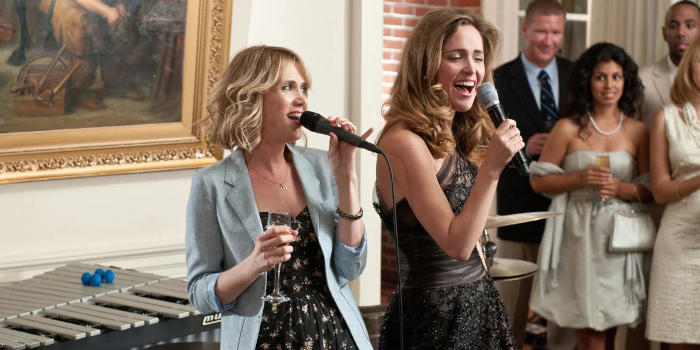 Famously, this movie is responsible for countless memes – including those involving Annie's quotes "help me I'm poor" and "I'm ready to paaaartaaaay!"
7. Old School (2003)
A modern cult classic, Old School follows the exploits of a trio of bored and depressed men in their thirties – played hilariously by the fabulous Will Ferrell, Luke Wilson and Vince Vaughn – who seek to relive their college days by starting their own fraternity.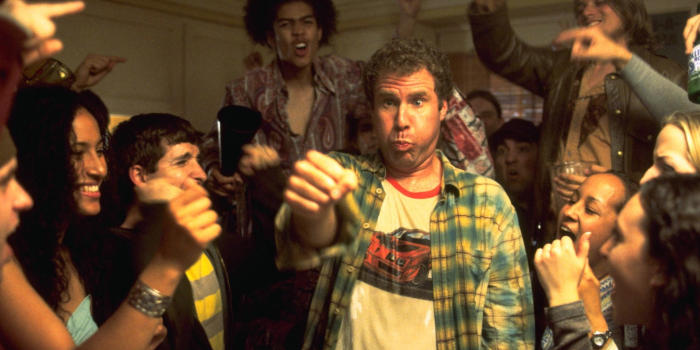 Directed by Todd Phillips, the movie introduced audiences to Ferrell's now-iconic Frank "The Tank" Ricard – and we're forever grateful to it for that. Featuring a supporting cast that's absolutely teeming with familiar faces, Old School's laughs are those of the side-splitting variety we could forever watch Will Ferrell shambling around after taking a tranquilizer to the jugular!
8. Happy Gilmore (1996)
Dennis Dugan's sports comedy Happy Gilmore remains among the funniest and most popular movie starring Adam Sandler to date. It's about the titular unsuccessful ice hockey player who discovers a newfound talent for golf.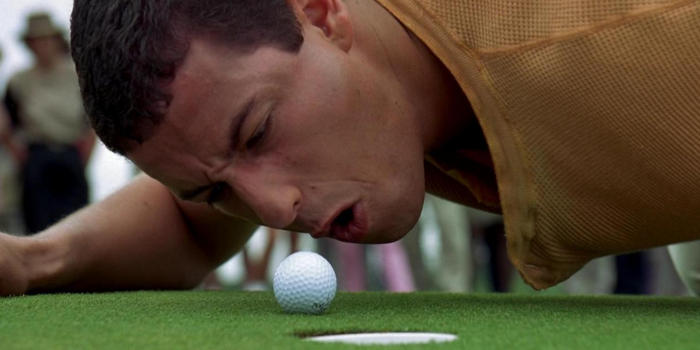 With the help of a one-handed former professional golfer called Chubbs Peterson (Carl Weathers), he makes enough money in competitions to take back his grandmother's house, which had been taken from her after it was revealed that she owed the IRS $270,000 in back taxes. There are so many memorable scenes in this movie – such as the one in which Happy gets into a fist-fight with a then-70-something Bob Barker!
9. Groundhog Day (1993)
Anything starring Bill Murray is worth watching – and Groundhog Day is no exception. Harold Ramis' fantasy comedy is all about Murray's Phil Connors – a cynical TV weatherman covering the annual Groundhog Day event in Punxsutawney, Pennsylvania.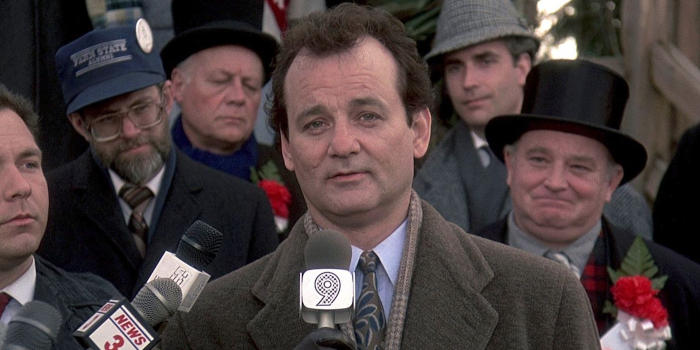 Connors becomes trapped in a time loop, forcing him to relive February the 2nd every day, resulting in him learning a few life lessons – and a whole bunch of impressive new skills – until he finally breaks the loop and finds love with Andie MacDowell's Rita Hanson. Sonny & Cher's "I Got You Babe" will definitely be stuck in your head after watching this one!
10. The Naked Gun: From The Files Of The Police Squad! (1988)
We're rounding this list off with another slapstick spoof featuring Leslie Nielsen – and this time it's crime comedy The Naked Gun: From the Files of Police Squad! David Zucker's iconic movie stars Nielsen as the bumbling police lieutenant Frank Drebin, as he tries to foil an attempt to assassinate Queen Elizabeth II.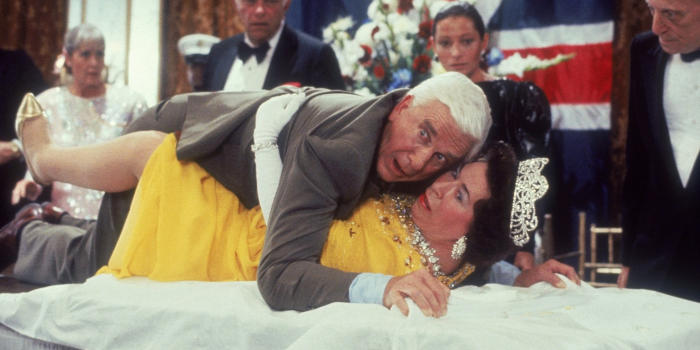 Put simply, this movie is one of the greatest comedies ever made – the scene at the baseball stadium is nothing short of ingenious. It's incredibly goofy and unapologetically crass – although, in hindsight, the casting of O.J. Simpson as Detective Nordberg is a little… shall we say… ironic.
To really highlight the impressive selection of comedy movies on NOW, here's a fairly extensive list of honorable mentions: Team America: World Police, Wayne's World, Beverly Hills Cop, As Good as It Gets, Tootsie, Elf, Shirley Valentine, Mean Girls, Pitch Perfect, The King of Staten Island, Ted, The Hangover, National Lampoon's Christmas Vacation, Jackass: The Movie, Forgetting Sarah Marshall, Coming to America, This Is the End, Anchorman: The Legend of Ron Burgundy, Bill & Ted's Excellent Adventure, The Truman Show, The Other Guys and Horrible Bosses. Nice, huh?!
For more joyful viewing, why not check out our list of the best family-friendly movies on Netflix or our piece on the best YouTube videos to brighten your day?