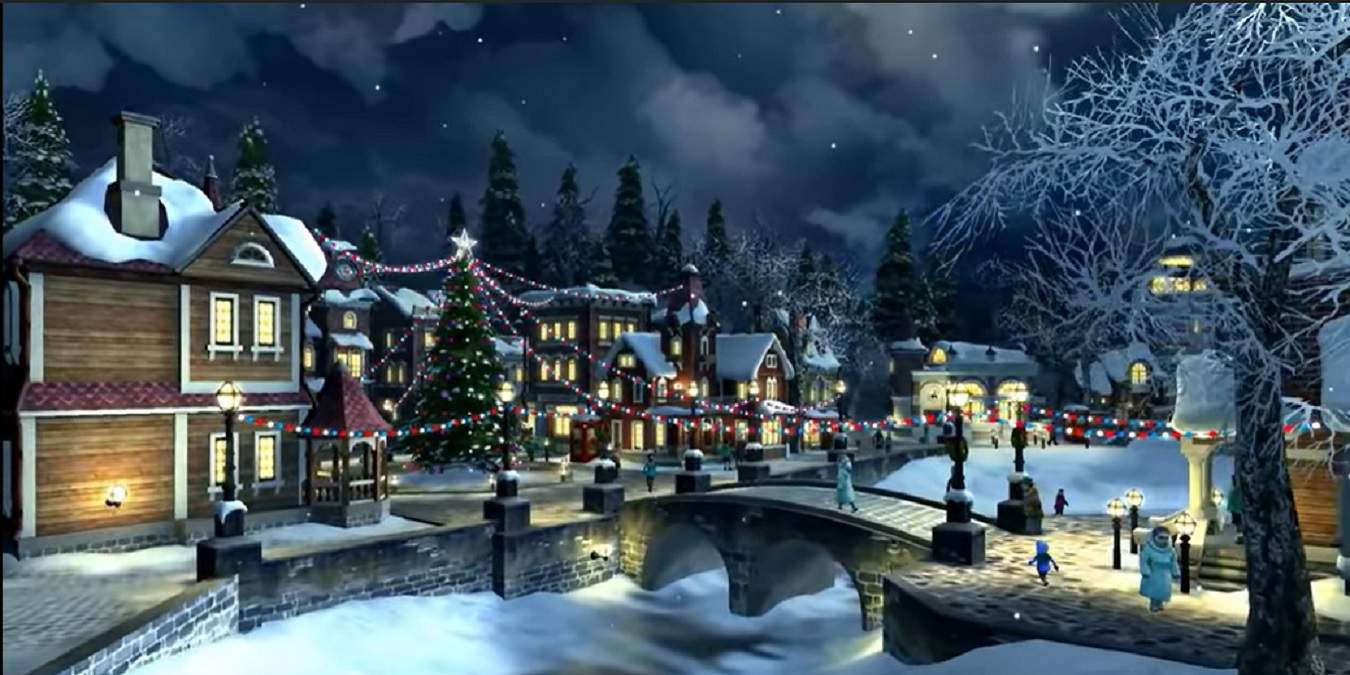 Whether you need soft Christmas music, a festive TV background, or just some peaceful ambience, the best Christmas ambience YouTube videos are the perfect solution. From yule logs to holiday scenes, these videos are ideal for holiday gatherings, serving as decorations in a tiny apartment or dorm, or backgrounds while decorating the house in festivities!
If you'd rather put on some holiday movies instead, check out some great Christmas movies you can find on Netflix.
1. Tim Janis – Christmas Cozy Home
If you enjoy peaceful music and beautiful scenes, it's hard to beat Tim Janis' YouTube channel. He has ambience videos for all occasions, and his Christmas ambience YouTube videos are soothing and festive, featuring nature, animals, and cartoon scenes.
His recent Christmas Cozy Home gives you all the warm holiday feels. He also adds his own holiday renditions for hours of peaceful viewing, plus many of his videos are live, so you can share the festive spirit with fellow viewers.
2. Tim Janis – Trees of Light
If you prefer something cutesy for kids, especially younger ones, Tim Janis' Trees of Light is ideal. Unlike some of his other videos, these feature animated characters strolling through Christmas trees in the snow. Rabbits, a family of snow people, deer, a fairy on the moon, and much more make their way through the trees. Plus, there's non-stop Christmas tunes playing.
3. Calmed By Nature – Christmas Music From Another Room
Do you love seeing a beautifully decorated house as you drive down a snowy street? Calmed By Nature's Christmas Music From Another Room gives you just that.
A cute home covered in snow with a red pickup parked out front and snowmen on the lawn makes a great TV background. Add peaceful, muffled Christmas music and it feels like you're about to walk into a relative or friend's Christmas party.
4. Calmed By Nature – Home Alone Christmas Party Ambience
While Home Sweet Home Alone isn't exactly getting rave reviews, relive the classic scene of Kevin McAlister throwing a fake Christmas party thanks to Calmed By Nature's Home Alone Christmas Party Ambience. It's one of the best Christmas ambience YouTube videos for Home Alone fans. Jazzy holiday tunes give the scene an upbeat feel.
5. Cozy Corner – Relaxing Christmas Music Playlist With Heavenly Christmas Ambience
There's something special about watching snow softly falling from a fogged up window while you're all snuggly-warm inside. Grab a mug of hot cocoa and curl up by a virtual window with Cozy Corner's Relaxing Christmas Music Playlist with Heavenly Christmas Ambience. Flickering candles, fading Christmas lights, and simple scenic Christmas jars decorate the window, while you watch it snow over the town outside.
6. Ambient Worlds – Hogwarts Great Hall
Ambient Worlds' Hogwarts Great Hall is one of the absolute best Christmas ambience YouTube videos for Harry Potter fans. This ambience video invites you into Hogwarts Great Hall during Christmas. Music and a crackling fireplace are the perfect sounds as you move from scene to scene of Christmas trees, tables laden with goodies, and magical snow falling from the ceiling. It really does feel straight from the movies.
7. Soothing Ambience – Christmas Magical Snow Village
Nothing feels quite so much like walking in a winter wonderland as Soothing Ambience's Christmas Magical Snow Village. Fly over an animated town covered in snow and full of Christmas spirit. People are happily walking around, ice skating, and running through the falling snow. It has as sort of Sims-style animation. At times the video can be a little jumpy, but even that's not enough to distract you from holiday daydreaming as you watch.
8. Cozy Moments – Christmas Ambience With Christmas Music and Crackling Fireplace
A decorated mantle with stockings hung by the chimney with care, a beautifully decorated tree, and hot chocolate on the table all make for a classic holiday scene. Cozy Moments' Christmas Ambience With Christmas Music and Crackling Fireplace makes Christmas feel simple and peaceful. Soft, soothing carols play along with a crackling fireplace. Plus, snow is falling just outside the window.
9. Hallmark Movies and Mysteries – A Very Happy Yule Log
Ever since Hallmark Channel adopted Happy the Cat and Happy the Dog, the channel has aired A Very Happy Yule Log. Now, you can view this same yule log without needing a subscription to Hallmark. The two Happys are the stars as they snuggle, check out the tree, and enjoy the warmth from the fireplace. Sometimes, it's just the decorated room with the fireplace, while other times, you get to see how a cat and dog enjoy the holidays.
Hallmark went on to do other versions of A Very Happy Yule Log, including one kittens, rabbits, and puppies called A Happy & Friends Yule Log.
10. Virtual Fireplace – Christmas Fireplace Scene with Crackling Fire Sounds
If you crave the peaceful sounds of a crackling fire without Christmas music, try Virtual Fireplace's Christmas Fireplace Scene with Crackling Fire Sounds. The decorated hearth and Christmas tree illuminated just by tree lights and firelight immediately makes your troubles melt away. This is a great TV background that won't detract from conversation, or can help you fall asleep in an armchair on a dozy Christmas evening.
It's well worth checking out all of the above's YouTube channels as well as they have ambience videos for all year long.
Getting into the Christmas spirit is often as easy as finding the right things to watch or listen to. Check out Netflix's newest Christmas flick A Castle for Christmas or dive into some Christmas podcasts. Or, if you're feeling a bit more like the Grinch or Scrooge, try some anti-Christmas movies instead.