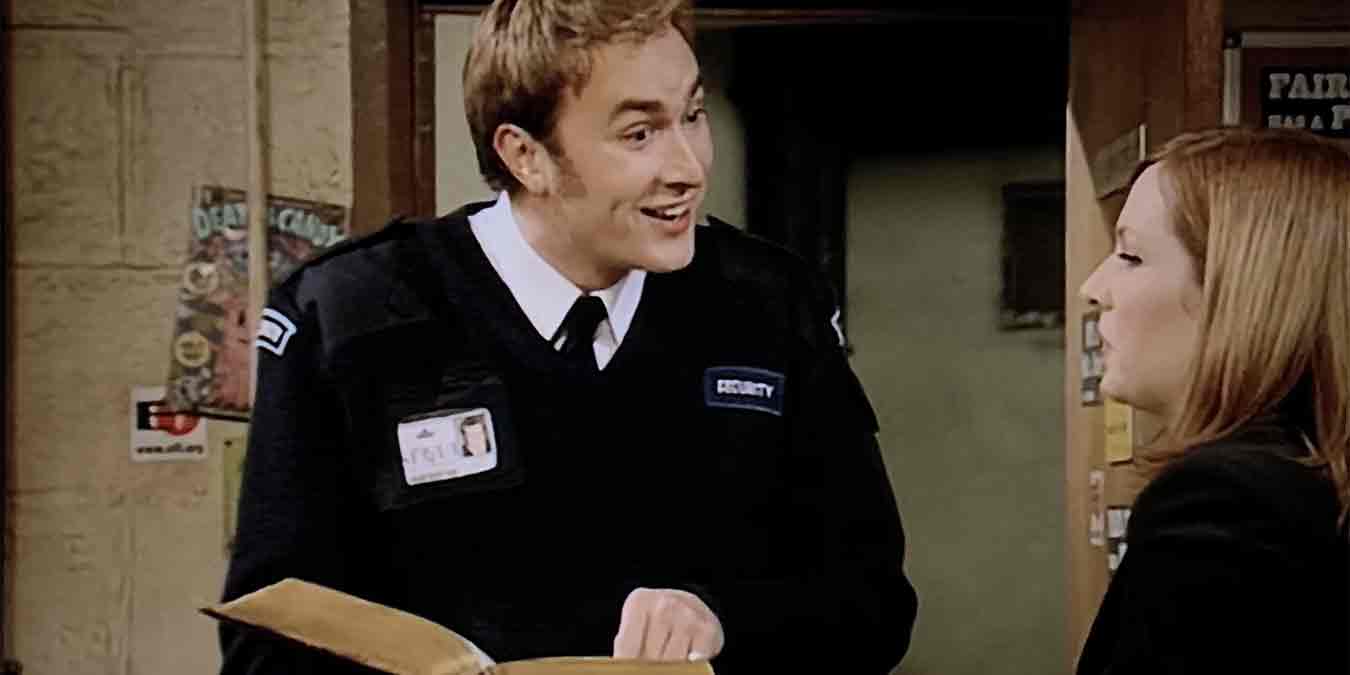 When it comes to comedy, Great Britain boasts some of the finest in entertainment history. Comedy troupe Monty Python have created some iconic, stage shows, movies and television shows, Sir Billy Connolly is widely regarded as one of the best stand-up comedians who ever lived, the idea for popular American sitcoms like The Office and Shameless started with English versions of each show, and classic sitcoms like Only Fools and Horses, Blackadder and Fawlty Towers are essential inclusions in any true comedy lover's collection.
With all of that in mind, it's worth delving into Netflix's current selection of comedy series from the British Isles. Here are some of our favorites.
If you're really into comedy, why not check out our piece about the best comedy movies on NOW?
1. People Just Do Nothing
Probably the greatest British mockumentary since The Office (and very much taking cues from the classic show), People Just Do Nothing follows the ups and downs of London pirate radio station Kurupt FM and its eccentric crew, MC Grindah, DJ Beats, DJ Steves and the hilarious Chabuddy G – who is a bit like legendary British comedy characters David Brent, Ali G and Del Boy rolled into one.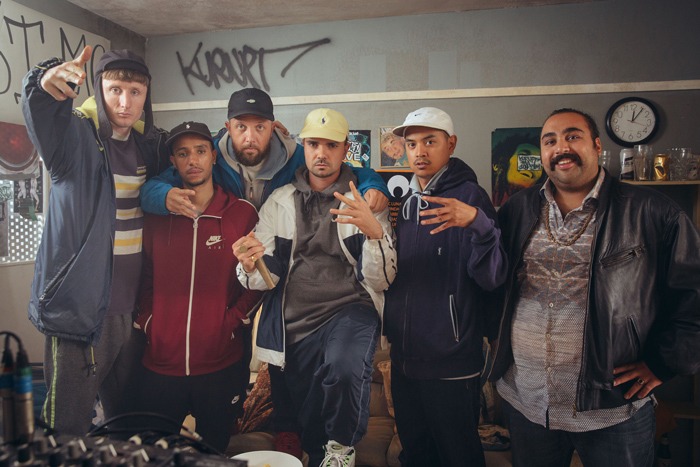 The hilarity is in the bleakness and ignorance of its hapless heroes, who are blissfully unaware of their lack of talent in music, business and life. The awkward pauses as endless social faux-pas are committed, the hare-brained schemes of Chabuddy G (like procuring thousands of packets of peanut dust from a factory in the hope of 'making it big') and the partial interactions with the camera make this show very much 'The Office of the Inner City'.
2. Still Game
Created by Ford Kiernan and Greg Hemphill, Still Game is a Scottish sitcom produced by The Comedy Unit with BBC Scotland. Including a couple of hiatuses, the show ran from 2002 until 2019.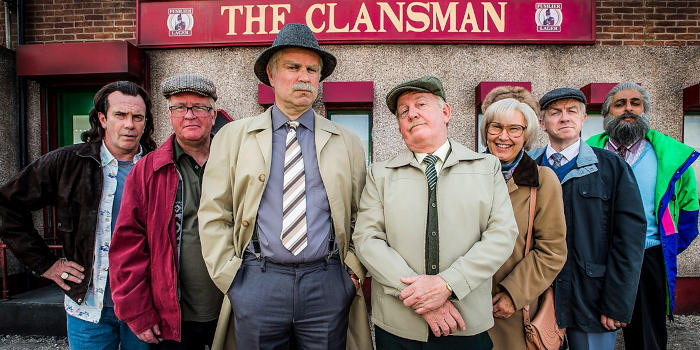 At its core, Still Game is a show about friendship, focusing on what Jack and Victor get up to in their everyday later life. It has some genuinely warm scenes in it – but it's also laugh-out-loud funny and occasionally very silly. Screen legend Sean Connery was said to be a huge fan of the series before his sad passing. Be warned, however, because there is a fair amount of swearing.
It stars Kiernan and Hemphill as Jack Jarvis Esq. and Victor McDade – two old-age pensioners from Glasgow – and is a spin-off from the pair's sketch show Chewin' the Fat (although the concept initially began as a stage play).
3. After Life
Created by Ricky Gervais, After Life is a black comedy-drama that was produced specifically for Netflix. The show runs for a tight three seasons from 2019 to 2022.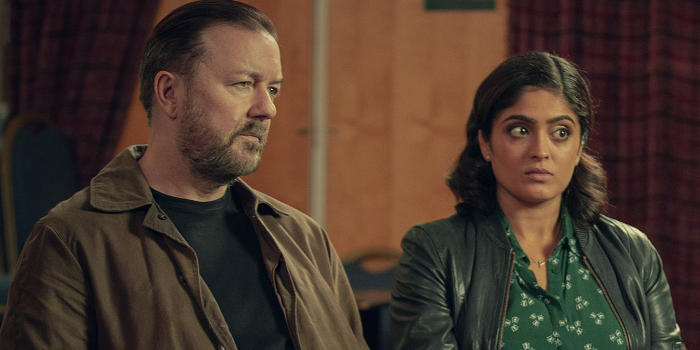 The story follows a newspaper writer called Tony who goes through the terrible experience of seeing his wife die from breast cancer. After initially contemplating suicide, he instead decides to continue living – as his way of punishing the world for his wife's cruel and tragic passing.
While the dark comedy in After Life provides plenty of laughs (albeit sometimes uncomfortable ones), it's also a deeply moving show due to its handling of grief. Gervais is absolutely superb in it and it's perfect for anybody who prefers their comedy more contemplative and meaningful than silly.
4. End of the F***ing World
Written by Charlie Covell and based on the mini comic series by Charles Forsman, End of the F***ing World is another contender for those who take their comedy black.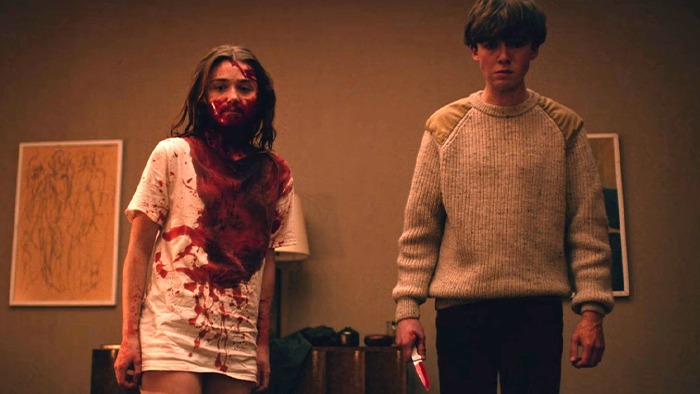 The pilot aired on Channel 4 in October of 2017 and was released internationally by Netflix in 2018. The show follows a self-proclaimed psychopath named James who has decided he wants to try killing someone. During his scouting for a potential victim, his cantankerous classmate Alyssa borderline forces her way into being his friend.
When they both decide to run away from home and James realizes just how out of his depth he feels when he's with this strange girl, which puts the aspiring murderer into comically awkward situations. Turning this would be thriller into a teenage rom-com like some R-rated Heathers.
5. The IT Crowd
Originally broadcast on Channel 4 between 2005 and 2013, and produced by Talkback Thames, The IT Crowd is a sitcom starring a very intimate core cast of Chris O'Dowd, Richard Ayoade and Katherine Parkinson.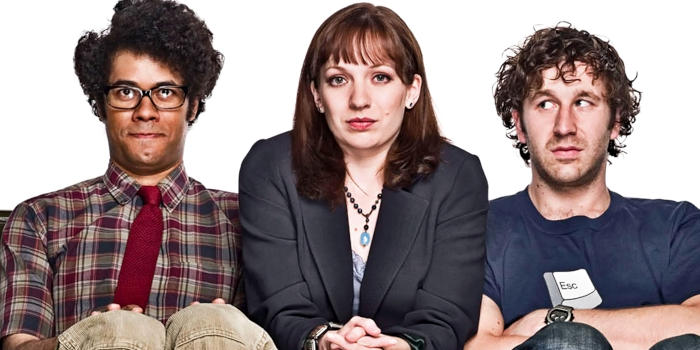 The show is set in the offices of the fictional Reynholm Industries in London and focuses on three staff members of its IT department – those being computer programmer Maurice Moss, lazy Roy Trenneman, and head of department Jen Barber (the latter of whom actually knows nothing whatsoever about computers).
Some of the comedy in The It Crowd is quite niche (some of it requires tech knowledge and some – especially those involving supporting characters Douglas Reynholm (played by Matt Berry of What We Do in the Shadows fame) and Richmond Avenal – is a little on the surreal side). Case in point being when Moss spins a yarn about the internet to the tech-illiterate Jen (click above!).
6. Derek
Another Ricky Gervais gem, Derek is a comedy-drama mockumentary series produced for Channel 4, which ran from 2012 until 2014. Like many of Gervais' projects, he not only wrote and directed the show, but also starred in it – this time as the titular Derek Noakes.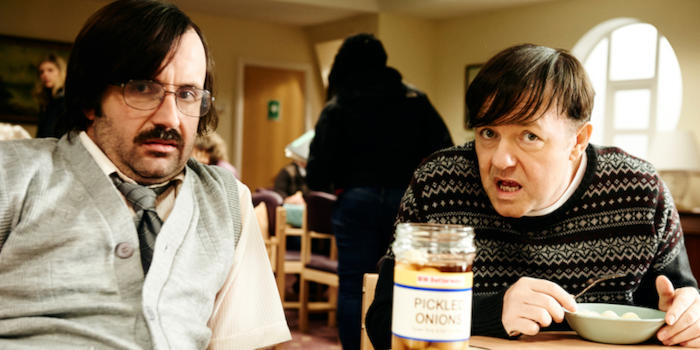 Derek is a care worker at a home for the elderly called Broad Hill. He's a kind, helpful and selfless man with good intentions, but also a vulnerable one because of his childlike naivety. The show is all about his everyday life in the care home, where he interacts innocently with both the residents and the people he works alongside.
The likes of David Earl's Kevin "Kev" Twine and Karl Pilkington's Dougie bring some genuine laughs, but Derek is more often a charming and emotive show than a side-splittingly funny one. While it caused some controversy due to Gervais' portrayal of a man who clearly has an intellectual disability, the star insists he was satirising prejudice against the disabled – and when you look at it in that way, you appreciate the show so much more.
7. Cuckoo
Cuckoo is a sitcom that was originally produced for BBC Three by Roughcut Television.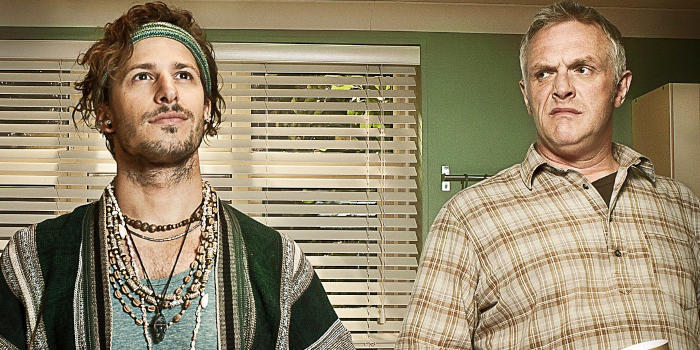 The basic premise of the series was that a couple collect their daughter, Rachel, from the airport following her gap year, only to discover she's married Dale "Cuckoo" Ashbrick. Dale is an eccentric hippie from America who doesn't have a job and loves to take drugs, but who has an exuberantly loving attitude. It's essentially a show about every parent's worst nightmare.
Cuckoo is a wonderful and mostly light-hearted show, covering everything from the silly and petty issues encountered by most suburban families to bigger, deeper and more philosophical matters. The pilot for a U.S. version of the show was commissioned, but the the project was never picked up as a series.
8. Sex Education
Another Netflix original series, this one created by British screen-writer Laurie Nunn, is Sex Education, a Comedy-Drama series which currently has wrapped up its third season with a fourth season on the way.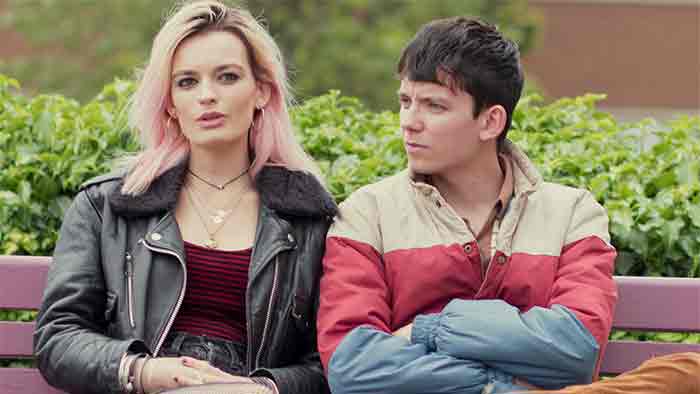 The main character of the show Otis Milburn (played by Asa Butterfield) is the son of a single mother sex therapist and is therefore very knowledgeable about sex but with almost no practical application. So he teams up with his rebellious classmate Maeve Wiley and together they set up an unofficial sex-therapy clinic for their classmates. From there, the show follows an ensemble cast of the students, teachers, and parents of Moordale Secondary School with their host of conflicts related to sexual intimacy.
9. Derry Girls
While Derry Girls is set in Northern Ireland, it's produced by British production company Hat Trick Productions, so fits the bill for this list. It was originally produced for Channel 4 and, having first aired in 2018, is an ongoing series.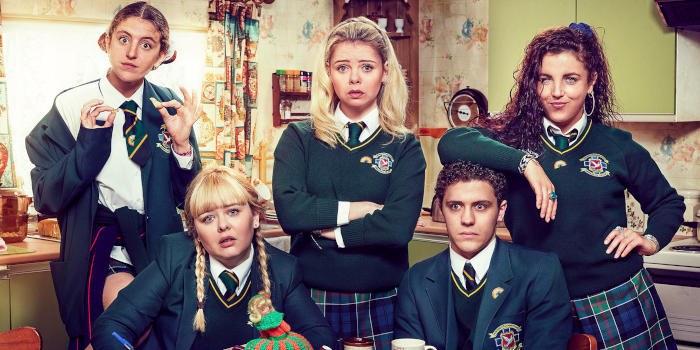 It's the story of five teenagers , navigating their way through adolescence towards the end of the period of political turmoil known as the Troubles. The action takes place in Derry, where they're all students at a Catholic girls' secondary school.
The show currently holds a rare 99% approval rating on Rotten Tomatoes – and with good reason. The show remains light-hearted and funny – and it's that juxtaposition between the troubled (pun intended) setting and tone that makes it so genuinely sublime. The characters and performances are superb. Just check out the group bad girl Michelle for an idea.
10. Crashing
Written and created by the wonderful Phoebe Waller-Bridge (who also stars in the show), Crashing is a comedy-drama miniseries originally made for Channel 4 and produced by Big Talk Productions. It aired in its six-episode entirety at the beginning of 2016.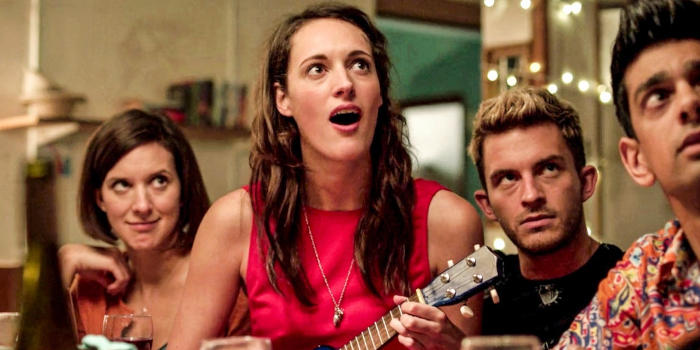 It's about six people in their twenties who live together as property guardians in a disused London hospital. In exchange for a modest rent, they keep the building safe while (supposedly) having to abide by a strict set of rules. The group are forced to navigate palpable sexual tensions, along with a number of personal issues, before they get inevitably evicted.
This very bingeworthy and incredibly sharp show is bursting with dark comedy that will have your sides splitting from the very first episode. It has a very familiar charm that's like catching up with a fun old friend.
While you're here, please take some time to check out our lists of the best family-friendly movies and the best feel-good movies on Netflix.