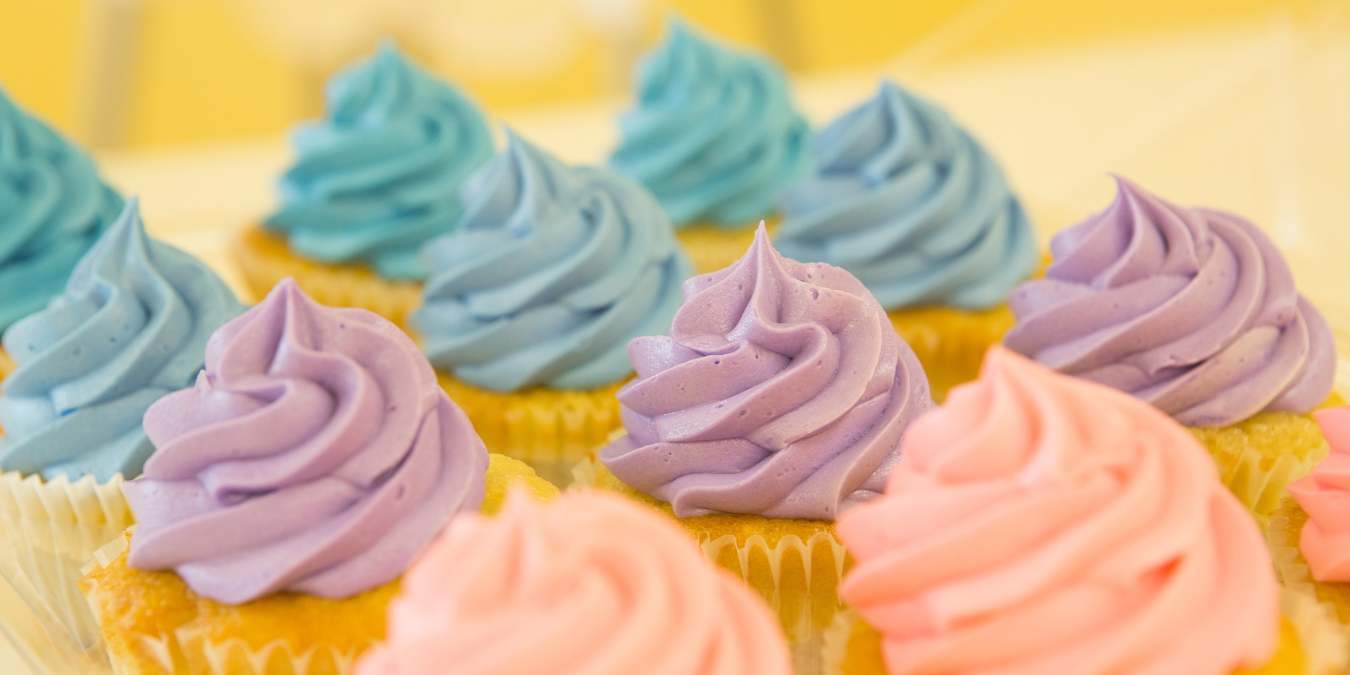 Even though most of us can only dream of creating some of the beautiful and delicious treats that baking shows tease us with, they sure are mouth-watering to watch. Many baking shows feature professional or semi-professional bakers competing against each other for cash and prizes, and give interesting little backstories for the bakers who own smaller shops.
It's good wholewheat-hearted viewing, and we've assembled the best of it for you right here!
1. The Great British Baking Show
Watch on: Netflix (subscription)
The show that started the modern baking show craze. The Great British Baking Show been running since 2010 with no cancellation in sight. It has gone through a couple of casting changes, but judge Paul Hollywood has been there through it all.
The Great British Baking Show features amateur bakers who are out to prove themselves and be crowned Britain's best amateur baker through a series of weekly baking challenges.
It has also inspired spin-offs such as The Great British Baking Show: Holidays, The Great British Baking Show: Masterclass, and The American Baking Competition.
2. Halloween Baking Championship
Watch on: Hulu (live TV subscription) | YouTube (purchase)
The Halloween Baking Championship is on its seventh season on the Food Network with no end in sight. While we are used to beautiful desserts, there is something intriguing about these gruesome delights. The ability to create something so hideous out of yummy stuff is nothing short of immense talent.
Judges for this show include Carla Hall, Damiano Carrara, and Zac Young, with host John Henson. The 12 contestants compete for a grand prize of $25,000.
The preliminary heat in each episode challenges the bakers to create a small pastry on a previously undisclosed theme. The main heat includes a larger dessert to fit a separate theme. You can expect some creepy crawly fun along with the often elaborate costumes of the judges.
3. Baking Impossible
Watch on: Netflix (subscription)
From the longest-standing to the newest, now we have Baking Impossible with just eight episodes so far. This competition is unique take on the usual baking shows because it doesn't only feature bakers but also engineers.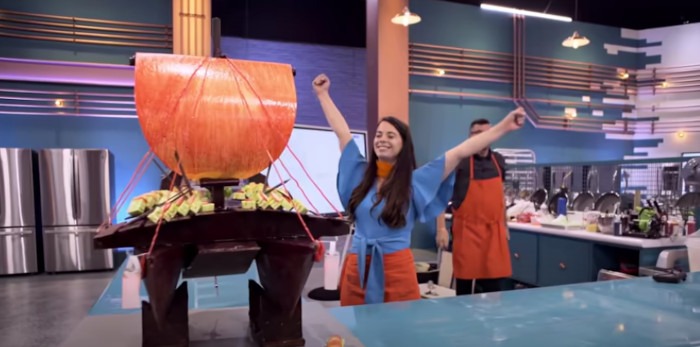 Bakers are paired with an engineer to work together. Their goal is to create and design baking creations that are not only delicious but structurally sound and functional to survive stress tests and obstacle courses.
This one is a refreshing change from some of the others, and it's intriguing to see how they blend baking and engineering to create altogether unique.
4. Holiday Baking Championship
Watch on: Hulu (live TV subscription) | YouTube (purchase)
Holiday Baking Championship has been on the air since 2014, and features an even bigger prize than its Halloween equivalent. The winner gets $50,000 after beating out seven competitors. These bakers can create holiday magic just with their desserts!

The judges are some Food Network heavy hitters: Duff Goldman, Nancy Fuller, Carla Hall and Lorraine Pascale. Even Bobby Dean and Jesse Palmer have served as hosts at different points.
The preliminary heat usually has the baker create small pastries, such as cookies or small cakes, with a holiday theme, followed by the main heat with a larger confection. This show is inspiring for the holiday season.
5. Sugar Rush
Watch on: Netflix (subscription)
There are three seasons of Sugar Rush streaming on Netflix. These consist of two regular seasons and then the first spin-off called Extra Sweet. All of these are hosted by Hunter March in his first baking show appearance. There are three judges, two of whom are always Candace Nelson and Adriano Zumbo, with the third spot changing between different guest judges each episode.
The show has four teams of two competing against each other to win $10,000, and it's a neat hook that each team gets a video spot to promote their business.
The format is intriguing in that they have three hours to complete two rounds: cupcakes and confections. Whatever time they don't use can be added to the last round for the two remaining teams to make their cakes. It has not yet been confirmed for a fourth season.
6. Sugar High
Watch on: Netflix (subscription)
Sugar High is a spin-off of Sugar Rush. This single episode was released at the same time as the third season of Sugar Rush. It is just 44 minutes long and features two rounds of competition. The strange thing is that it feels like it should have turned into a show but just never quite got there. This one is also hosted by Hunter March, but the judges this time are Jackie Sorkin, Rebecca DeAngelis, and Stephane Treand.
Instead of focusing on baking, this competition, with yet another $10,000 prize, focuses on sugar work. The material definitely could have been there for future episodes. The format is pretty similar, except with fewer rounds. It is fascinating to watch the tactics needed for pulling sugar, creating sugar globes, and completing masterpieces made just out of sugar.
7. Bake Squad
Watch on: Netflix (subscription)
The show Bake Squad is hosted by pastry chef Christina Tosi, who picks four professional bakers to duke it out and see who makes the best dessert for the client's event. These events include anniversary parties, birthday parties, and more. The first season just came out in 2021 on Netflix, and has eight episodes so far.
The chosen bakers include Maya-Camille Broussard, Ashley Holt, Gonzo Jimenez, and Christophe Rull. At the beginning of each episode, Tosi brings in a client who talks to the professional bakers about the specifications of the event.
From there, they need to figure out what the client would like best. They each create something delicious and beautiful for the client to try. Whoever wins has their creation presented at the event. Watching these professional bakers is fascinating, and they create some wonderful things, including a dragon egg made out of chocolate and a recreated wedding cake for an anniversary party.
8. Nerdy Nummies
Watch on: YouTube
Rosanna Pansino started her YouTube channel Nerdy Nummies in 2011, so there are plenty of baking clips. She is one of the highest-paid women on YouTube with 12.9 million subscribers and 3.5 billion views.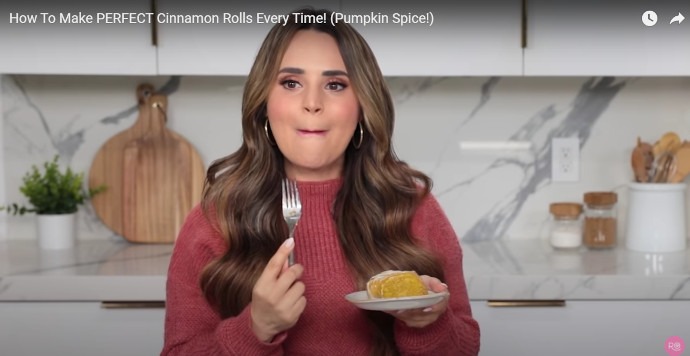 She shows you how to bake many things, including doll cakes, Tik Tok trends, holidays, and classic recipes. Pansino has written two cookbooks, and won a Shorty Award for her Show in 2013. Her channel is entertaining and informative and has the most popular cooking channel on YouTube.
9. Zumbo's Just Desserts
Watch on: Netflix (subscription)
The opening of Zumbo's Just Desserts is like entering Willie Wonka's chocolate factory. The inside and outside of the building are decorated in brilliantly bright colors and resemble a magical food palace. This show ran for two seasons, hosted by Rachel Khoo.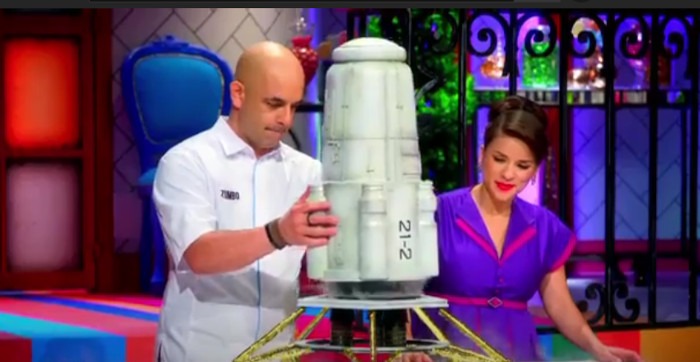 This show puts talented home cooks to the test with a $100,000 prize at the end. It presents serious challenges for the cooks due to the difficulty involved in many of the rounds such as creating franken-desserts and those that defy gravity. At the end of each episode, the bottom two contestants duke it out over a complicated dessert designed by Zumbo himself. The most successful one got to stay another week.
10. Sugar Rush Christmas
Watch on: Netflix (subscription)
Sugar Rush Christmas has the same premise as the regular Sugar Rush, but with a holiday twist. There are two seasons of the show on Netflix so far, with each containing just six episodes.
Host Hunter March returns with judges Candace Nelson and Adriano Zumbo. The format is identical as the original, with four teams competing over the course of three rounds. Whatever time they bank after the first two rounds, they get to use it in the final cake round.
The Christmas treats that the bakers come up with are adorable, and watching as they design their creations is inspiring. Maybe you will get some ideas for your own holiday baking! There has been no announcement about whether there will be a third season in 2021, but you can still enjoy the two other seasons in the meantime.
If you are looking to gain new skills, such as cooking, check out our article on The Best YouTube Channels for Learning New Hobbies and Skills. These shows may also inspire your competitive spirit. Check out our article on Free Online Board Games You Can Play Right Now to satisfy your need for competition.